Are you looking for a healthy, sweet treat that goes perfectly next to your morning coffee? You are in the right place! Here's how to make the best vegan chocolate marble cake!
Desserts that go awesome next to a cup of coffee? Count me in! Today I thought I'd share with you another one of my favorites: chocolate marble cake. If you are from Romania, as I am, this is a dessert that you probably grew up with. I know I have. It brings up a lot of childhood memories, so it's really special for me and I try making it whenever I have the chance.
The first references to marble cake appear in the late 19th century, with one particularly popular variation of this recipe during Victorian times, which was called "Harlequin cake". This one was baked with checkerboard patterns, hence its name.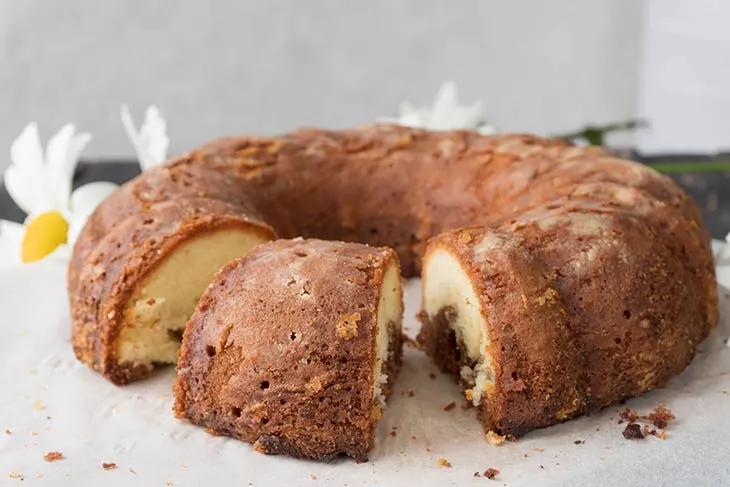 Other than that, the name "marble cake" is quite suggesting. It means blending two different-colored batters so gently that each one maintains its color, creating an interesting marble effect. This idea originated in the nineteenth century, in Germany, the cakes being originally marbled with molasses and spices.
A marble cake is the type of dessert best enjoyed during Fika or afternoon break, alongside a cup of coffee and tea. I like pairing it with some sort of beverage because it can be a bit dry on its own, given that it has no sort of filling. However, it's so fluffy and light that you probably won't feel the need for a filling anyway!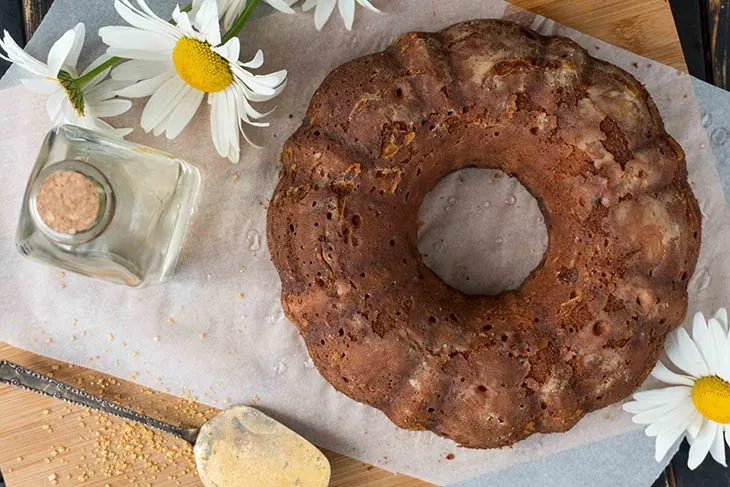 The cooked batter should be soft like a pillow and contain a lot of air holes. This is how you know it's good. You definitely don't want it to be thick and dense – this is not the case. Here in Romania, a marble cake is generally baked in a tray used for cozonac, a pretty similar, but denser dessert, that's served during Christmas and Easter and contains a bunch of other ingredients, such as raisins and nuts.
This way, your marble cake should come out in a square form. A fancier variation of the recipe would be cooking the marble cake in a bundt pan – and that's what I decided to do for today's recipe as well! This is one sure way to impress anyone whom you might serve the cake to because it looks so fancy when in reality you've done nothing more than pouring the batter into a different form. Pretty easy trick, right?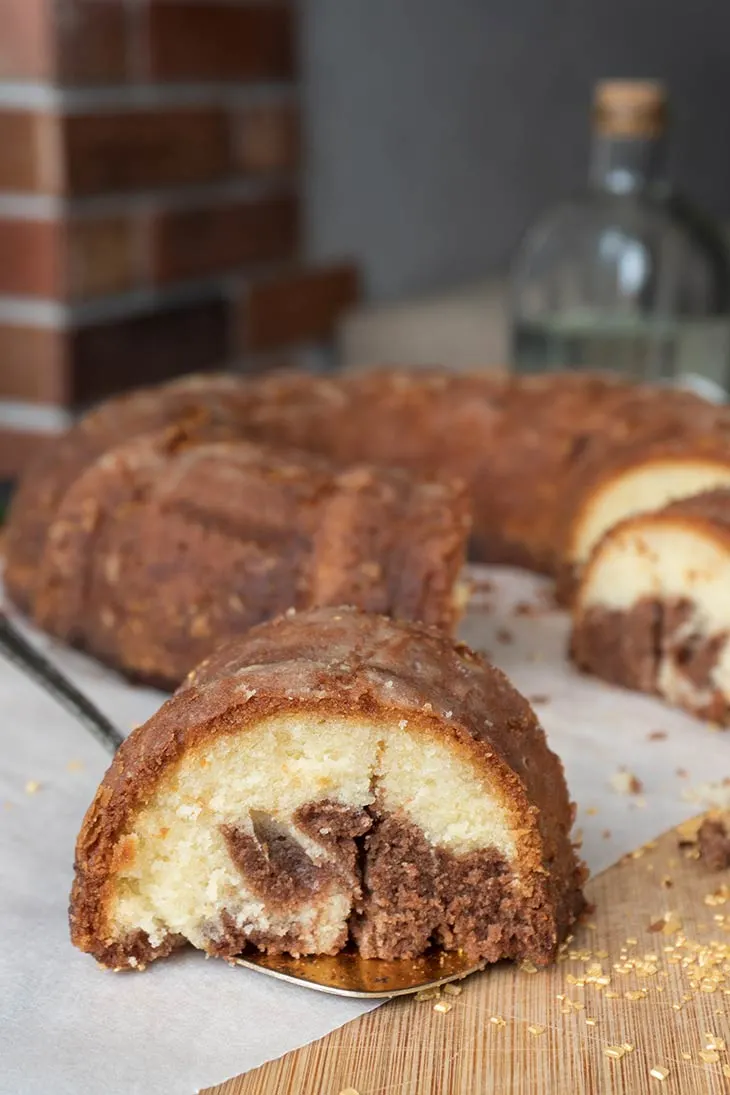 And if you want to take this a step further and make a more decadent dessert, you can make a chocolate ganache that you can then pour over your cake. However, these steps are not essential by any means. Plain old marble cake is just as delicious and amazing as a snack or dessert.
When done wrong, this dessert tends to be dry and tasteless, with no distinction between the chocolate and vanilla layers. It's okay but boring. So I see why so many people are not so thrilled when they hear about marble cake. And I'm here to give them the perfect recipe and restore their hope because this marble cake turned out perfect! 🙂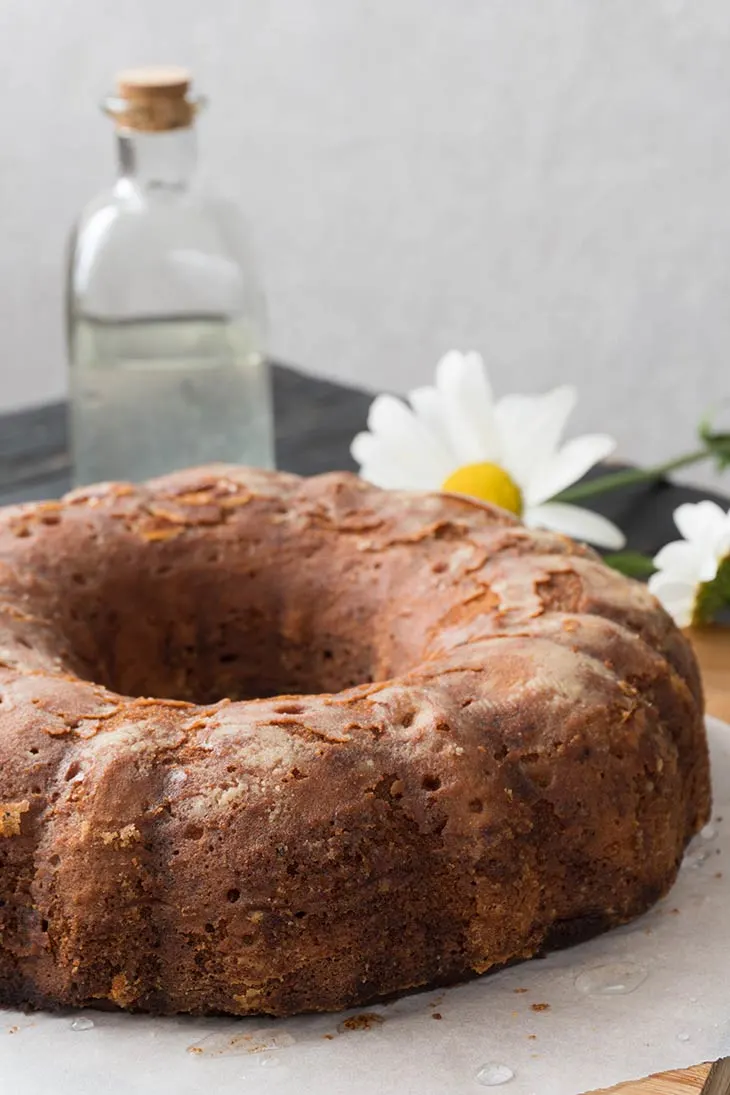 It's superbly moist and velvety, and the chocolate and vanilla components complement each other really well, like yin and yang. Both the chocolate and vanilla should have the same texture – when store-bought, you'll find that the chocolate part is often drier or denser than the vanilla, which is a shame.
Now for the fun part: the marbling effect. This would be a great experiment to try out with your kids, if you have any, and make them feel useful in the kitchen. You just have to pour the chocolate batter over the vanilla one, then, with the back of a spoon or a toothpick, start blending in random, marbly shapes.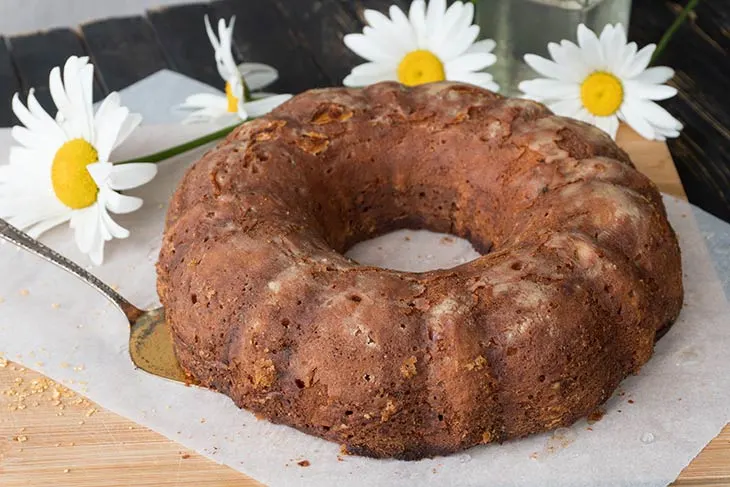 Some people like a clear differentiation between chocolate and vanilla, others like it more marbly. I personally believe that the marble effect makes the cake look ten times more pretty, so I always take my time and have fun with this step.
If you're finding this recipe too simple and boring, you can add other ingredients to the batter, such as fresh or dried fruit, nuts, or even chocolate chips. An amazing option would be fresh cherries or sour cherries, raisins, pecans, or almonds for a bit of crunch.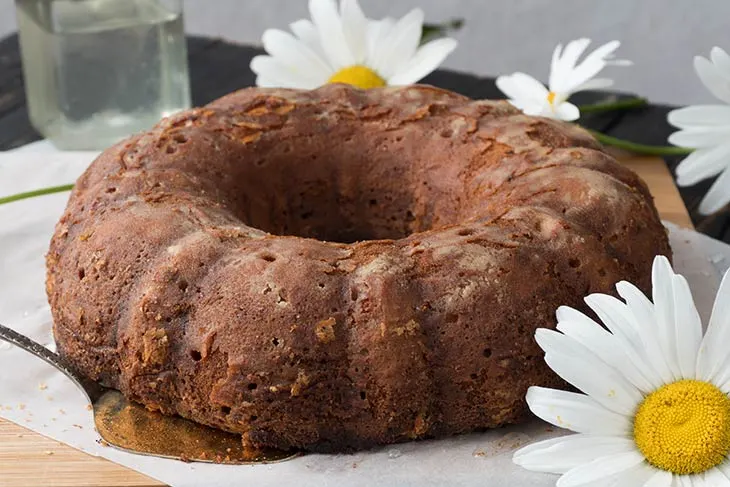 When the cake is ready you can either serve it as it is, plain and simple, sprinkle powdered sugar on top, or even make a ganache. You can always add your favorite type of chopped nuts on top of the ganache if you're looking for more of a crunch, of course.
I like making this cake in advance and saving some in the freezer. I found that it kept exceptionally well, and sometimes the cold actually makes it better. I just take it out and slice it with a serrated knife, then pop it right back. You can either heat the slices for a minute in the microwave or pop them in the toaster if you're a fan of everything crunchy – they're delicious this way.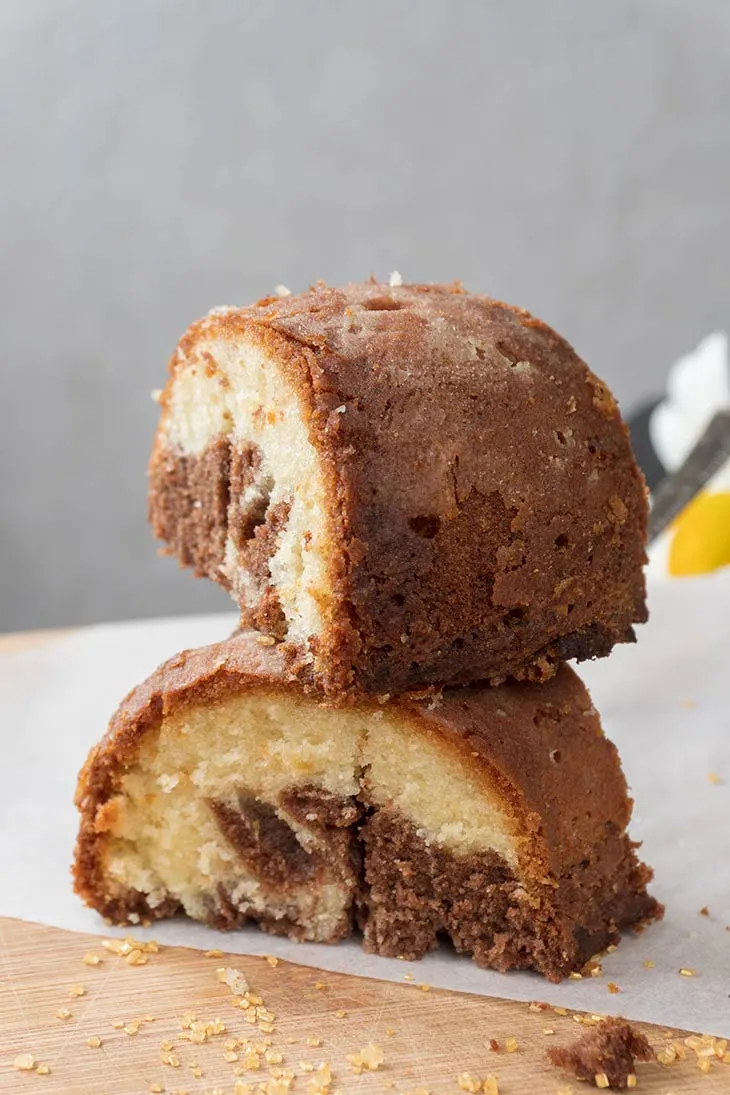 I hope you're going to give this chocolate marble cake a go next time you have a sweet tooth! 😉
---
Personalized meal plans and workout videos | Get your customized meal plan today! [x_button shape="square" size="mini" float="none" target="blank" href="https://shop.gourmandelle.com/?utm_source=mainsite&utm_medium=site&utm_campaign=inpost" info="none" info_place="top" info_trigger="hover"]I WANT A MEAL PLAN![/x_button]
---
Yield: 6 servings
Chocolate Marble Cake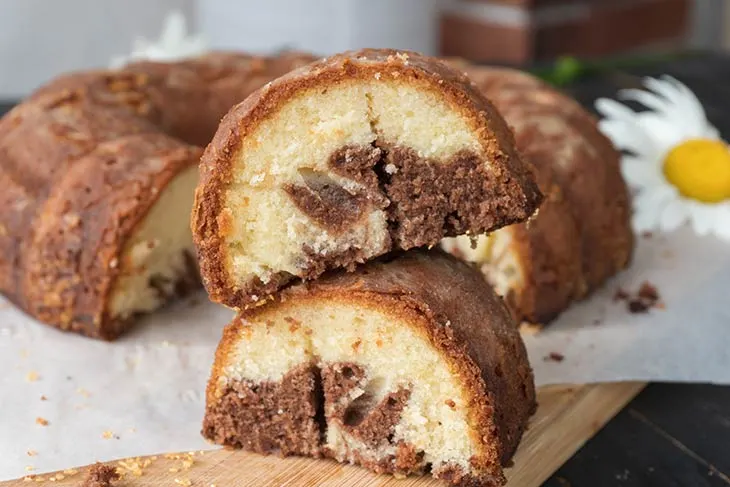 Are you looking for a healthy, sweet treat that goes perfectly next to your morning coffee? You are in the right place! Here's how to make the best vegan chocolate marble cake!
Total Time
1 hour
25 minutes
Ingredients
350g (2 ½ cup) all-purpose flour
300g (1 ½ cup) coconut sugar
185g (¾ cup) vegan butter
60ml (¼ cup) sunflower oil
250g (1 cup) soy yogurt
50g (½ cup) cocoa powder
120ml (½ cup) almond milk
2 tsp vanilla extract
2 tsp baking powder
¾ tsp salt
3 Tbsp simple syrup
Instructions
In a large bowl, beat the sugar with the vegan butter and oil.
Add the yogurt, milk, and vanilla extract, mix until combined.
Add the flour, salt, and baking powder. Mix until creamy.
Grease a Bundt pan with butter or oil.
Pour 3/4 of the batter into the pan.
Add the cocoa powder to the remaining batter, mix to combine, and pour into the pan.
Use a knife to swirl the batters together.
Bake at 180 degrees C for 50-60 minutes.
Remove from pan and brush with simple syrup.
Nutrition Information
Yield
6
Amount Per Serving
Calories

750
Total Fat

34g
Saturated Fat

16g
Trans Fat

1g
Unsaturated Fat

15g
Cholesterol

61mg
Sodium

644mg
Carbohydrates

105g
Fiber

3g
Sugar

58g
Protein

8g
I strive to keep the information as accurate as possible but make no warranties regarding its accuracy. I encourage you to make your own calculations using your preferred nutrition calculator.