Level up your vegan snacking game with a wonderful new recipe well-suited for breakfast, lunch, and dinner! Here is how to make some delicious quinoa cakes in no time!
Those of you who know me, know that I love making quick and easy vegan snacks. Vegan cooking isn't all about struggling to find a suitable replacement for every meat and animal product out there. It is also about enjoying the lifestyle, and finding out what works for you. I think veganism is still an underrated current, but all will be solved in due time. Until then, let's get cooking! 🙂

Today we will be making quinoa cakes! These are some deliciously vegan, fritter-style patty cakes that will fill you with good vibes and have a lot of health benefits! Quinoa is one of the most wide-spread ingredients in vegan recipes. In my opinion, quinoa is a much healthier alternative to rice, specifically white rice, as it has fewer calories and a higher nutritional content, like more proteins and a lot fewer carbohydrates!
Quinoa can also be delicious in a variety of contexts. It can be personal preference, but I, for one, also prefer the texture of quinoa over rice. Quinoa can be just the right amount of fluffy and crunchy at the same time, while rice can only be fluffy, otherwise, it's just horrible. I always encourage more people to try quinoa out, even if they're not vegans. 🙂
But let's get back to the recipe on hand. I've been doing a lot of recipes like this one lately. Fritters are a very easy thing to make, and the best part is, you can make them out of anything, mostly!
Quinoa cakes are one of my favorite examples, though, because I think this fritter recipe is very intuitive. These are a great starter recipe if you're looking to start cooking vegan. It's a highly customizable recipe – you can add pretty much any spices and herbs you like best.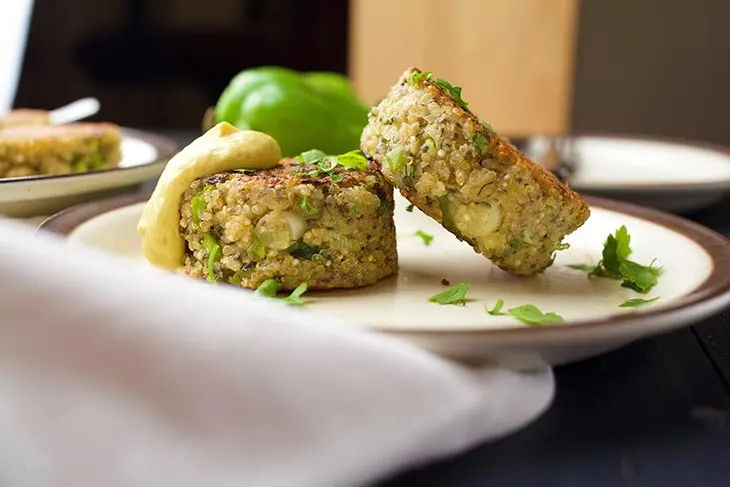 There are a couple of areas where you have to be a bit careful during the making of this recipe, however. For example, quinoa is a tricky subject when it comes to cooking.
The time it has to sit in boiling water is very specific if you want to get that fluffy-crunchy texture. After I cook the quinoa, I usually prefer to leave it for a couple of hours to reach room temperature. Prepare your mixture, and add flour to hold it together. That's an essential point.
The fun part – or at least one of my favorite parts – about making vegan fritters is choosing the shape you want to make them in. Most people would probably make their fritters wider and longer, or some people might want to make them more spherical.
This is a good opportunity to make a fun snack for your kids, too, because these fritters are so much better for them than traditional meat and cheese fritters. I encourage you to give some to your kids to try, and they might just discover their new favorite snack!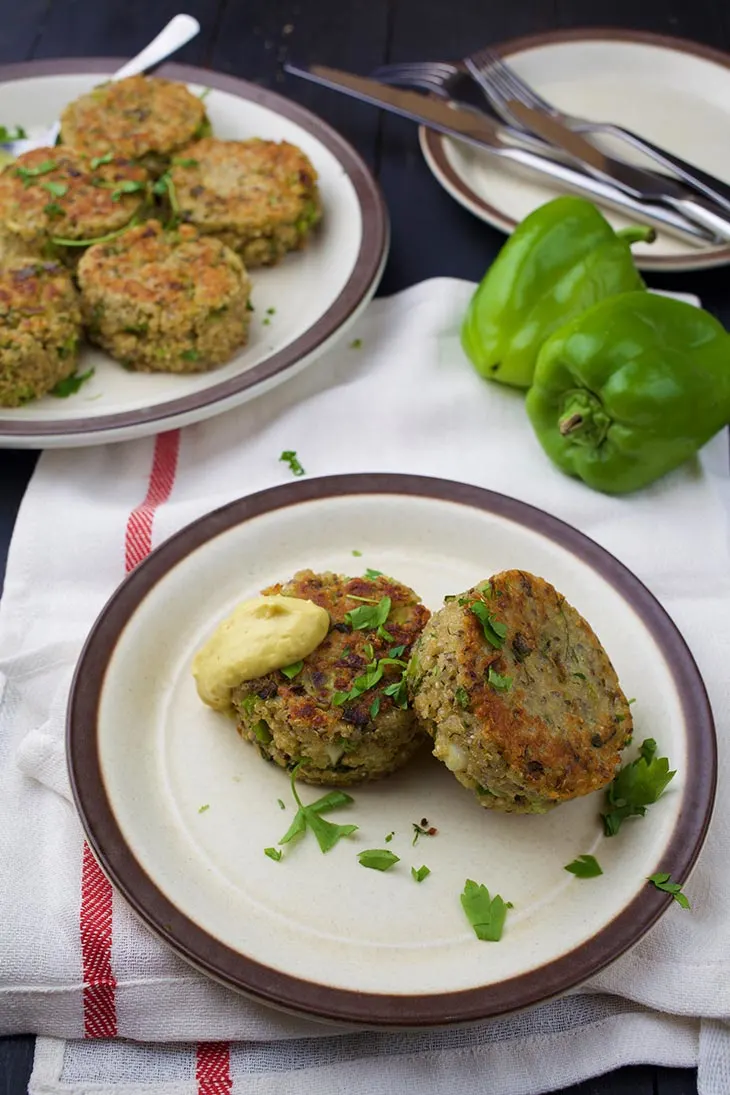 I usually like making quinoa cakes when I come home from work and I have a bunch of leftover cooked quinoa in the fridge, as the whole thing isn't that time consuming and I can get some spare time to enjoy myself. Plus, their light and fluffy texture are perfect for my ideal dinner.
You can serve them yourself in many ways. Perhaps you like to chop them up and put them in a salad? Who am I to judge? Just go wild, serve them however you like! 🙂
Quinoa cakes are also a good suggestion for a party. If you're making a tray of appetizers for your guests, be sure to include some vegan cakes like these.
Their exotic color and flavor might make people curious. Most probably, even the biggest meat lovers in the room might try one out and say hey, that's not too bad! Of course, it's not, it's delicious and healthy for you! I personally haven't met anyone who didn't like the vegan cakes I've been making, and this is something I wish upon you, too!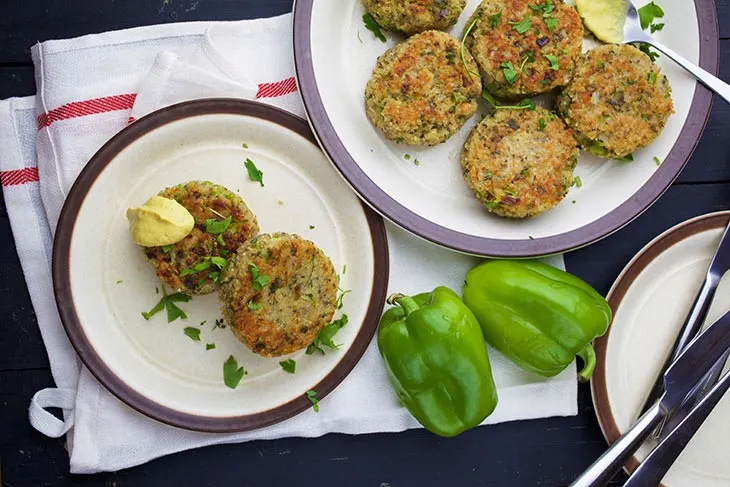 I hope you'll have a fantastic time making these vegan quinoa cakes. If you have any questions or additional vegan quinoa recipe ideas, don't hesitate to write me back! I love hearing your thoughts! Well, that's it from me, good luck on the recipe, and enjoy!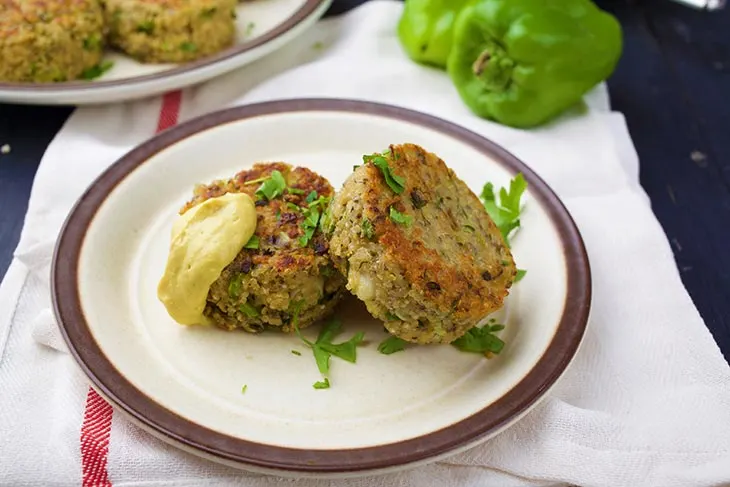 Level up your vegan snacking game with a wonderful new recipe well-suited for breakfast, lunch, and dinner! Here is how to make some delicious quinoa cakes in no time!
Ingredients
360g (2 cups) cooked quinoa
1 green bell pepper, chopped
50g (½ cup) scallions, chopped
2 Tbsp chopped parsley
1 Tbsp chopped dill
2 Tbsp chia seeds
2 flax "eggs" = 2 Tbsp ground flax seed mixed with 5 Tbsp water, or replace with 2 Tbsps psyllium husks
120g (1 cup) flour, use GF if needed
1 tsp ground cumin
salt and pepper to taste
2 Tbsp oil for frying
Instructions
In a large bowl, add the cooked quinoa, chopped bell pepper, scallions, parsley, dill, chia seeds, flax eggs, and cumin. Mix and let sit for about 5 minutes.
Stir in the flour until well combined and let sit for about 5 more minutes.
Heat a skillet on low medium heat.
Scoop the quinoa batter with a measuring cup. Press lightly to form a firm shape and discard the cakes in the skillet.
Cook each cake for about 8 minutes or until golden.
Serve with a vegan hollandaise sauce.
Nutrition Information
Yield
8
Amount Per Serving
Calories

249
Total Fat

8g
Carbohydrates

44g
Fiber

6g
Sugar

1g