Have you heard of mapo tofu before? Are you in the mood for a yummy and super nourishing recipe? Then this recipe for vegan mapo tofu is the right choice!
Prepare yourself for the ultimate mapo tofu recipe!
Today's recipe is about finding a balance between deliciousness and healthiness. You know the struggle, right? Many of us go through it – some of our favorite meals are packed with fat, oils, sugar and other things that we should seriously avoid. We sometimes give in to our cravings and order those salty, oily french fries… or maybe it's that sweet, decadent chocolate cake!
We all have our "kryptonite" and that's alright. I think that as long as it won't become a habit, eating a not so healthy meal from time to time won't do any harm. But what about the ordinary days – are we doomed to forever eat healthy, not so tasty meals? Well, big NO. Healthy food can and should be delicious! There is no reason why every day and every meal shouldn't be a treat for you and your tastebuds!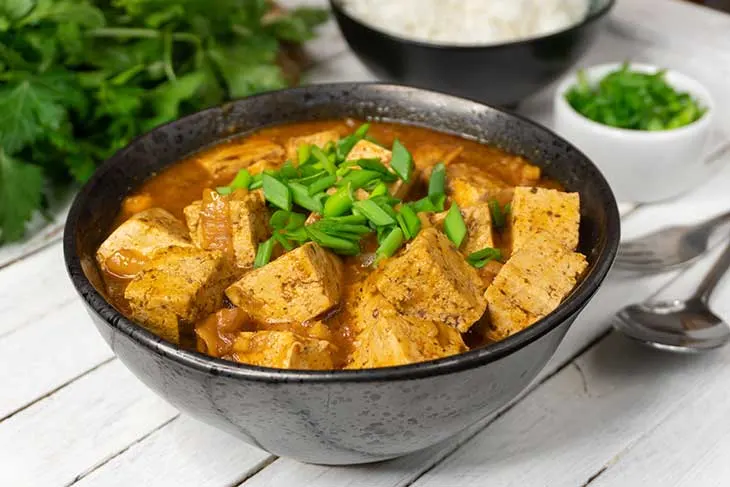 My recipe today is here to prove exactly that: being vegan and being healthy is a choice that won't keep you away from the tasty stuff! Today we are going to prepare a super tasty, super nutritious, super vegan dish: mapo tofu!
Depending on the part of the world where you live, you may have or may have not heard of this dish. In Asian countries, it's super common, since that's where its origin place is. In the States, it's also quite popular in Chinese restaurants and many people tried it and love it. But in my country, this dish is not really mainstream. And I think that's too bad since it's so tasty and such a good addition to your cooking repertoire!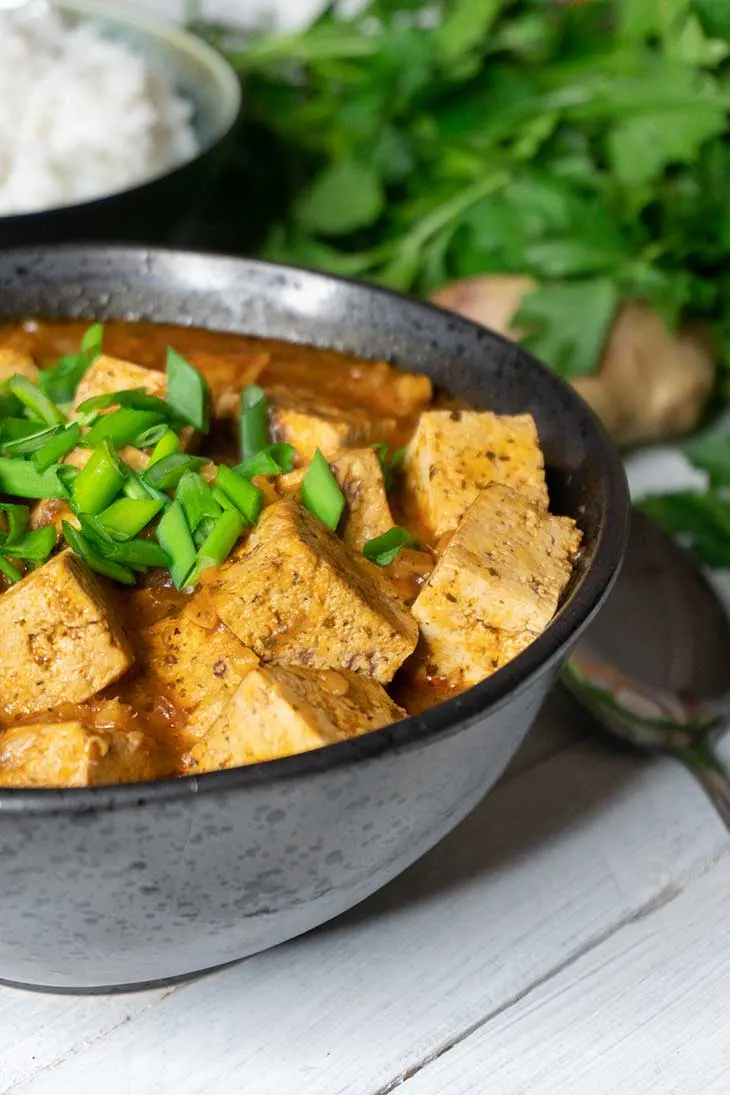 Okay, for those of you who don't know, mapo tofu is a stew-like dish that consists of tofu set in a spicy sauce together with other vegetables. It has a very distinct flavor, beautifully combining the taste of sweet, sour, bitter and spicy ingredients!
So if you're a fan of spicy, hot flavors such as ginger or pepper, you should definitely try this recipe! Since it's a staple in Asian cuisine, I think you should try this dish at least once in a lifetime, even if you choose to prepare yourself a milder version.
The origins of this dish go back to nineteenth-century China, during the Qing dynasty. Unlike many other recipes (most of them really), we know exactly how and when this dish emerged.
The dish bears the name of the woman who created it: a woman who owned a restaurant on the outskirts of the Chinese town Chengdu. Because she had been affected by the pox, she was called Ma-po which literally translates to pock-marked face.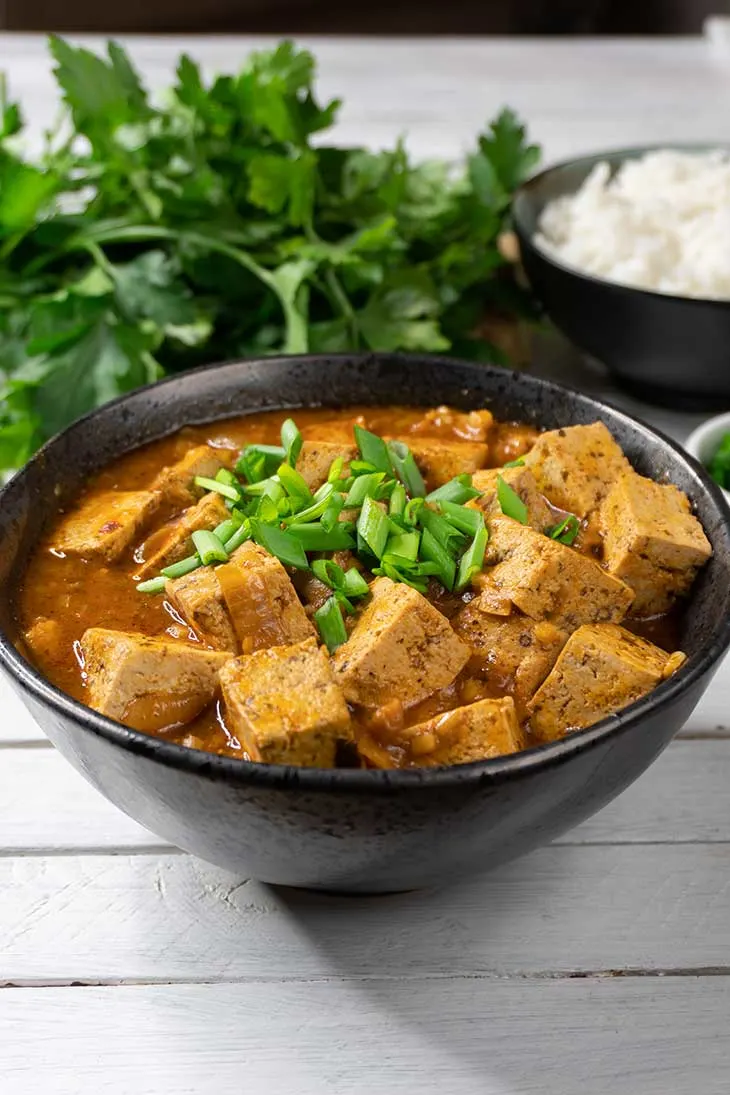 Chen Mapo, as she was known throughout the town, had a special way of cooking tofu. It was famous for its nice look, smell, and taste.
The dish became so popular that eventually the name of the restaurant was changed to Chen Mapo Tofu Restaurant, as some archives suggest, and it was listed among the 23 most famous restaurants in Chengdu during the late Qing Dynasty. Mapo tofu eventually spread nationwide and is now a staple food of Chinese cuisine. 🙂
I think you will be enchanted too by this recipe, as it perfectly captures the essence of the original mapo tofu. I had to do a little bit of adapting, as the original recipe features meat, and of course, I completely eliminated it.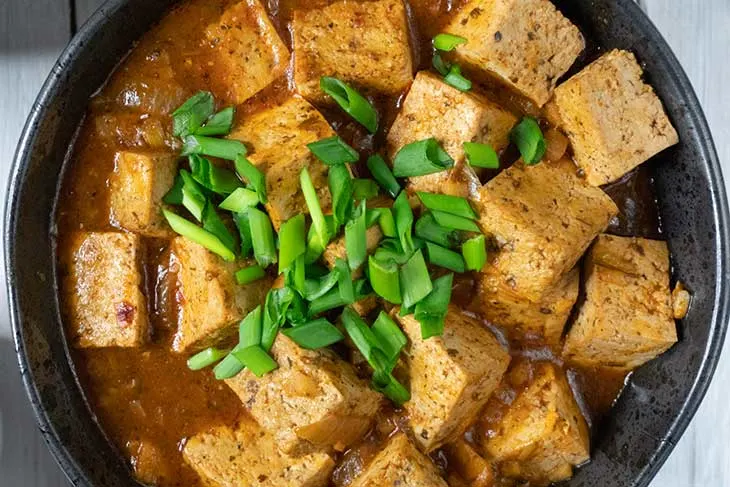 Since this recipe is all about balancing different flavors, I had to do quite a bit of trials until I managed to capture a perfect taste, not too little and not too much of anything. But I think I finally came to the right ratio of ingredients and I am ready to share it with you! I also tried to make this recipe a little bit more simple, using more common ingredients. Although it still has an original, Asian taste, I wanted to make sure that this recipe is available to everyone ingredient-wise.
Now that we have all these facts, all that's left to do is get everything together and start cooking!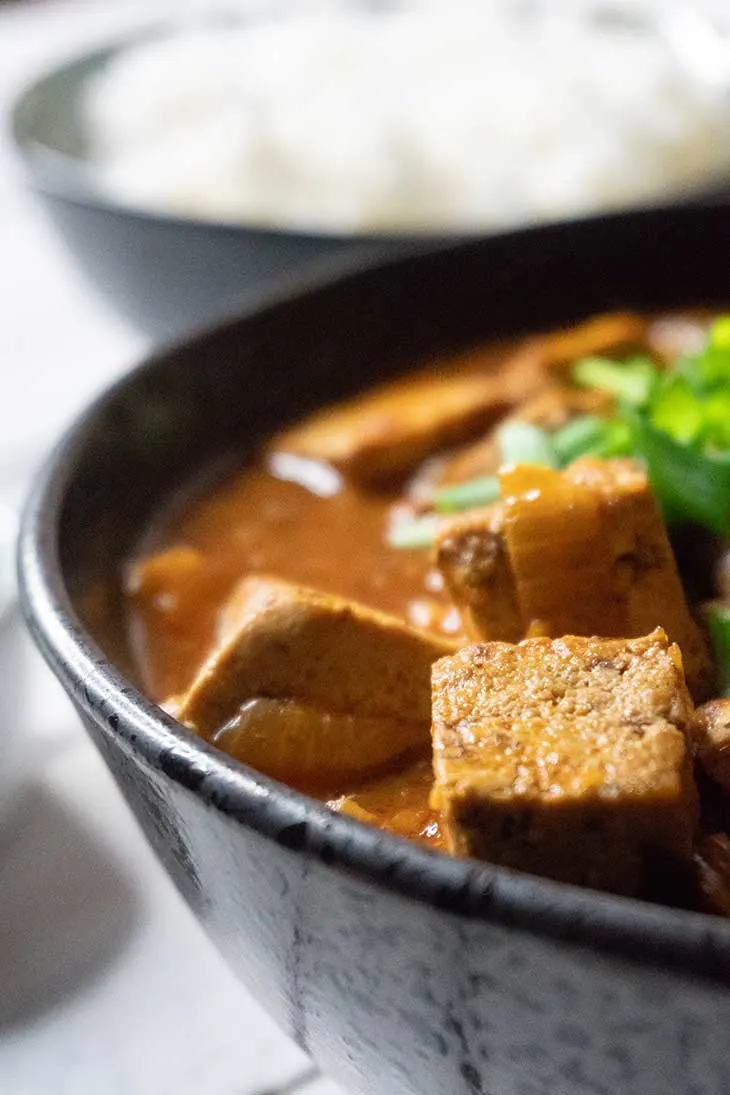 Follow me to the kitchen and then check out the detailed steps below. You will end up with a wonderful dish, bursting with flavor and ready to amaze you and any potential guests! And once you give this recipe a try, don't forget to come back here and tell me all about how it went! Your comments help me make my future recipes better and better – feedback is key! And most important: don't forget to enjoy your meal!
---
Personalized meal plans and workout videos | Get your customized meal plan today! [x_button shape="square" size="mini" float="none" target="blank" href="https://shop.gourmandelle.com/?utm_source=mainsite&utm_medium=site&utm_campaign=inpost" info="none" info_place="top" info_trigger="hover"]I WANT A MEAL PLAN![/x_button]
---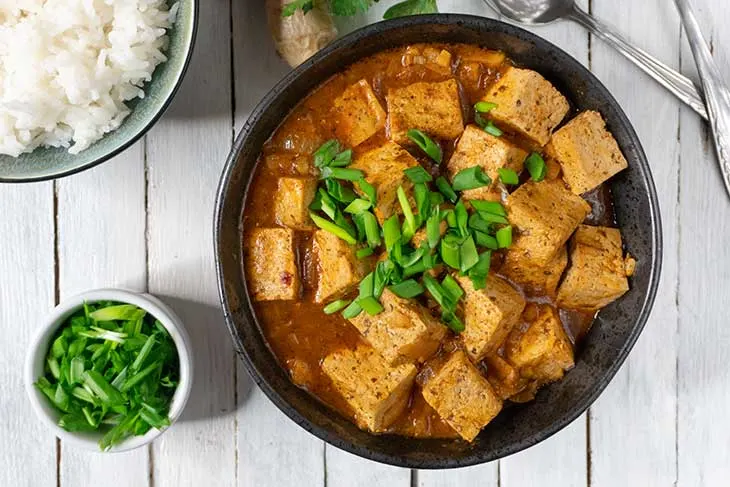 Have you heard of mapo tofu before? Are you in the mood for a yummy and super nourishing recipe? Then this recipe for vegan mapo tofu is the right choice!
Ingredients
4 medium dried shiitake mushrooms
1 medium red onion, chopped
2 garlic cloves, minced
2 Tbsp chili bean paste
2 Tbsp soy sauce
2 tsp sesame oil
2 Tbsp vegetable oil
1 tsp sugar
1 Tbsp black bean sauce
2 tsp fresh ginger, minced
400g (1 ½ cup) tofu cubes
1 Tbsp corn starch
3 scallions
1 Tbsp rice wine
360ml (1 ½ cups) water
salt & pepper
Instructions
Pour 1 1/2 cups of water over the dried mushrooms and bring to a boil and cook for 5 minutes.
In a pan, heat up vegetable oil and sautee the minced garlic, ginger, onion and the white parts of the scallions.
Take the mushrooms out the water, chop them and transfer to the pan. Season with salt and pepper.
Add the black bean sauce, chili bean paste, rice wine, sugar and cook for another 30 seconds.
Add the soy sauce, tofu cubes, and mushroom broth. Simmer for 10 minutes or until the liquid reduces by half.
In a small bowl, combine the corn starch with 2-3 tbs water before adding it to your sauce. Cook for another minute or until it thickens.
Serve with rice and top with chopped scallions and sesame oil.
Nutrition Information
Yield
2
Amount Per Serving
Calories

440
Total Fat

27g
Carbohydrates

27g
Protein

22g