Here's how to make a delicious vegan Greek pie with eggplants called Melitzanopita. You'll fall in love with the flavors of this amazing pie recipe! Give it a try!
If you'll ever visit the wonderful country of Greece, you will find the traditional spinach pie (spanakopita) and cheese pies everywhere, from restaurants to pastry shops, as Greek pies are very common and popular Greek foods.
But you won't experience the authentic Greek cuisine until you try one of their best pies – Melitzanopita, which is a traditional eggplant pie. This is a very delicious and filling Greek pie recipe and even if you won't have the chance to taste it in Greece, you can make it at home because it's so easy to make.
The original Melitzanopita recipe is made with phyllo dough, eggplant, peppers and anthotyros cheese, a Greek cheese made of unpasteurized sheep's and goat's milk or a mix between these two.
In some parts of Greece, the Melitzanopita is made with the famous Greek feta cheese. You can, of course, make this recipe even if you're following a vegan diet, by replacing the anthotyros cheese with tofu and you'll have a very similar, but healthier result. I used smoked tofu for this vegan Greek pie recipe and it turned out so good you'll want to make it again and again!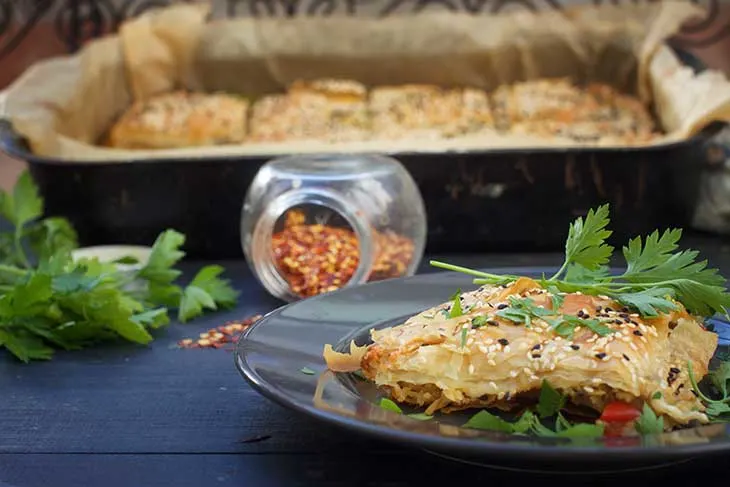 As you may probably already know, eggplant is one of my favorite vegetables and one of the staple foods in the Mediterranean and Middle Eastern cuisine. I have created many recipes with eggplant before, from Ratatouille to salads, veggie burgers and, of course, Baba Ganoush, but I must say that this vegan Greek pie with eggplants is one of the most delicious eggplant recipes ever!
Surprisingly enough, eggplant is actually not a vegetable but a fruit, used in a large variety of recipes because of its versatility. Eggplants are full of essential nutrients such as fibers, vitamins, manganese, potassium, vitamin K and more. You can cook them in countless ways, the most common technique being roasting, so make sure you add them to your diet more often.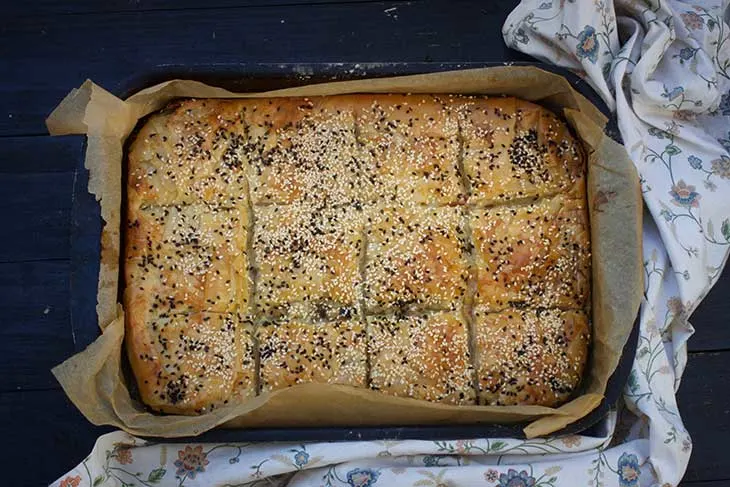 Of course, if you want to change the original Melitzanopita recipe a bit you can also add other ingredients into the mixture such as carrots, vegan cheese, walnuts or anything else you're craving. You can even make it a little bit spicy if you're a fan of hot, spicy foods!
You can serve this vegan Greek pie as an appetizer, for breakfast, or you can even eat it for lunch or dinner because it's very tasty and filling. One of the best things about this eggplant pie recipe is that you can even make it in bigger batches and store it in the freezer. You can then bake it whenever you feel like serving a yummy appetizer together with your friends and family and I assure you that everyone will love it, regardless if they're vegan or not.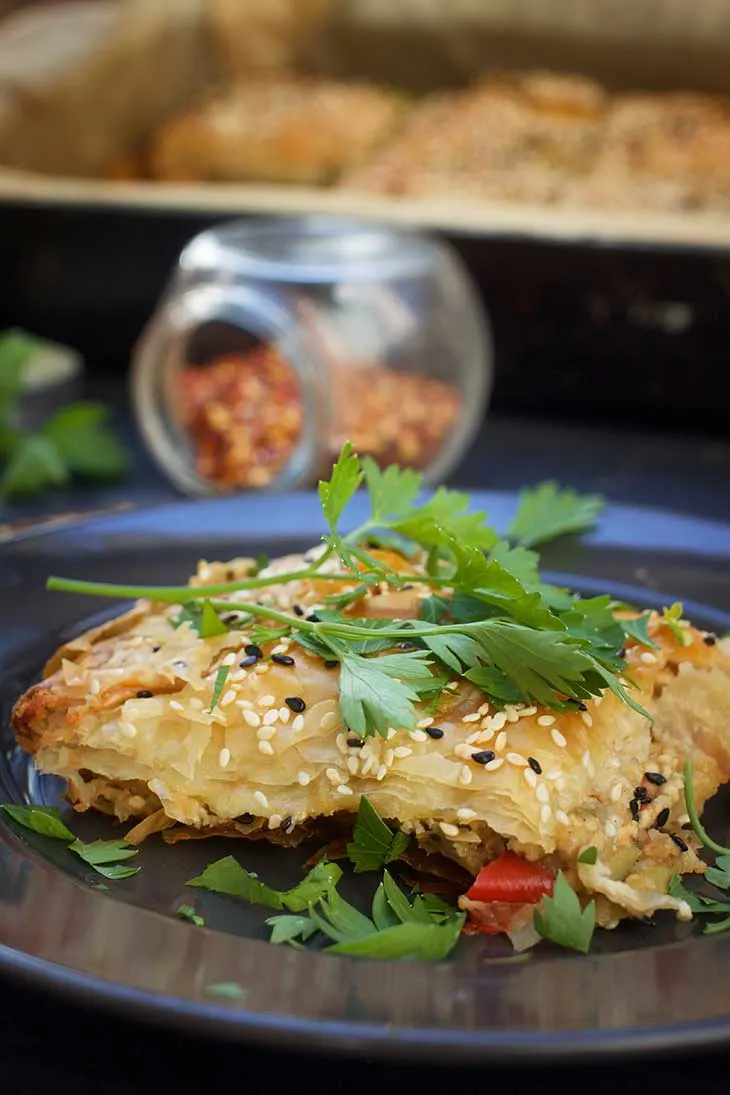 Yield: 12
Vegan Greek Pie with Eggplants - Melitzanopita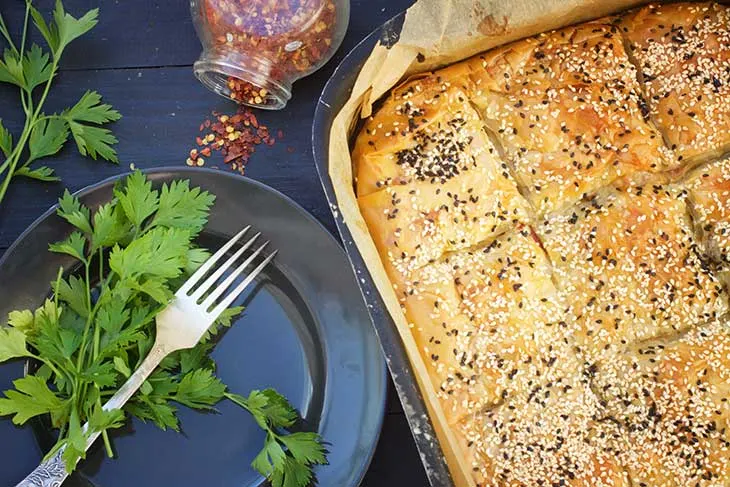 Here's how to make a delicious vegan Greek pie with eggplants called Melitzanopita. You'll fall in love with the flavors of this amazing pie recipe! Give it a try!
Cook Time
1 hour
10 minutes
Total Time
1 hour
20 minutes
Ingredients
160g (¾ cup) olive oil
3 large eggplants
2 yellow onions, chopped
2 kapia red peppers, chopped
375g (1 ½ cup) smoked tofu, crumbled
90g (½ cup) olives, sliced
50g (½ cup) textured soy protein, granules
2 Tbsp fresh parsley, chopped
1 tsp salt
½ tsp black pepper
½ tsp red pepper flakes
1 tsp dry oregano
1 tsp dry mint
12 phyllo sheets
1 Tbsp sesame seeds, mixed
Instructions
Preheat oven to 200 C.
Line a baking tray with baking paper and lay the eggplants on the tray.
Drizzle with a little oil and bake for about 25 minutes, until soft and easy to peel. Remove from oven, let them cool, peel and cut into small pieces.
Meanwhile, in a medium bowl, cover the TSP (textured soy protein) granules with boiling water. Let them soak for about 10 minutes. Strain them to get rid of water excess.
Place a small skillet on medium heat and grease it with a little bit of olive oil. Add the onion and saute for about 5 minutes, until translucent.
In a large bowl, add the baked eggplants, onions, chopped kapia peppers, crumbled tofu, sliced olives, hydrated TSP granules, chopped parsley, salt, pepper, red pepper flakes, oregano, mint and mix well to incorporate.
Line a baking dish with a phyllo sheet, brush it with olive oil and repeat this process with 5 more, placing them on top of each other.
Top the base phyllo sheets layer with the eggplant mix and cover with another 6 filo sheets, brushing each one of them with olive oil.
Drizzle about 1/4 cup of water all over the top layer of phyllo and sprinkle with sesame seeds mix.
Cook for about 60 minutes or until golden on top.
Serve with some fresh herbs or vegan cream.
Nutrition Information
Yield
12
Amount Per Serving
Calories

280
Total Fat

17g
Carbohydrates

21.7g
Protein

10g