Here's how to make ratatouille – the easy way! Ratatouille is a delicious vegetarian dish that is so simple and flavorful, it will surely become your favorite!
Ratatouille is a popular French recipe you probably know from the Pixar movie with the same name. Ratatouille is one of my favorite animated movies and if you haven't watched it, you should! 🙂 In the movie, it looked like a fancy, complicated dish but in fact, it's quite easy to make!
The traditional ratatouille recipe is actually a just a simple recipe with stewed vegetables arranged beautifully in a dish. It is sometimes referred to as ratatouille niçoise and its name is derived from the French word touiller which means "to stir up".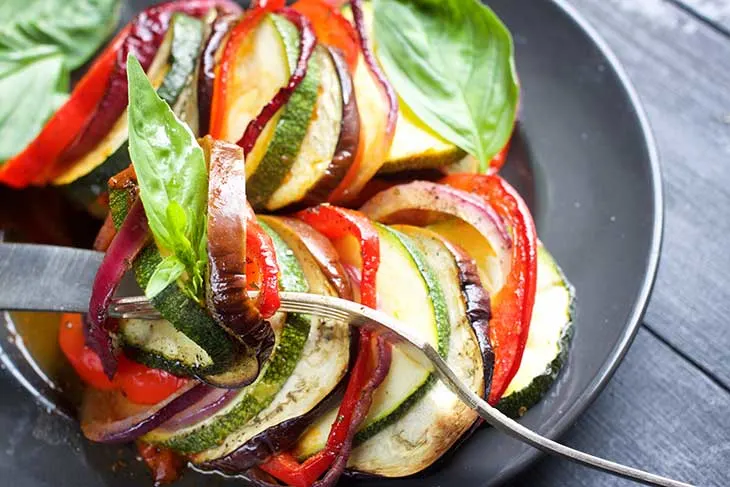 There are many ways to make ratatouille and I chose the easiest one for you today with the basic ratatouille ingredients. This recipe is made with onions, zucchini, eggplant and bell pepper spiced with herbs and slow-cooked in a creamy tomato sauce with a subtle garlic flavor.
The prep part takes about 15 minutes, or less if you have a mandoline and slice the veggies with it. The cooking takes about 50 minutes but the result is well worth the time spent in the kitchen. This French vegetable stew is so fragrant and rich in flavors. The texture is pretty incredible too and it looks quite spectacular!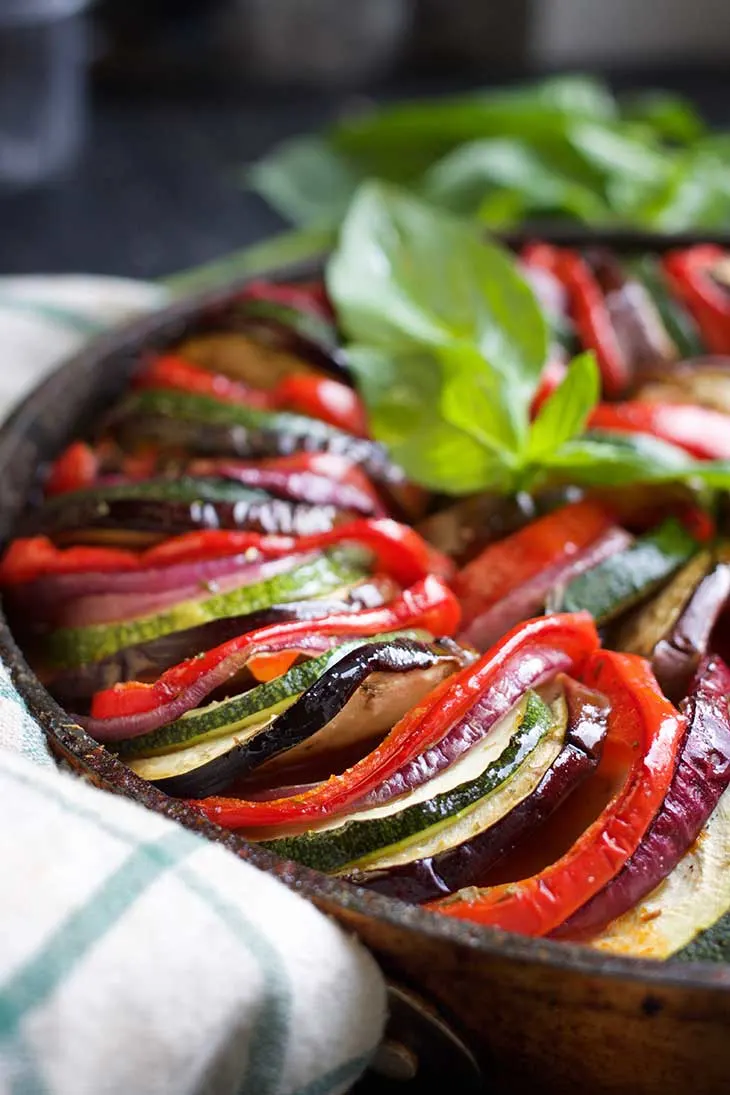 Serve this easy ratatouille recipe with fresh basil on top and you're in for a treat! I will show you exactly how to make ratatouille, step by step, from the sauce preparation to slicing the vegetables and arranging them in the oven dish.
Hope you'll give it a try!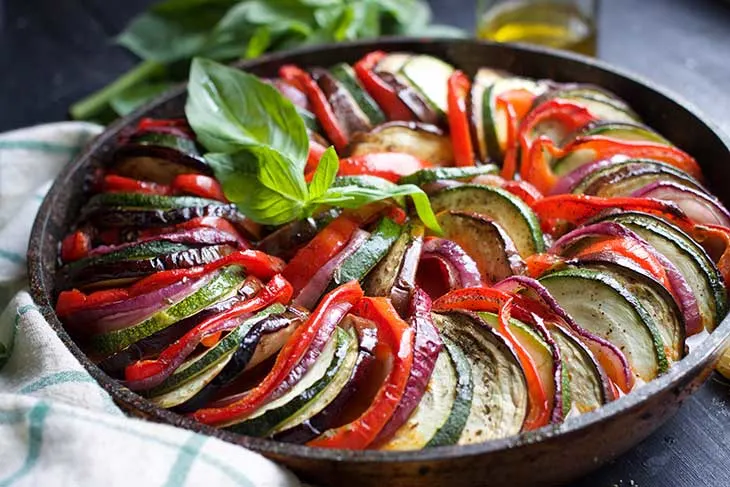 Yield: 2
How to Make Ratatouille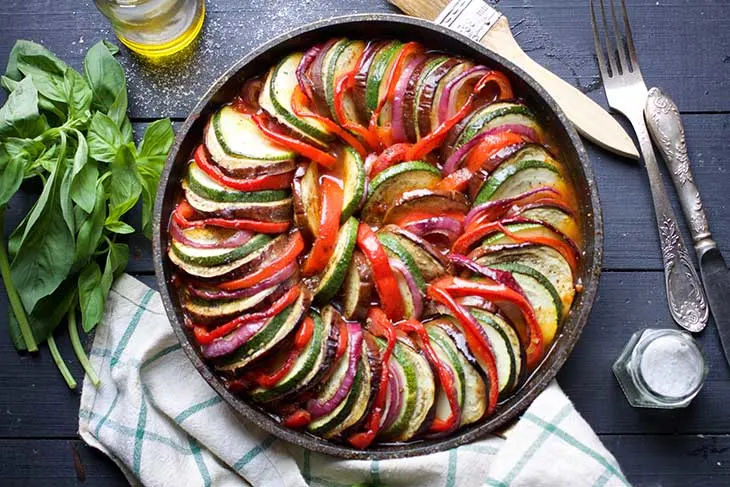 Here's how to make ratatouille! This delicious, vegetarian dish is so simple and flavorful, it will surely become your favorite!
Total Time
1 hour
15 minutes
Ingredients
2 medium zucchinis, sliced
2 medium eggplant, sliced
1 medium red onion, sliced
2 medium red bell pepper, sliced
4 sprigs fresh basil
1 tsp dry oregano
1 Tbsp olive oil
salt and pepper
For the sauce:
1 Tbsp olive oil
2 cloves garlic, minced
8 small tomatoes, peeled and crushed
2 thyme sprigs
salt and pepper
Instructions
Preheat the oven to 200C.
Heat a large, oven-friendly skillet over medium heat.
Add the olive oil, minced garlic, thyme and saute for 2 minutes.
Add tomatoes and continue to cook for about 10 minutes, stirring occasionally. Add salt and pepper, to taste.
Place the sliced veggies, in the skillet over the sauce, in a spiral pattern around the skillet until the entire pan is covered.
Brush the veggies with the olive oil and sprinkle them with salt, pepper, and oregano.
Bake in the oven about 50 minutes or until the veggies are soft and tender.
Serve with fresh basil leaves on top.
Nutrition Information
Yield
2
Amount Per Serving
Calories

385
Total Fat

14.7g
Carbohydrates

50g
Protein

13g