In case you're following a keto diet, then you simply NEED this keto bread recipe in your life! No kneading needed and less than 3g of carbs per slice!
No, you don't have to give up bread when you're on a keto diet. Yes, you can eat diet bread that actually tastes good. No compromises here! Just make this incredible keto bread and you're good to go!
My goal today was to make delicious keto bread only with basic ingredients that you can find in any supermarket out there. And it was a real success! This bread is healthy, tasty, and extremely easy to make, so you have no excuses to try it today. ASAP! 🙂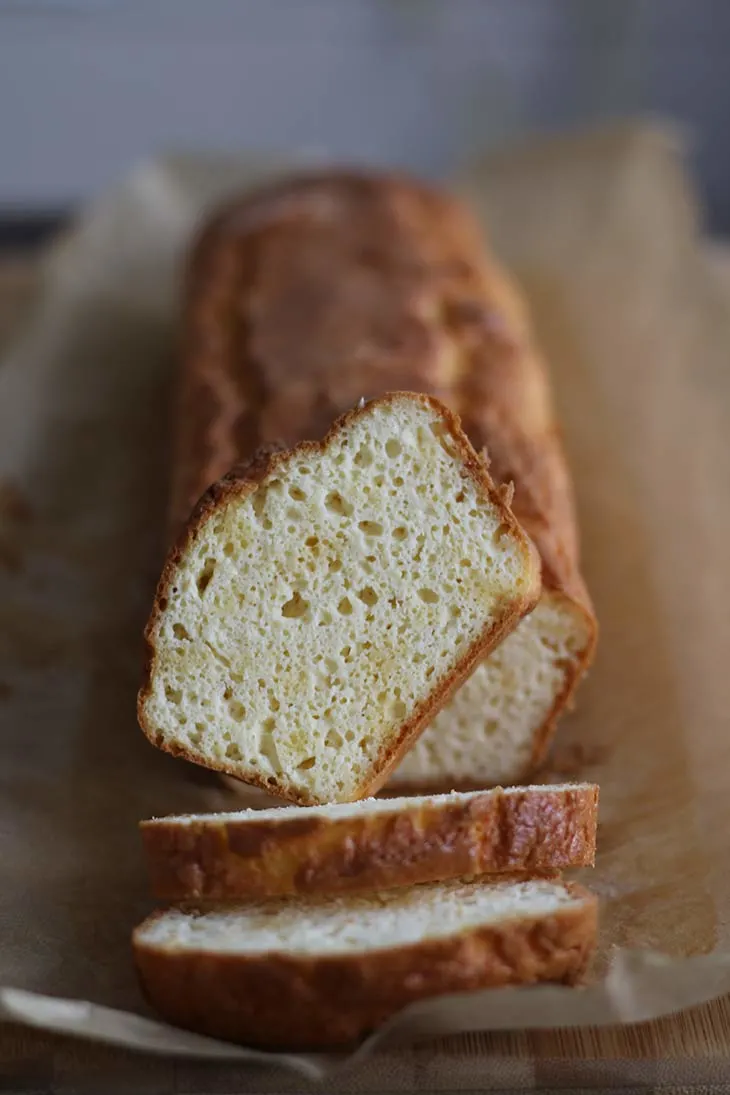 This healthy keto bread only requires 5 basic ingredients – almond flour, eggs, butter, baking powder, and a pinch of salt. Simple, clean, and extremely healthy!
This keto bread has around 30g carbs for the entire loaf, which means around 2.4g per slice. And you know what they say – every GOOD keto bread needs to have less than 3g per slice. So I think we have reached our goal here! A slice of this keto bread also has 116 calories, 9.5g fat, 5g protein, and little to no sugar. A dream come true!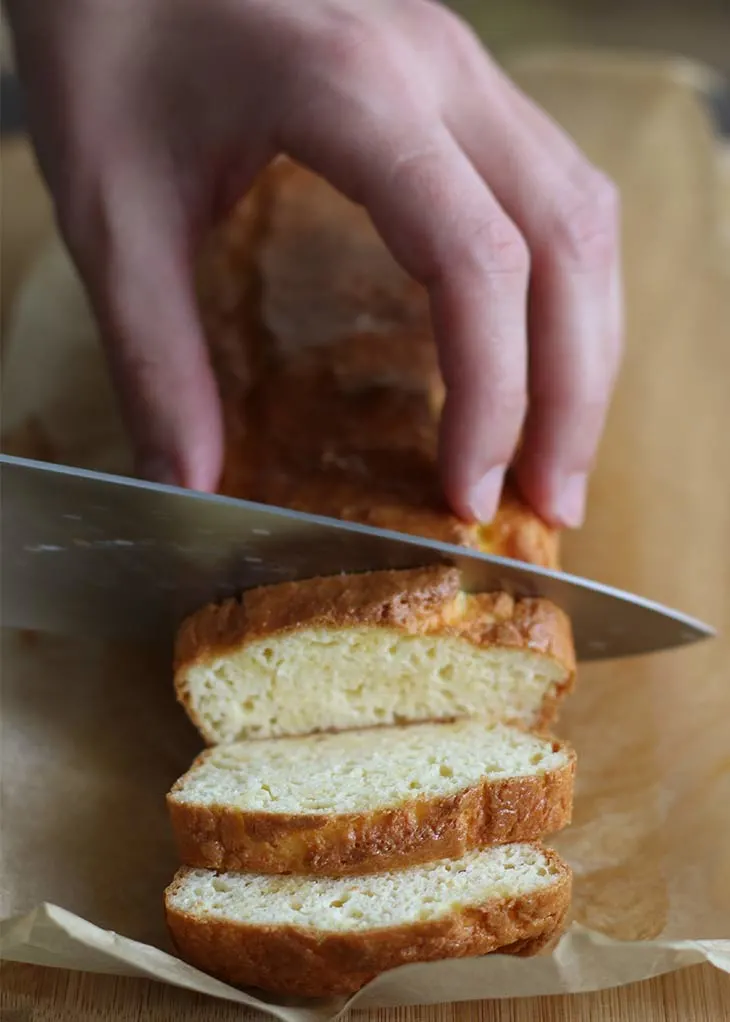 Except for the very good nutritional information, another goal of mine when creating this recipe was to make it easy to make. EXTREMELY easy to make! I didn't want any of you to feel intimidated by a complicated ingredient list, endless kneading, or other complicated techniques that are sometimes implied when it comes to bread making. Nope! You just need 5 ingredients, a little bit of time for preparing, and then some patience until the bread is cooked in the oven. And that's it!
Having a piece of fresh bread on hand is pretty essential when you're following a keto diet. And if it's a homemade one, both yummy and healthy, you're already in heaven. A pretty nice idea would be to prepare a loaf of this keto bread on Saturday or Sunday. If you make it over the weekend, you can rest assured that you'll have some bread for the following week. At least for a quick sandwich in the morning when you're in a rush!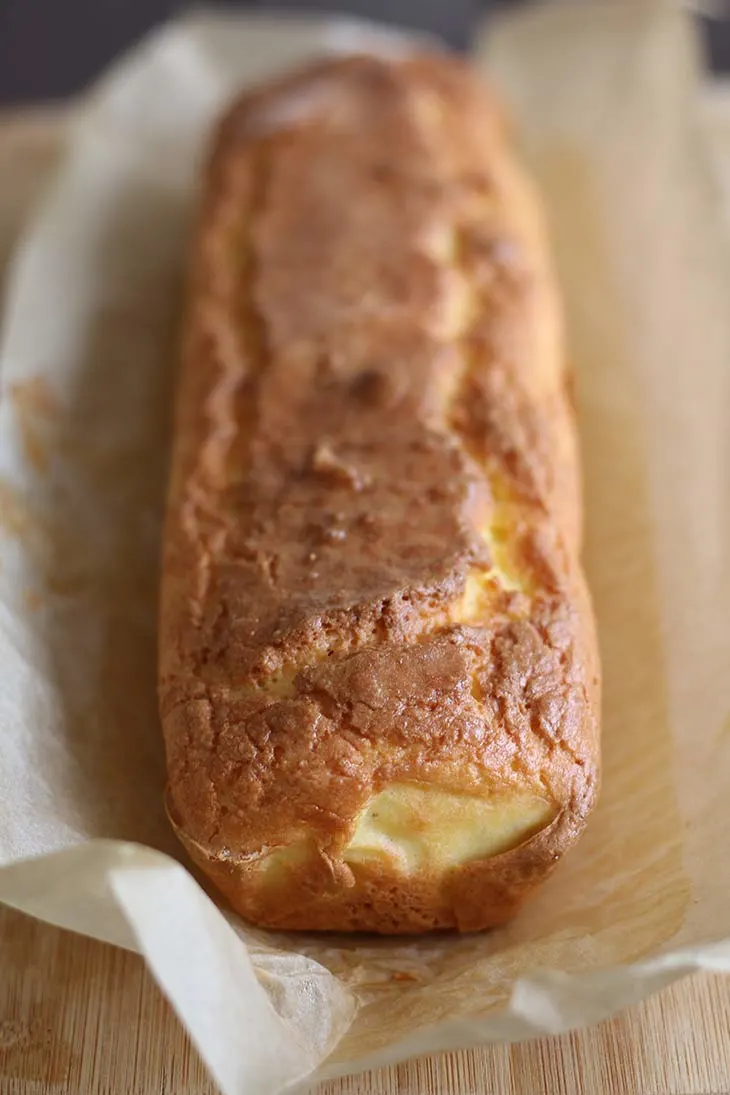 This keto bread is amazing regardless if you're following a keto diet or not. It's an excellent idea even if you don't want to lose any weight, but you simply want to eat cleaner and healthier. Or if you want to try a new bread today! After all, making your own bread in your own kitchen is one of the little victories in life and I think every one of us should try it at least once. Especially when the instructions are so simple and clear like they are for this keto bread. Mark my words.
TIP: One of the best tips I can offer you when it comes to this keto bread is to separate the eggs – separate the yolks from the whites for the best bread consistency. I have written this in the instructions below but I cannot help but mention it again. It's such an important step! Then you have to whip the whites until they're fluffy. Reeeeally fluffy. By separating the eggs you'll end up with a dense, delicious bread that's also fluffy. It basically has the perfect texture. And a better taste as well!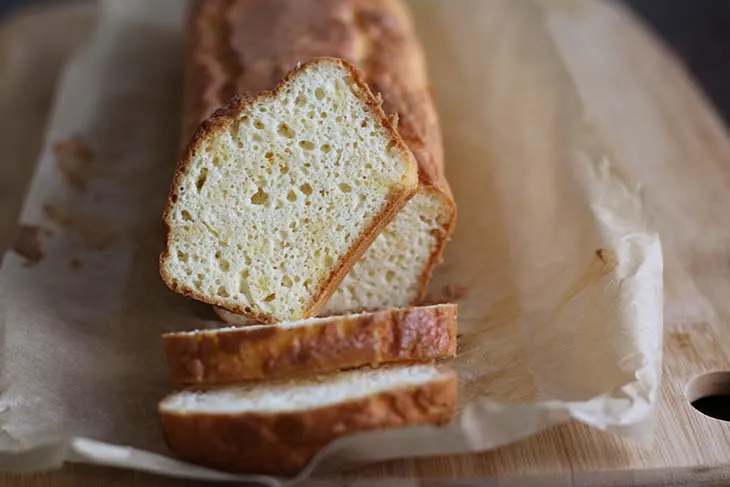 In case you're looking for some other awesome keto recipes, I have a couple of other recommendations as well: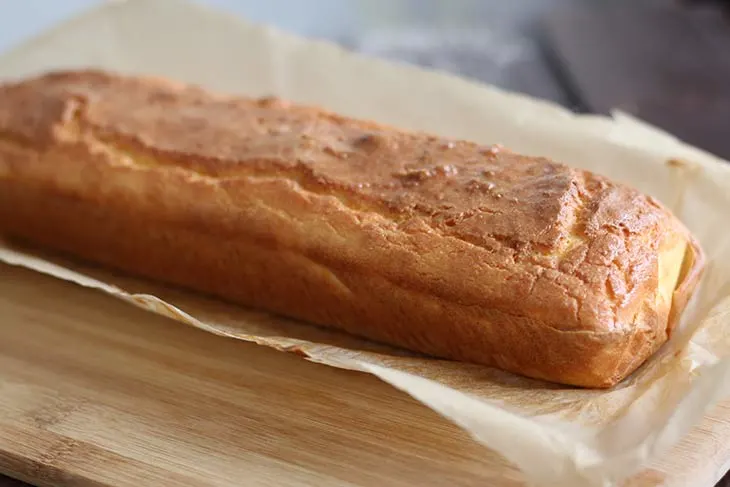 Now let's talk about substitutes for a bit:
Butter – you can replace it with coconut oil, olive oil, or even avocado oil;
Stevia – this one is optional but I recommend it because it will reduce the "eggy" taste of the keto bread. You can replace it with a little bit of dry yeast;
Almond flour – is your best shot when it comes to a good, healthy keto bread. You can also use coconut flour, but that calls for another recipe.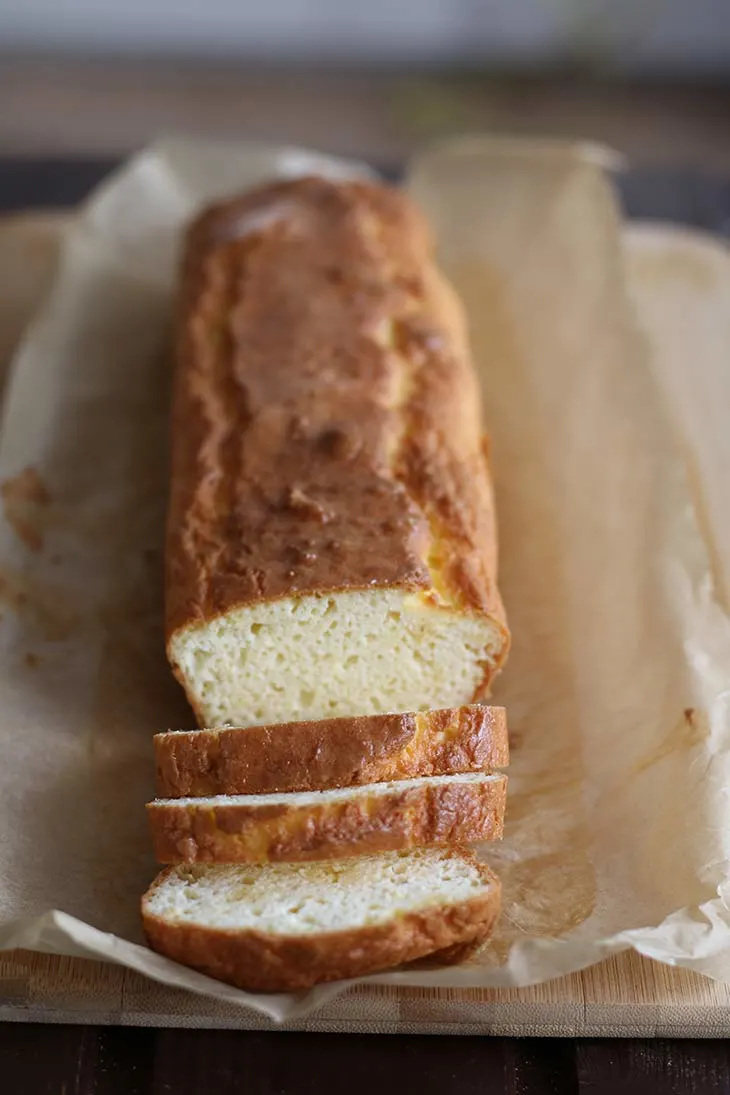 After baking, you can store your fluffy bread in the fridge in a Ziploc bag for 7 to 10 days. Just remember to not cut the slices until you eat it; instead, keep the entire loaf of bread in the bag – it will preserve better this way.
That being said, I hope I convinced you to try this super delicious keto bread soon! It's so easy and yummy that you simply have to! And if you decide to give it a go, let me know how it went, I'm so curious to read about your experiences.
Until then, happy baking and bon appetite!
Yield: 1 bread (10 slices)
Keto Bread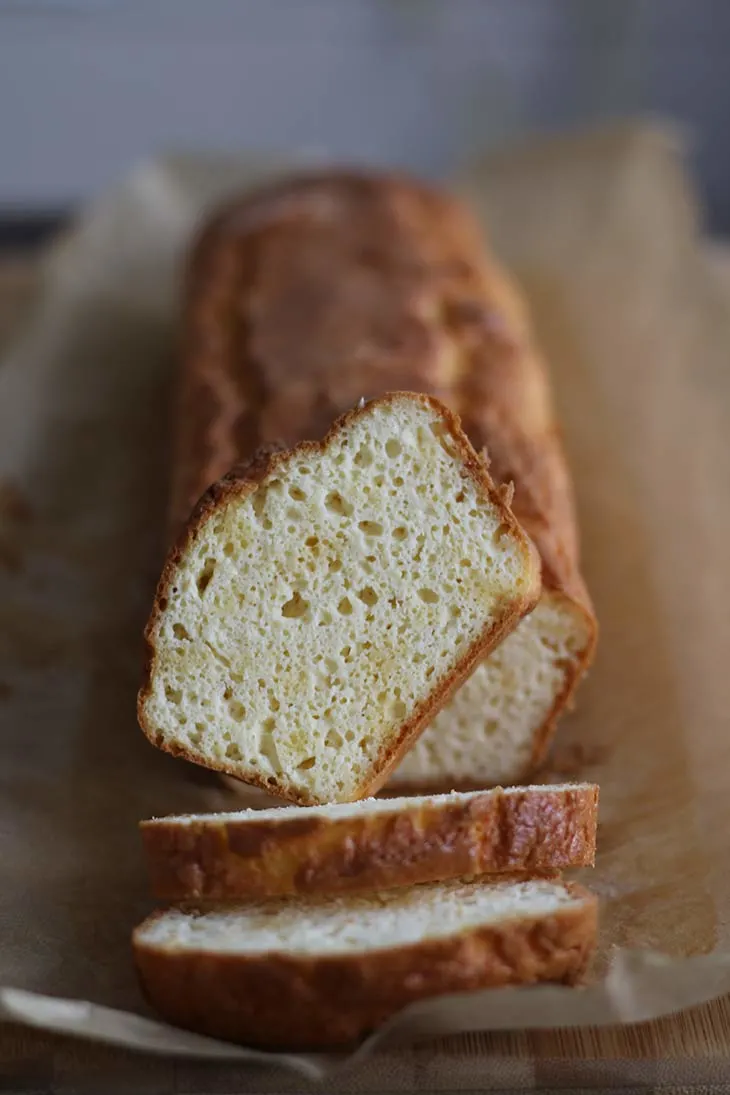 In case you're following a keto diet, then you simply NEED this keto bread recipe in your life! No kneading needed and less than 3g of carbs per slice!
Ingredients
170g (1 3/4 cups) almond Flour
6 eggs, large, yolks and whites separated
50g (1/4 cup) butter, melted
10g (2 tsp) baking powder
1 pinch salt
1 tsp stevia powder, optional
Instructions
Preheat oven to 200C.
Separate the egg yolks from the whites. Put the egg whites into a large bowl.
Add a pinch of salt to the egg whites and whisk using a hand mixer until they form soft peaks. In a separate bowl, add the egg yolks, melted butter, almond flour, baking powder, and a third of the beaten egg whites composition. Optional - also add the stevia powder, it will reduce the 'eggy' taste of the keto bread.
Whisk using the hand mixer until well incorporated. Add the rest of the egg whites, but this time use a spatula to slowly incorporate everything. Make sure you don't overmix.
Pour the batter into a loaf pan covered with some baking paper and lightly greased over the baking paper.
Bake the bread for 30 minutes. Before removing it from the oven, do the toothpick test. If it comes out clean, it's ready.
Nutrition Information
Yield
10
Amount Per Serving
Calories

94
Total Fat

3g
Saturated Fat

1g
Trans Fat

0g
Unsaturated Fat

2g
Cholesterol

130mg
Sodium

57mg
Carbohydrates

3g
Fiber

0g
Sugar

0g
Protein

5g
I strive to keep the information as accurate as possible but make no warranties regarding its accuracy. I encourage you to make your own calculations using your preferred nutrition calculator.