Looking for a keto omelette? I have the right answer for you! This keto omelette with cheese and spinach is low-carb, filling, and super delicious!
I know there are many people following a keto diet that have been looking for the perfect breakfast recipe.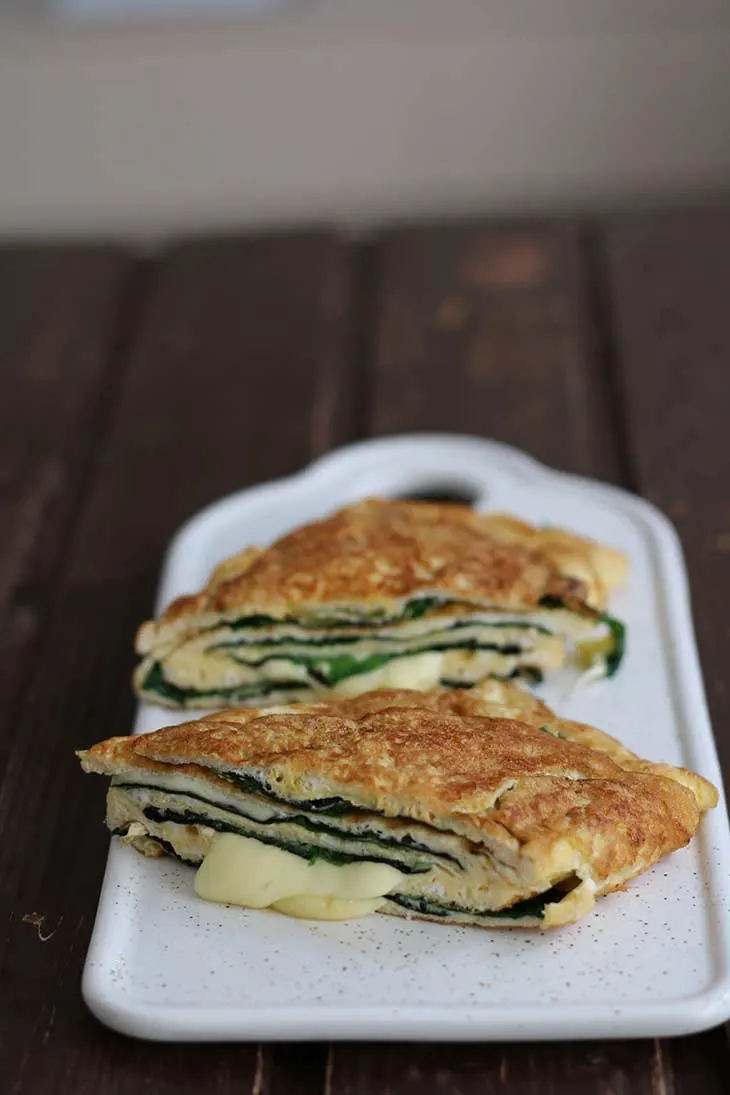 No more searching, my friends. If you're an egg lover, this will be THE best start of the day for you. This keto omelette with gouda cheese and spinach is filling, yummy, and extremely easy to make. Ready in 5 minutes!
It is said that breakfast is the most important meal of the day – and I couldn't agree more. Starting your day with a filling, healthy meal is crucial if you want to have enough nutrients and energy to keep you active and productive until lunchtime.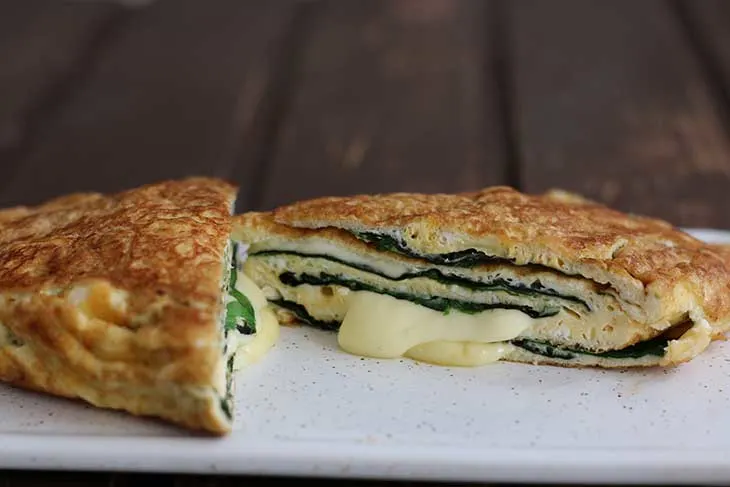 And this keto omelette with cheese and spinach is the perfect option! It has protein-rich greens, cheesy cheese for a plus of texture, and… eggs, of course. This breakfast recipe is guaranteed to give you a protein boost, as well as a big dose of vitamins and minerals. There's also lots of potassium, calcium, and iron involved, so you know you'll be getting ALL the good stuff. And almost no carbs, which is exactly what we're looking for.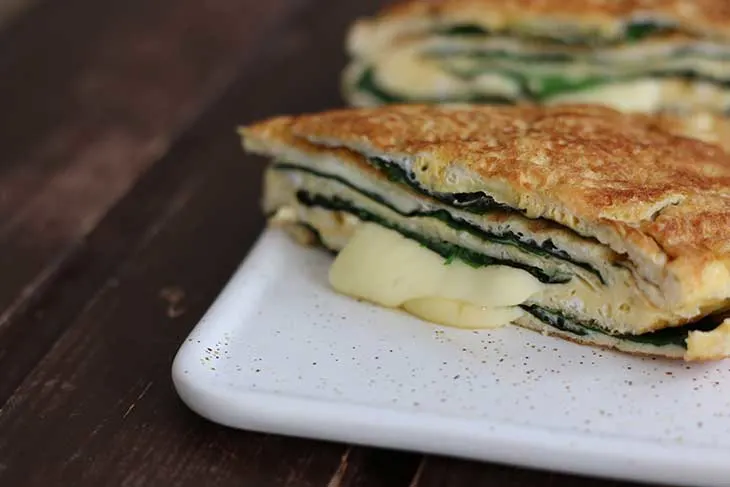 I decided to not use any onions in this recipe in order to omit the carbs. Same for the tomatoes. So the ingredient list only contains 4 eggs (for a two-portion omelet), gouda cheese, baby spinach, a bit of butter, and a bit of salt, to taste. Simple and clean, exactly as I like it!
NOTE: This recipe contains eggs, butter, and cheese too, so it's definitely not vegan. But if you're looking for a vegan breakfast, you can try my vegan scrambled eggs recipe that contains tofu and spring onions or my French vegan omelette with chickpea flour and turmeric. Both of them are super delicious and healthy! If you're looking for a change, you can also make these vegan eggless 'egg' bites that require a muffin pan. Yum!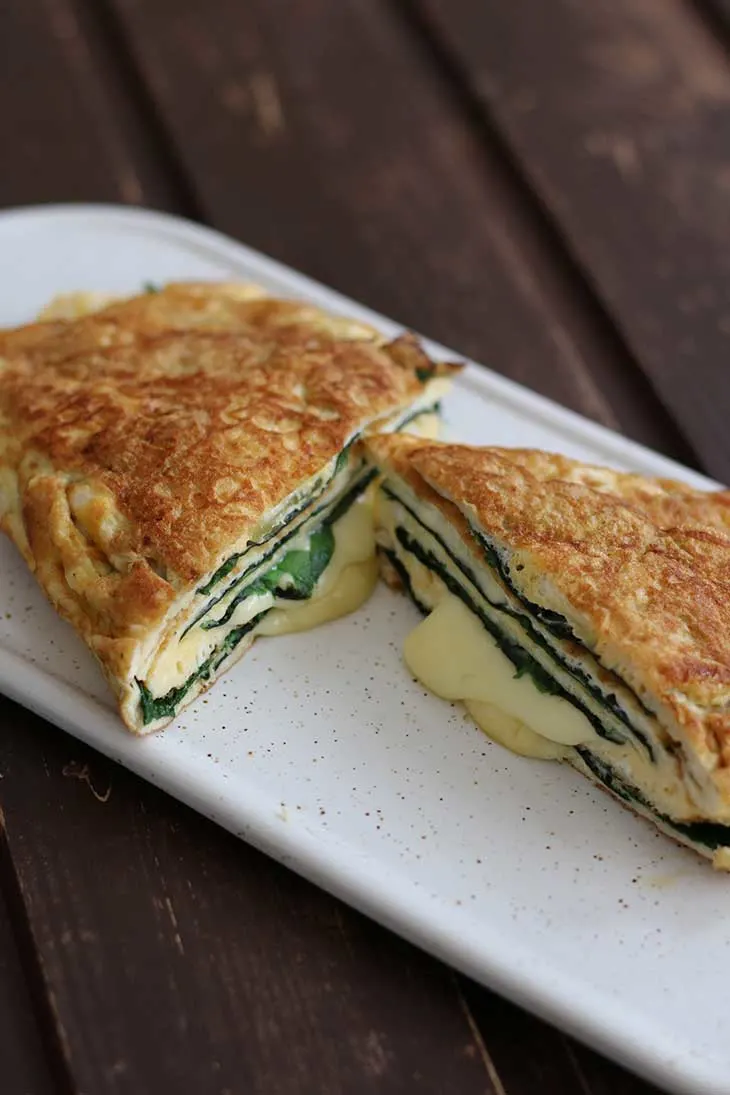 In case you don't want this recipe to be keto-friendly, you can add some other ingredients into your omelet as well. For example ham, corn, tomatoes, mushrooms, onions, and anything else in-between. But if I were to choose, I think mushrooms would be the best addition to the recipe. Moist, flavorful, and light!
As for calories, I only have good news for you: this keto omelette with cheese and spinach is low in calories too! One egg has around 70 calories. Spinach is super low in calories too – one full cup has as little as 7 calories. 1 slice of gouda cheese has around 100 calories. So 1 serving of this keto omelette has maybe… 250 calories? Give or take. That's pretty good to me!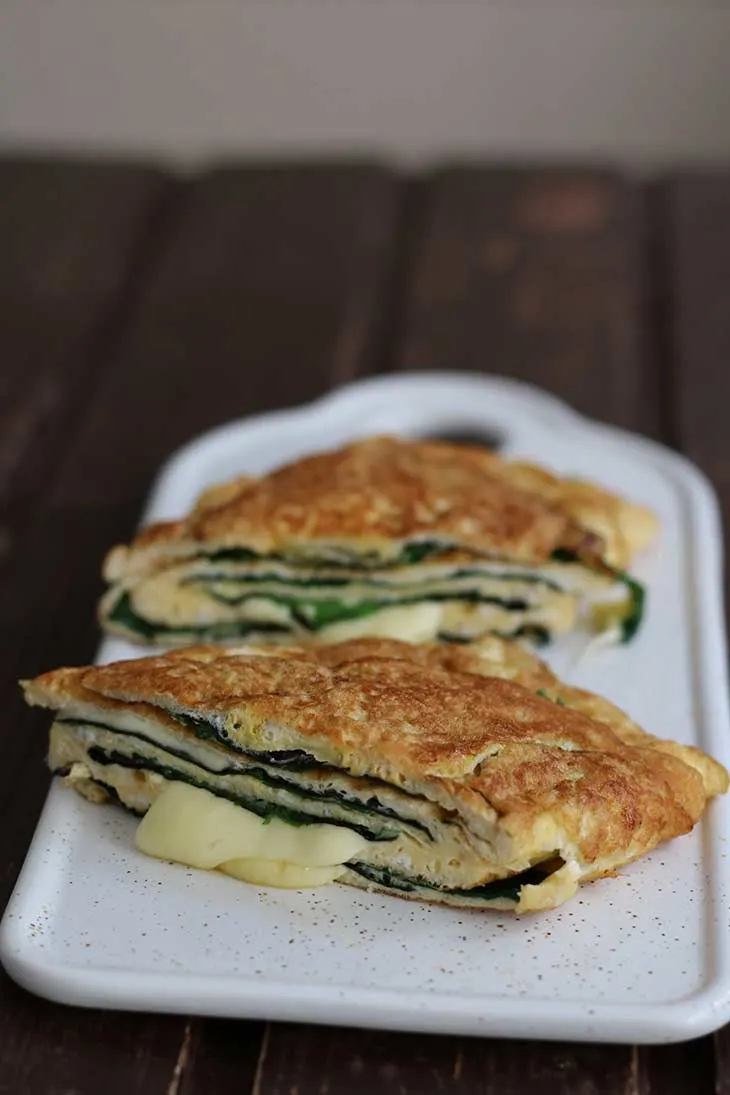 Now let's talk about the technique of making the BEST omelette in the world. If you always feel like your omelet is too dry, it simply means you're overcooking it. Don't do that! Turn it upside down early and make sure you don't forget it on the stove.
If you're making scrambled eggs instead, the secret is to mix the composition continuously. After beating the eggs and adding them to the pan, you need to mix, mix and mix! Don't just let your egg layer cook evenly by itself. By mixing and stirring the eggs you ensure that they cook evenly and they don't dry on the bottom.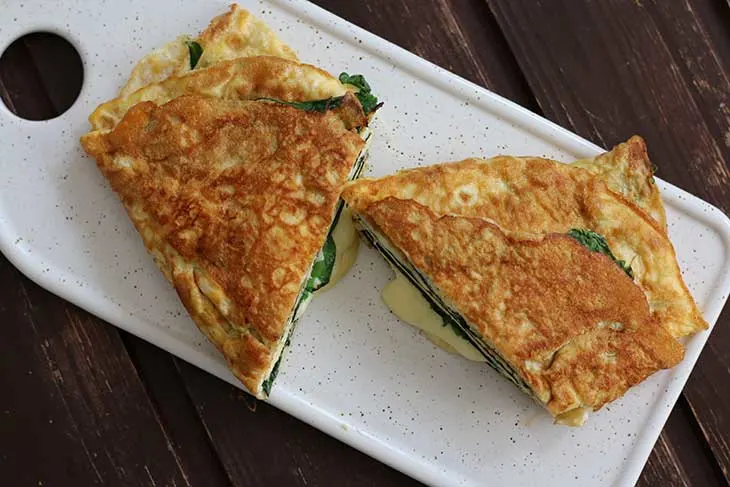 Omelette vs scrambled eggs – which one to make? Easy: whichever one you prefer! This recipe works wonderfully regardless if you're cooking your eggs in the shape of an omelet or a scrambled composition. Both options are yummy. You just need to add the cheese slices and spinach on top and you're good to go!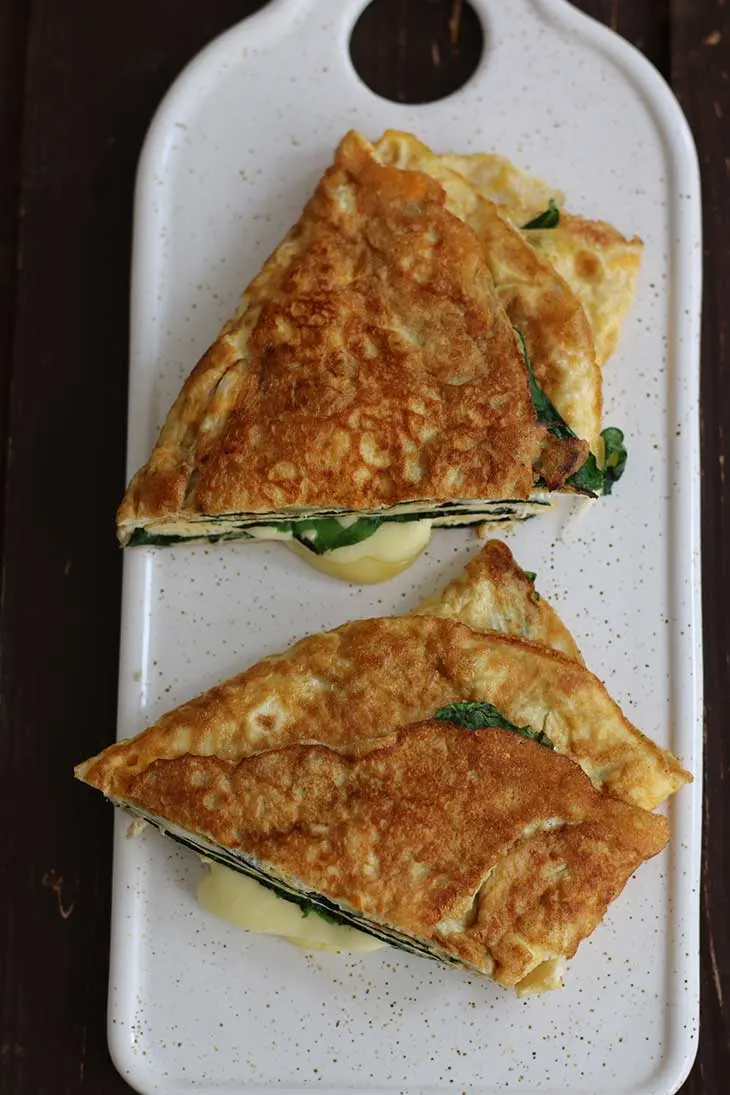 I think you should give this recipe a try regardless if you're following a keto diet or not. Maybe you just want to eat healthier without taking on a complicated diet or you're just craving a yummy spinach omelette. This recipe here is a good answer to all of these questions!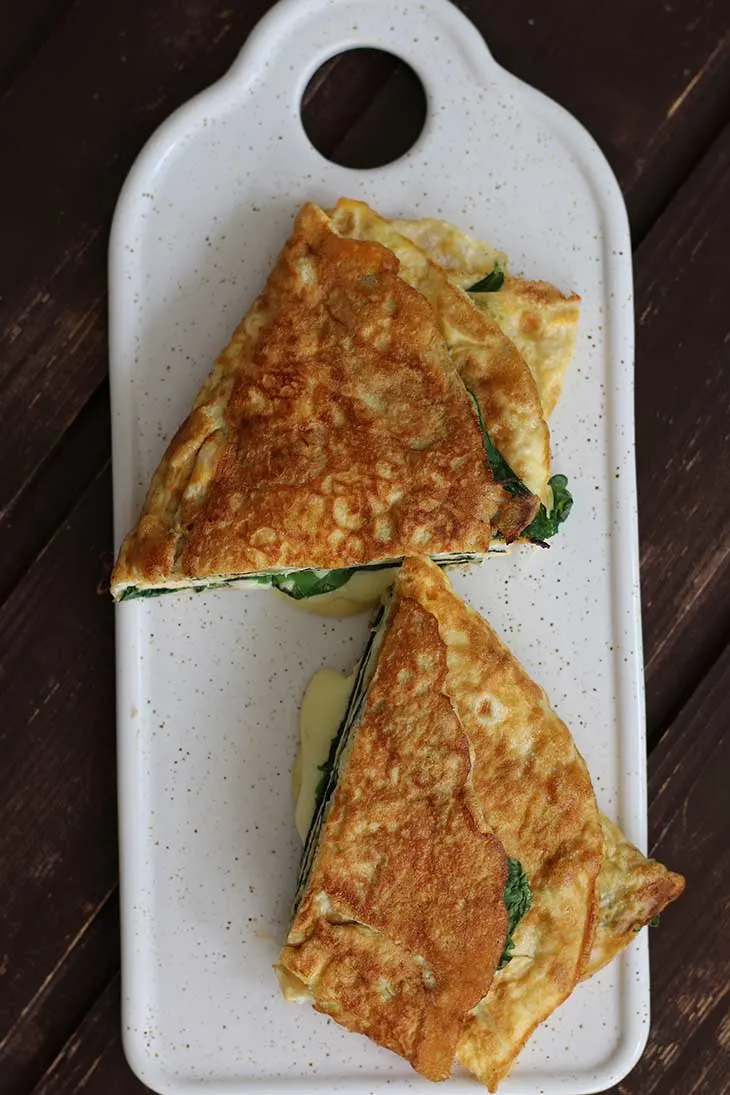 I hope you'll try this keto omelette with cheese and spinach soon. If you decide to give it a go, let me know in the comments below just how much you liked it! And if you adapted or changed the recipe in any way, I want to know that too. Do share with me!
Until then, happy cooking and bon appetite.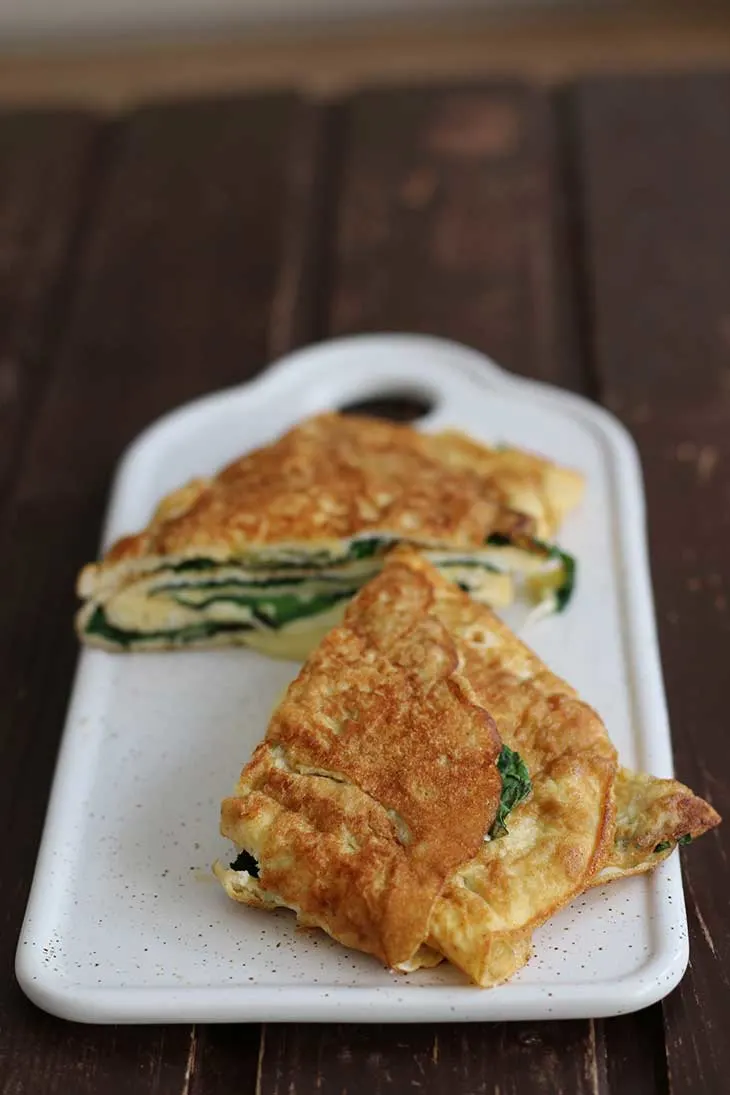 Yield: 2 people
Keto omelette with cheese & spinach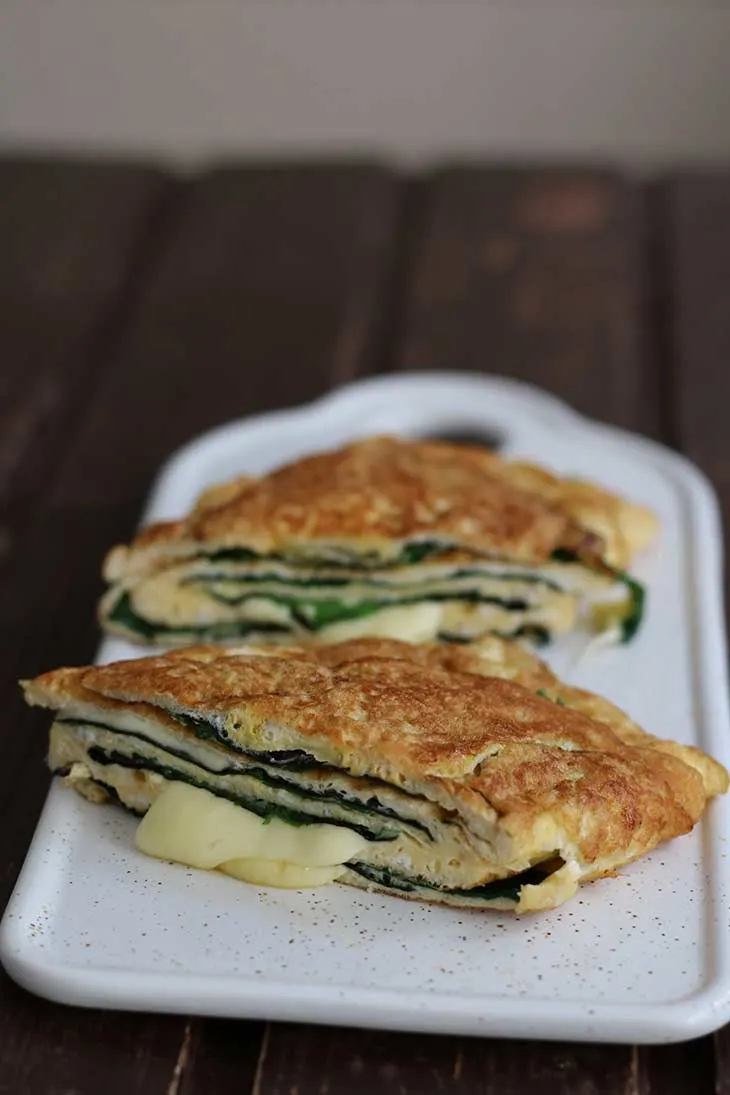 Looking for a keto omelette? I have the right answer for you! This keto omelette with cheese and spinach is low-carb, filling, and super delicious!
Ingredients
4 big eggs
4 slices gouda cheese
one handful of baby spinach
14g (1 Tbsp) butter
a bit of salt, to taste
Instructions
Beat the eggs with a little bit of salt.
Add the butter to a big, non-stick pan on medium heat.
Once melted, add the egg mixture.
Add the 4 gouda slices and the baby spinach on top.
Cover with a lid and turn the heat to low.
After 1 minute, remove the lid and, using a spatula, fold the omelet, rolling it into 4.
Turn off the heat and serve!
Nutrition Information
Yield
2
Amount Per Serving
Calories

402
Total Fat

31g
Saturated Fat

17g
Trans Fat

0g
Unsaturated Fat

12g
Cholesterol

452mg
Sodium

965mg
Carbohydrates

3g
Fiber

1g
Sugar

2g
Protein

28g
I strive to keep the information as accurate as possible but make no warranties regarding its accuracy. I encourage you to make your own calculations using your preferred nutrition calculator.