Brownies… who doesn't love them?! If you're craving some juicy sweetness right now, here's how to make the best vegan banana brownies!
I simply love brownies. I love that they're so popular all over the world and I can see that the reason for it is pretty clear: they're SO easy to make and SO delicious! If you're a chocolate lover, then brownies are surely one of your favorite desserts out there. How could they not be?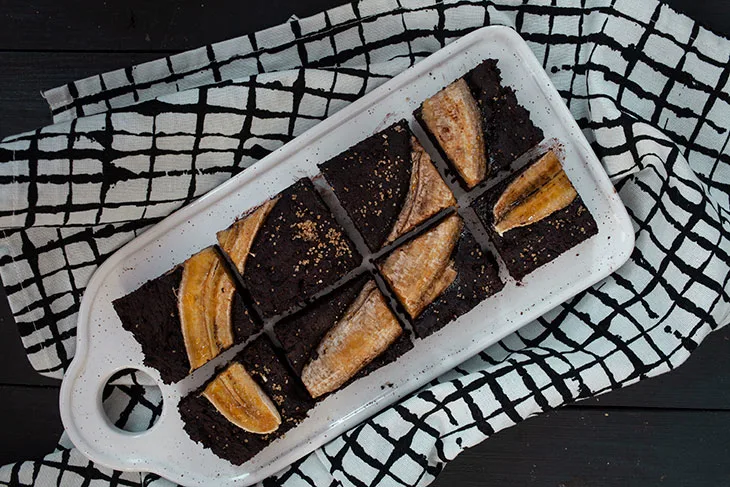 And as much as I love the classic brownies, I felt the need for a change today. I made strawberry brownies before, avocado brownies, and some odd-sounding protein-power black bean brownies which turned out delicious. But I'll bring some good news to you today: you HAVE to try these caramel banana brownies!

Why? It's simple. These vegan caramel banana brownies have the best of both worlds: the rich, decadent taste of brownies combined with the subtle banana flavor. And some caramelized goodness on top of that. It's a real treat, I'm telling you! 😉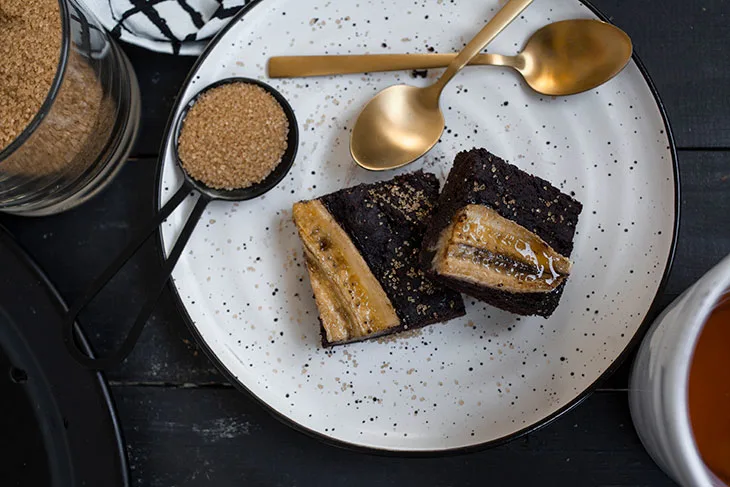 You might even think of them as brownies combined with banana bread. I simply love the idea and the taste is just… unforgettable. Trust me, one bite of this and you won't ever switch back to plain brownies ever again. You've been warned!
These caramel banana brownies are 100% vegan and healthy too, so you don't even need to feel guilty after indulging. Imagine: a sweet treat with 0 guilt – what more can you wish for? Of course, moderation is key here, so if you'll consume 3 huge pieces in one sitting… well, that's not my fault! But I won't judge, that's for sure. These banana brownies are addictive.
Heck, they're so good and guilt-free that you can even serve them for breakfast. Prepare a cup of coffee, add your favorite nut milk in it (or not, depends on how you take your coffee), and cut a piece of this banana brownie. Best breakfast. Best start of the day. I'm telling you! 🙂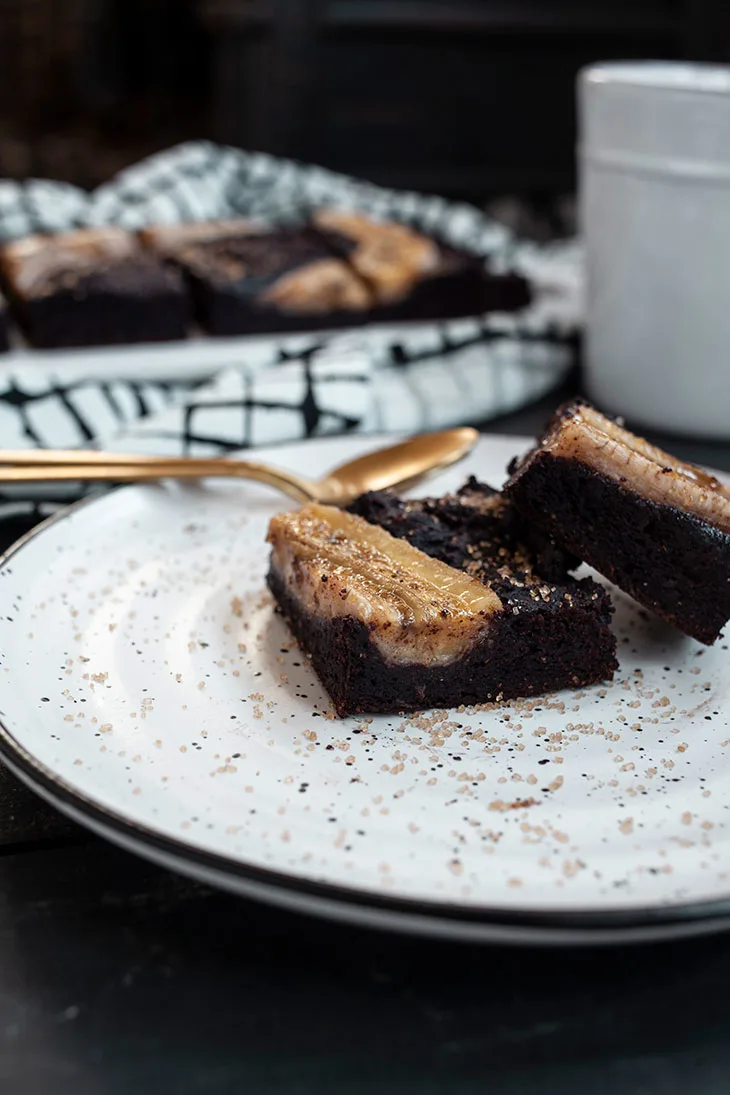 Imagine this: a combo of dark chocolate, coffee, applesauce, chocolate chips, and caramelized bananas. A match made in heaven, right? I know I've been praising this recipe for quite a bit and it may seem like I'm exaggerating, but that's just not the case. You don't even have to completely trust me with this, you can just make these banana brownies for yourself and you'll surely be hooked!
If you want an extra texture kick, you can even add some walnut pieces into your brownie batter. This will make it ten times better and the crunchy walnut will perfectly combine with the creamy banana on top.
Here's another tip: I know it's hard, but please wait at least 20-30 minutes for the brownie to cool off before cutting it. The smell will be insane, so you must be strong and resist the temptation. After around half an hour of cooling, the brownie will be much easier to cut and you'll end up with beautiful, even square pieces. Take my word for it!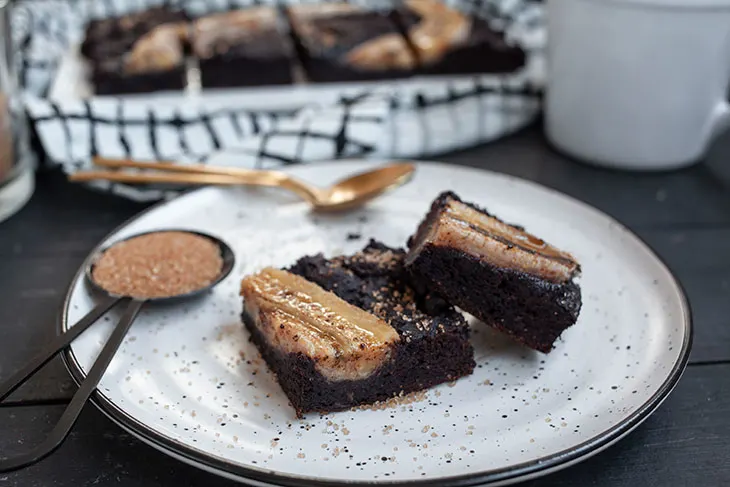 You can store your brownie in a Tupperware container at room temperature or in the fridge, where it will be cool and nice. The Tupperware helps preserve its texture – you don't want your banana brownie to turn dry, do you?
Oh, and if you really want to go crazy and make the best out of it, you can serve this brownie while it's still hot, with a scoop of peanut butter ice cream on top. You won't believe the taste, it's something out of this world!
Fudgy. Decadent. Rich. Healthy. Airy. Moist. And, most of all, extremely easy to make. What do you think? Are you up for it? If the answer is yes, I urge you to try this recipe for caramel banana brownies as soon as possible.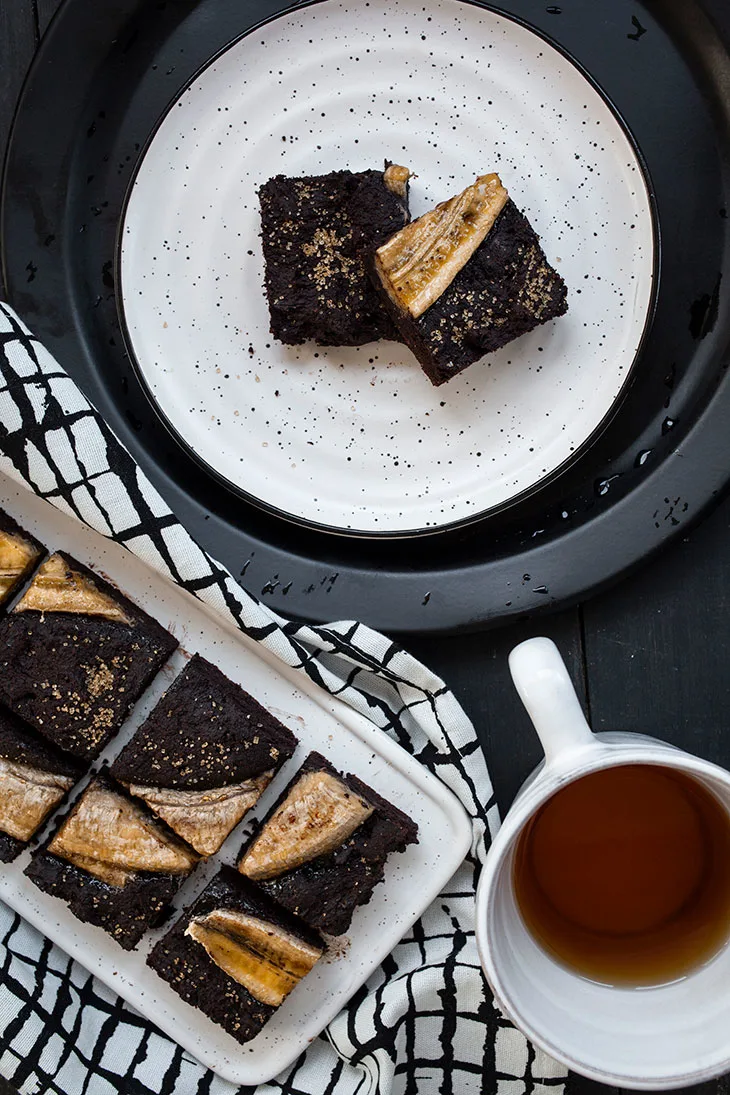 If you decide to try this unique recipe, please don't forget to come back here in the comments section and let me know how it went. I'm so curious to find out. Until then, bon appetite!
Yield: 8 brownies
Banana Brownies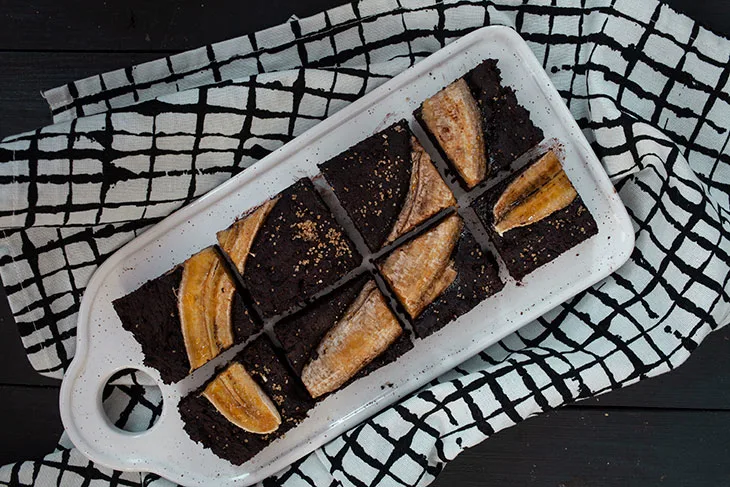 Brownies… who doesn't love them?! If you're craving some juicy sweetness right now, here's how to make the best vegan banana brownies!
Ingredients
For the brownie:
100g (0.2 lb) dark chocolate, melted
2 Tbsp flax meal + 6 Tbsp espresso coffee
50g (1/4 cup) brown sugar
6 Tbsp coconut oil, melted
1 Tbsp applesauce , replace with a fruit jam of choice if you don't have this
1 tsp vanilla extract
120g (1 cup) all-purpose flour
2 Tbsp cocoa powder
1 tsp baking powder
pinch of salt
For the topping:
2 bananas, halved horizontally
2 Tbsp brown sugar
Instructions
Preheat the oven to 200C.
In a small bowl, mix the warm coffee with the flax meal. Let sit for about 10 minutes.
In a large bowl add the coconut oil, applesauce, and sugar. Mix until well incorporated. Continue mixing.
Then stir in the flax egg, vanilla extract, melted chocolate, and mix until you achieve a homogeneous composition.
Using a spatula stir in the flour, cocoa powder, baking powder, and salt.
Grease a square baking tray. Transfer the batter to the baking dish, flat it with a spatula and lay in banana halves, sprinkle with brown sugar, and bake for about 40 minutes until all set and caramelized on top.
Let cool for about 30 minutes.
Nutrition Information
Yield
8
Amount Per Serving
Calories

217
Total Fat

11g
Saturated Fat

9g
Trans Fat

0g
Unsaturated Fat

2g
Cholesterol

0mg
Sodium

83mg
Carbohydrates

26g
Fiber

2g
Sugar

9g
Protein

3g
I strive to keep the information as accurate as possible but make no warranties regarding its accuracy. I encourage you to make your own calculations using your preferred nutrition calculator.