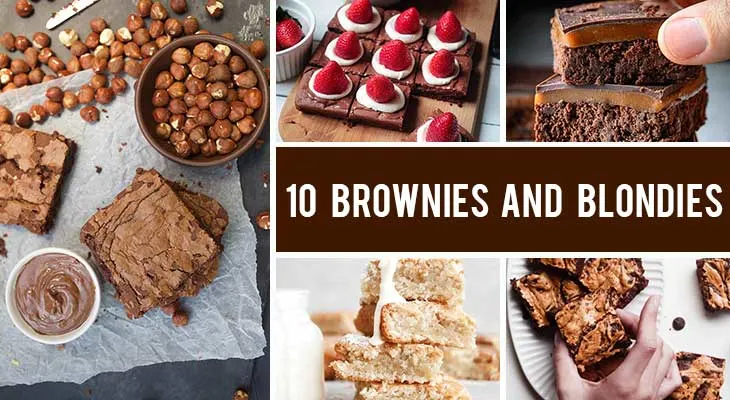 Are you looking for some dessert inspiration? In this list, you will find 10 vegan brownies and blondies recipes – delicious, super easy, and quick to make! Give them a try!
Brownies are becoming more and more popular all over the world and I'm sure you know what I'm talking about! You surely had at least a tiny piece of brownie in your life and, if so, you must've fallen in love with the rich, decadent chocolate taste.
But what about blondies? Did you hear of them before? Did you taste a blondie? If not, let me tell you that a blondie is the vanilla version of a brownie. No, it's not a brownie with white chocolate chips. It's a brownie without chocolate.
So, yes, there's one for each taste! 🙂 But which one should you choose?
In case you never tried making your own brownies or blondies at home, you'll probably be surprised to find out that they're extremely easy to make and almost fail-proof. But you don't have to take my word on it, you can just try one of the recipes in this carefully-curated list! 😉
Today I want to provide some sweet inspiration to you, so I have compiled this yummy list with some of my favorites! You will find here 10 vegan brownie and blondie recipes that I love to prepare whenever I have a sweet tooth. Brownies are never a boring idea, trust me! From classic recipes to black bean brownies, avocado brownies, peanut butter blondies – you'll find everything you wish for here and more!
I hope you'll find enough inspiration here for your next dessert, as I tried to add recipes for each and every taste! 🙂
Click on the linked titles in order to access these amazing brownies and blondies recipes. You will find here many unique and delicious recipes created by some of my favorite food bloggers out there, but also 6 of my own recipes that I totally recommend you try.
Here we go:
Vegan Brownies and Blondies Recipes
I know I said that a blondie is basically a brownie without chocolate/cocoa, but this doesn't mean we cannot add a few chocolate chips in the batter, am I right? And if this means we're cheating, then I don't care! 🙂 This amazing recipe for vegan blondies will leave you craving for more, I assure you!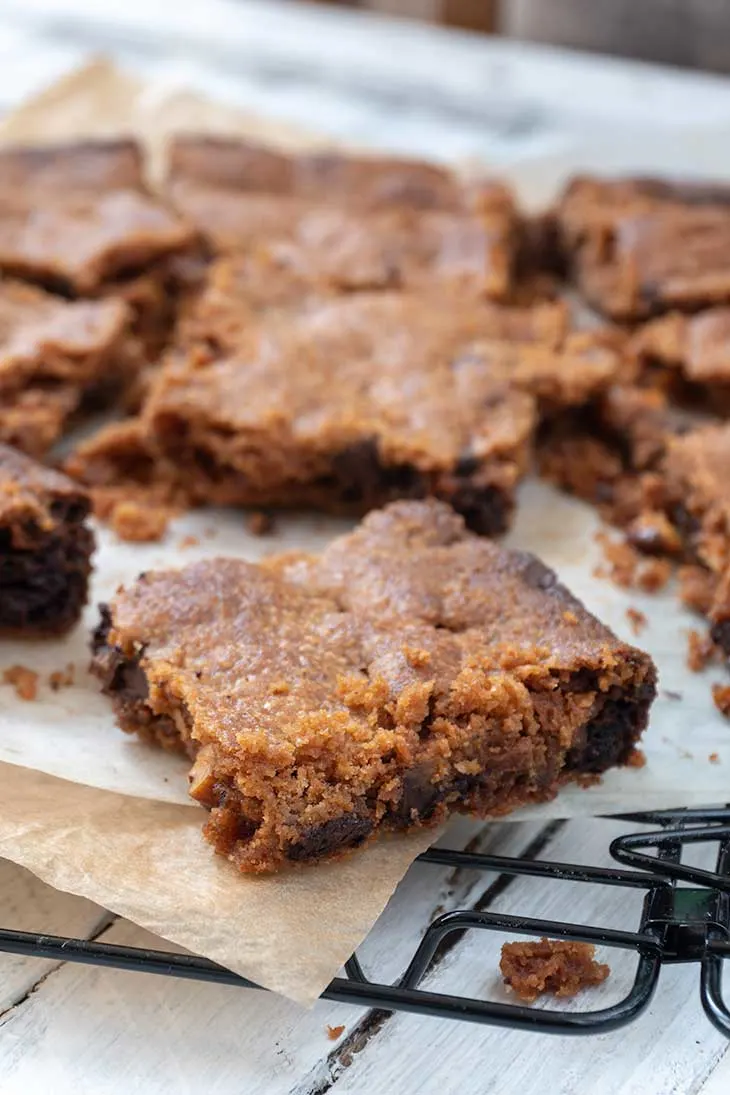 Black beans in a brownie. Is that normal? Does it taste good? Yes, my friends, the taste is absolutely phenomenal! And besides the amazing taste, one big advantage of the black bean brownies is that they're full of healthy protein – so necessary when you're following a vegan diet, am I right?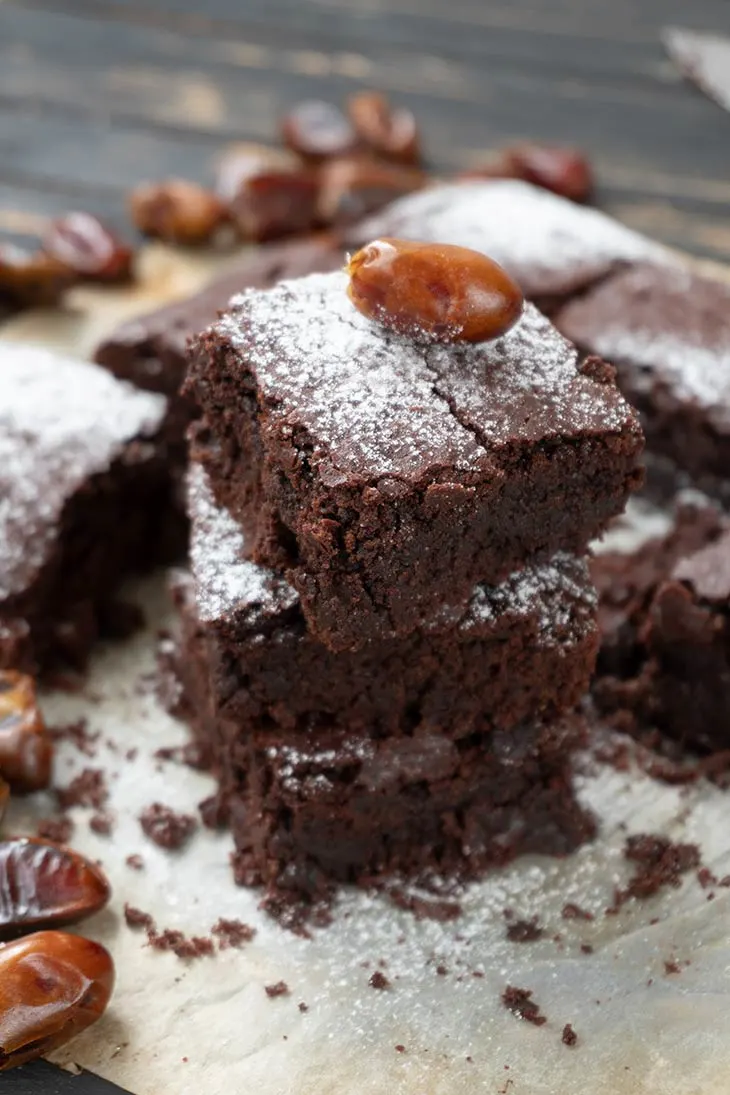 Nutella and brownies are basically made to go well together, so why not try this awesome recipe for healthy Nutella brownies? Yes, I said it's healthy! Why? Because the Nutella used for this recipe is my homemade Nutella version, which only contains healthy ingredients and sweeteners. A healthy dessert indeed!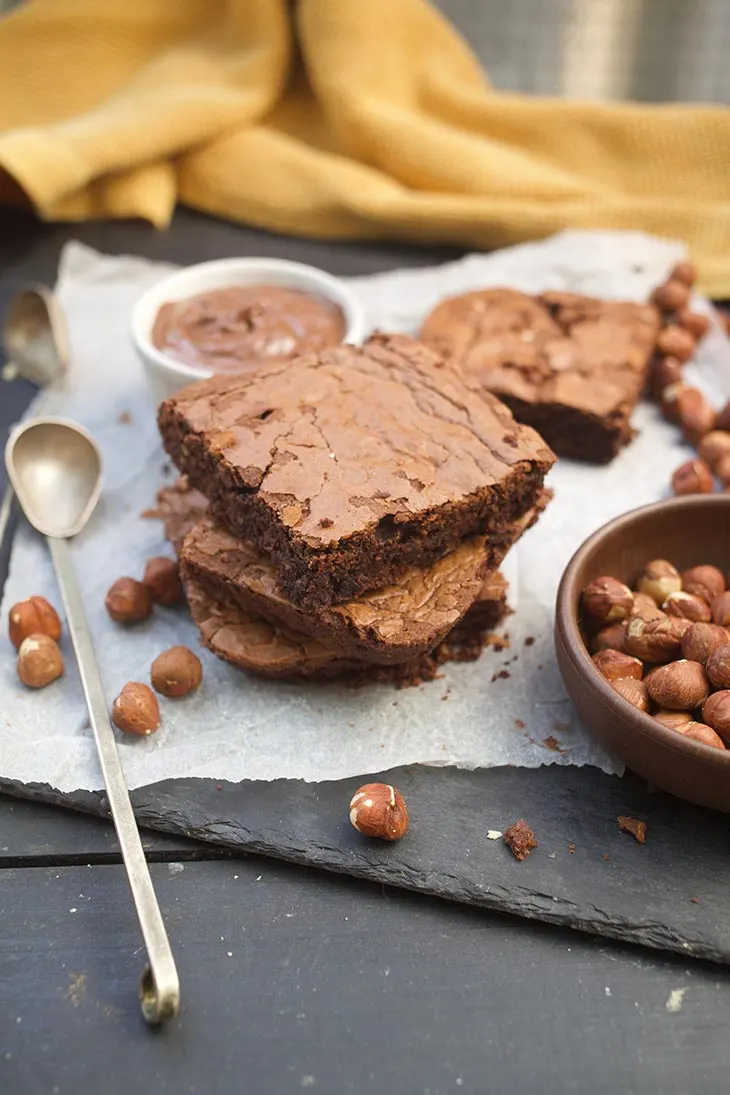 We talked about black bean brownies, so why not try some avocado brownies as well? When you think of avocado, I'm sure the creamy, buttery consistency of a ripe avocado comes to mind. Now think about all that creaminess inside a brownie. Sounds amazing, right? It sure is! Give it a try and you won't regret it!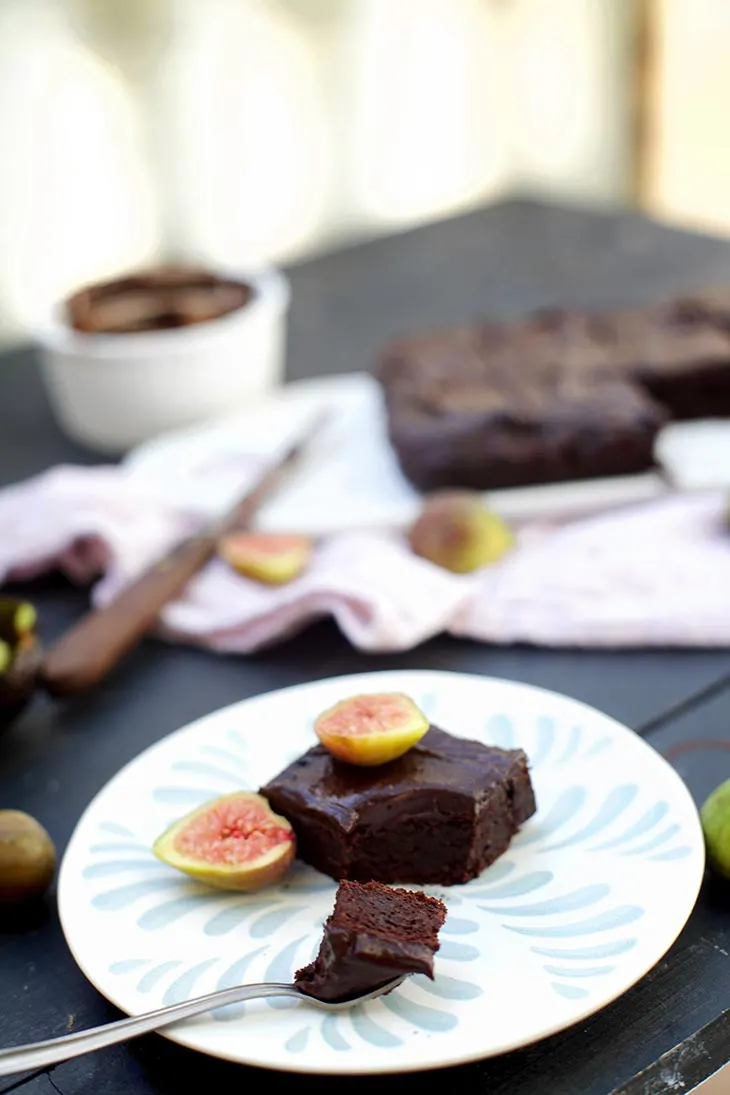 Let me tell you right from the start that this delicious recipe for vegan Christmas brownies is not just for Christmas exclusively! You can make it whenever you crave some brownies together with some fresh strawberries – a match made in heaven if you ask me! 🙂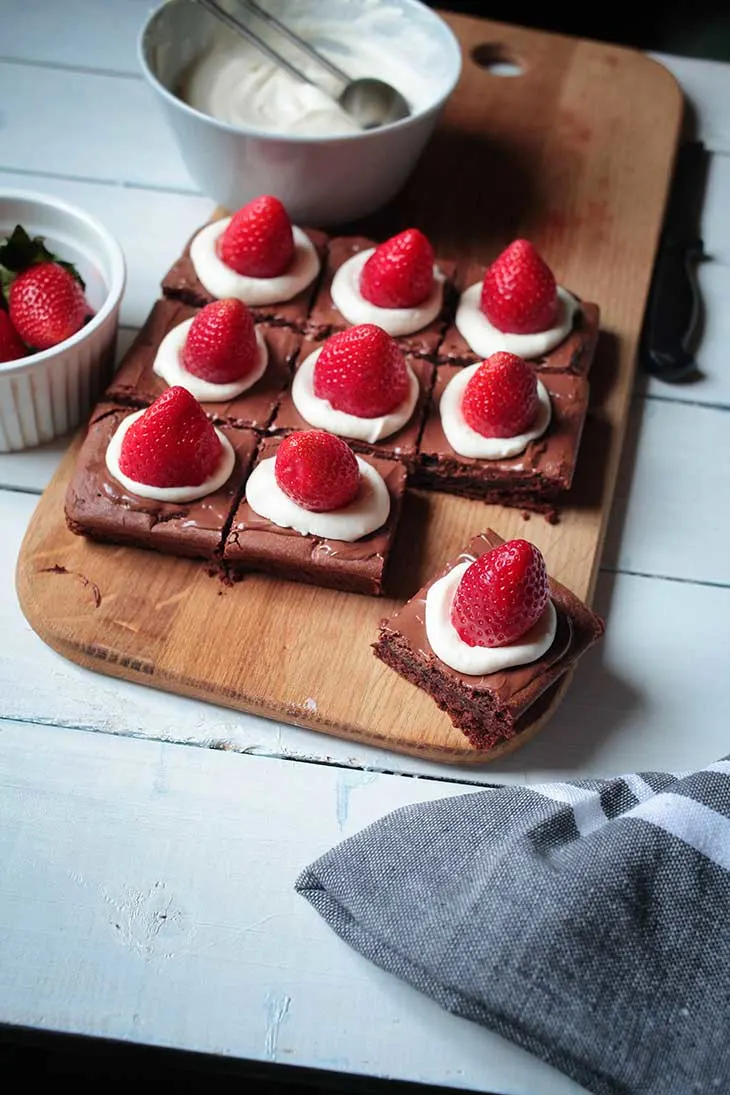 In case you love brownies but you're gluten intolerant, no worries, there's a recipe out there for you as well! This easy-peasy, guilt-free, and fail-proof recipe has all the best advantages you can think of when you're craving a dessert. It's healthy, easy to make, and super flavorful. What's more to wish for?
Peanut butter goes very well with brownies, but also with blondies! If you ask me, I think this is one of the best combinations out there. I simply cannot describe how good these 5-ingredient blondies are! And the best part about them is that they can be made with some simple ingredients that you surely have in your pantry or fridge already. So what are you waiting for?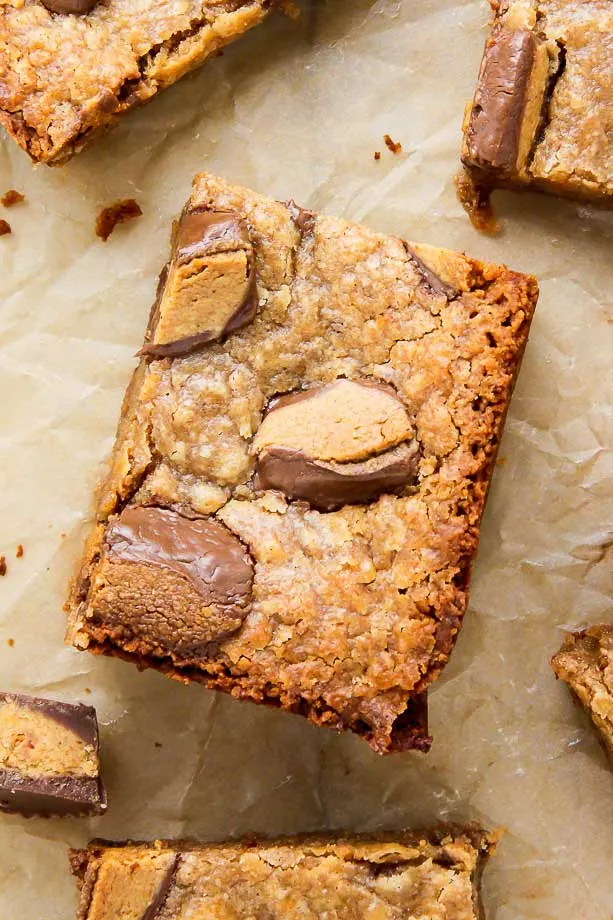 Here's yet another yummy, vegan blondie recipe to try in case the ones before didn't convince you yet. These ones are made with white chocolate, so if you're a fan of that, you should give this recipe a go! It's simple, it's extremely good and it's basically fail-proof.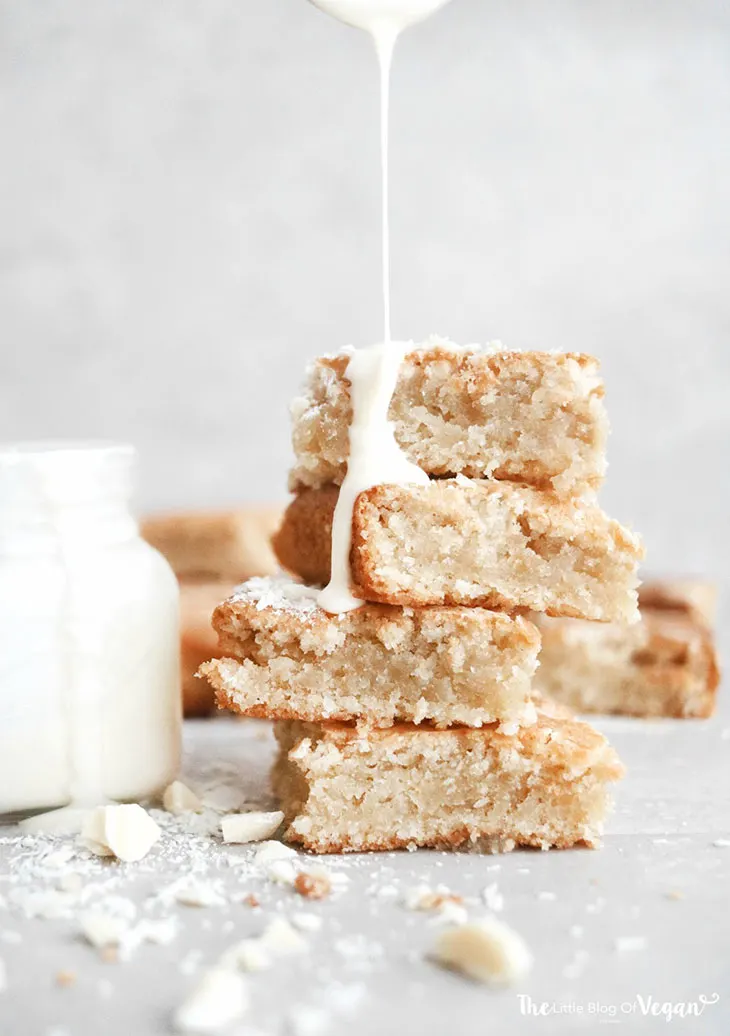 I know, I know, I might have an obsession with peanut butter and chocolate! But I couldn't stop myself from including this heavenly recipe for vegan peanut butter brownies in this list. It has another bonus as well: it's gluten-free!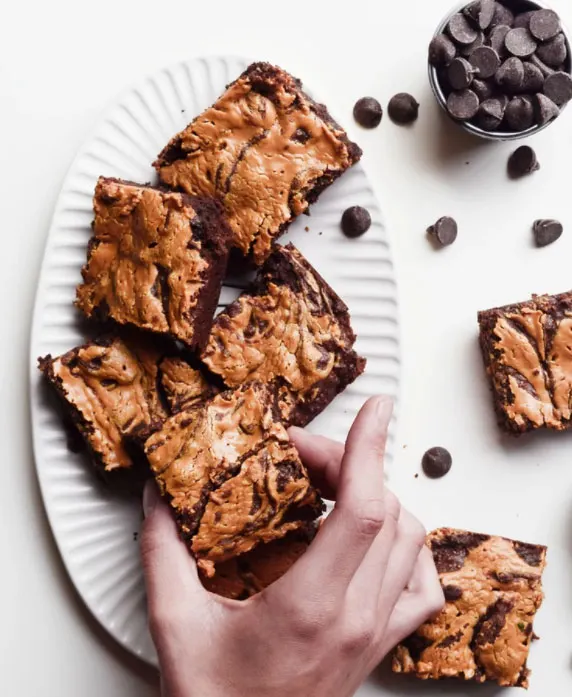 You'll feel like a millionaire when you're going to taste this superb recipe for the first time! This vegan caramel recipe is extremely flavorful and very easy to make. It's the perfect weekend recipe when you have some spare time and a sweet tooth. Give it a go and you won't regret it!