In the mood for something sweet, summerish, and super healthy as well? You're in the right place! Here's how to make the best vegan strawberry muffins!
Few things are more characteristic for summer than strawberries are, and I believe we can all agree on that. Strawberries are great. They're a symbol of hot weather, childhood, and summer vacations. So that's why I chose them as the main star of today's dessert! 🙂
But how much do you actually know about strawberries? I've gathered some facts that might actually spike up your curiosity about this sweet, well-known fruit.
The garden strawberry is a grown hybrid species of the genus Fragaria, which are cultivated, as we all well know, for their fruit. Strawberries are super popular worldwide, and they're either consumed fresh, or in prepared foods such as jam, juice, pies, ice cream, milkshakes, smoothies, and chocolates.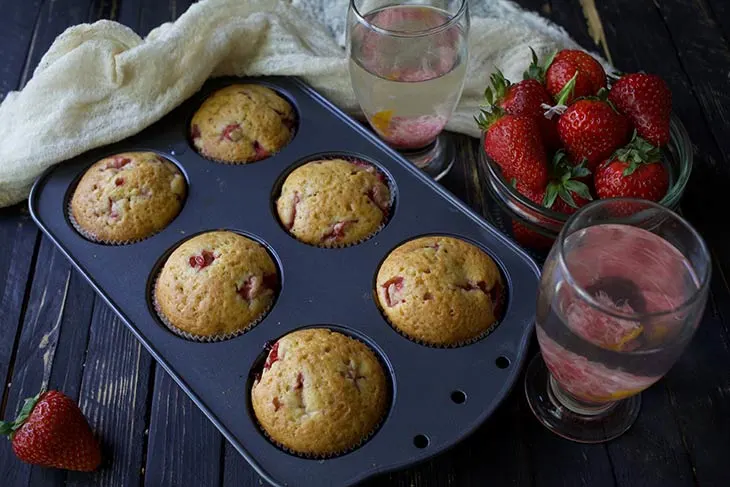 Because of its sweet, characteristic smell, artificial strawberry flavor and aroma are widely used in hygiene and beauty products such as soap, lip gloss, perfume, shampoos, and many others. The common strawberry we know today was first bred in Brittany, France, in 1750. It was obtained by crossing Fragaria virginiana and Fragaria chiloensis – the first was from North America, the second was from Chile.
Even though its name my trick you into believing this, and even if, in day to day life, we refer to strawberries as berries, from a botanical point of view they're anything but that! Technically, the strawberry is an aggregate accessory fruit.
What? I know. In common language, that means the fleshy part isn't derived from the plant's ovaries, but from the receptacle that holds the ovaries. So, you know those little tiny seeds every strawberry has? These are actually the flower's ovaries. I thought this was an interesting fact, even though I'm still going to refer to strawberries as berries. 🙂 You know that saying – "knowledge is knowing a tomato is a fruit; wisdom is not adding it to a fruit salad". The same goes for this.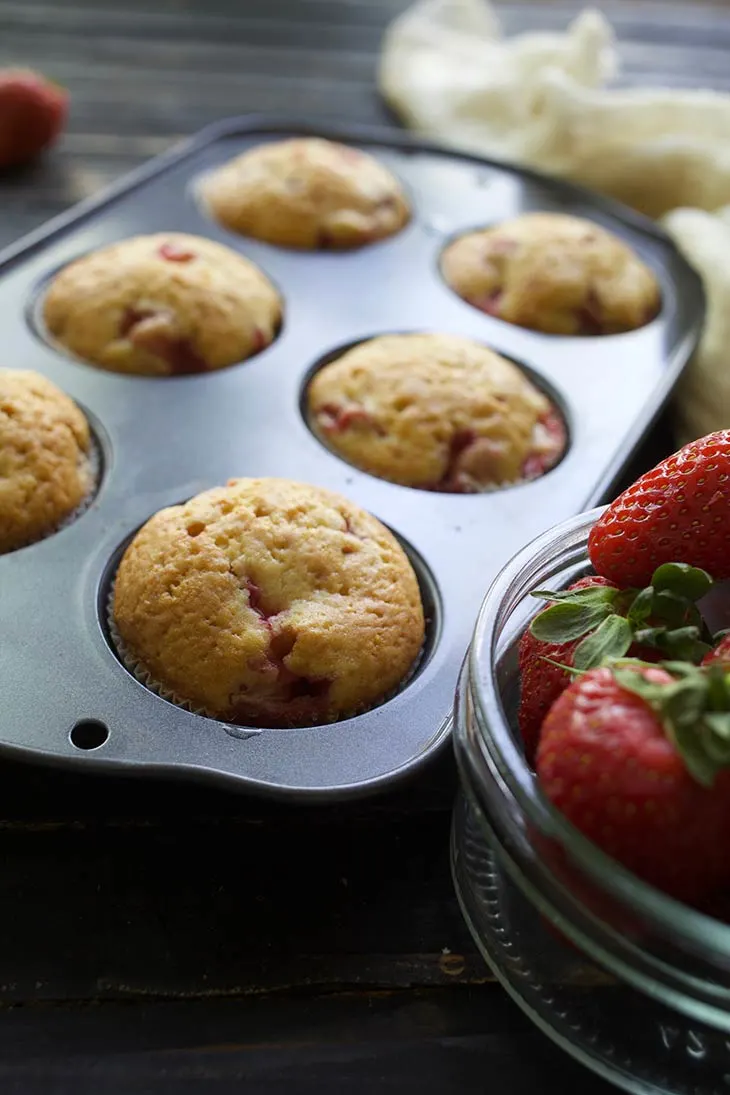 Strawberries are packed with nutrients, making them one of the healthiest foods on the planet. They're low in calories, which makes them diet-friendly. They're also packed with vitamin C, manganese, and antioxidants, and they provide an important amount of fiber (2 grams for a 100g serving), which helps aid digestion and regularity. On top of those, as I'm sure we all know, strawberries are delicious – which makes benefitting from all these properties way easier.
They're widely popular in the world, almost every country having a favorite strawberry-based dessert. For instance, I'm sure you've all heard of "strawberries and cream" – a favorite in both the United Kingdom and the United States. In Sweden, they're a traditional dessert served on St John's Day (also known as Midsummer's Eve). The Greeks have an even more interesting habit when it comes to this fruit. They sprinkle them with sugar and then dip them in Metaxa, their local brandy. Because who doesn't love the combination of fruit and alcohol?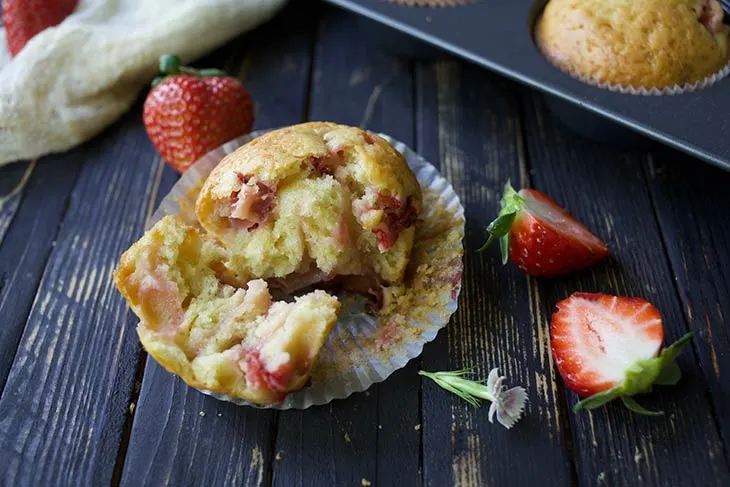 These being said, strawberries go well in almost any dessert, and today we're going to be focusing on muffins. 🙂
I love strawberries muffins so much, and for a bunch of reasons. For me, they scream "summer" and "childhood". They're the perfect to-go snack, given that they're tiny and compact. They make for a wonderful picnic addition. And you can also serve them for breakfast – yes, dessert for breakfast, you've heard that right. 😉
The only thing is using whole grain flour preferably, for the extra kick of fiber. This way they're pretty balanced as your first meal of the day. You can serve them with some plant-based yogurt on the side, or even some granola with milk, why not.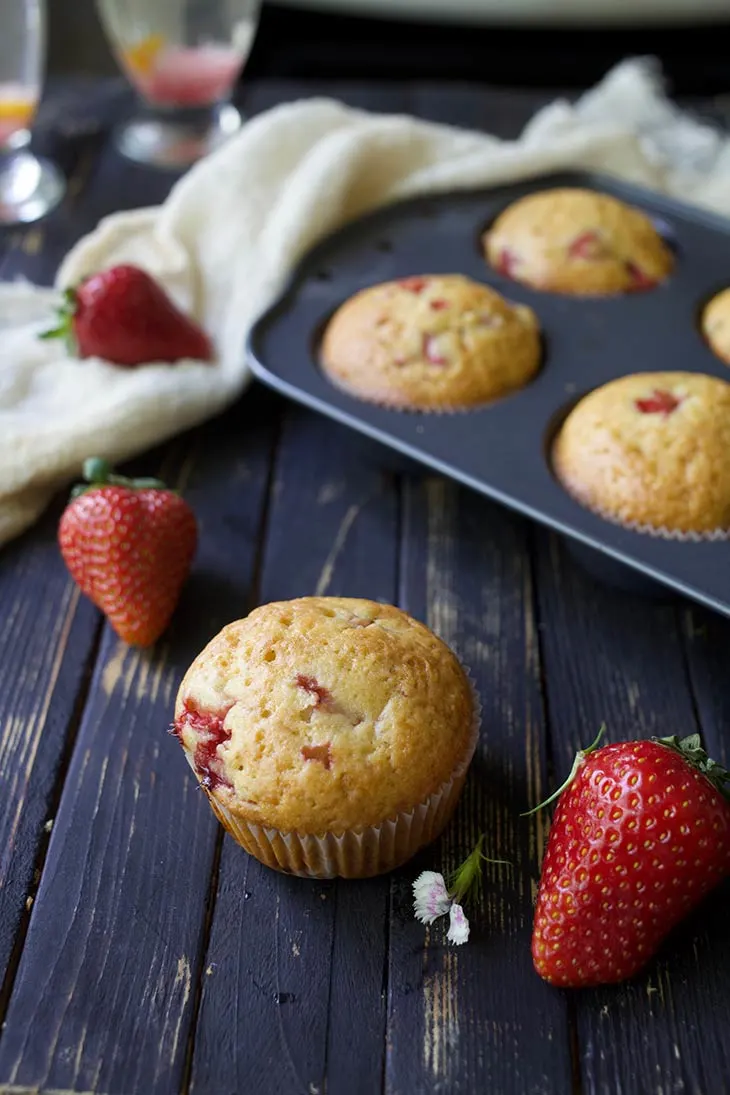 I believe kids would love helping with this recipe as well, it's one of those easy-to-prepare ones. And they're just sooo cute. You can ask your little one to help you decorate these muffins as well if you're searching for new ways to spend some quality time together. Amazing toppings would be plant-based whipped cream, more fresh strawberries, or even vegan chocolate chips. You can't go wrong with that!
Another thing I really love about this recipe is how well it preserves. You can keep these muffins in the fridge for a few days (though I doubt they're going to last that long), or you can bake a bigger batch and keep them in the freezer for months. This way you're going to have a great homemade snack at hand which you can heat up in the microwave every time you feel like having something sweet and wholesome.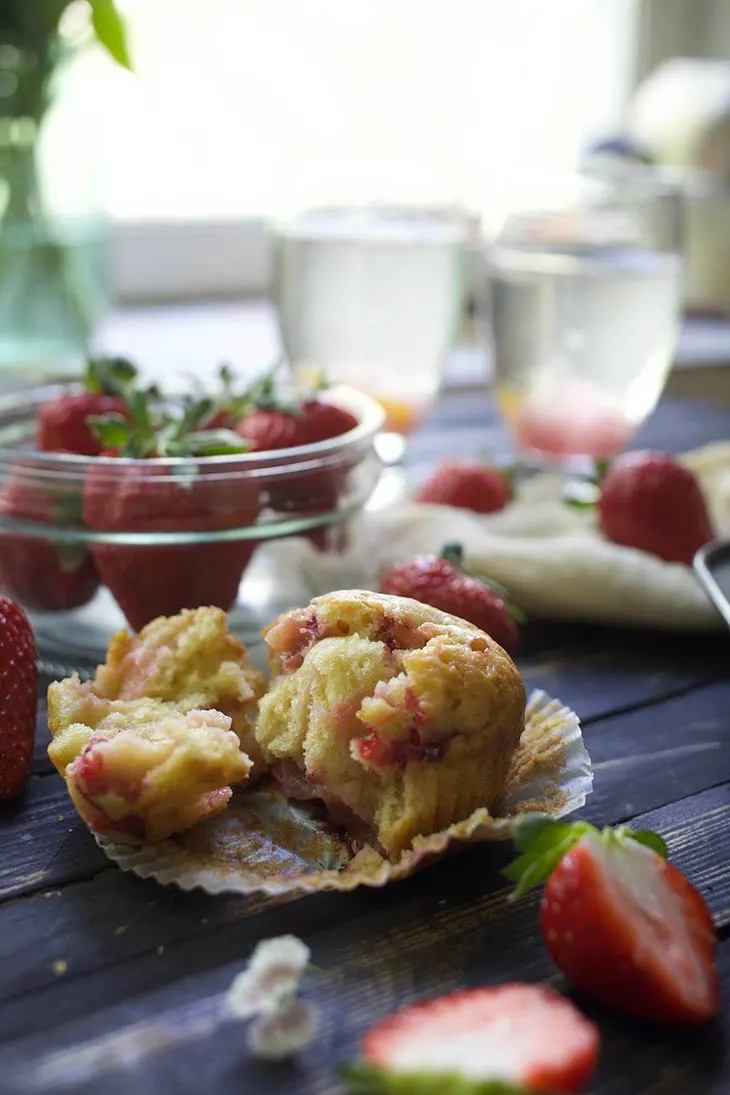 So, are you going to try out my vegan strawberry muffins? If yes, I hope you'll have fun preparing them. Oh, and don't forget to tell me what you thought about them – you know I love to hear your opinions when it comes to my recipes! 🙂
---
Personalized meal plans and workout videos | Get your customized meal plan today! [x_button shape="square" size="mini" float="none" target="blank" href="https://shop.gourmandelle.com/?utm_source=mainsite&utm_medium=site&utm_campaign=inpost" info="none" info_place="top" info_trigger="hover"]I WANT A MEAL PLAN![/x_button]
---
Yield: 6
Vegan Strawberry Muffins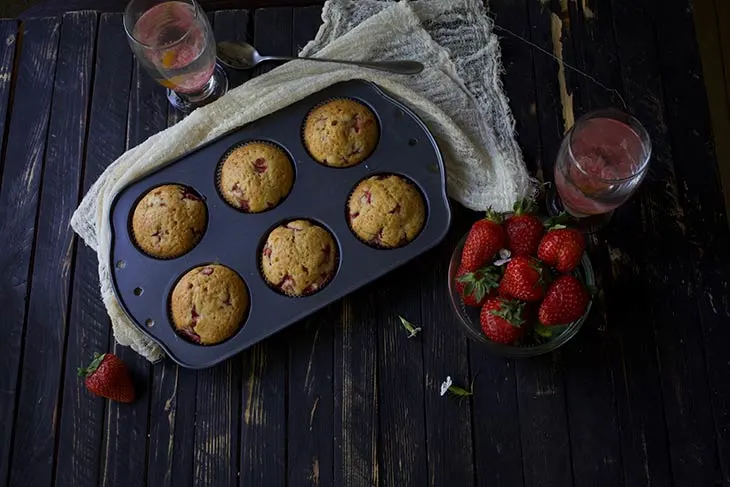 In the mood for something sweet, summerish, and super healthy as well? You're in the right place! Here's how to make the best vegan strawberry muffins!
Ingredients
200g (1 ¼ cups) flour
110ml (½ cup) olive oil
Instructions
Heat the oven to 180C.
Add the muffin liners into the muffin tin and set aside.
In a bowl, mix the flour, sugar, baking powder, baking soda. Add the oil, vanilla, and soy milk, then mix until smooth.
Add chopped strawberries and mix to incorporate.
Pour the mixture into the tin, in each muffin liner.
Bake for 25 minutes. Test with a toothpick. Insert it in the middle of a muffin and if it comes out clean, they're ready. Otherwise, let them bake for a couple more minutes.
Let them cool in the tin for 10 minutes, then remove and transfer the muffins on a rack to cool.
Nutrition Information
Amount Per Serving
Calories

437
Total Fat

20g
Saturated Fat

4g
Unsaturated Fat

16g
Sodium

99mg
Carbohydrates

61g
Sugar

33g
Protein

7g
I strive to keep the information as accurate as possible but make no warranties regarding its accuracy. I encourage you to make your own calculations using your preferred nutrition calculator.