Why buy vegan yogurt from the supermarket when you can make it at home? Oh, and it's so easy, you won't even believe it! Here is how to prepare vegan yogurt with fruits – healthy and delicious!
We are approaching the end of summer, and this means that the weather is still hot! On a day full of heat, when you still feel the need of something sweet, what could be more refreshing than some delicious homemade yogurt with plenty of fruit? The creamy and soft texture, the immaculate color and the fresh and sweet smell of fruit. It's such a delight just to think about this amazing treat!
So you are in the right place, as this is exactly what I am planning for today's recipe!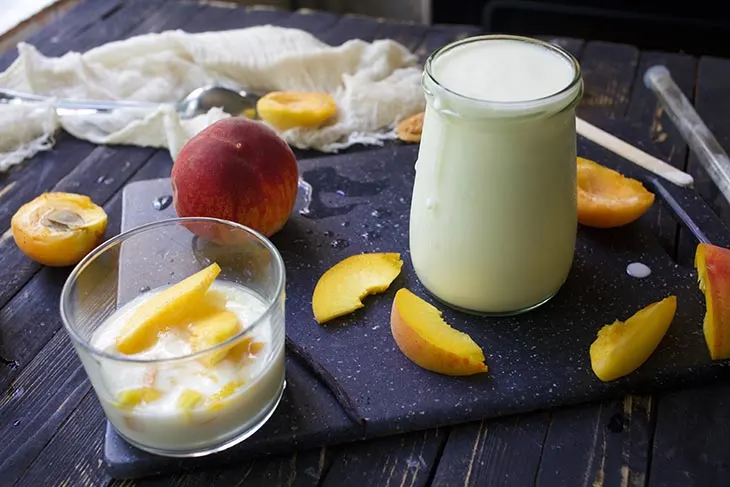 There are so many benefits of yogurt that I don't even know where to start. First of all, it's very nutritious and eating it regularly can help many aspects of your health. Here are some of the benefits of yogurt consumption:
Strengthening the bones thanks to its mineral components
Helping with the symptoms of diabetes
Benefits regarding the circulatory system
Lowering the blood pressure and thus protecting heart health
Promoting the health of the gastrointestinal system
Enhancing antioxidant activity and lowering the risk of chronic diseases
Potential anti-cancer activity
While vegan yogurt doesn't contain any traces of milk, it is still as healthy and full of nutrients and benefits as the dairy product!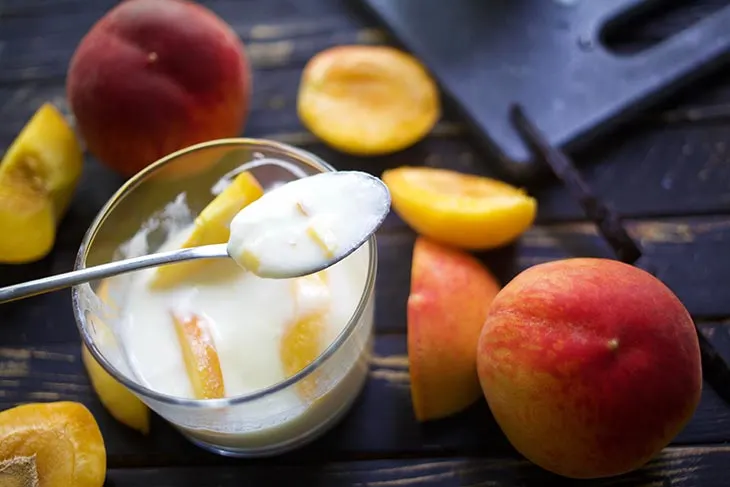 Vegan yogurts are obtained from probiotic bacteria, which work wonders for the digestive system. Vegan yogurts obtained out of nut milk are full of healthy fats, antioxidants, protein, fiber, calcium, vitamins C and E, zinc, iron and magnesium. It's so good on so many different levels! 🙂
Even more, this recipe contains fruits as well, which is probably the best natural source of vitamins you can find. There is no question over the superior quality of the homemade yogurt over the store-bought product.
The yogurt that we find in supermarkets is (most of the time) heavily processed, and all of its health benefits listed above will no longer be present.
Additionally, all those artificial flavors, taste-enhancers and so on have really bad effects on our health. So instead of heading for the supermarket for a pot of yogurt, check my ingredient list below and buy everything needed for the recipe instead!
I promise you won't be disappointed! And the process is not even that hard. Once you have all the listed ingredients, all you have to do is put them together and let the probiotics do their thing.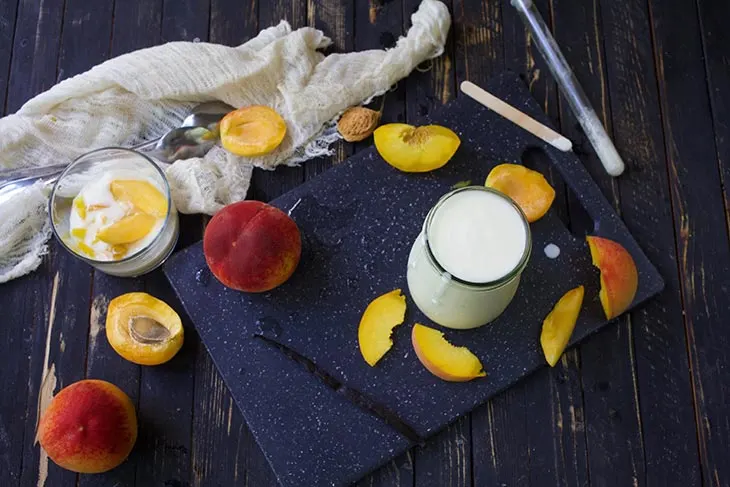 Now let's talk a little bit about preparing the homemade vegan yogurt. There are two main options for preparing this tasty treat: you either use a store-bought yogurt starter, either use probiotics capsules to culture your own bacteria.
My choice is for the second and I will explain why. First, it is very hard to find a yogurt starter in stores. Your best luck is ordering one on the internet, but it could take quite some time before it will arrive. You probably don't want to wait that long for eating your delicious treat!
Second, using the probiotics option for making the vegan yogurt is definitely much cheaper than using the yogurt starter (just take into account the delivery price!). Just make sure that the probiotics you choose are actually vegan.
There are probiotics capsules that are labeled as "non-dairy", meaning that they don't contain any dairy product. But they can be grown on milk-based elements, so it is safer to look for probiotics capsules labeled as "vegan" – for your peace of mind!
This recipe for preparing vegan yogurt with fruits is extremely simple, so don't feel shy about it! The result will be a creamy, flavorful, thick and extremely tasty yogurt! You can eat it plain with fruit, or serve it with some pancakes or oats. Either way, it will be a fulfilling dessert or an excellent breakfast, that will leave you completely satisfied!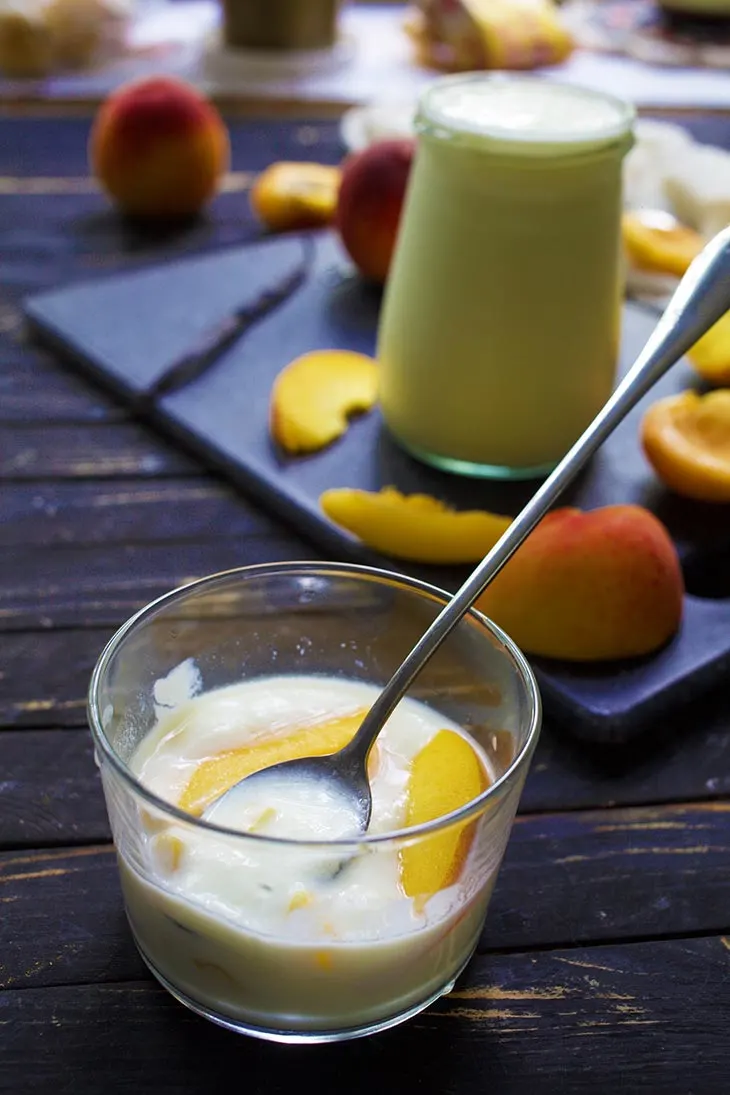 So no more talking and let's culture some vegan yogurt! Now let's get to the kitchen, it's time to get busy!
As usual, if you try this recipe, don't forget to let me know if you liked it and how it turned out for you!
Yield: 2+
Vegan Yogurt with fruits - cultured / with probiotics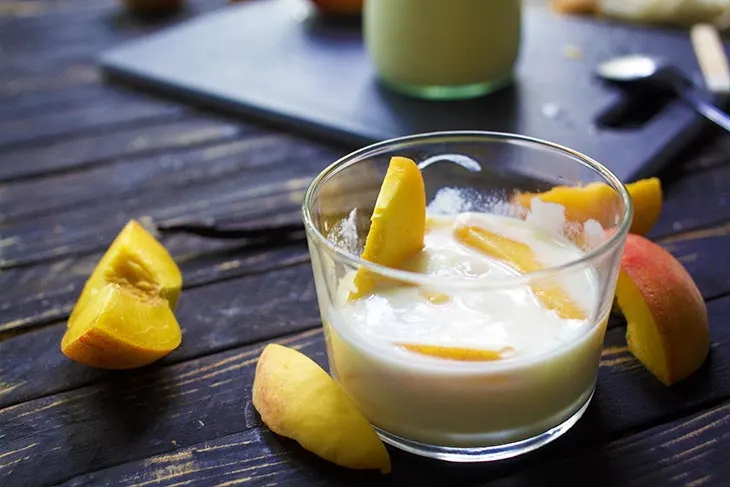 Why buy vegan yogurt from the supermarket when you can make it at home? Oh, and it's so easy, you won't even believe it! Here is how to prepare vegan yogurt with fruits - healthy and delicious!
Total Time
2 days
10 minutes
Ingredients
1 can (440g | 15 oz) full-fat coconut milk
½ tsp probiotic powder - from probiotic capsules
2 peaches, ripe, chopped
1 Tbsp sweet orange juice
1 Tbsp lemon juice
½ tsp vanilla paste
Instructions
Shake the can well before opening. Discard the full-fat coconut milk into a jar.
Add the probiotics, cover with a rubber lid and shake again to mix well and incorporate the probiotic powder into the creamy coconut milk.
Cover with a kitchen towel and set to rest at room temperature, for about 48 hours.
When thick, add the peach slices, orange juice, lemon juice, and vanilla paste.
Mix to incorporate and set into the refrigerator for about a few hours. You can also add a sweetener such as maple syrup if you want.
Serve cool with extra fruits!
Nutrition Information
Yield
2
Amount Per Serving
Calories

284
Total Fat

21g
Carbohydrates

20g
Fiber

2g
Sugar

13g