Looking for a quick lunch? Here's how to make an incredible chana butter paneer masala with basmati rice. Too flavorful to be true!
Truth be told, I kind of invented this recipe on the go and I improvised along the way according to my cravings. But it ended up SO good that I just had to share it with everyone here on the blog!
I made it one day when I was craving some Indian food SO much. I was watching a show on Netflix the previous night and they presented a paneer butter masala recipe. I thought it looks extraordinary!

So the next day, after I woke up, I was instantly craving a paneer butter masala myself. But I wanted a recipe that's both QUICK and DELICIOUS. You know how much I hate spending too much time on a single recipe, so a quick recipe is always my choice.
What's there to do? So I went into the kitchen and the party started. I wanted to create an Indian recipe that's a bit more consistent than the classic paneer butter masala, so I decided to add some chickpeas into the mix. This is how this chana butter paneer masala was born!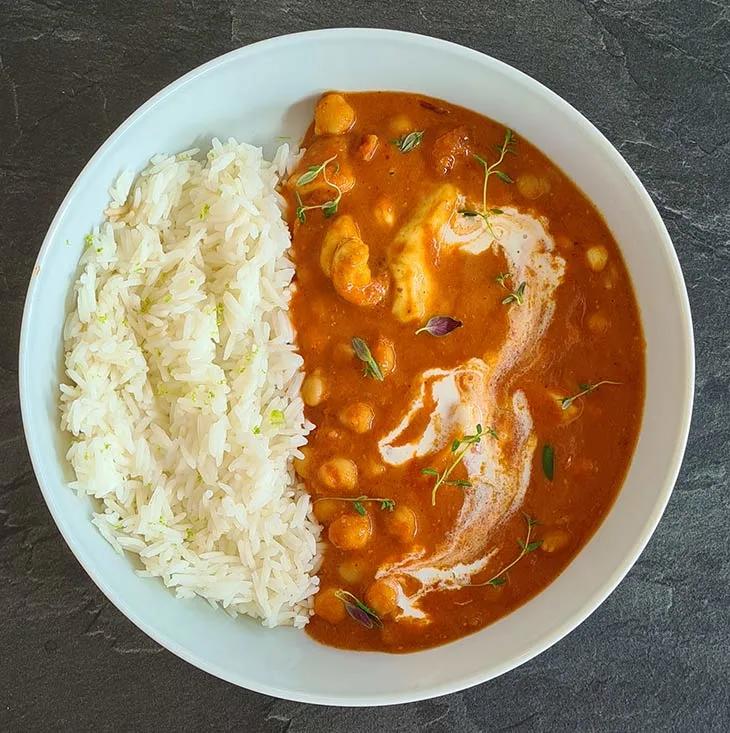 This recipe is basically a combination between butter paneer and chana masala. And it turned out pretty amazing! Truth be told, I don't know why I waited so long to try this super combo. 🙂
I didn't have any paneer on hand (the traditional Indian cottage cheese made from cow or buffalo milk), so I used some fresh mozzarella cut into big cubes. It works wonderfully!
NOTE: This recipe is not vegan because I used butter and mozzarella in it. But you can replace the dairy butter with a vegan alternative – or my recipe for homemade vegan butter. And you can replace the mozzarella with some vegan cheese as well. I recommend making my homemade mozzarella recipe. Or you can use store-bought vegan cheese – I know Verdino makes a very good one if you buy the unsliced/block version.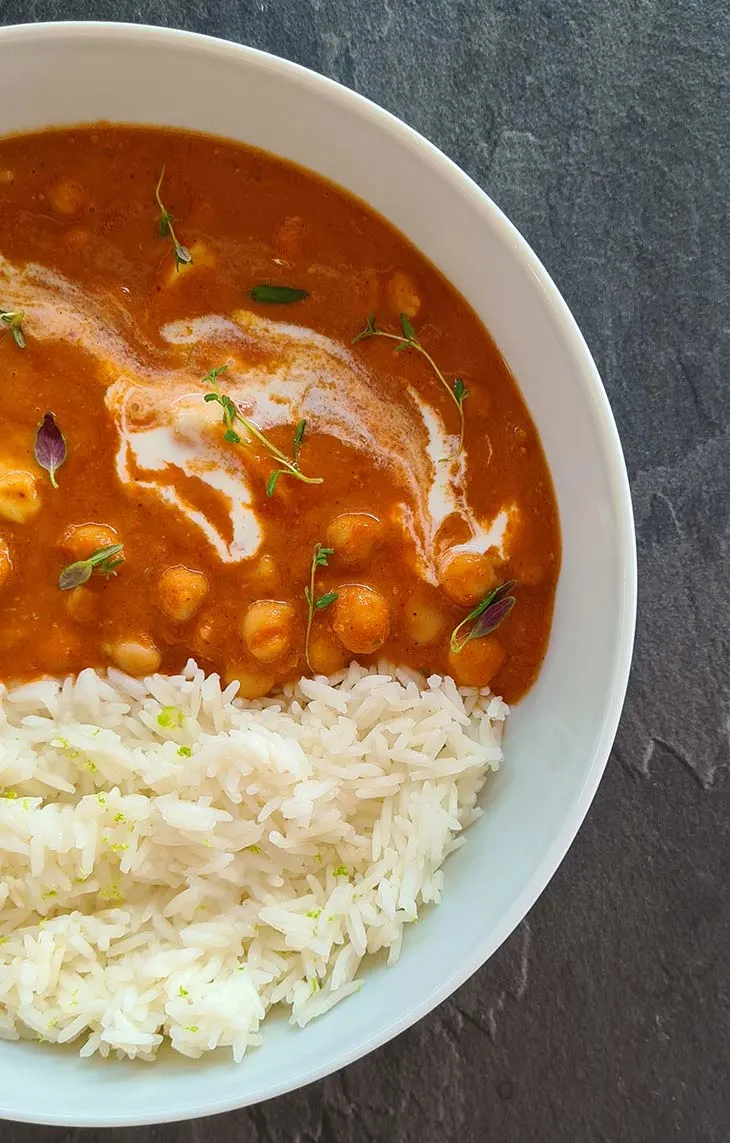 This chana butter paneer masala recipe is extremely flavorful and that's what I love most about it! Imagine this: butter, garlic, ginger, garam masala, bay leaves, cumin, spicy paprika, tomato pulp, and coconut milk – all these combined with some chickpeas, fresh mozzarella, and cashews. A wonderful combo!
I chose to leave the cashew nuts as they are for this recipe. In the traditional version, the cashews are blended in the sauce together with the rest of the ingredients. I chose to leave it as it is because I like it more and it also provides an extra texture kick. So good!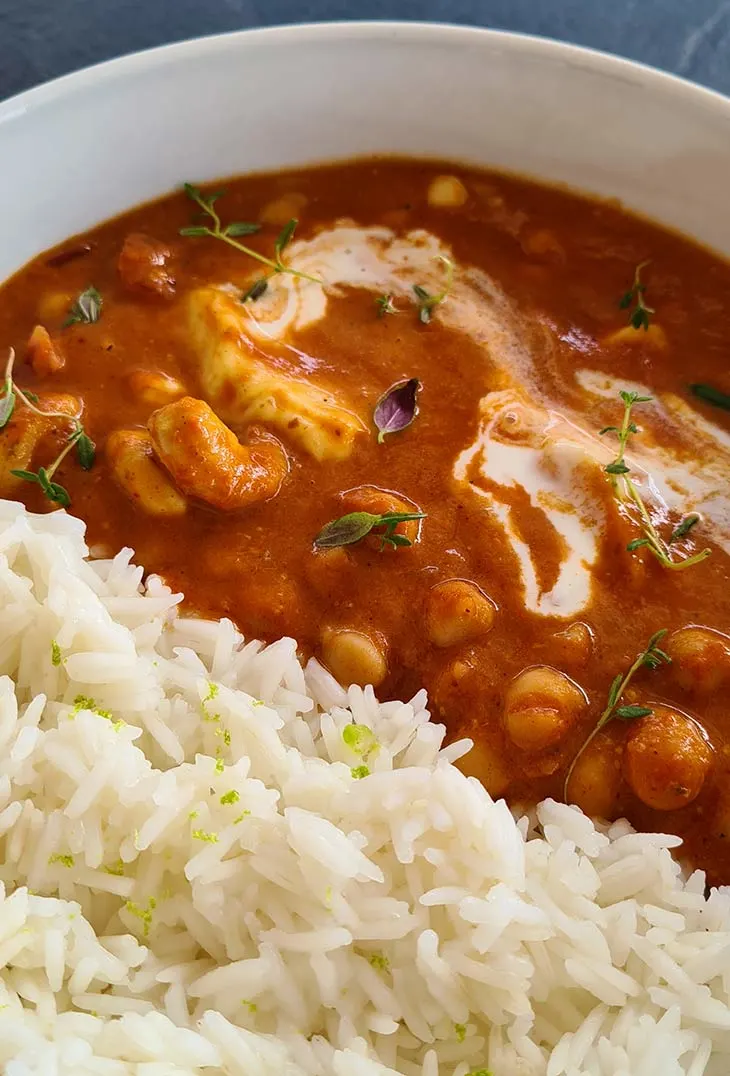 As I mentioned before, this recipe was kind of unplanned, so it's part of my day-to-day recipes that I make for lunch when I don't have a lot of time to do the plating, set the studio lights, or arrange everything beautifully. I just took some quick pictures for the blog and I proceeded to eat because I was SO hungry and the smell was kind of incredible.
I chose to eat this chana butter paneer masala with a side of plain basmati rice. I just grated some lime zest on top for a little bit of freshness. This is the classic way of consuming it, so I decided to keep things simple and clean! The rice goes perfectly with the sauce and the chickpeas. I'm craving another portion right now!
You can choose to make this recipe spicy or not – it all depends on your personal preferences and spicy endurance. I won't judge! But I like my Indian food spicy, I must admit. 🙂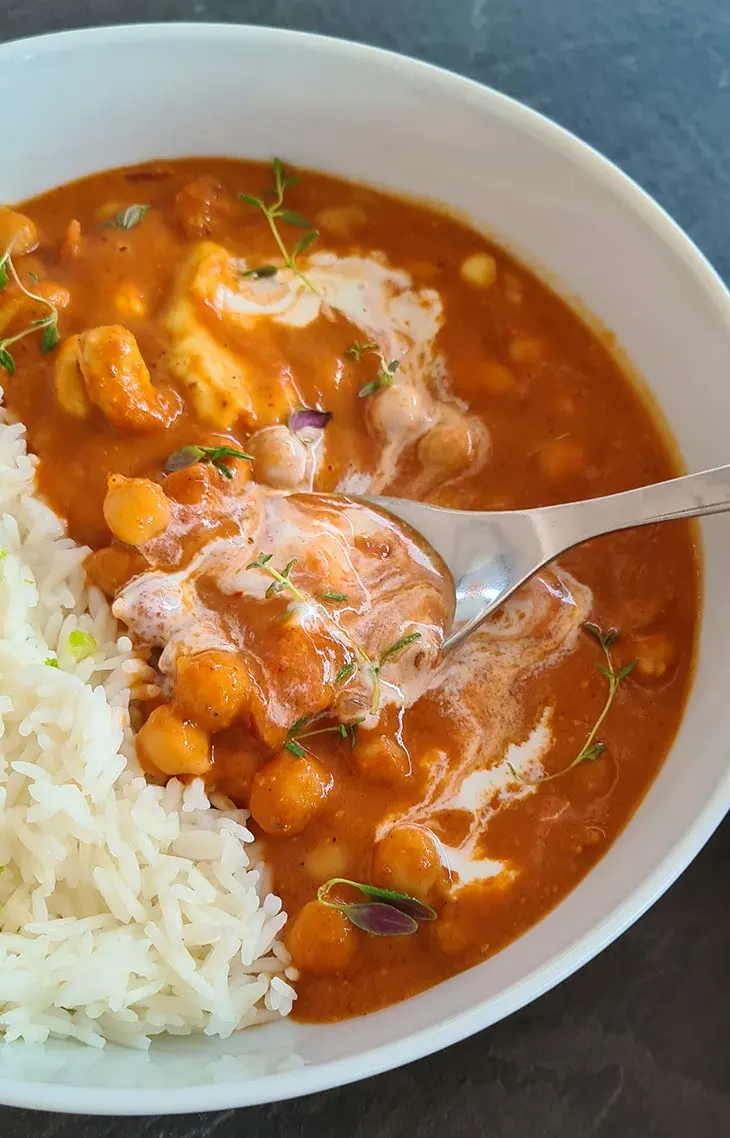 This recipe makes for 4-6 portions, depending on how hungry you are. The dish itself is pretty hearty and filling so I didn't feel like eating a huge portion – but it is, again, up to you!
One of the best things about this chana butter paneer masala recipe is that it's ready in no time. I know it looks fancy, but the entire dish is ready in around 20 minutes. Which makes it absolutely perfect for a rushed lunch when you're craving something healthy. That was the case when I created this recipe so I can promise you that everything is fast, efficient, and delicious!
That being said, I hope you'll try this unique recipe soon. If you decide to give it a go, don't forget to tell me how it went – I always love reading your comments.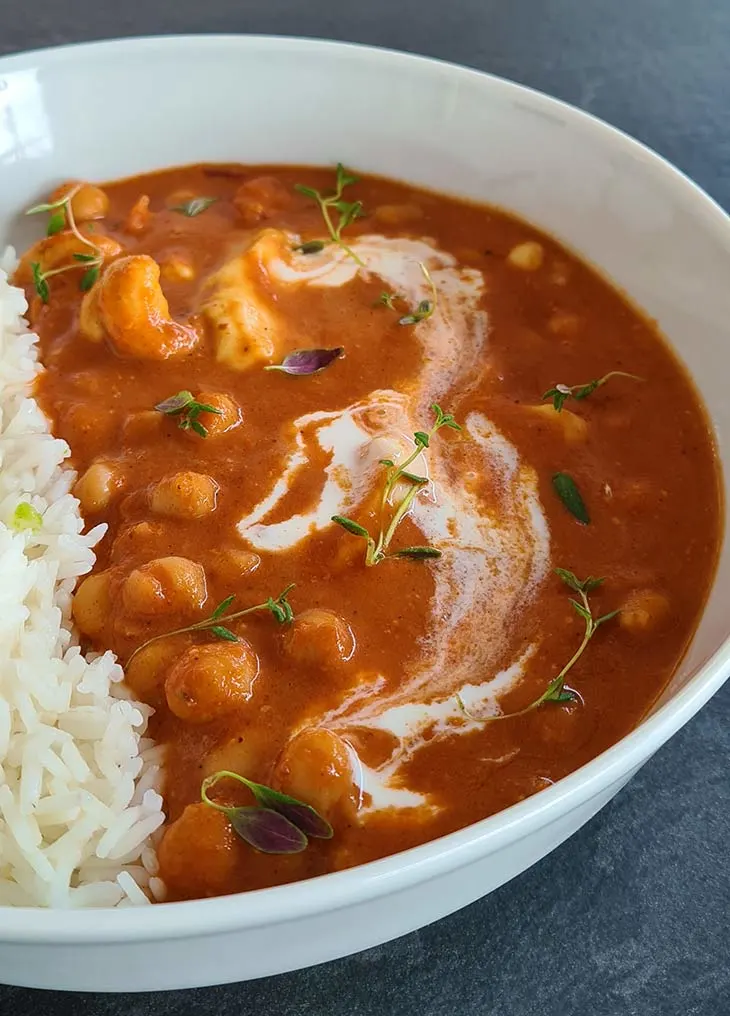 Happy cooking!
Yield: 4-6 portions
Chana Butter Paneer Masala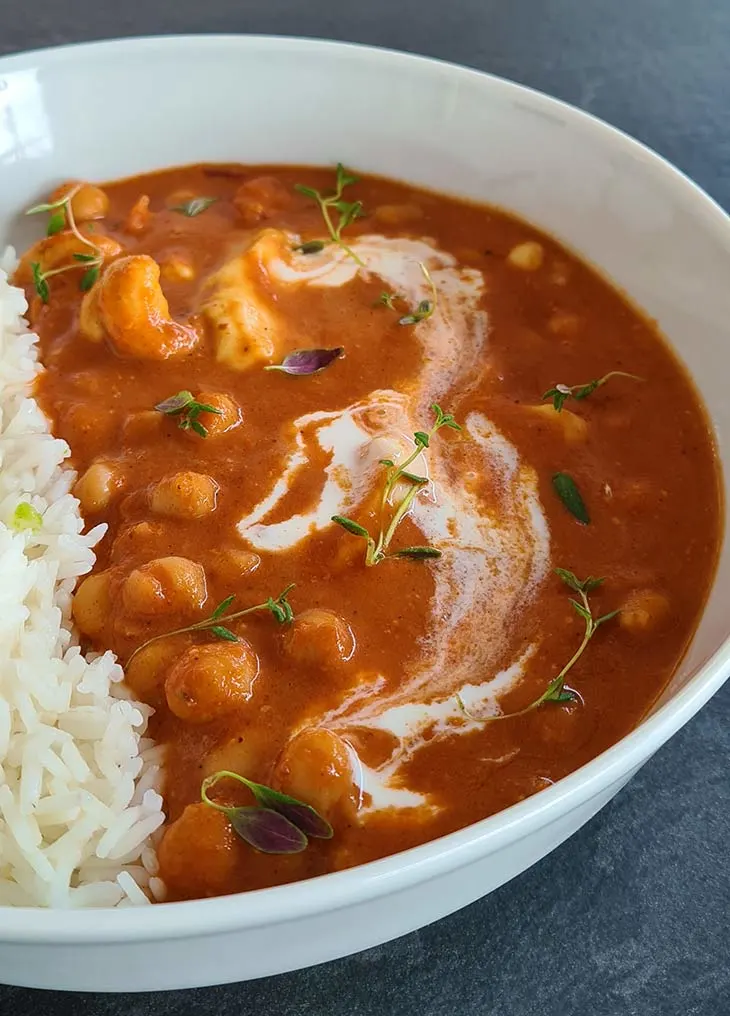 Looking for a quick lunch? Here's how to make an incredible chana butter paneer masala with basmati rice. Too flavorful to be true!
Ingredients
For the sauce:
20g (1 ½ Tbsp) goat butter, or olive oil if you're making the vegan version
4 garlic cloves, crushed
3 tsp ginger, finely grated
1 can tomato pulp, 400g | 14 oz, (you can use passatta as well)
½ can coconut milk (400g | 14 oz), fat
Spices:
2 tsp garam masala
2 bay leaves, to be removed at the end
¼ tsp cumin, ground
¼ tsp spicy paprika
salt and pepper, to taste
Other ingredients:
1 can chickpeas, 400g | 14 oz
1 handful raw cashews
1 piece fresh mozzarella, ~150g | 5 oz bag, cut into cubes
chopped fresh greens, I used oregano leaves, but you can also use coriander or parsley
Instructions
Add the butter to a pan on medium heat.
Once melted, add the crushed garlic, grated ginger, and spices. Leave 1 minute to cook.
Add the tomato pulp and coconut milk. Mix.
Add the boiled chickpeas and raw cashews. Cook for 10 minutes.
At the end, add the mozzarella cubes and cover with the sauce without mixing too much.
Serve with basmati rice and a bit of grated lime zest on top.
Nutrition Information
Yield
6
Amount Per Serving
Calories

355
Total Fat

26g
Saturated Fat

16g
Trans Fat

0g
Unsaturated Fat

8g
Cholesterol

8mg
Sodium

273mg
Carbohydrates

26g
Fiber

7g
Sugar

5g
Protein

10g
I strive to keep the information as accurate as possible but make no warranties regarding its accuracy. I encourage you to make your own calculations using your preferred nutrition calculator.