Try these soba noodles with mushrooms and miso-lime sauce – a captivating fusion of Asian tastes that will surely tantalize your taste buds.
If you're craving Asian-inspired pasta, I recommend you try my recipe for soba noodles with King Oyster mushrooms. Both the pasta sauce and the combination of ingredients will surprise you and will definitely be added on the list of your favorite recipes.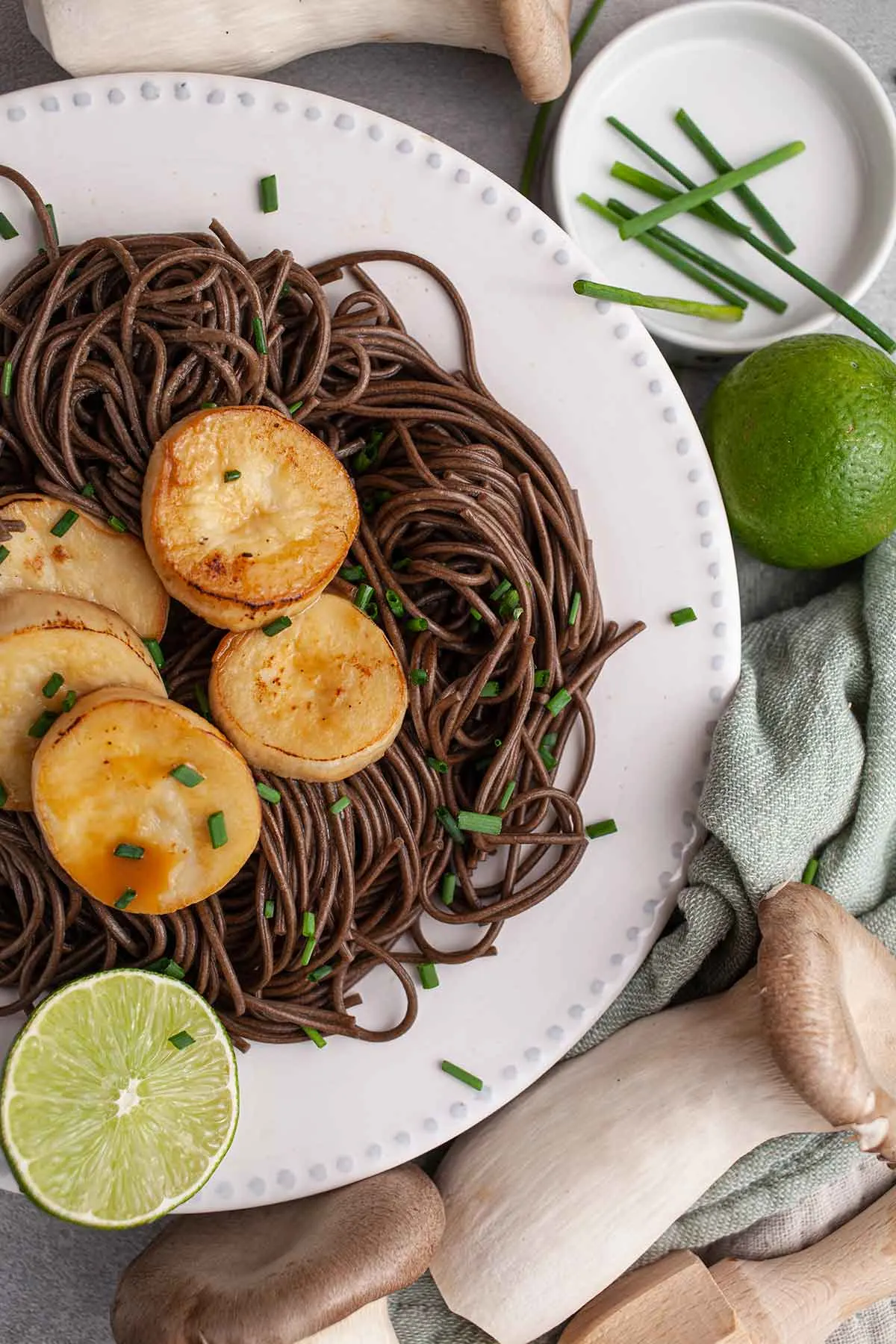 What are soba noodles?
Soba noodles are a type of traditional Japanese pasta, also known as "soba noodles". These are prepared from wheat flour and buckwheat flour, which gives them a distinctive brown color. Soba noodles are appreciated in Japanese culture for their delicate taste and elastic consistency.
In Japan, soba noodles have a strong cultural significance and are considered a traditional food associated with festivals and special events. Over time, they have become an important part of Japanese cuisine and are often served in different ways, either cold in a bowl with soy sauce and wasabi for dipping (zaru soba), or warm in a bowl of soba soup.
What is miso paste?
On the other hand, miso paste is a fermented condiment with a long history in Japanese cuisine. It is obtained by fermenting soybean paste, rice or barley with salts and aspergillus oryzae, a type of fungus. This fermentation process gives the miso sauce a rich aroma, umami, and a creamy consistency. Miso sauce is used in many dishes, from soups and sauces to marinades and glazes for meat.
Check out my most popular recipes with miso paste: Miso Pasta, Vegan Miso Soup and Asian Mushroom Soup.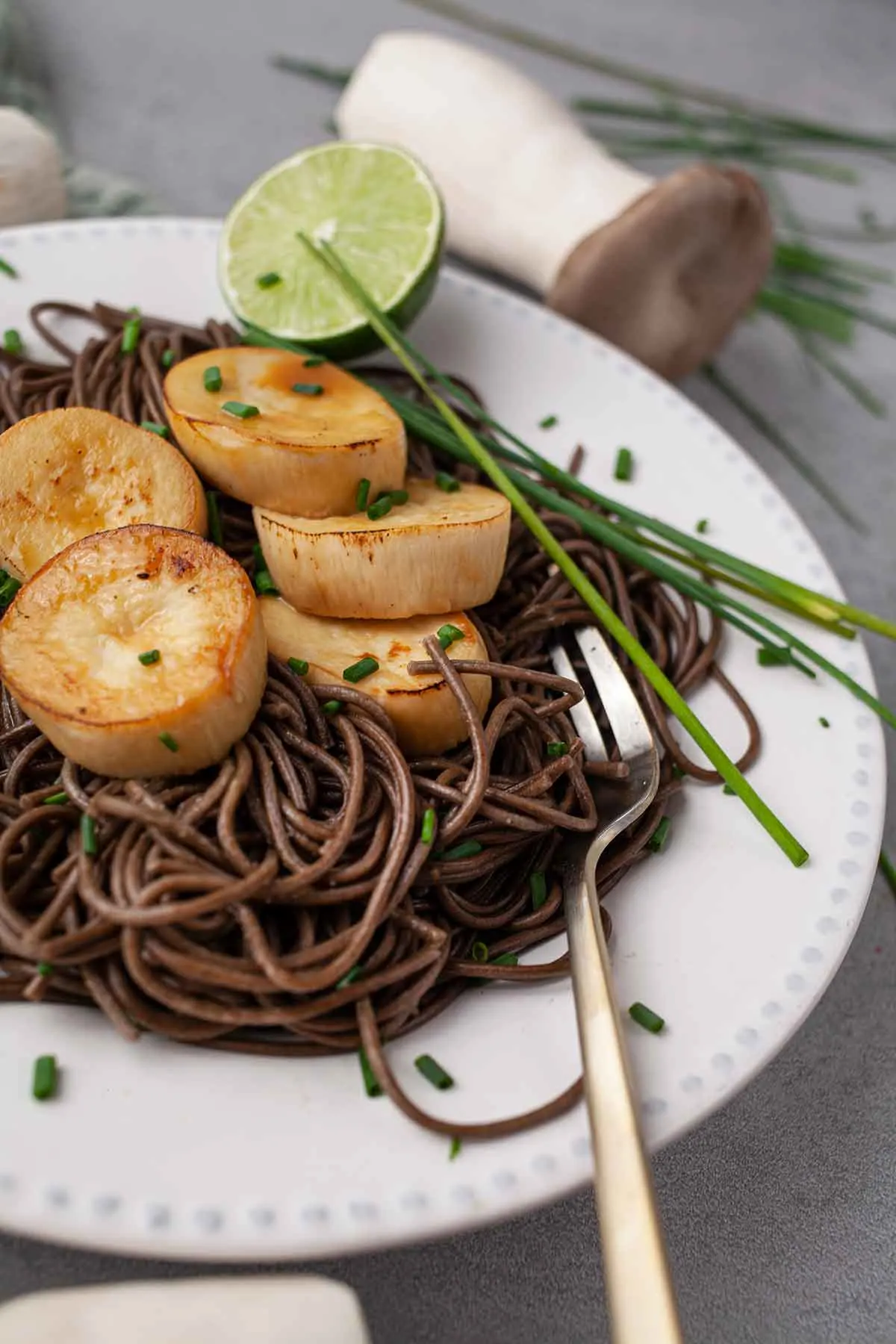 Ingredients
Soba buckwheat noodles – add a velvety texture and a rich note of nuts, enriching the culinary experience. You can make the recipe with wheat pasta or rice noodles, but the taste will not be exactly the same.
Miso paste – I love it and use it very often in various recipes. This intensifies the aroma and brings a subtle umami taste, enriching the sauce and giving depth to the recipe.
Lime – a little acidity is needed in this miso sauce, so the lime is perfectly aromatic and suitable to balance the tastes
Honey – it combines perfectly with the other flavors, bringing a subtle sweet balance. For the vegan version, you can replace it with maple syrup.
King Oyster mushrooms – I recommend this type of mushroom because they are firm, with a texture similar to that of Saint Jacques clams (Check out my vegan scallops made with King Oyster mushrooms). Of course, if you want to experiment, you can also use other types of mushrooms, such as Pleurotus or the classic Champignons.
Olive oil – I recommend it to keep the recipe vegan, but if you want extra flavor, 85% butter is ideal.
Garlic – indispensable in my dishes with mushrooms, it intensifies the overall taste, completing the recipe with a delicious flavor.
How to cook soba noodles
Yield: 2
Soba Noodles with Mushrooms and Miso-Lime Sauce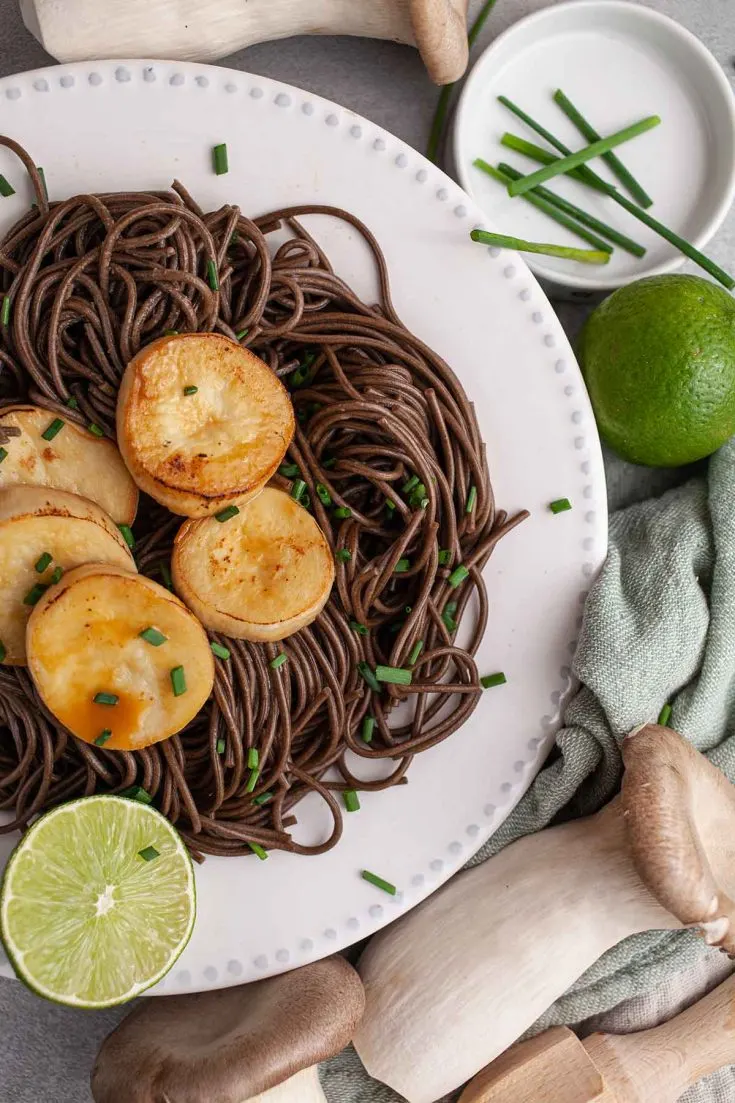 Indulge in the delightful flavors of this enticing recipe for soba noodles with mushrooms and miso sauce - a captivating fusion of Asian tastes that will surely tantalize your taste buds.
Ingredients
200g (7.1 oz) soba noodles
70g (2.5 oz) miso paste
1 lime, juice only
1 teaspoon honey or maple syrup
3 King Oyster mushrooms, sliced 2-3 cm thick
2 tablespoons olive oil
½ teaspoon garlic powder
½ teaspoon salt
½ teaspoon pepper
Instructions
Boil the soba noodles according to the instructions on the package. Strain them and leave them aside.
In a small bowl, add the miso paste, lime juice, honey or maple syrup and mix well.
In a pan, add 1 tablespoon of olive oil, put the mushroom slices in a single layer in the pan, sprinkle with a little salt, pepper and garlic powder.
Fry for 2-3 minutes, then turn them on the other side, sprinkle with the remaining oil and continue to cook the mushrooms until they turn brown.
Add the miso sauce and cook for another 30 seconds, until the sauce thickens.
Serve the soba noodles with mushroom topping and sauce. Sprinkle with fresh chives.
Nutrition Information
Yield
2
Serving Size
1
Amount Per Serving
Calories

407
Total Fat

17g
Saturated Fat

2g
Trans Fat

0g
Unsaturated Fat

13g
Cholesterol

0mg
Sodium

1936mg
Carbohydrates

56g
Fiber

7g
Sugar

14g
Protein

17g
I strive to keep the information as accurate as possible but make no warranties regarding its accuracy. I encourage you to make your own calculations using your preferred nutrition calculator.