Here's how to make vegan gingerbread cookies at home! The recipe is very easy to follow and the result will be perfect every time! 🙂
Gingerbread cookies are one of my favorite winter desserts. They make the whole house smell like Christmas! There is no better scent than ginger and cinnamon treats cooking in the oven, especially when is snowing outside. 🙂
I have tried many variations of this holiday treat and this is the best one, which is also vegan and can be made gluten-free by using a gluten-free flour mix, like the ones from Schar.
The traditional gingerbread cookies recipe uses honey but I prefer molasses and coconut sugar. If you simply want to make it dairy and egg-free but not vegan, feel free to use honey if you prefer it.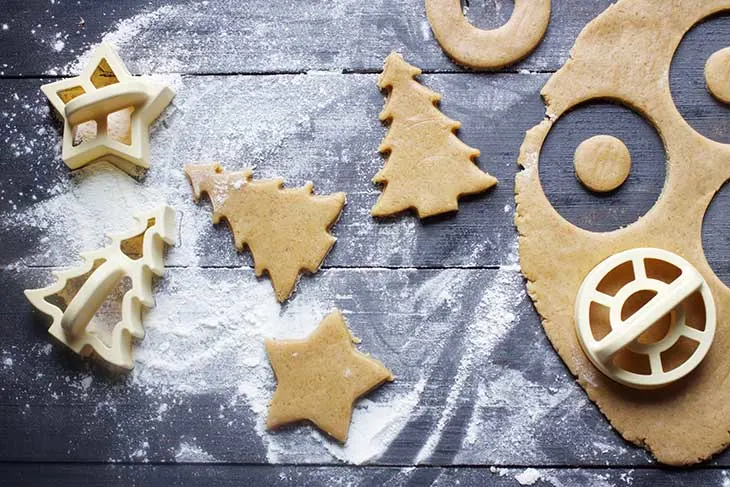 For these vegan gingerbread cookies, I used a half whole wheat and a half all-purpose flour. I don't think you can make them 100% whole grain, as the dough has to be a little bit fluffy, and this is given by the white flour. If you want to make these gluten-free, put the whole quantity of just Mix C gluten-free flour by Schar. This is the only one I've tested these with.
The eggs from the original gingerbread recipe were substituted with a flax seed egg. Remember that its' very important to grind the seeds freshly at home, otherwise the oil released when ground can become rancid in a short time. So, NEVER buy ground flax seeds, only whole.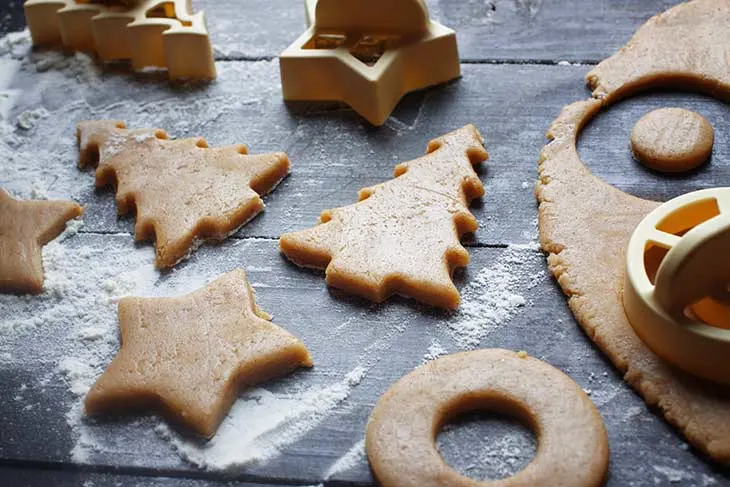 No more gingerbread man this year! I wanted to do something different, so I shaped these beautiful vegan gingerbread cookies into hearts, stars, Christmas trees and circles.
If you want them crunchier, then go thin with the dough. I like them a bit more spongy so I make them a bit thicker. Still, I keep one-third of the gingerbread cookies slim, for the crunchy-version fans in my family.
I like making vegan gingerbread cookies in larger batches and giving them as gifts to my dear ones. You can also put them on the Christmas tree! 🙂
These vegan gingerbread cookies can be stored for more than 2 weeks so you can bake them long before the holidays. This way you can manage better the extra-busy Christmas Eve time when you have to buy the gifts, decorate the tree and do all the holiday preps.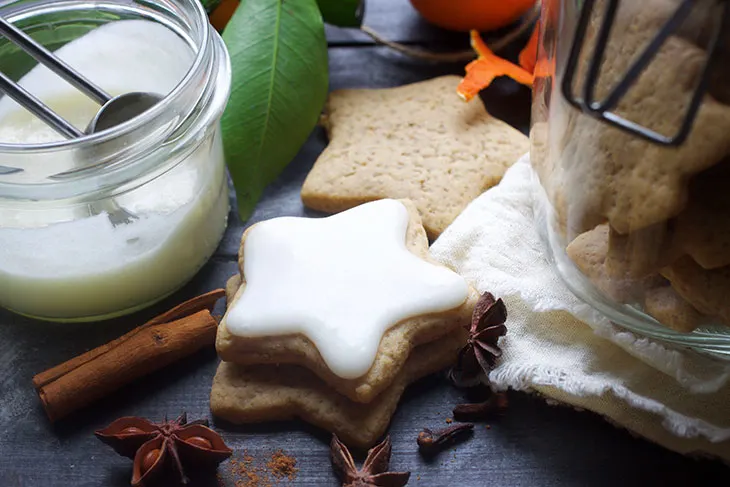 After baking begins the decorating process. If you don't feel like decorating, you can just leave them the way they are, but I like to glaze them and get creative. The glaze will let you develop your artistic skills. It's a great for kids as well, so bring the whole family together for this! 🙂 It might also become a family gathering tradition.
I like to put a thick layer of paste because it looks so much like the fresh snow, and on top of this sweet canvas, you can start to use the color. I prefer to use natural dyes. The beetroot juice is perfect for the red tones, the spinach juice gives a beautiful green color and turmeric is for painting them yellow.
The glaze doesn't have to be white or vanilla-flavored only. Choose your preferred flavor and color. It could be chocolate or cocoa, lemon, orange, rose, or even a bit of amaretto or rum. Don't be afraid to play with all of them and just enjoy the process of baking.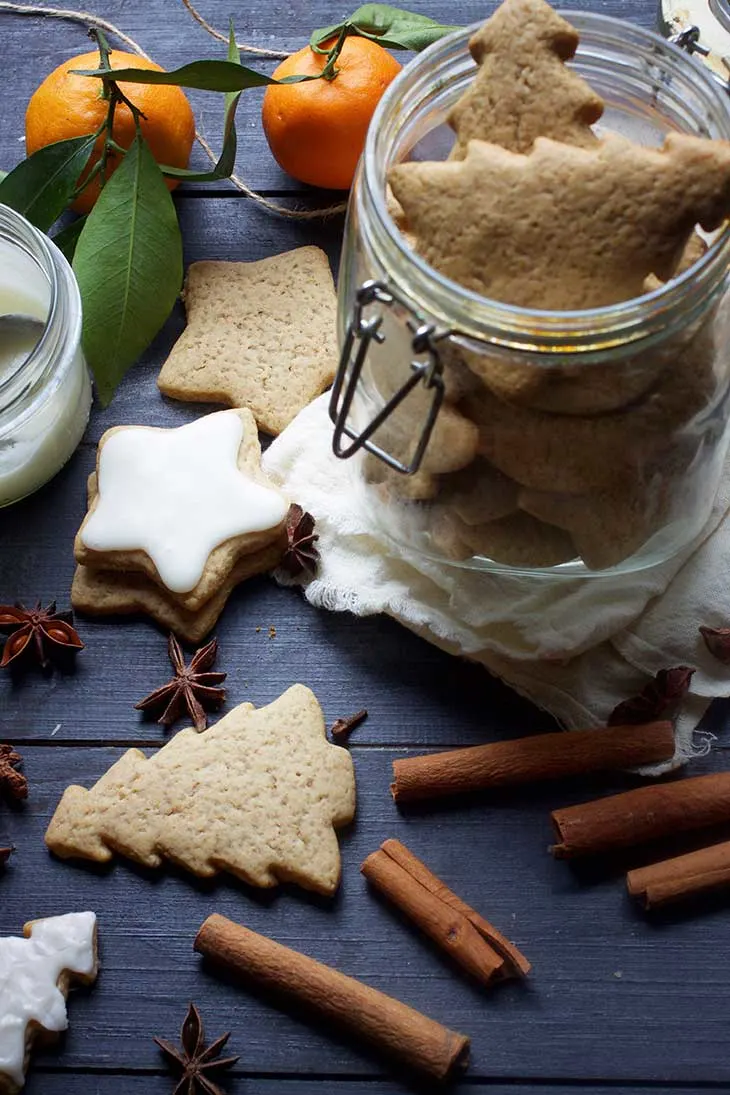 Hope you'll like my vegan gingerbread cookies recipe! Don't forget, if you give my recipes a try, take a photo and tag me on Instagram @gourmandelleblog and use the hashtag #gourmandellerecipe. I will feature you on my Facebook page and/or Instagram Stories! 🙂
Also, try these gingerbread pancakes and fluffy gingerbread cake. <3
Yield: 6
Vegan Gingerbread Cookies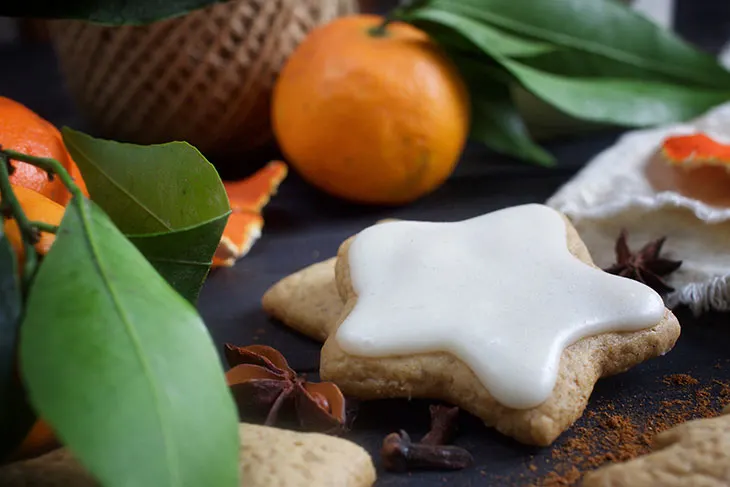 Here's how to make vegan gingerbread cookies at home! The recipe is very easy to follow and the result will be perfect every time! 🙂
Ingredients
Dry ingredients:
120g (1 cup) all-purpose Flour
120g (1 cup) whole wheat flour
½ tsp baking soda
½ tsp baking powder
2 tsp ground ginger
1 tsp ground cinnamon
¼ tsp cloves powder
⅓ tsp anise powder
½ tsp nutmeg
½ tsp cardamon powder
¼ tsp sea salt
Wet ingredients:
60g (¼ cup) vegan butter or coconut oil at room temperature
100g (½ cup) coconut sugar
115g (⅓ cup) molasses
1 flax egg , 1 Tbsp flax meal + 3 Tbsps hot water
½ tsp vanilla extract
For the frosting:
200g (1 cup) sugar powder
1 Tbsp coconut milk, or another milk of your choice
1 tsp natural vanilla extract
Instructions
Prepare your flax egg by mixing 1 Tbsp flax seed meal with 3 Tbsp hot water and allowing it to sit for a minute or two.
In a medium mixing bowl, add the dry ingredients, stir well to combine.
In a large mixing bowl, cream together the butter and the sugar. Mix for 1-2 minutes using a hand mixer until the mixture is nice and light.
Add the rest of the wet ingredients and mix for one more minute to incorporate.
Gradually add the dry ingredients to the wet ingredients, mixing continuously to combine.
Refrigerate the gingerbread dough for at least two hours or overnight if possible. This will help the cookie dough to become firmer and it will become easy to cut into shapes.
Pre-heat the oven to 375 F.
Roll out the dough onto a floured surface and cutting shapes using cookie cutters.
Place on cookie sheets and bake for 10 minutes or until done.
In a small bowl, combine the frosting ingredients and start decorating after cookies are completely cooled.
Nutrition Information
Yield
6
Amount Per Serving
Calories

462
Total Fat

6.7g
Carbohydrates

96g
Protein

4.4g