Comfort food at its best: here's how to make the ultimate cheesy cabbage casserole with mozzarella! Easy, simple, and extremely healthy!
In case you're looking for a one-pan dish with few ingredients that's ready in no time, today's your lucky day. This cheesy cabbage casserole is exactly what you're looking for!
Today's recipe combines two of my old loves: casseroles and… cabbage. I truly believe cabbage is such an underrated vegetable! Most people only chop it to be used as a side salad with a bit of vinegar and seasoning and that's pretty sad if you ask me. Cabbage is very healthy, super cheap, and just SO versatile!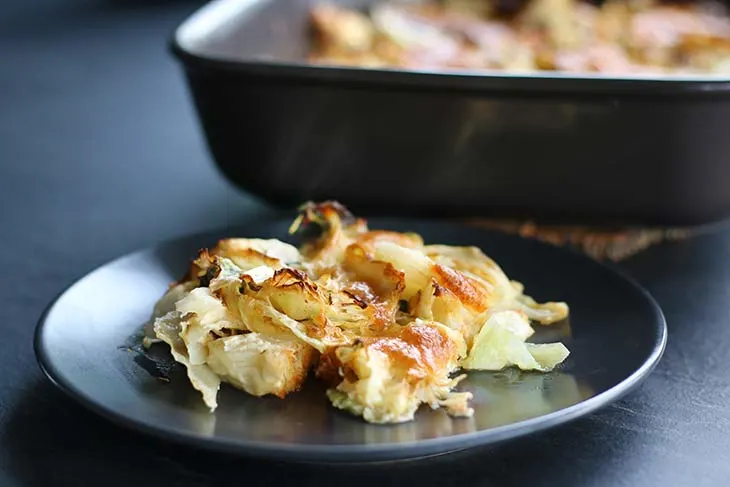 Cabbage can be used in so many recipes, here are some examples below:
And so on! Cabbage is a key ingredient in many casseroles, including this cheesy cabbage casserole that I'm going to present to you today. And because it's so cheap (especially if you buy it at the farmer's market), I think it's just perfect for students and families on a budget.
One of the best things about this cheesy cabbage casserole is that it's ready in around 40 minutes. It's a great idea for dinner, especially on a weekend when nothing can rush you. Just take your time, chop the cabbage, throw it into the oven and you're pretty much good to go.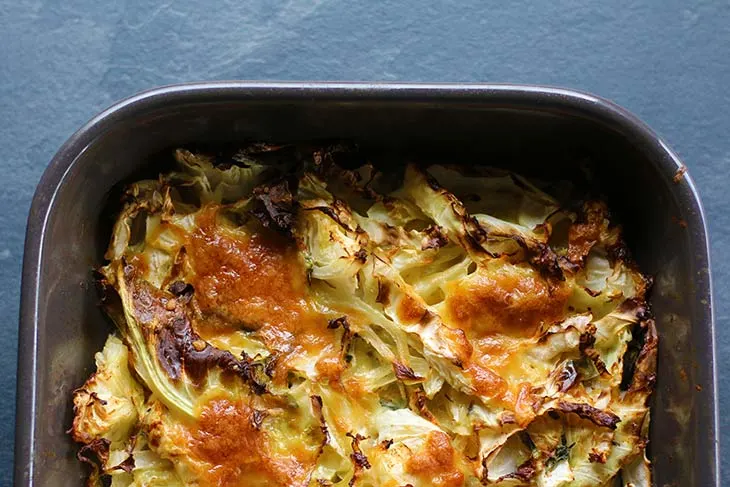 The classic cabbage casserole recipe contains some ground meat as well, usually beef or chicken. Something like traditional cabbage rolls, but in the form of a casserole. But because I don't really eat meat, I decided to create a yummy vegetarian version today. So I omitted the meat, but I used lots of mozzarella instead, as well as some eggs.
NOTE: This recipe is not vegan. I know you're used to vegan recipes on my blog, but today we're trying something new. And cheesy! You can make this recipe vegan if you want, though. Just replace the mozzarella with my vegan homemade mozzarella recipe and the eggs with some flaxseed. The taste will be just as good!
Because our cheesy cabbage casserole is made in one pan, this means less time spent in the kitchen and fewer dishes to wash afterward. For me, this is a win-win situation!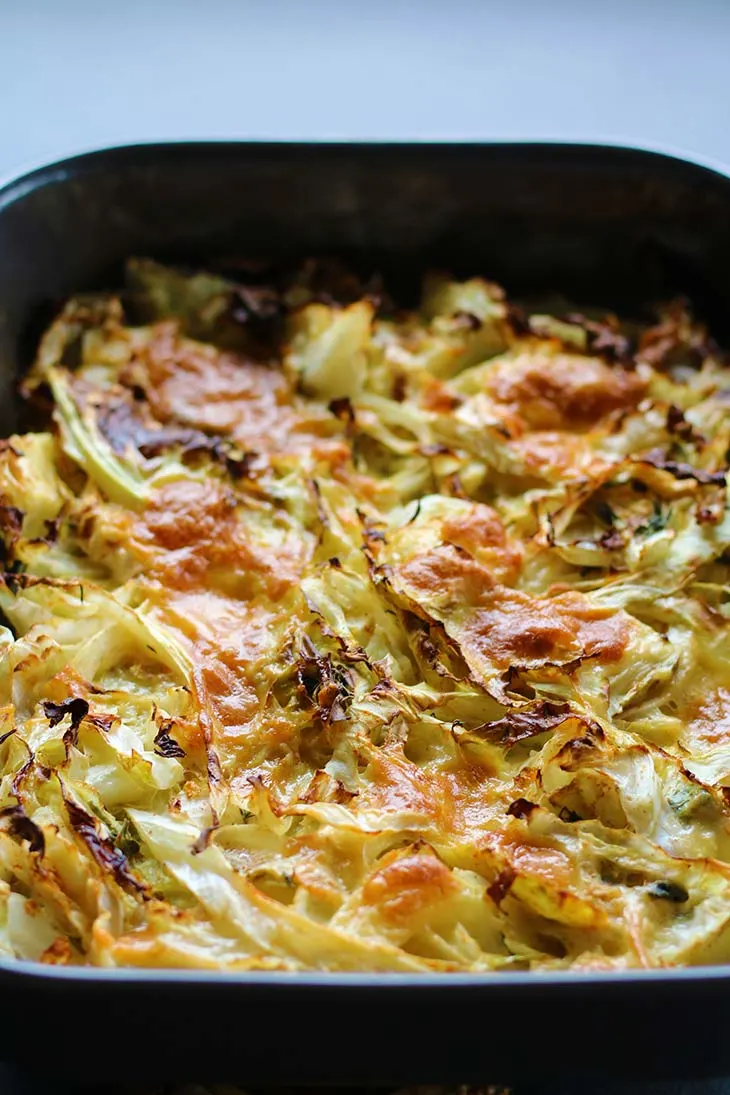 And the flavor? Simply incredible! Although it may not sound like much, this cheesy cabbage casserole has an amazing taste and texture! You can serve it as it is, as the main dish (maybe with a little bit of sauce for an extra kick) or as a side dish with your favorite main. It goes wonderfully with some veggie patties such as these cauliflower patties, these vegetable fritters, or these vegan hash browns. A real delight!
Here's another cool idea: you can also serve it as a side dish with a… burger! You can find lots of veggie burgers ideas here, but I totally recommend you make my broccoli-quinoa burger for this one. Maybe a creamy cucumber salad too, why not?
TIP: This recipe calls for ½ medium/small cabbage. Chopped. So what do you do with the rest? You can either keep it in the freezer for your next cheesy cabbage casserole or you can make a potato cabbage soup with it. I vote for the latter – this way you'll have a complete meal with only 1 cabbage. How awesome is that?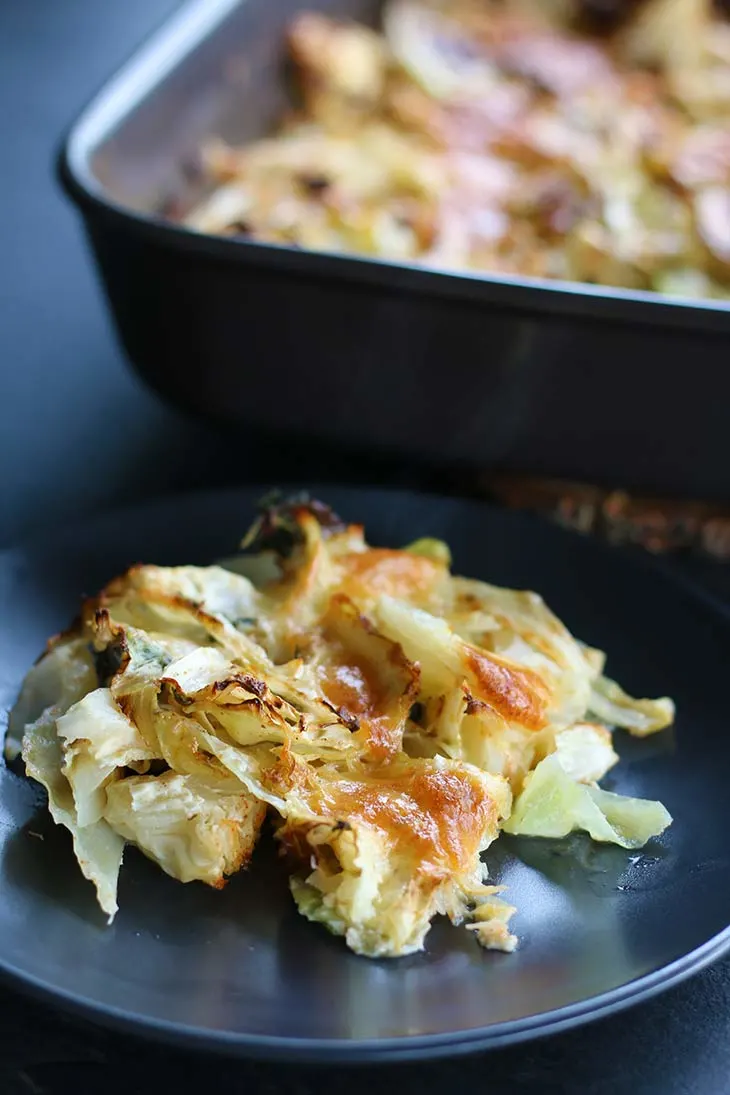 Another great thing about this recipe is that it is low carb, which means it can work perfectly as a keto recipe as well. It's healthy and hearty!
Cheese alternatives: I used mozzarella, but the recipe works wonderfully with parmesan as well. Or cheddar if you like it. Or any other cheese – after all, it should suit your taste and cravings, right?
TIP #2: This cheesy cabbage casserole can get a bit creamy after you get it out of the oven, so if you don't prefer this type of consistency, feel free to add some cornflake crumbs on top of it while it's still in the oven, 10 minutes before taking it out. Or some crunchy onion flakes. Both options are super delicious!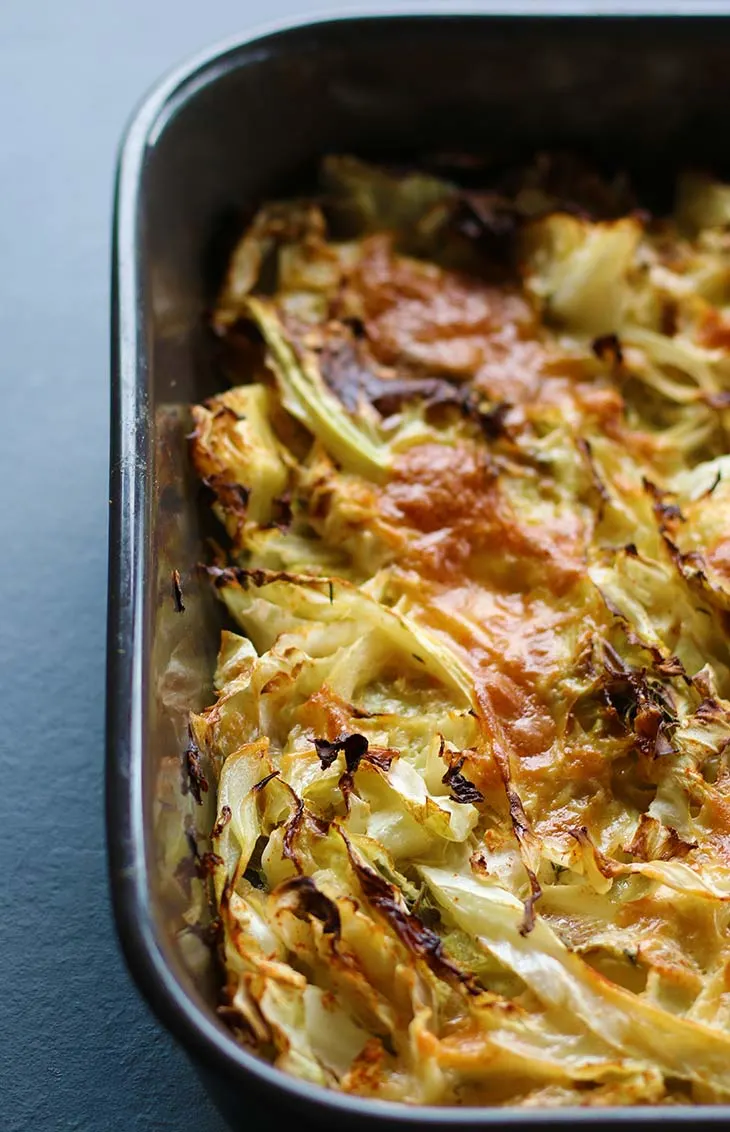 These being said, I hope I convinced you to try this cheesy cabbage casserole sometime soon. If you decide to do so, don't forget to come back here and leave a comment telling me how it went. I'm so curious to read your opinions!
Until then, happy chopping and cooking! 🙂
Yield: 6 people
Cheesy Cabbage Casserole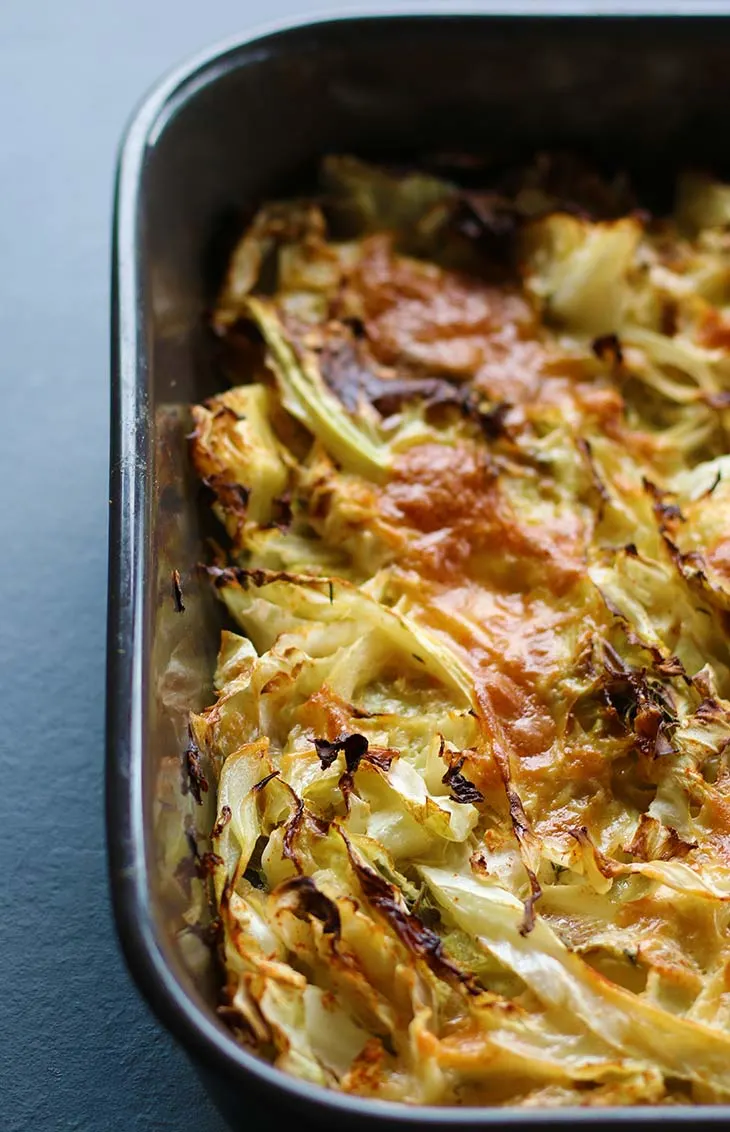 Comfort food at its best: here's how to make the ultimate cheesy cabbage casserole with mozzarella! Easy, simple, and extremely healthy!
Ingredients
½ cabbage head, medium or small, chopped in small slices
1 large onion, julienne
3 big eggs
100g (1/2 cup) mozzarella
a few fresh thyme sprigs, only the leaves. or you can use dry thyme ~1 tsp
1 Tbsp olive oil
salt and pepper, to taste
Instructions
Chop the cabbage and the onion. Mix them directly into a ceramic oven tray, greased with a little bit of olive oil.
Beat the eggs and add them to the tray. Mix again.
Add the thyme, salt, and pepper. Add ½ cup of water.
Grate the mozzarella on top (or add it in thin slices).
Cook in the oven for ~30-40 minutes or until the cabbage is golden on top.
Nutrition Information
Yield
6
Amount Per Serving
Calories

90
Total Fat

5g
Saturated Fat

1g
Trans Fat

0g
Unsaturated Fat

3g
Cholesterol

93mg
Sodium

94mg
Carbohydrates

8g
Fiber

2g
Sugar

4g
Protein

5g
I strive to keep the information as accurate as possible but make no warranties regarding its accuracy. I encourage you to make your own calculations using your preferred nutrition calculator.