Do you love patties and hash browns? Are you in the mood for a filling lunch or snack? No worries, I got you! Here's how to make the best low carb cabbage hash browns!
Hello, hash browns! Don't we all love a hash brown? I think we do, I love one, maybe two, and let's be honest here, maybe more! 🙂
But will all hash brown lovers please join me in a sigh of relief? Why? Well, because today we are making an awesome low carb version, using the humble yet rich cabbage instead of the old potato. Oh, these cuties are delish, and with such a low-calorie count they make for a healthy and super nurturing meal, to enjoy totally diet worry-free.
Now, we had a run-in with the classic hash brown some time ago, learned lots about its origins and culinary evolution, so today I will take it a step further and I'll present you a great alternative for the hash brown, especially good if you want to lose weight or if you're following a low carb diet. Are you ready for some super delicious patties? 🙂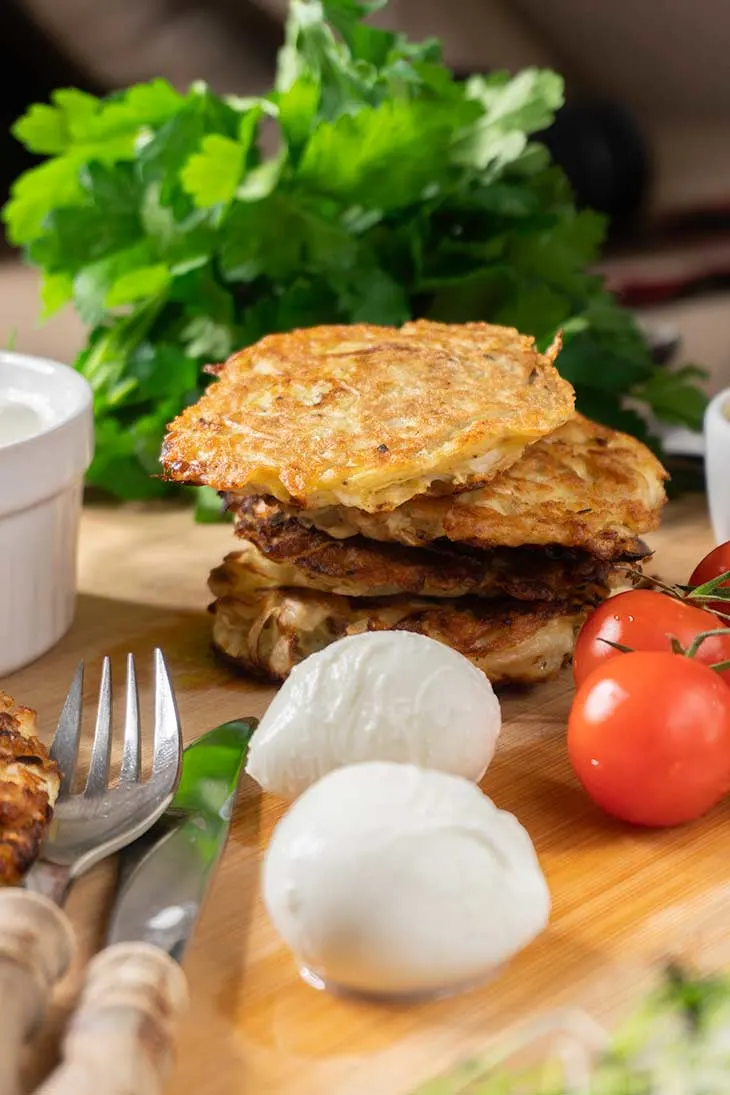 Cabbage is the veggie we all need in our lives. It's easy to find, comes at a budget price and at about 25 calories per 100 grams, it delivers protein, fiber, calcium, magnesium, vitamins like K, C and B6 among other good reliable stuff. And you get a whole lot of it, too. I remember mom dicing one or two cabbages, and suddenly mountains of it would pile up on the kitchen counter, to my delight and surprise, since one of these babies can weigh from 1 to 4 kg.
Now, trust me, a lot of hash browns can be made out of just one normal-sized cabbage, but not nearly as many as if one were to make them, say, out of the heaviest cabbage ever! Weighing in at an astonishing 62.71 kg, this uber specimen was harvested in Alaska, America's 49'th state and its largest, by a man named Scott. It was presented to the world in all its green leafy greatness, about eight years ago, back in the summer of 2012.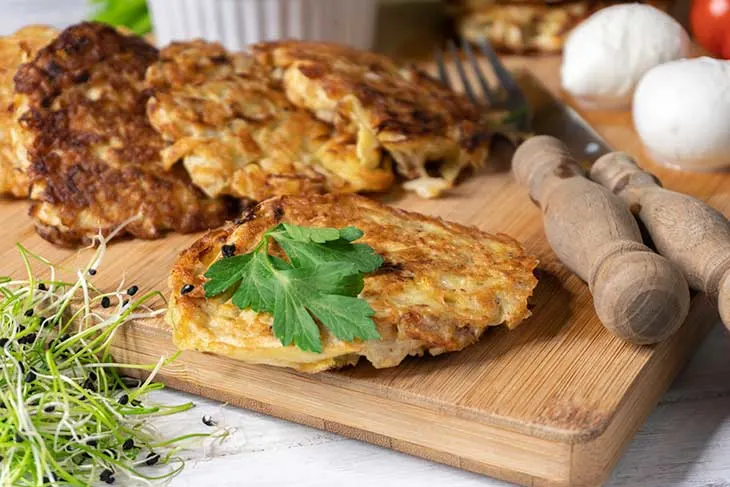 Now this fact alone should put things in perspective if the thought what am I gonna do with all the leftover cabbage crossed your mind. Besides, our crunchy green queen can be successfully stored in the fridge, when whole, for one week. Once you cut into it, it can last for up to 3 days, and in the freezer for as much as 12 months. That's great, right?
I usually plan something along the lines of what can be called "cabbage-themed weeks" during which I create menus that include dishes from all of Earth's cuisines – which makes a lot of sense since cabbage can be found in most, if not all of them. I get all happy about it and the flock of ways it can be enjoyed, like my vegan Crispy spring rolls or this Smoky cabbage stew one of which are these here easy breezy beautiful hash browns.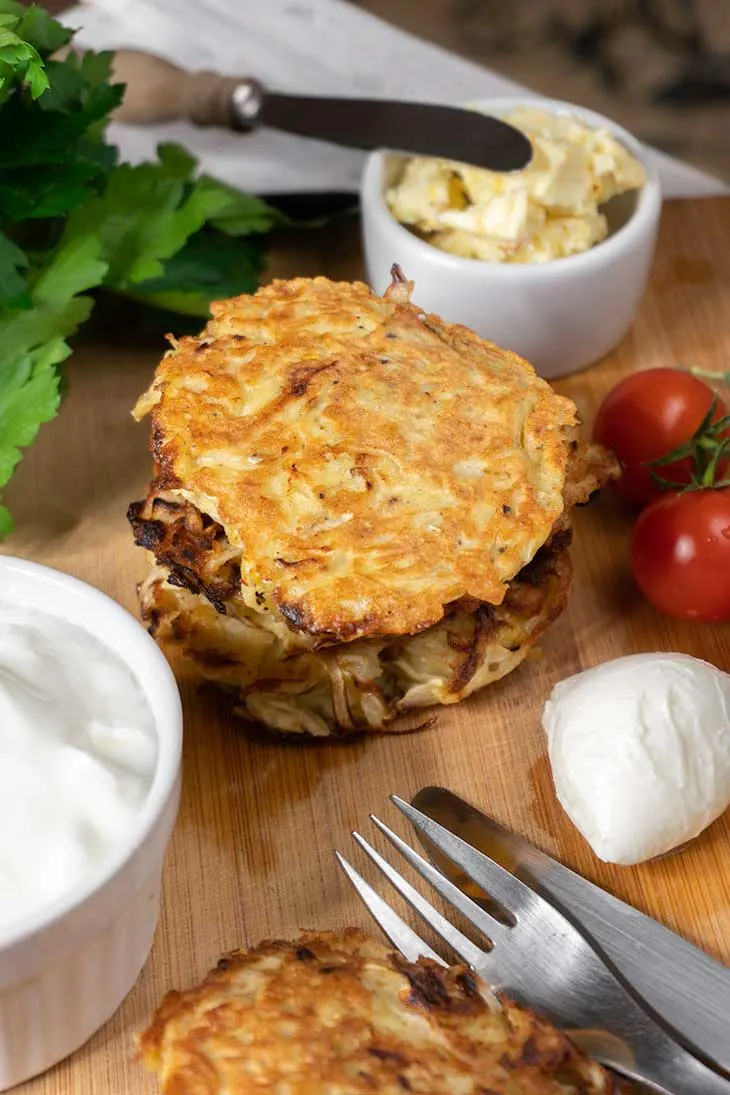 As you know already, I will forever and ever advocate the importance of keeping you informed about our diet and eating habits, especially in these lucky times we get to live in, when scientists, doctors, and nutrition experts work diligently at providing us with huge amounts of valuable information, like the following ones: consuming cabbage and it's fellow cruciferous sisters – cauliflower, kale, broccoli, Brussels sprouts – has been shown to have mighty health benefits. To name a few:
it reduces inflammation due to its high antioxidant content
helps digestion by increasing the number of friendly bacteria in the system
keeps your heart healthy because it contains some powerful pigments, called anthocyanins, that reduce high blood pressure.
Doing all this while tasting wonderfully sweet? Come on, let's just get to slicing and dicing some cabbage! 🙂
I am lucky enough to have a farmer's market really, really close to my house. I hope you do too, and if not, just grab your warmest, fluffiest, chunkiest knit and head to the nearest one.
I always go on Mondays – although clearly any day is a good day for the fresh veg – and I dare you to do the same, because this way you can meal prep the week ahead, no problemo. Oh, and it's best if you take the time to go early in the morning, just after your coffee or tea. The farmers will likely greet you with a smile of appreciation, and since your cheeks will likely be apple red, they will probably even pick the best stuff in the bunch for you.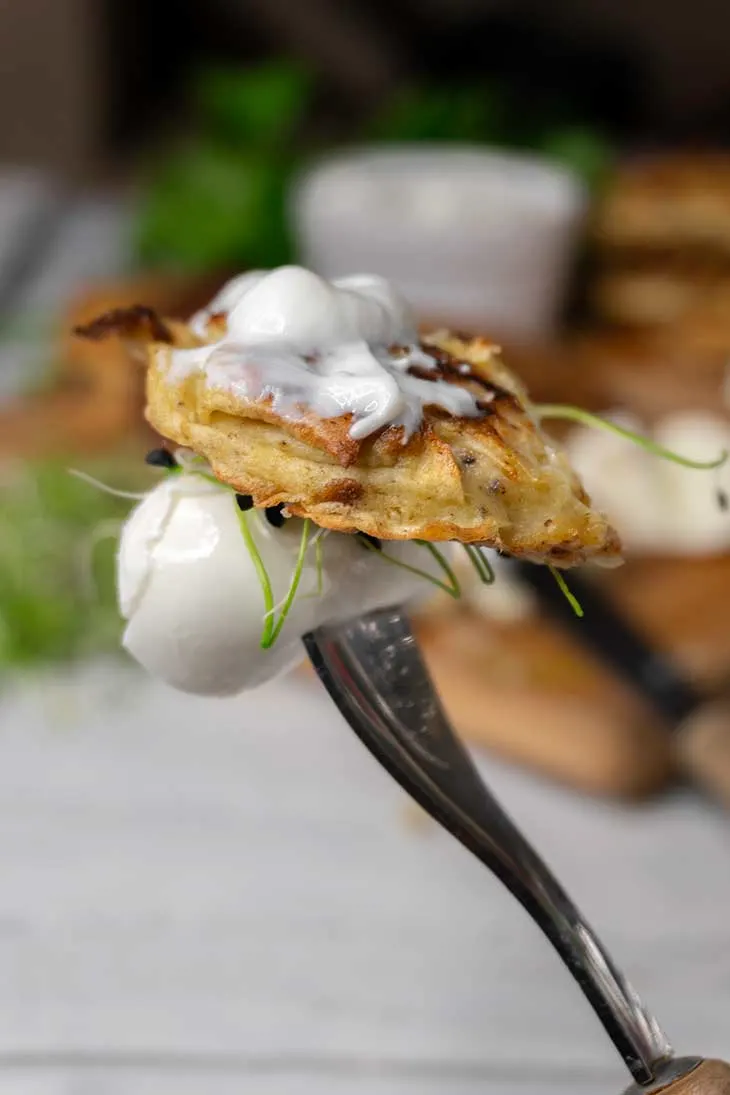 Okay, enough talking! Go ahead and try this cabbage hash browns recipe, then don't forget to tell me how it went! Happy cooking!
P.S. Check out the link if you're looking for a vegan hash browns recipe.
---
Personalized meal plans and workout videos | Get your customized meal plan today! [x_button shape="square" size="mini" float="none" target="blank" href="https://shop.gourmandelle.com/?utm_source=mainsite&utm_medium=site&utm_campaign=inpost" info="none" info_place="top" info_trigger="hover"]I WANT A MEAL PLAN![/x_button]
---
Yield: 6
Low Carb Cabbage Hash Browns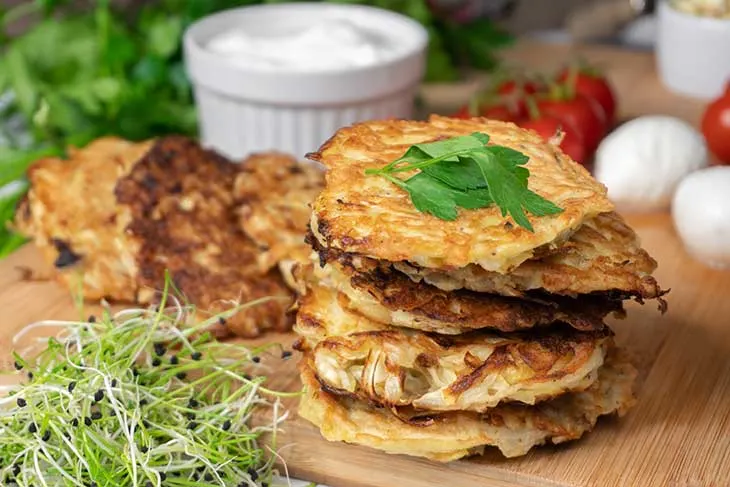 Do you love patties and hash browns? Are you in the mood for a filling lunch or snack? No worries, I got you! Here's how to make the best low carb cabbage hash browns!
Ingredients
180g (2 cups) cabbage, finely sliced
1 onion, finely sliced
2 eggs
vegetable oil
greek yogurt
1 tsp granulated garlic
salt & pepper
Instructions
In a mixing bowl, combine the finely sliced cabbage with the onion, eggs, and granulated garlic. Season with salt and pepper.
Fry in vegetable oil using 1 Tbsp of the mixture for 1 hash brown.
Serve with Greek yogurt.
Nutrition Information
Yield
6
Amount Per Serving
Calories

117
Total Fat

4.3g
Carbohydrates

16.3g
Protein

3.2g