Bored of the classic lasagna recipe? Here's a unique recipe for a change: vegan cabbage lasagna! Yummy, easy and healthy as well! Give it a try!
Not long ago I was telling you about how much I love lasagna. So much that I am trying to eat it as much as possible and in as many ways as possible.
That's how I turned to vegan lasagna soup and I entered the world of endless lasagna possibilities. And a few days ago I had another lasagna breakthrough. Something that may seem odd at first – but, lasagna lovers, don't back down! Because it's extremely delicious, extremely healthy and totally amazing!
Let me give you a few hints. It doesn't contain pasta (what, pastaless lasagna?!) but something much softer, lower in carbs, that adds a twist of taste. Any guesses? Let me tell you what it is: cabbage! Yup, today is all about cabbage lasagna!
I know that it may sound odd at first – but just listen to me. This vegan cabbage lasagna is simply amazing, you have to trust me with this. I've always been a cabbage lover and when I first heard of this recipe I knew I had to try it right away. And my instincts weren't wrong!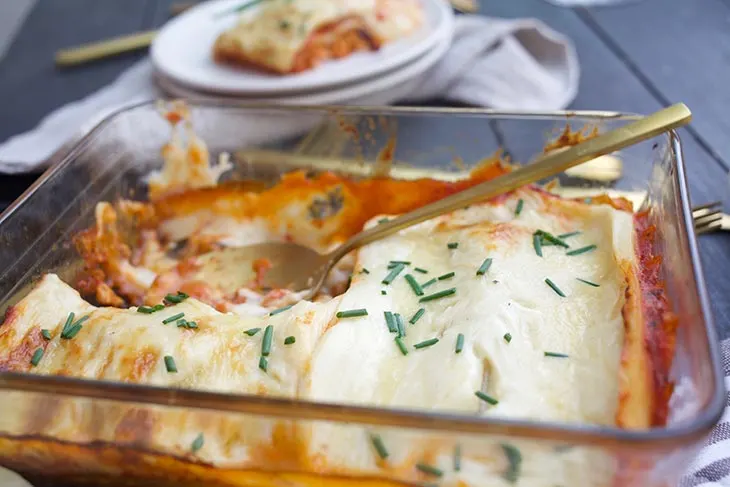 It was so delicious that I instantly decided to share the recipe with all of you (after spending some time perfecting it, of course). But I do understand that there are many people for whom cabbage is not exactly a sweet spot.
But are you willing to give it a try? This recipe is definitely worth it! If you hate cabbage, this only means you never tried this recipe and never tasted cabbage in this combination of flavors and ingredients. I am quite sure that even the most avid cabbage haters will find this recipe delightful nonetheless! 🙂
And this vegan cabbage lasagna is not only an interesting take on the classic vegan lasagna. There are actually many reasons why you should really try this recipe if you are a lasagna lover.
First of all, lasagna is great, of course, but its main ingredient is pasta. And we all know that, in big quantities, pasta isn't the healthiest or most nutritious food in the world. It's mostly pure carbs.
And while it's ok to enjoy some pasta from time to time, we must be careful not to do it too often. Ok, and what about those of us who feel that could eat lasagna on a daily basis? Well, luckily for us, that's when cabbage steps in.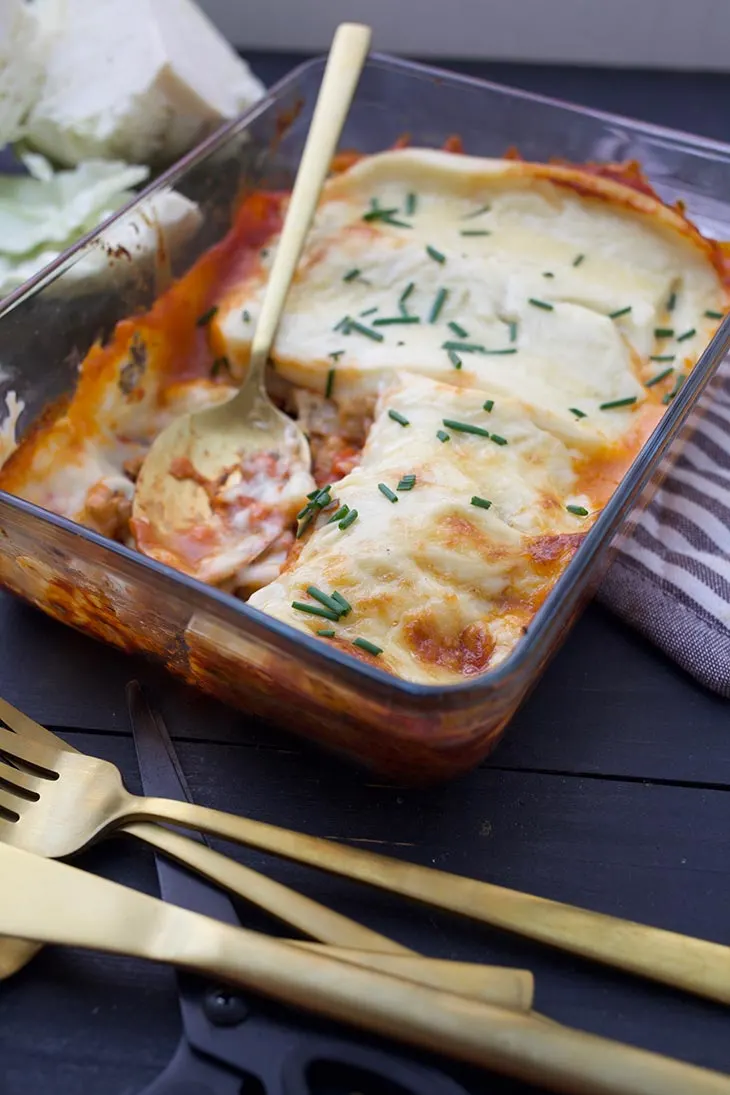 You might have already figured it out, but let me make it clear for you – in this recipe, the classic pasta sheets are substituted for cabbage leaves. And this leads to a much healthier and nutritious meal! In the end, you will get a meal that is lower in carbs and that is also much more nutritious.
Do you want to know more about cabbage? No problem! There are many impressive health benefits of this veggie. For example, here is what your body can get from about 100 grams of cabbage:
Calories: 22
Protein: 1 gram
Fiber: 2 grams
Vitamin K: 85% of the RDI
Vitamin C: 54% of the RDI
Folate: 10% of the RDI
Manganese: 7% of the RDI
Vitamin B6: 6% of the RDI
Calcium: 4% of the RDI
Potassium: 4% of the RDI
Magnesium: 3% of the RDI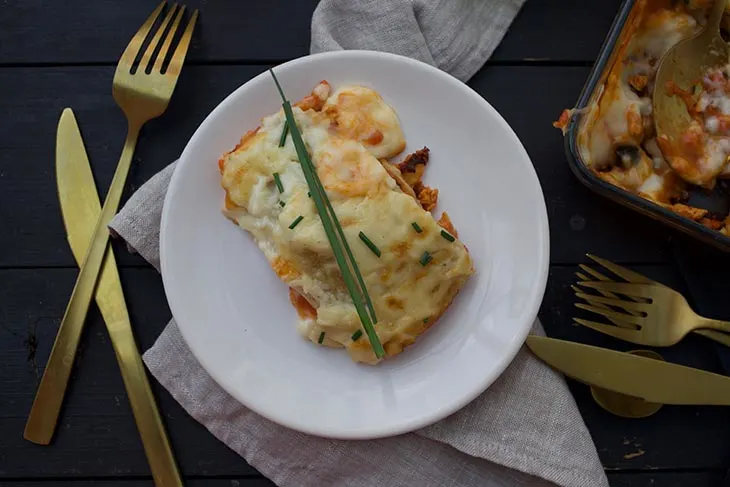 And there are also quite a few benefits of cabbage consumption! If one of your goals is to improve your digestive health, for example, you should keep cabbage close to your plate!
This is in case you need even more reasons to try this amazing recipe for cabbage lasagna. Needless to say that it is, of course, really tasty and a great way to spice up your lasagna game. But it is also a great choice if you want to make some healthy meal prep ideas!
Most of the cabbage lasagna recipes you will find online contain meat as the main ingredient. But I adapted the recipe so that it's completely vegan – yes, this means I also made a suuuper delicious vegan Bechamel sauce!
So if you are looking for the vegan version of this amazing recipe, just follow my recipe. You will end up with an amazing, low carb, delicious and nutritious meal. And in no time! Because the recipe is really simple and doesn't require much time. Not time for a cooked meal, right?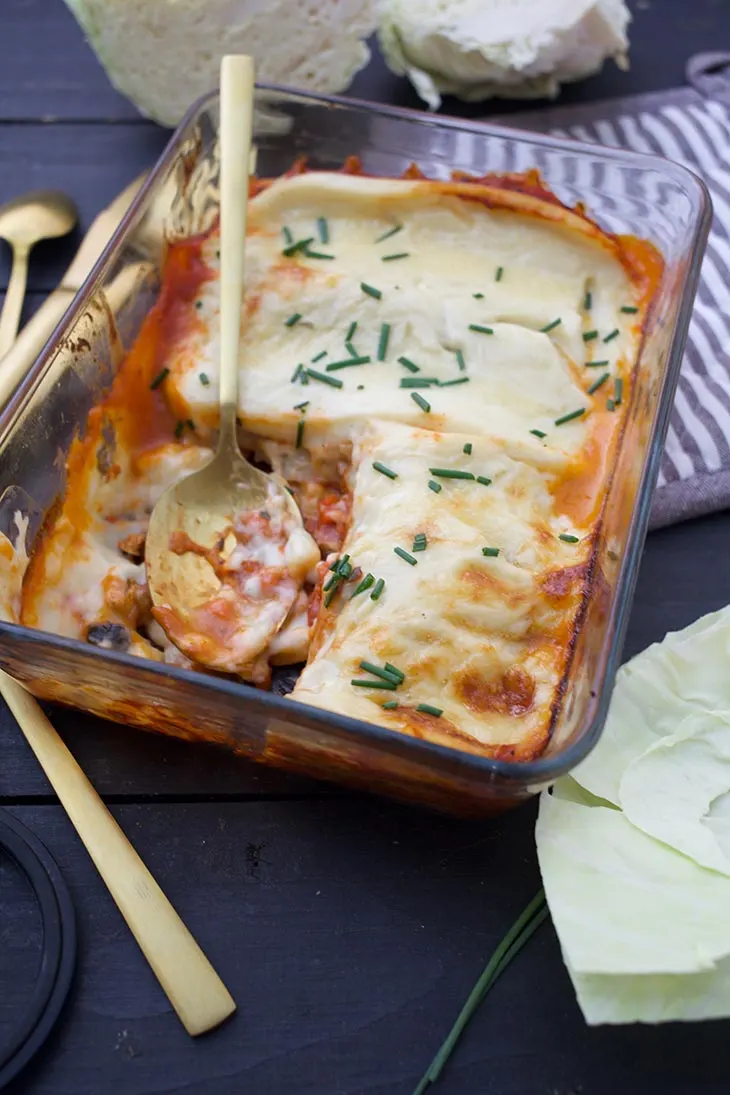 If you are eager to taste this delicious, then I'll only add one thing: even if it might sound complicated, this vegan cabbage lasagna is actually really simple to make! So gather your ingredients and meet me in the kitchen. Follow my instructions and let the magic happen! Don't forget to comment and tell me how it went, I look forward to reading your impressions!
Yield: 6+
Vegan Cabbage Lasagna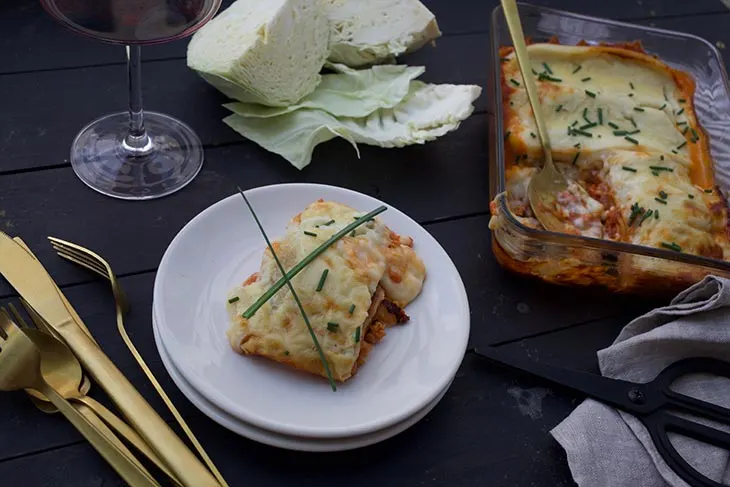 Bored of the classic lasagna recipe? Here's a unique recipe for a change: vegan cabbage lasagna! Yummy, easy and healthy as well! Give it a try!
Ingredients
1 large cabbage, separate into leaves
For the vegan Bechamel:
3 Tbsp olive oil
2 Tbsp flour
500ml (2 cups) soy milk
½ tsp nutmeg
1 tsp salt
1 tsp white pepper
For the filling:
1 onion, finely chopped
1 garlic clove, crushed
200g (2 cups) textured soy protein, granules
225g (1 cup) homemade marinara sauce
30g (½ cup) nutritional yeast
3 Tbsp fresh lemon juice, from about 2 lemons
1 tsp salt
1 tsp dried basil
1 tsp oregano
½ tsp garlic powder
For the topping:
100g (½ cup) shredded vegan cheese
handful chives
salt and pepper, to taste
Instructions
Heat a large pot of water. Add 1 tsp salt and bring to a boil.
Heat the oven to 200C.
Brush a baking dish for lasagna with olive oil. Set aside.
Add about 6 thick large cabbage leaves to the boiling water. Steam them until they start to soften, then drain on a paper towel.
To prepare the Bechamel:
Heat a medium pot on medium heat. Add olive oil. When hot, add the flour and whisk until combined.
When combined, add the milk, stirring continuously. Cook until thick.
Add the nutmeg, salt, and pepper. Set aside.
In a large skillet heat some olive oil. Add onion and garlic and saute until golden.
Add the textured soy protein granules and the marinara sauce. Stir to combine for about 2 minutes.
Add the rest of the ingredients and turn off the heat. Set aside.
To assemble the lasagna, add ¼ of the marinara mixture to the bottom of the prepared dish.
Cover with 2 large soft cabbage leaves. Repeat with the rest of the ingredients.
Pour the Bechamel over the layers, sprinkle with shredded cheese and bake until lightly golden on top.
Top with fresh chives and serve.
Nutrition Information
Yield
6
Amount Per Serving
Calories

236
Total Fat

11g
Carbohydrates

20g
Fiber

8g
Sugar

7g