Have you ever thought of trying lasagna soup? Sounds weird, right? But it's actually so, so delicious and easy to make! Here's how to make the best vegan lasagna soup for lunch or dinner!
Are your soup cravings getting more and more sophisticated? Maybe you're feeling like your basic noodle soup is not enough anymore, or not filling enough and you are looking for something more.
Do you also loooove lasagna and can't get enough of it? You are constantly thinking of ways to eat more lasagna? Do you ever feel that you could have lasagna as a first dish AND as a second dish?
Your wishes are heard! Vegan lasagna lovers, unite! Today we are going to make vegan lasagna soup!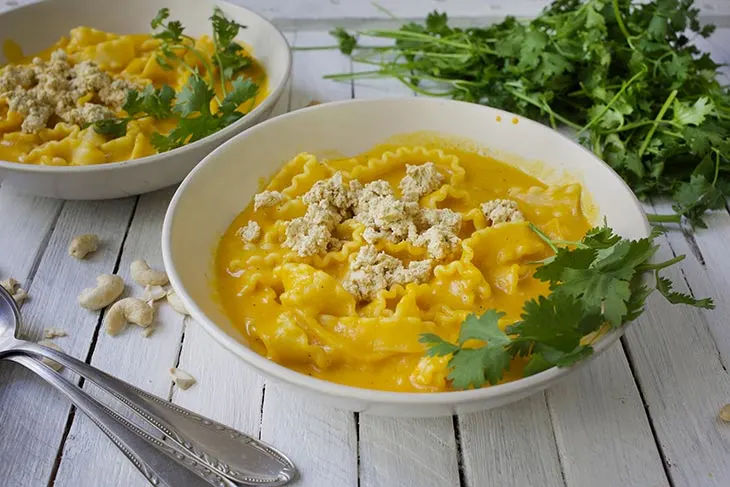 I think I've been a lasagna lover for as long as I can remember. I was quite young when I saw the Garfield movie at the cinema and his love for lasagna kind of inspired me. I kept asking my mom to make more and more and more lasagna and to this day it's still one of my favorite dishes! 🙂
I only thought of making this vegan lasagna soup recipe only recently though. And I must admit I was a little skeptical about it. Could you make lasagna even better?
Isn't it already perfect? Should it be liquid? All these questions completely vanished away after I tried making and tasting this recipe! It's just amazing. It keeps the essence of lasagna while also bringing new flavors, textures, and ingredients. It's just great!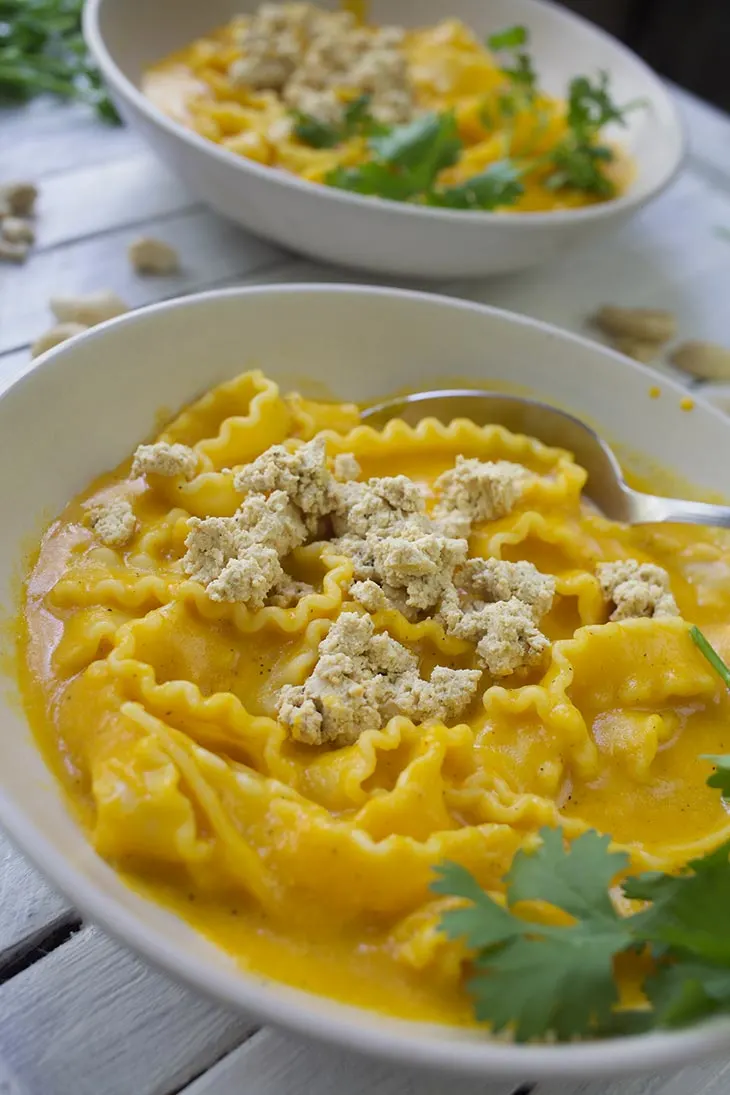 Now, what's the idea with vegan lasagna soup and how is it related to actual lasagna? Well as we all know, lasagna is a dish that is made out of layers of flat pasta, sauce and other ingredients depending on the recipe – the original recipe is meaty, but there are plenty of delicious vegan alternatives available.
Lasagna, as we know it today, comes from Italy of course… but did you know that the name actually comes from Ancient Greece? That's right, they used to make this dish with layers of pasta and sauce – and the name they used was laganon – the first form of pasta known to mankind.
Now you would think that the stop in the history of lasagna is Italy, but we're not there yet! British researchers found a recipe for lasagna in a cookbook dating back to the 1390s!
But of course, nowadays lasagna, with its blend of Mediterranean flavors and ingredients comes from Italy. But it's quite a long way that lasagna traveled!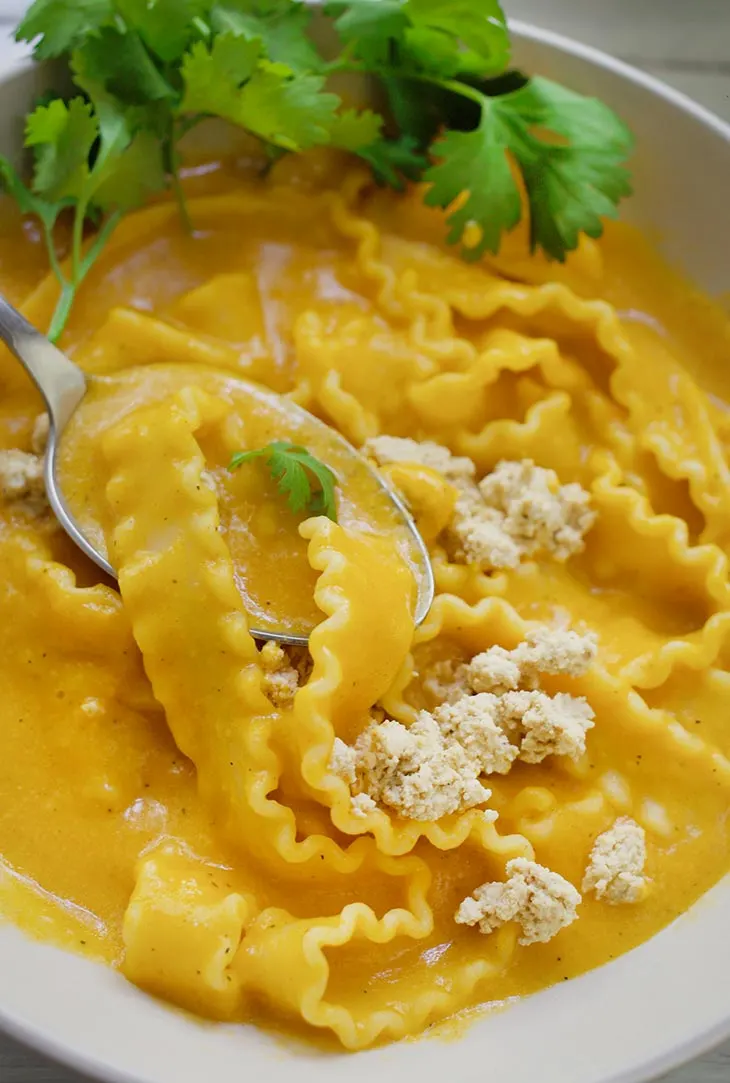 So, how does lasagna soup fit in here? Well, we are not quite sure of its origins, it's quite a new invention – we can only be grateful that we live in a time when this dish exists!
From the original recipe, lasagna soup keeps the lasagna pasta, the red tomato sauce that forms the base of the soup and most of the herbs that give lasagna its distinctive Italian taste.
And, of course, I made it completely vegan! There are many options available, but I think I've come to the perfect mix of ingredients and tastes with this recipe! 🙂 It keeps the essence of our favorite vegan lasagna recipes while also being creamy and suitable to be eaten as a soup.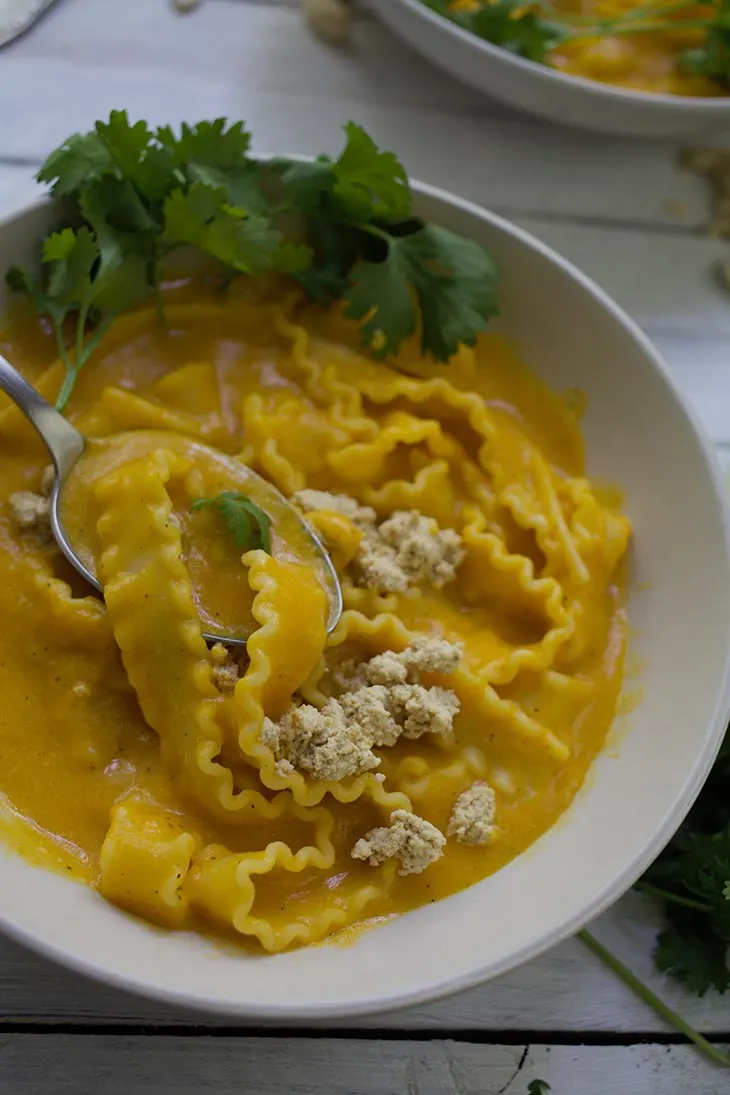 Okay, but why do I like this recipe so much? Firstly, because I love lasagna and I always love it when I find new ways to eat my favorite dishes. Second, because it's so filling.
Although I can appreciate a lighter soup that works as an appetizer, I prefer soups that are more nourishing and can work as a main meal, without worrying that I didn't get enough nutrients from my plate.
Third, I love this soup because it's super healthy! You can control the quality of all the ingredients you put into this recipe and make sure that it perfectly fits your lifestyle choices. And it's overall really easy to make.
And here's a great bonus as well: regardless of your experience in the kitchen, you can't mess up with this recipe! And the last thing – but I think that was implied – it's extremely delicious!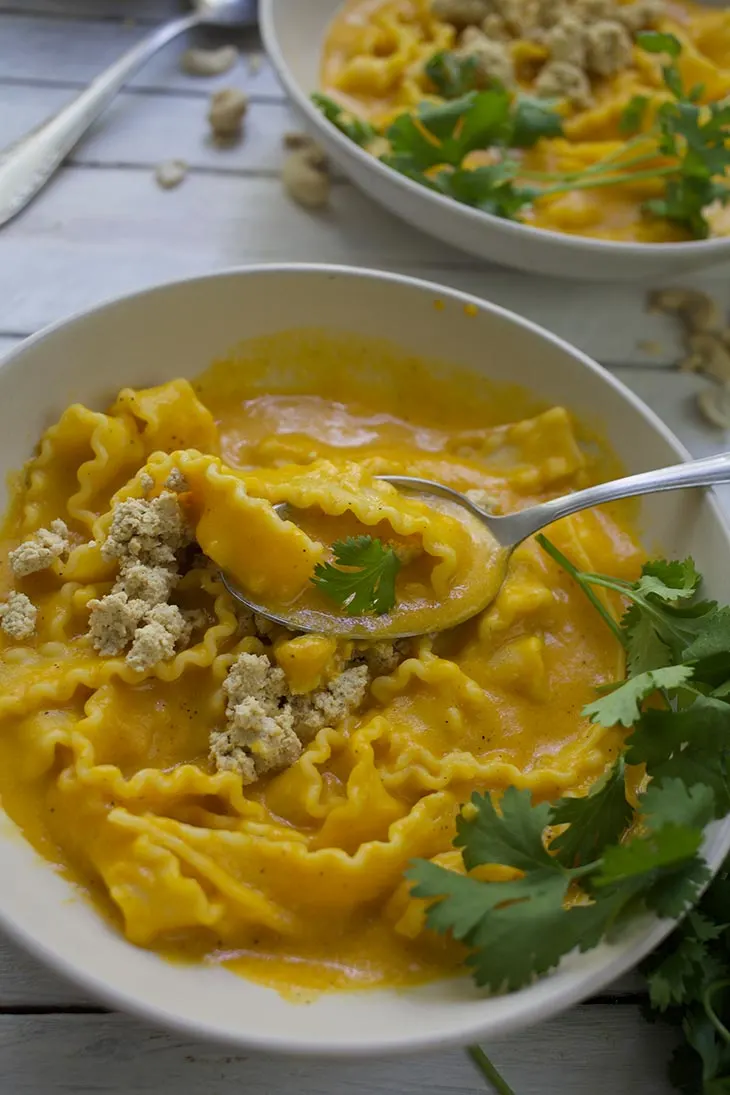 All that being said, I think it's time to start cooking! Gather all your ingredients and follow the steps below. Oh, and don't forget to let me know how it turned out for you!
Yield: 6
Vegan Lasagna Soup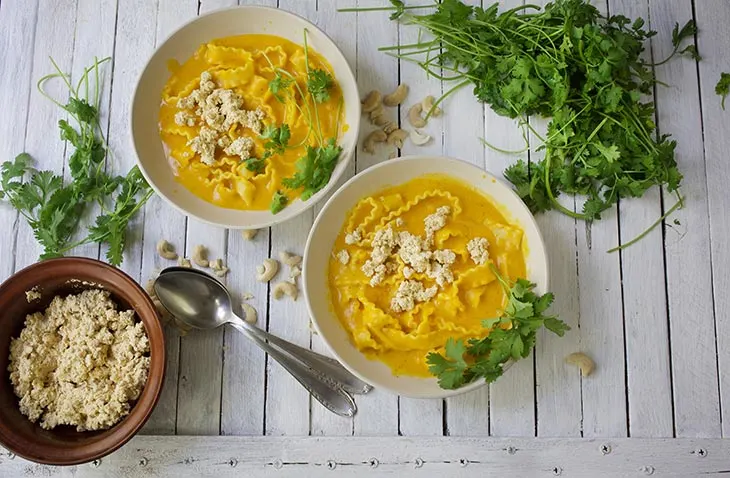 Have you ever thought of trying lasagna soup? Sounds weird, right? But it's actually so, so delicious and easy to make! Here's how to make the best vegan lasagna soup for lunch or dinner!
Ingredients
125g (1 cup) wavy pasta
For the cream:
140g (1 cup) cashews, soaked overnight
240ml (1 cup) veggie broth
1 Tbsp nutritional yeast
1 Tbsp apple cider vinegar
⅓ tsp salt
For the soup:
1 Tbsp olive oil
1 onion, chopped
3 cloves garlic, minced
2 celery stalks, chopped
3 medium carrots, chopped
1.5L (6 cups) veggie broth
½ tsp cayenne
1 tsp salt
1 tsp white pepper
pinch of nutmeg
For the topping:
a handful of greens
250g (1 cup) tofu "ground meat"
Instructions
Heat a large pot on medium heat. Add olive oil.
When hot, add the chopped onion and garlic and saute until fragrant.
Add the celery and carrots and continue to saute for about 7 minutes.
Add the broth, cayenne, salt, and pepper.
Set the heat on low and let it simmer until the veggies are fork-tender.
Meanwhile, add all the cream ingredients to the food processor and blend until smooth. Discard and set aside.
Add the veggies with 1 cup of broth to the food processor and blend until smooth.
Return the blended veggies to the broth, stir to combine and you should get a runny cream soup.
Mix in the cashew cream while stirring. Add the nutmeg.
Set on medium heat. When it comes to a boil, add the pasta and cook according to the time on the package, to al dente.
Serve with greens and "ground meat" tofu. Enjoy!
Nutrition Information
Yield
6
Amount Per Serving
Calories

409
Total Fat

14g
Carbohydrates

44g
Fiber

14g
Sugar

6g