Apple pancakes: two words that evoke memories of home and comforting aromas. Imagine pieces of caramelized apples dressed over warm fluffy pancakes, ready to be enjoyed first thing in the morning. Do not resist the temptation; let yourself be seduced by this recipe and start a sweet and delicious day!
This year I was blessed with a lot of apples! My apple trees were abundant like never before offering me juicy, healthy, sweet apples! I enjoyed them in cookies, cakes and other recipes with apples, and now the time has come to try them in a recipe for pancakes with apples, ideal for breakfast. I hope you enjoy!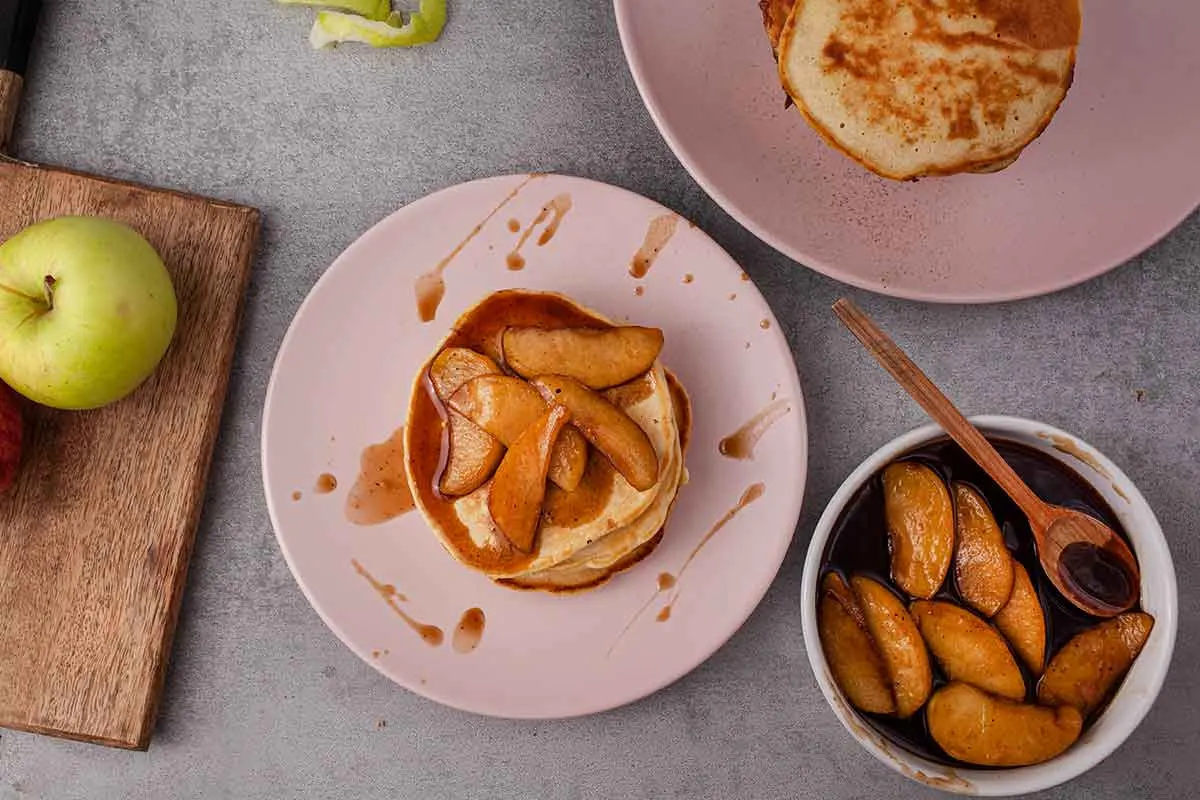 Apple varieties ideal for pancakes and other baked sweets
Golden Delicious apples: These apples are sweet, crunchy and have a firm texture. They are ideal for apple pie pancakes because they stay whole and do not crumble when cooked. It adds a sweet note, making it unnecessary to add too much sugar to the dough.
Granny Smith apples: These are tart and firm-textured apples. They are perfect for those who prefer a refreshing and slightly sour note in their fluffy apple pancakes. It also contrasts well with sweet toppings such as caramel or chocolate.
Fuji apples: Fuji apples are extremely sweet and juicy. They can crumble easily when cooked, giving the pancakes a soft and juicy texture. They are ideal for a more desert recipe.
Braeburn apples: These apples have a balance between sweet and tart. They are crunchy and maintain this texture even after cooking. Adds a complexity of taste to apple cinnamon pancakes thanks to their unique mixture of sweet and sour.
Red Delicious apples: Although they are sweet and crunchy when raw, these apples tend to become a little watery when cooked. They are good if you prefer pancakes with a more moist texture.
Honeycrisp apples: These apples are crunchy and sweet, with a slight sour note. They are ideal for pancakes due to their firm texture that resists cooking and their distinctive taste.
When choosing the perfect apples for these apple cinnamon pancakes, it's good to think about the texture and taste you want to get. You can also experiment by mixing different types of apples to create unique taste combinations.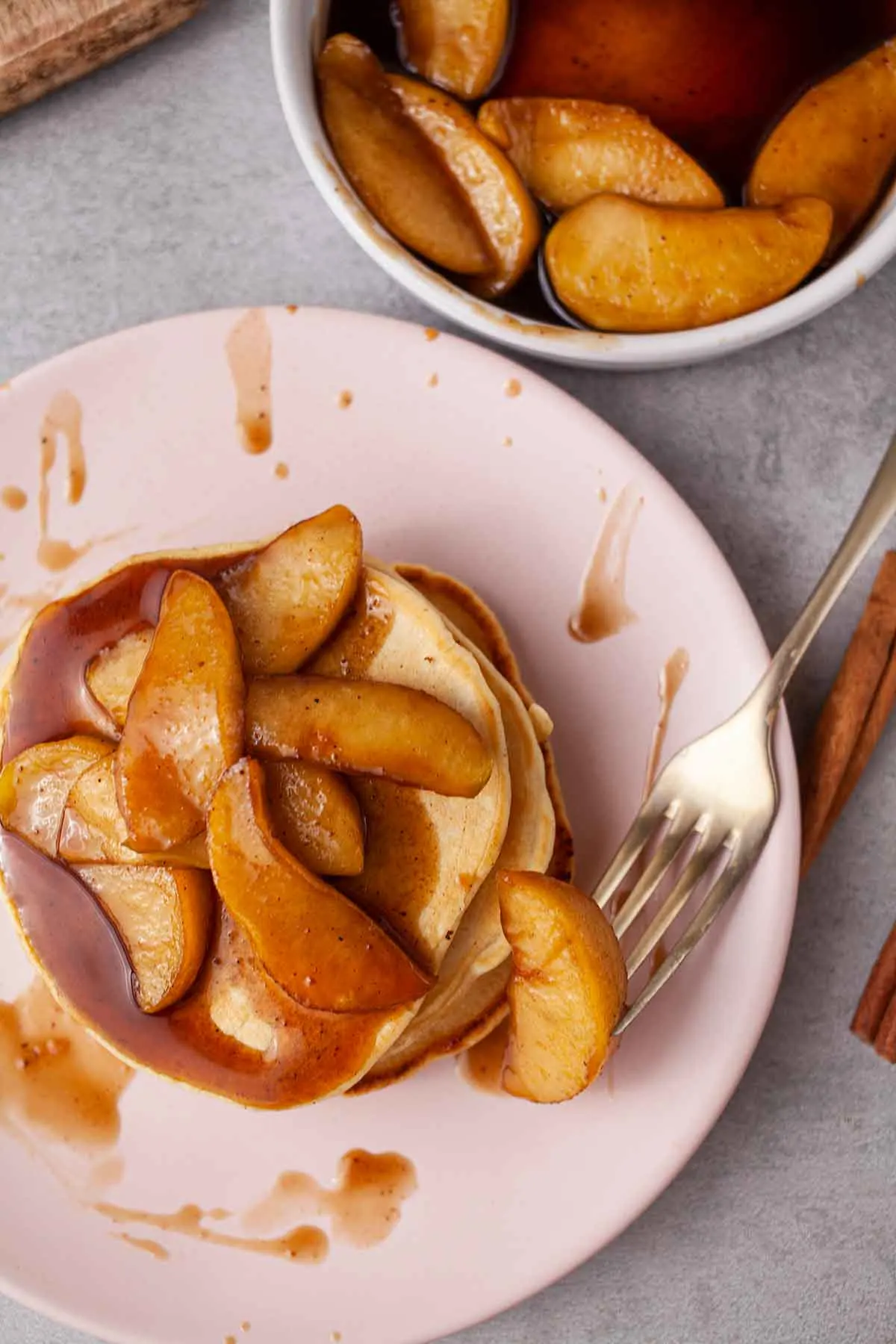 Toppings and garnishes for apple pancakes
Caramel sauce: A rich and sweet sauce, caramel sauce perfectly complements the natural sweetness of apples. You can prepare the caramel at home using sugar, butter and cream or you can buy a ready-made one from the store. For extra flavor, add a pinch of salt to get a salted caramel sauce.
Whipped cream: Creamy whipped cream offers an airy and refreshing texture that goes perfectly with warm pancakes. If you want a healthier version, opt for coconut milk cream.
Coconut: Whether you choose desiccated coconut or toasted coconut, this ingredient adds a crunchy texture and tropical taste. You can also try coconut milk as a base for various sauces or creams.
Maple Syrup: A classic in the world of pancake toppings, maple syrup adds a distinctive sweetness and woody flavor. It combines wonderfully with apples and, when poured over hot pancakes, creates a mellow and delicious mixture.
Nuts and hazelnuts: Toasted nuts, whether walnuts, hazelnuts or pecans, add a crunchy element and a rich flavor. You can also combine them with honey or syrup to create a sweet and nutty topping.
Chocolate: Whether you opt for grated chocolate, chocolate drops or hot chocolate sauce, it will melt harmoniously over the warm pancakes, offering a rich and indulgent taste.
Fresh fruits: Apples in pancakes can be supplemented with other fresh fruits such as sliced bananas, blueberries or raspberries. They add freshness, color and extra vitamins.
Regardless of your choice, the idea is to play with the textures and flavors to get a combination that will delight even the most demanding taste buds.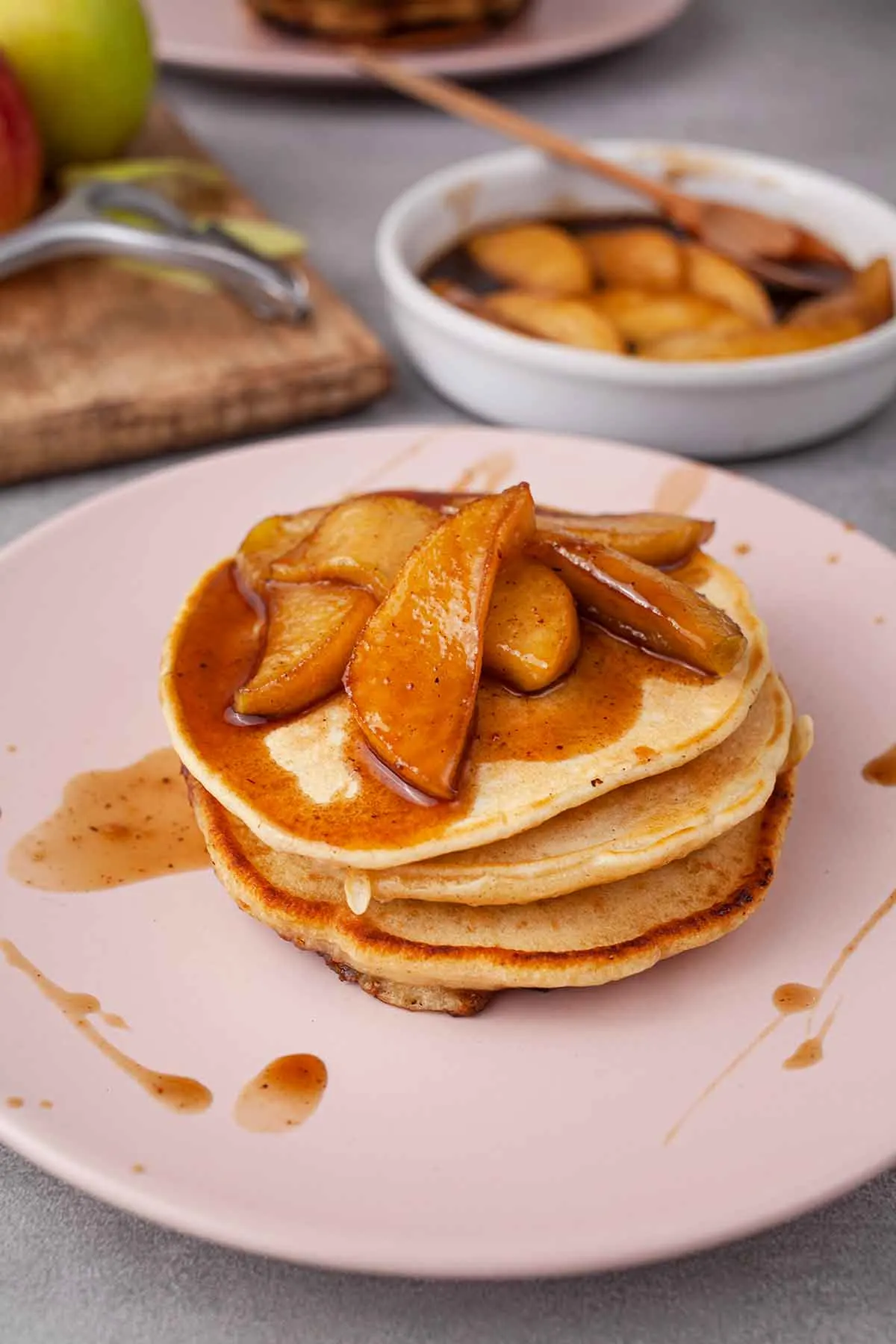 Batter variations for apple pancakes
Fluffy Pancakes:
Whisked egg whites: Separate the whites from the yolks. Beat the egg whites until they become foamy and then carefully incorporate them into the batter. This will make the pancakes airy and fluffy.
More leavening agent: Add a little more baking powder or baking soda. This will allow the batter to rise more during cooking.
Crispier Pancakes:
Less liquid: I reduce the amount of milk or water in the recipe to obtain a thicker dough, which will result in denser pancakes with crispy edges.
Longer frying: Let the pancakes fry on medium-low heat to get a crispier crust, being careful not to burn them.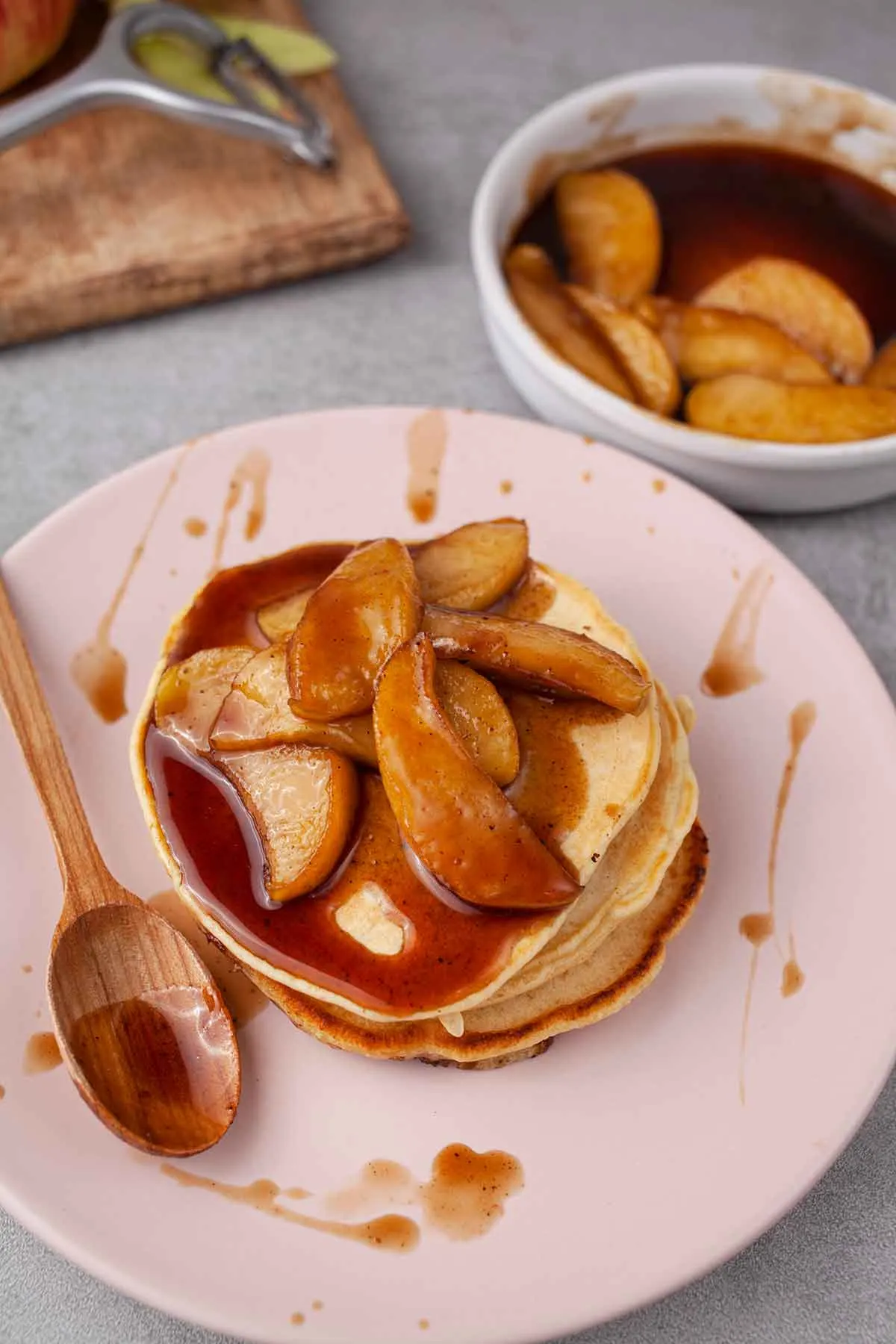 Gluten-free apple pancakes:
Almond flour: It is a popular alternative to traditional flour and adds a nutty touch to pancakes. It can make the pancakes slightly denser, but with a rich aroma.
Oat flour: This can be used as a substitute for regular flour and gives the pancakes a slightly more robust texture and a cereal taste.
Coconut flour: Adds a tropical touch to pancakes and works well in combination with apples. It is easy to use and gives the pancakes a soft and fluffy texture. Try my recipe for coconut pancakes.
Gluten-free mixes: They are available in specialized stores and contain a combination of gluten-free flours, such as rice flour, tapioca and others, specially designed to replace wheat flour.
Other variants:
Yogurt pancake batter: Replace half of the milk with yogurt to get creamier pancakes with a slightly sour taste.
Beer or soda pancake batter: Replacing milk with beer (a light, blonde beer) or soda water can add bubbles to the batter, making the pancakes fluffy and with an interesting texture.
Try the following pancake recipes: sheet pan pancakes, Dutch pancakes, Japanese pancakes, vegan crepes.
For any of these variations, it is recommended to test the batter in a small amount initially to make sure you get the desired texture and taste. Adaptations may require minor adjustments of the ingredients to achieve the perfect consistency.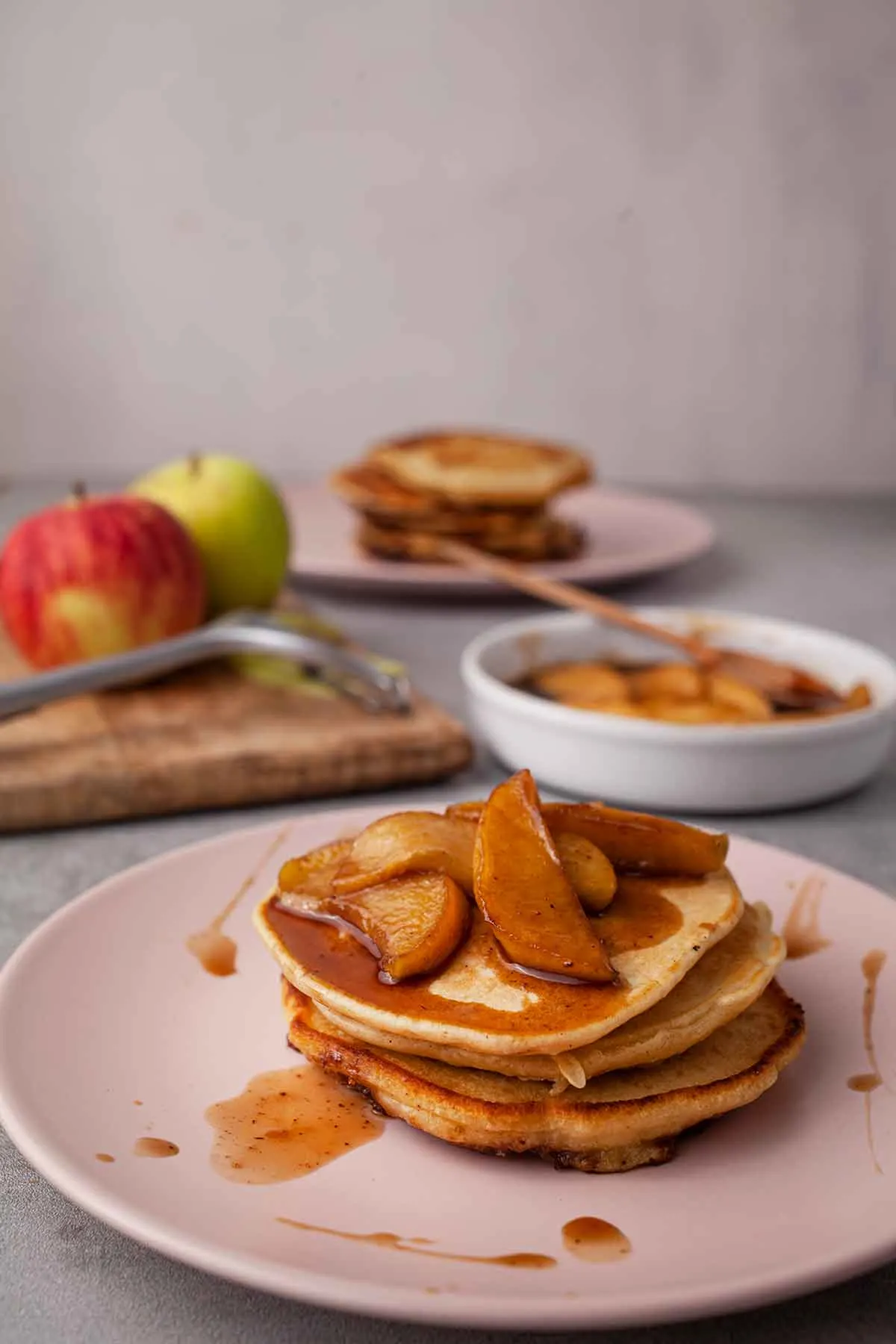 Apple Pancakes Recipe
Yield: 12 apple pancakes
Apple Pancakes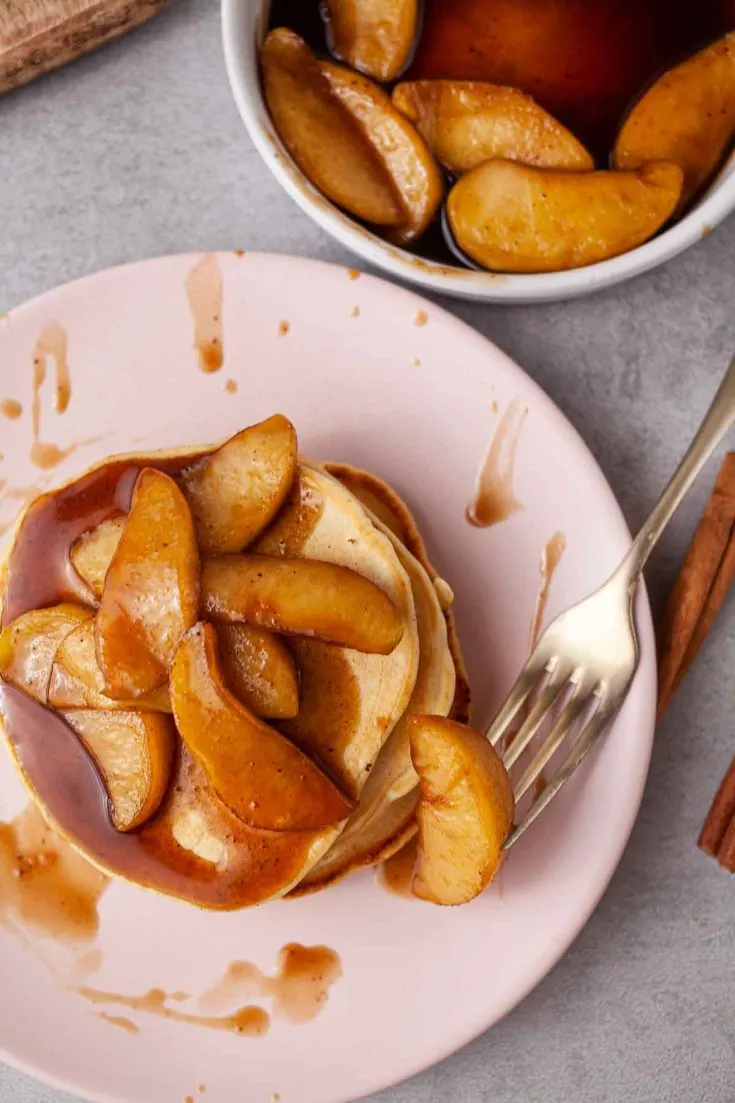 Apple pancakes: two words that evoke memories of home and comforting aromas. Imagine pieces of caramelized apples dressed over warm fluffy pancakes, ready to be enjoyed first thing in the morning. Do not resist the temptation; let yourself be seduced by this recipe and start a sweet and delicious day!
Ingredients
For the topping:
1 tablespoon lemon juice
2 apples, peeled, cored and cut into slices
1 cup filtered water
1/3 cup maple syrup
½ cup brown sugar
2 tablespoons butter
For the pancakes:
1 ½ cup all-purpose flour
1 teaspoon baking powder
1 teaspoon cinnamon
½ teaspoon ginger powder
1 apple, finely grated
3 tablespoons brown sugar
1 egg, large
1 teaspoon vanilla extract
¼ teaspoon salt
1 cup full-fat milk
ghee or cooking oil, for frying
Instructions
Prepare the caramelized apple topping.
Coat the apples in lemon juice.
In a pan, add the water, maple syrup, sugar, butter, and apples. Put the pan on medium heat and let it heat up. When the sugar melts and the liquid boils, mix and leave on low heat for 7-10 minutes.
In a bowl, add the ingredients for the pancakes and whisk until you get a homogeneous batter, a few lumps are fine.
In a non-stick frying pan, over medium heat, add a little bit of oil or ghee and cook the pancakes for 1-2 minutes on each side.
Continue the process with all the remaining apple pancake batter mixture.
Serve the pancakes with the caramelized apple topping.
Nutrition Information
Yield
12
Serving Size
1
Amount Per Serving
Calories

192
Total Fat

5g
Saturated Fat

2g
Trans Fat

0g
Unsaturated Fat

2g
Cholesterol

25mg
Sodium

121mg
Carbohydrates

34g
Fiber

1g
Sugar

20g
Protein

3g
I strive to keep the information as accurate as possible but make no warranties regarding its accuracy. I encourage you to make your own calculations using your preferred nutrition calculator.