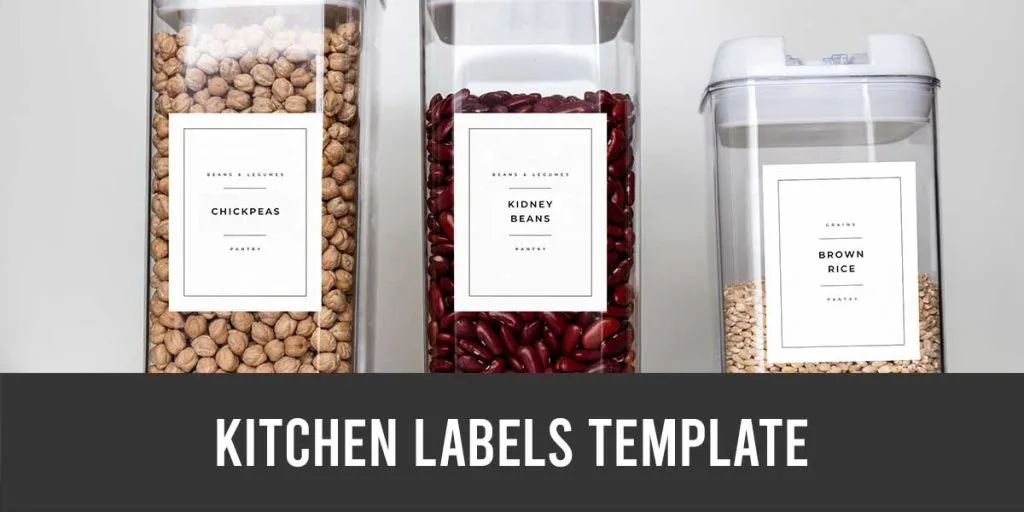 Effortlessly organize your kitchen with these Kitchen Labels Template! Personalized and editable container jar labels for spices and pantry items. Instant download for Cricut and more. Elevate your culinary space now! 🍽️✨
In the bustling heart of our homes, the kitchen is where culinary magic happens. It's a place where we whip up delectable dishes, experiment with exotic spices, and create mouthwatering meals that leave our loved ones craving for more. But amidst all this culinary creativity, our kitchen can often fall victim to chaos and clutter. Enter the hero of the hour: kitchen labels. Specifically, these Kitchen Organization Labels Template.
Before telling you more about these labels, I want to take a moment to share a personal note with you. As the owner of my Etsy store, I personally create all the digital products available for purchase. Your support means the world to me, and I genuinely appreciate every single order. If you've enjoyed using my products and they have brought joy and organization to your life, I would be incredibly grateful if you could leave a review. Your feedback helps me improve and brings a smile to my face. Thank you for being a part of this journey with me!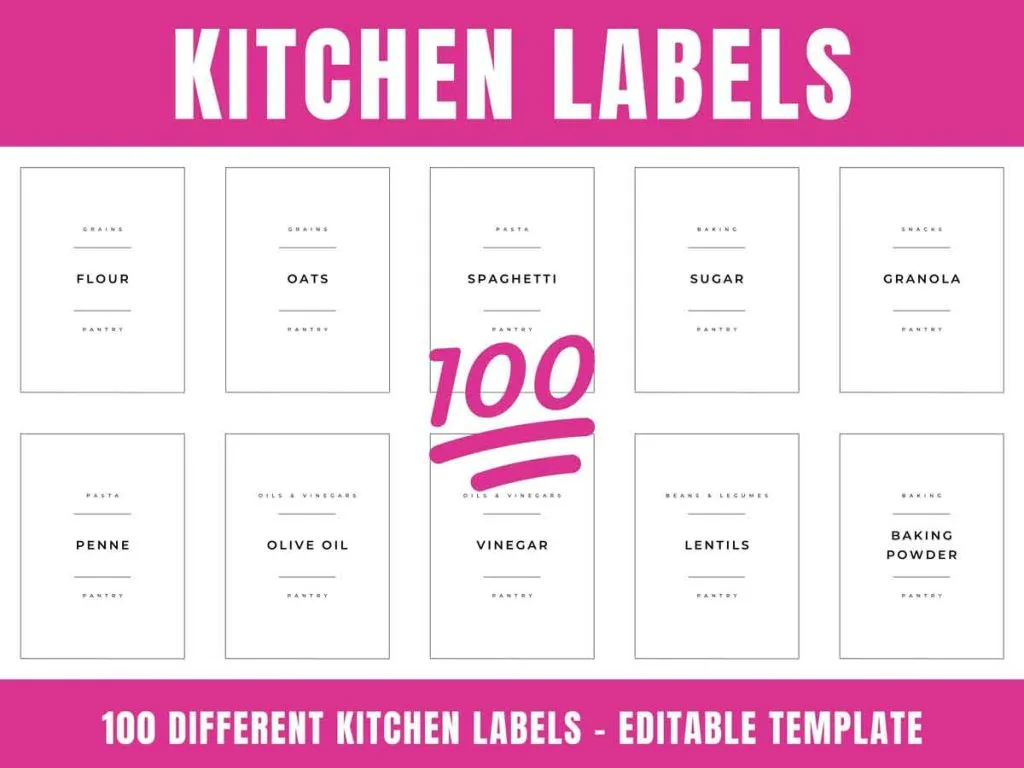 Elevate Your Kitchen Organization with Kitchen Labels
Picture this: your spice cabinet is a jumbled mess, and finding the right seasoning feels like a treasure hunt. Your pantry shelves are overflowing, and you can't distinguish the flour from the sugar. Chaos reigns supreme. But fear not, because with my Kitchen Labels Template, you can transform your kitchen into a haven of order and style.
This digital marvel boasts an extensive collection of labels designed to streamline your kitchen and pantry. From Spice Labels to Pantry Labels, we've got all your organization needs covered. Let's delve into the details of how these labels can revolutionize your culinary space.
Spice Labels: Unleash Flavor Revolution
Spices are the soul of any kitchen, infusing dishes with character and depth of flavor. But a disorganized spice cabinet can leave you feeling frustrated and overwhelmed. These Spice Jar Labels are here to change that. These labels are more than just stickers; they're a flavor revolution waiting to happen.
Whether you prefer the classic elegance of vinyl labels or the simplicity of printable stickers, these Spice Jar Labels have you covered. Say goodbye to spice cabinet chaos and hello to a beautifully organized spice collection that not only elevates your cooking but also adds a touch of style to your kitchen.
Pantry Labels: A Pantry Paradise
Your pantry should be a place of plenty, not pandemonium. These Pantry Labels are designed to turn your pantry into a model of organization and aesthetics. Available in versatile formats like SVG, PDF, and editable templates, these labels are both waterproof and visually striking.
They can stand up to daily use while enhancing the overall look of your pantry. Bid farewell to pantry pandemonium and usher in an era of meticulously organized bliss. These labels adapt seamlessly to a range of kitchen containers, making organization a breeze.
Minimalist Design: Style Meets Functionality
My labels feature a minimalist design that complements any kitchen decor. Whether you prefer a modern, clean look or a more traditional style, my labels effortlessly adapt to your kitchen's ambiance. They are a testament to the marriage of style and functionality.
Easy to Use: Customization Made Simple
Customization is a breeze with my editable templates. Choose your preferred format, personalize your labels, and print them out – it's that easy! These labels are compatible with a range of kitchen containers, making organization a seamless experience.
Don't settle for a cluttered and disorganized kitchen any longer. My Kitchen Labels Template is your secret weapon for achieving a kitchen that's both functional and beautiful. Embrace the joy of kitchen efficiency and elevate your culinary space to new heights.
Remember, this is a digital product, so you'll receive the templates instantly, ready for your creative touch. Dive into the world of organization with labels that redefine kitchen and pantry perfection. Experience the satisfaction of a well-organized kitchen today!