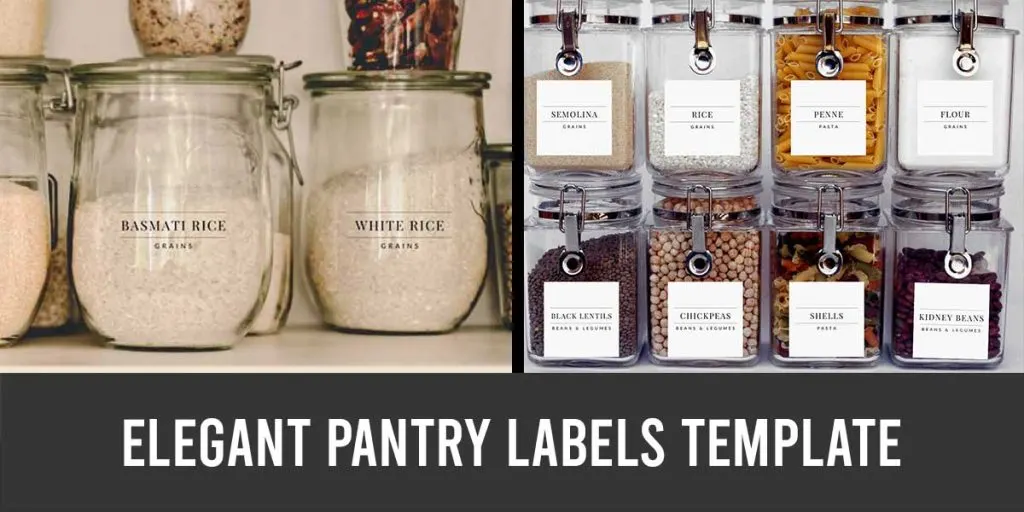 Tired of digging through a chaotic pantry? Say goodbye to the mess and hello to a beautifully organized kitchen with my game-changing Elegant Pantry Labels Template! I created this pantry labels template as the ultimate solution to transform your pantry into a Pinterest-worthy haven. Get ready to take your kitchen organization to the next level and make cooking a breeze!
Before telling you more about these labels, I want to take a moment to personally connect with you and express my gratitude for your support. As the creator behind all the digital products available on my Etsy store, each item is carefully crafted with love and attention to detail. Your support means the world to me, and I genuinely appreciate every purchase. If you find my products delightful and they bring joy to your life, I would be incredibly grateful if you could leave a review to share your experience with others. Your feedback helps me grow and continue creating more amazing products for you to enjoy. Thank you for being a part of my journey!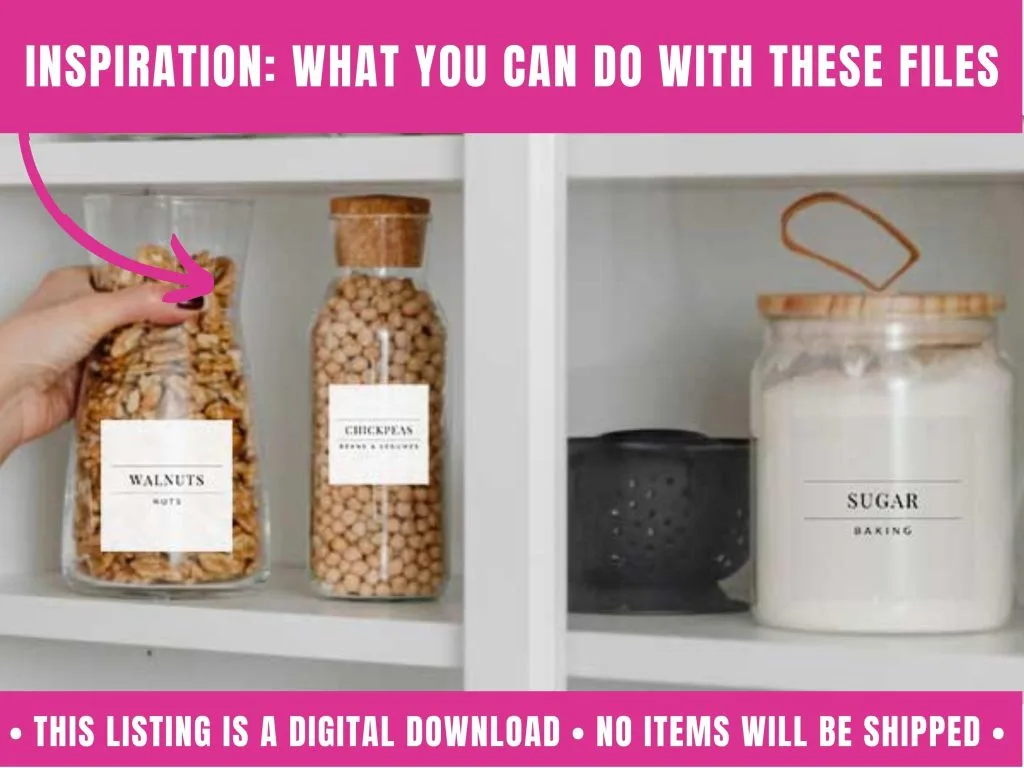 With 100 customizable pantry labels available in SVG, PNG, and printable formats, you'll have the power to create a pantry that's as stunning as it is functional. Prepare to embrace pantry perfection like never before!
Personalize Like a Pro. Get your creative juices flowing as we dive into the world of endless personalization options. From spices to baking essentials, these labels will showcase your unique style and keep your pantry in tip-top shape. You can use my pre-made labels or edit in your own foods.
Beauty Meets Durability. No more flimsy labels that fade away! These pantry labels not only add a touch of elegance but can also be printed on waterproof materials to handle spills and everyday kitchen chaos. Rest assured, your pantry will stay stunning and organized, no matter what culinary adventures you embark upon. Cricut is a great tool you can use to print them yourself.
Embrace the Organized Life. Imagine effortlessly finding your favorite ingredients and creating culinary masterpieces without the hassle of searching high and low. These clear and concise pantry labels will make your cooking experience a breeze. Wave goodbye to the frustrations of a disorganized kitchen and say hello to a life of streamlined efficiency and culinary bliss.
Don't let pantry pandemonium ruin your kitchen mojo! It's time to revolutionize your organization game with these elegant pantry labels template. This digital product is a must-have for every kitchen aficionado. Get your hands on these kitchen labels today for the price of a coffee and embark on a journey towards pantry perfection!
Note: The Elegant Pantry Labels Template is available for instant download, ensuring you can start transforming your pantry right away. Say goodbye to chaos and hello to kitchen zen!