Check out these fluffy, gluten-free, and utterly delicious coconut flour pancakes! These guilt-free delights will satisfy your pancake cravings without compromising on taste. Get ready for a tropical twist on a breakfast classic.
In this article, I will share a delicious and healthy recipe for pancakes with coconut flour. These fluffy and aromatic pancakes are perfect for breakfast or an energizing snack. You will discover how to prepare pancakes and create a light and flavorful topping, combining blueberries, pineapple and coconut flakes. In addition, you will also learn about the benefits that coconut flour brings to your diet.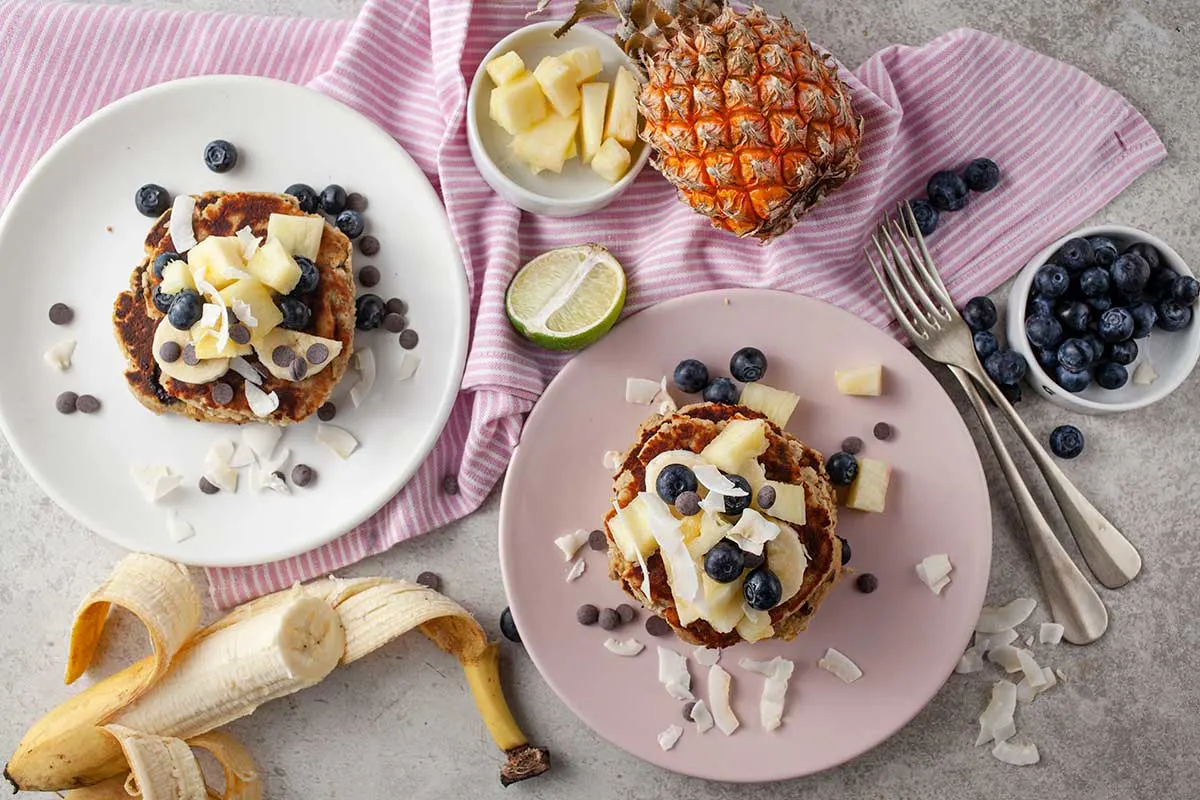 Coconut flour benefits
Let's talk about a wonderful ingredient that will delight your taste buds and bring you a ton of health benefits – coconut flour!
First of all, coconut flour is a perfect substitute for those who avoid gluten or lactose. It is a great option for people with food intolerances or for those following a gluten-free diet. You can safely replace wheat flour with coconut flour in many recipes and you will be amazed by the results!
In addition, coconut flour is rich in fiber and contains healthy fatty acids, which will support your digestive health and help you feel fuller for longer. You can say goodbye to unhealthy sweet cravings, because coconut flour gives a natural and subtle sweetness to your dishes.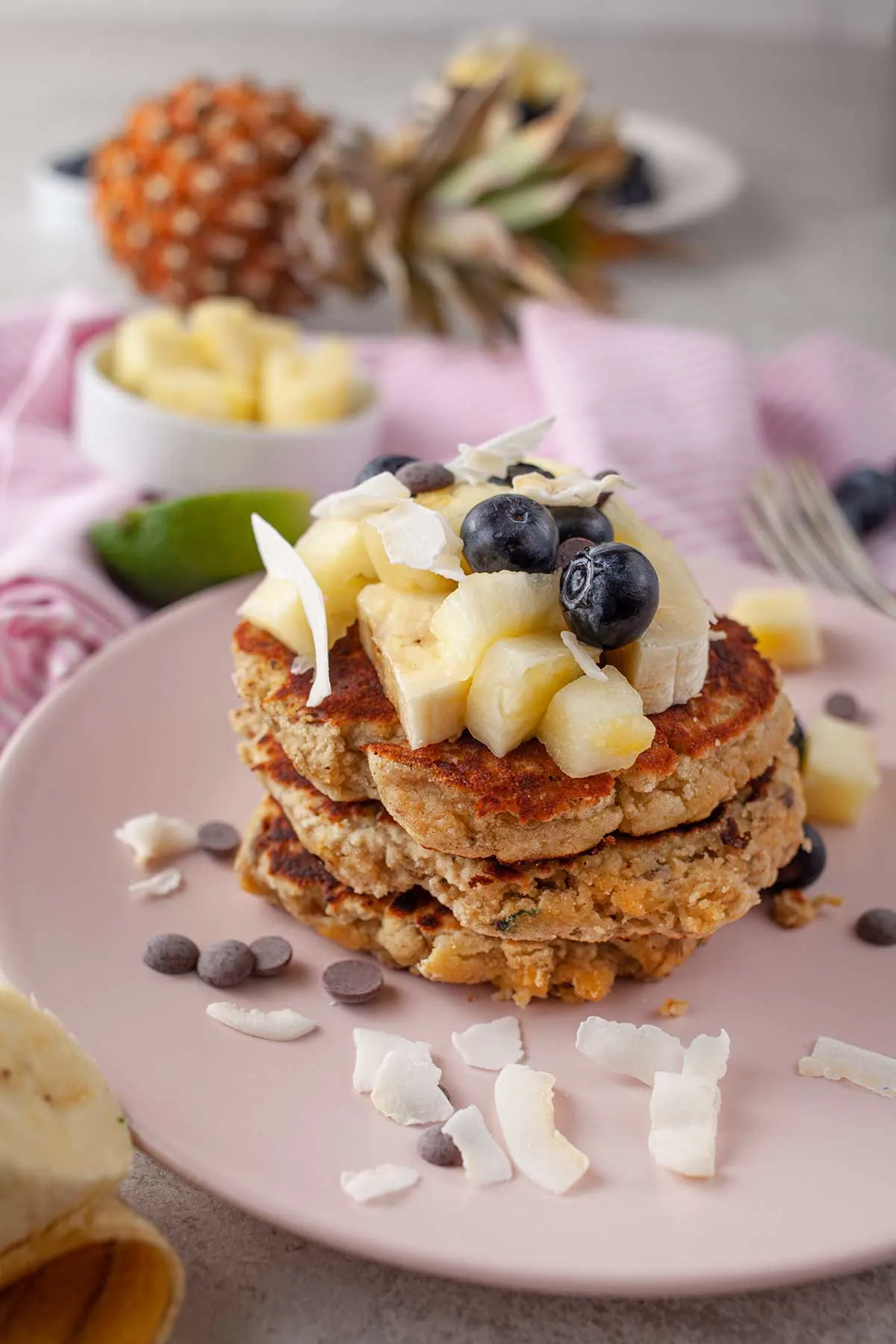 Tips and tricks for making the perfect coconut flour pancakes every time
This recipe for pancakes with coconut flour is not just a simple recipe, but a culinary experience that will transport you to a tropical paradise. So get ready to conquer everyone's taste buds with these wonderful pancakes!
Use quality coconut flour: Make sure you use a high quality coconut flour, to get a perfect flavor and texture in your pancakes. Opt for an organic coconut flour without other additives, to benefit from all its natural properties.
Combine with other types of flour: If you want to get a different texture or add more protein, you can try combining coconut flour with other types of flour, such as oat flour or almond flour. Experiment with different ratios and see which one you like best.
Add the liquids gradually: When preparing the batter for pancakes, add the liquids (vegetable milk, eggs, etc.) gradually to the coconut flour, to obtain the desired consistency.
Watch out for the temperature of the pan: Coconut flour tends to brown faster than other types of flour, so watch the temperature of the pan to get golden and uniform pancakes. Use medium or low heat to avoid burning.
Coconut butter for extra flavor: Heating coconut butter and using it to grease the pan can add a delicious flavor to your pancakes. Try this version instead of regular butter and see how it delights your senses!
Delicious toppings: Finish the preparation of pancakes with coconut flour in style, adding delicious toppings. The combination of fresh blueberries, juicy pineapple and crunchy coconut flakes is absolutely divine. You can also try other fruits, Greek yogurt, maple syrup or nuts to add more flavor and texture.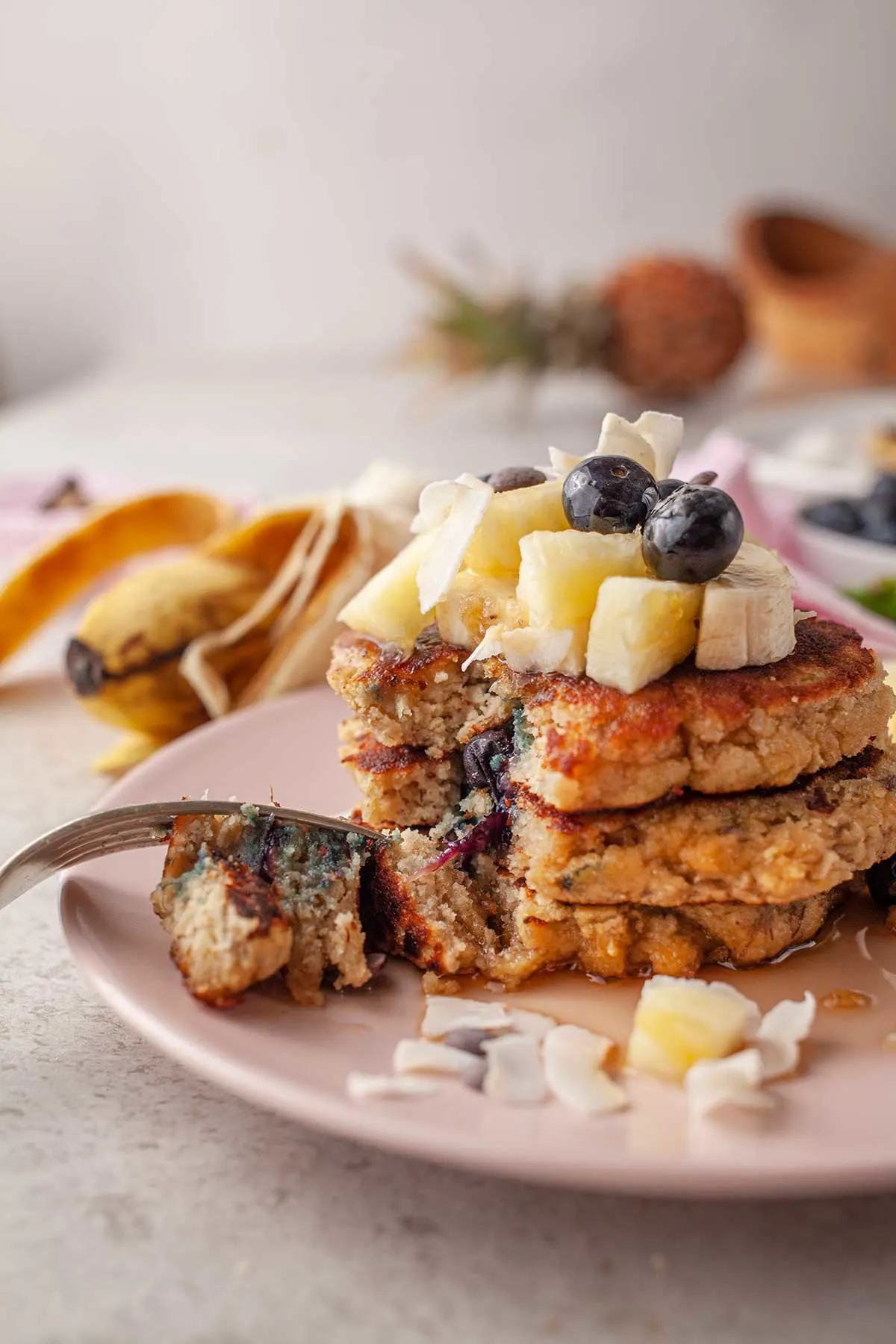 Customizing the coconut flour pancakes with other flavors
Now that you have some useful tips for preparing pancakes with coconut flour, let's talk about customizing the recipe according to your preferences and preservation methods, so that you can enjoy them in the following days.
Adapt the recipe to your taste: If you prefer a sweeter taste, you can add a little vanilla or cinnamon to the pancake batter. You can also sweeten the pancakes with a little maple syrup or honey, or you can serve them with fresh fruit cut into pieces.
Experiment with toppings and fillings: Be creative and add toppings and fillings to delight your taste buds. You can use whipped cream, melted chocolate, caramel sauce or fruit sauce to add a decadent touch to your pancakes. You can also try delicious combinations, such as bananas with chocolate or strawberries with whipped cream.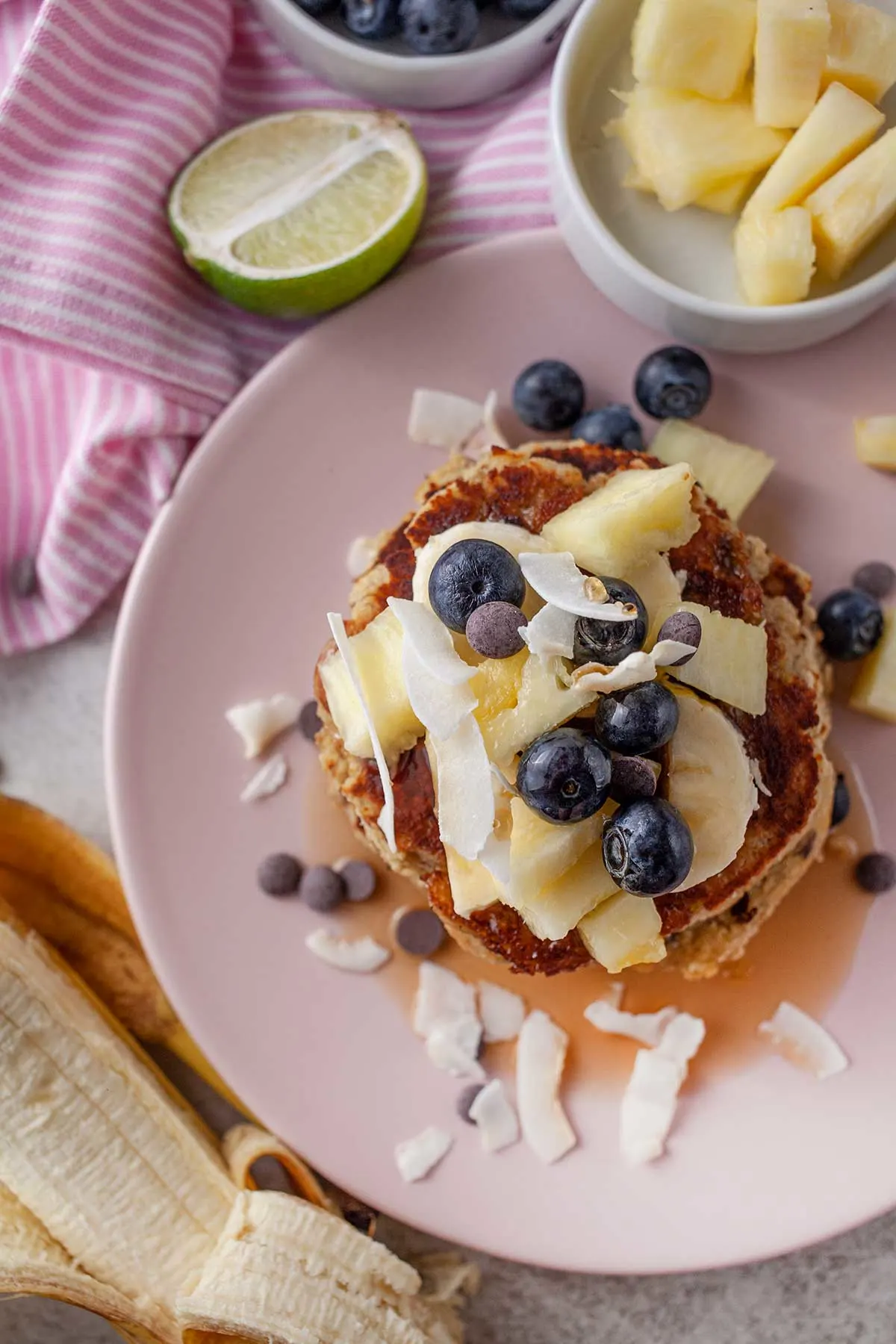 If you want to enjoy the pancakes in the following days, you can consider the following preservation methods:
Freezing: After preparing the pancakes, let them cool completely and then put them in a sealed container or freezer bags. You can freeze them for about 2-3 months. To defrost them, you can use the oven or the pan to heat them slightly.
Refrigeration: If you want to keep them in the refrigerator for a few days, make sure you store them in an airtight container or wrapped in plastic film. You can easily heat them in the oven or in a pan, before serving them.
Enjoy cooking these wonderful pancakes and savoring them in the company of your loved ones! 😊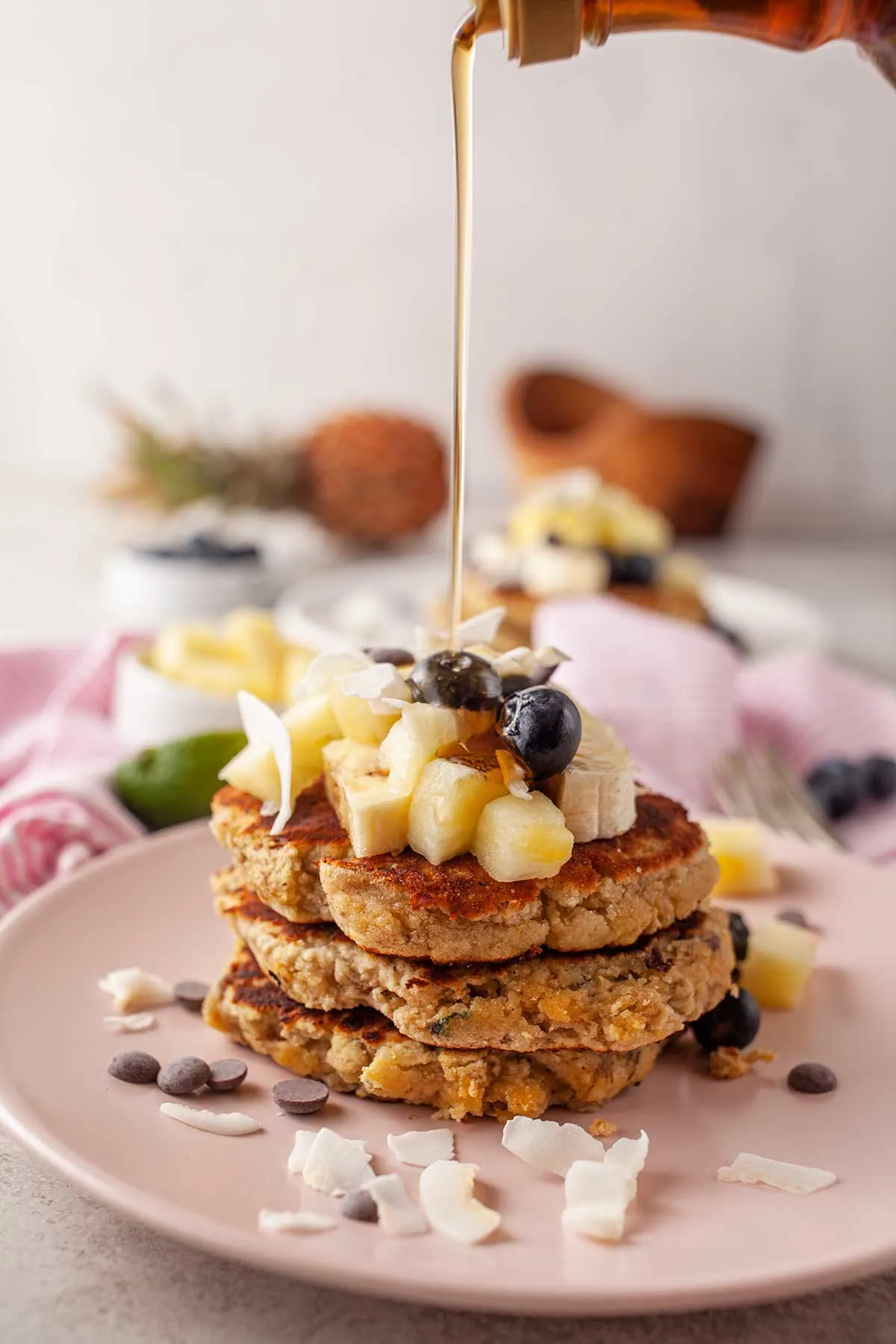 How to make coconut flour pancakes
Yield: 2 servings
Coconut Flour Pancakes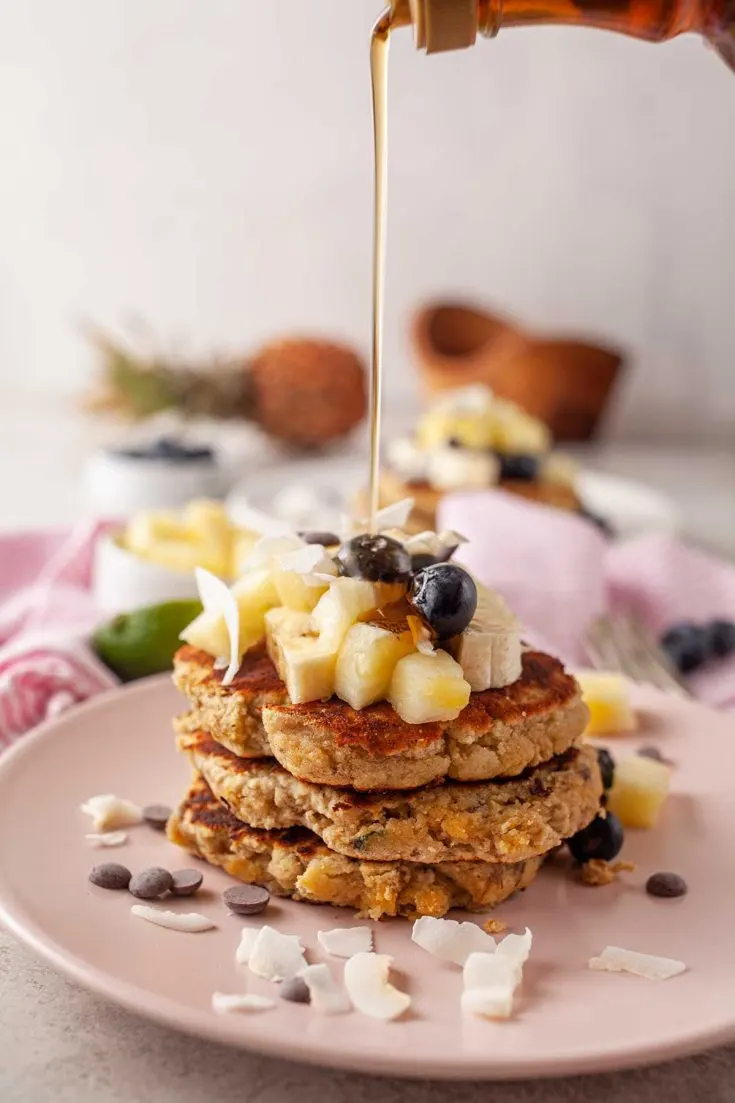 Fluffy, gluten-free, and utterly delicious! Indulge in the ultimate stack of Coconut Flour Pancakes. These guilt-free delights will satisfy your pancake cravings without compromising on taste. Get ready for a tropical twist on a breakfast classic
Ingredients
1 ripe banana
2 small eggs
¼ teaspoon vanilla
3 tablespoons of coconut flour
¼ teaspoon baking powder
3 tablespoons blueberries
1 teaspoon of coconut oil
For the topping:
¼ cup pineapple, diced
½ banana, sliced
2 tablespoons of coconut flakes
2 tablespoons blueberries
1 tablespoon of dark chocolate chips
Maple syrup
Instructions
Put the banana in a bowl and mash it with a fork until it becomes a puree.
Add eggs, vanilla and mix.
Then add coconut flour and baking powder, mix until the batter is formed.
Add the blueberries.
Heat a pan on medium heat.
Add the coconut oil.
Fry the pancakes on medium heat until they become light-brown on both sides.
Serve with fruit topping, chocolate and maple syrup.
Nutrition Information
Yield
2
Serving Size
1
Amount Per Serving
Calories

299
Total Fat

11g
Saturated Fat

7g
Trans Fat

0g
Unsaturated Fat

3g
Cholesterol

142mg
Sodium

156mg
Carbohydrates

47g
Fiber

9g
Sugar

29g
Protein

8g
I strive to keep the information as accurate as possible but make no warranties regarding its accuracy. I encourage you to make your own calculations using your preferred nutrition calculator.