If you're a fan of quick, painless meals, then you'll absolutely love this creamy orzo with veggie balls! It's comforting, quick, and super delicious!
It's time for another quick meal here on the blog. And if you're a fan of veggie balls with a comforting side dish, then I guarantee you'll love this one!
I didn't have a lot of time on my hands today. In-between working on my laptop and getting things done in the garden and around the house, I had little to no time to put together a complex lunch. So I returned to one of my long-lost loves: orzo!

I used to eat orzo very often a few months ago, then it's like I completely forgot about it! Now I returned to making orzo-based recipes and I couldn't be happier.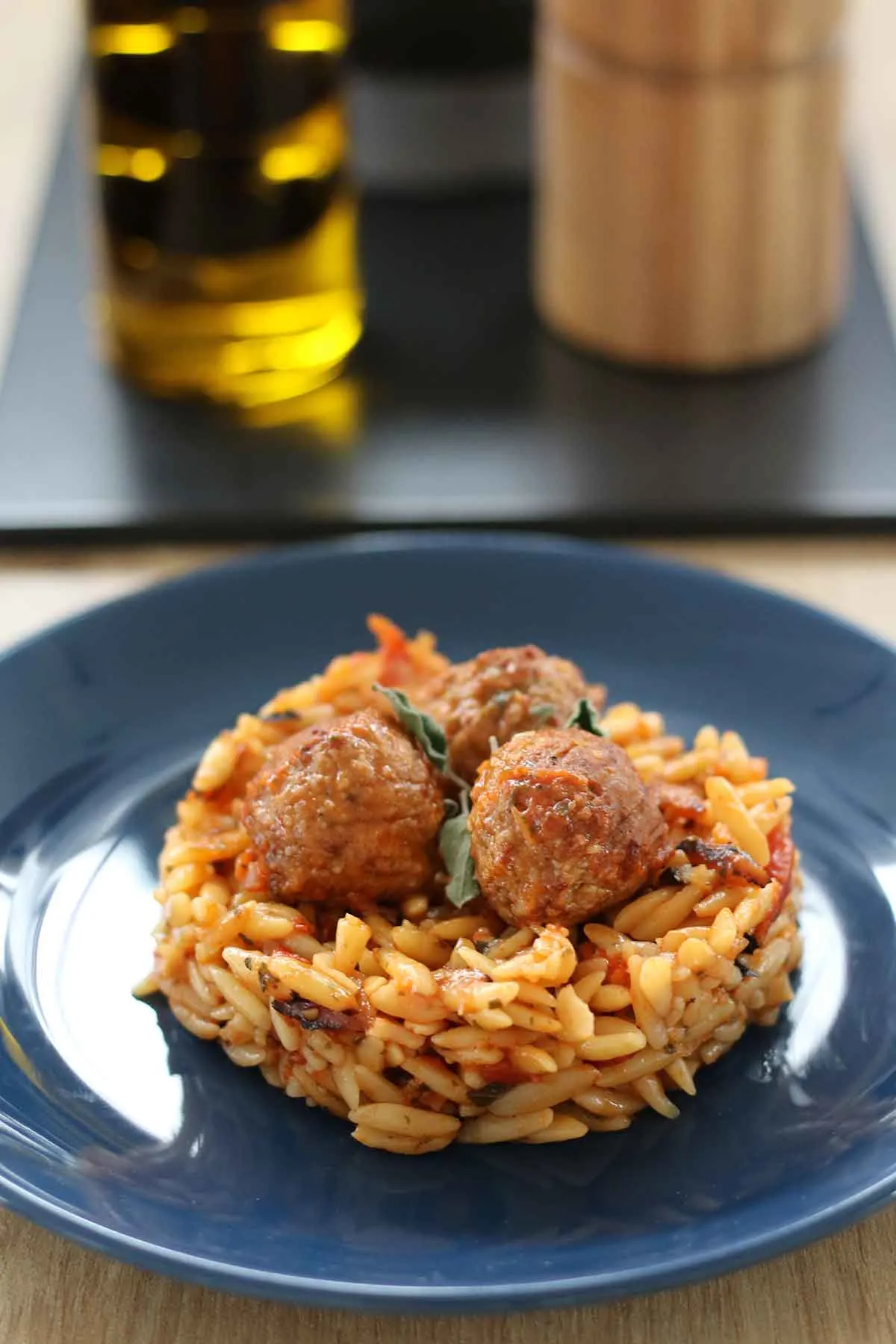 If you ask me, orzo is the perfect choice for people who love pasta and rice. It's basically pasta in the form of rice, which, for me, sounds like absolute perfection. It's much easier to cook than rice and it's more fun to eat than pasta. Sounds perfect, right?
"Orzo" means "barley" in Italian – and it's pretty obvious why. The shape of the orzo is exactly like the shape of unprocessed barley. Orzo falls into the category of small-shaped pasta that's usually used in soups – but not only! You can also use orzo to cook a creamy side dish (like I did today) or even a comforting main dish. You can use it instead of rice in rice-themed dishes such as risotto; you can also eat it like pasta, with your choice of sauce on top. The possibilities are basically endless!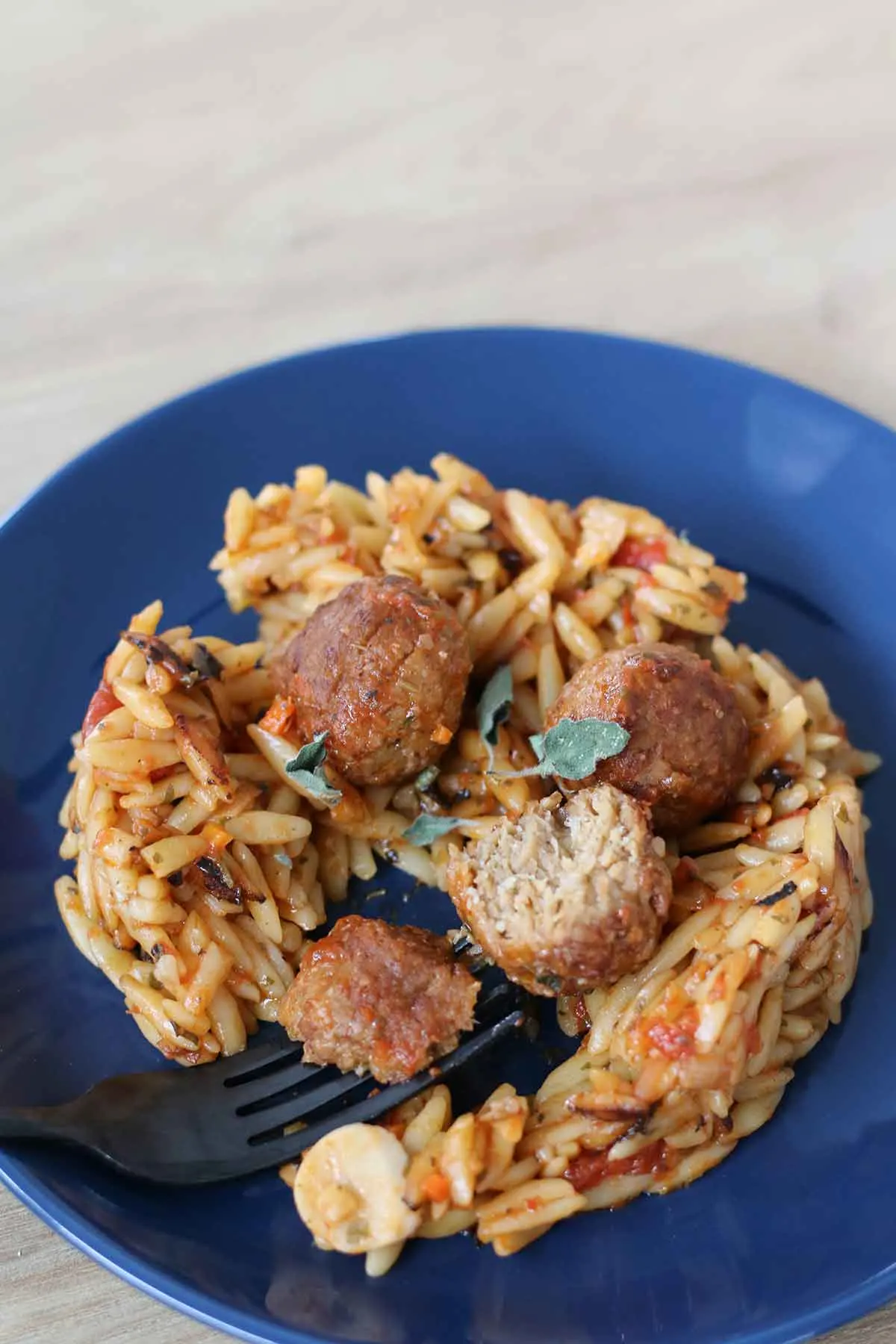 In case you haven't cooked with orzo before, let me quickly elucidate the mystery of cooking it below:
How to cook orzo
You basically have two options here, both very easy, familiar, and straight-forward:
You can cook orzo like pasta. This means you'll have to boil it, drain the water and then add a sauce or other ingredients to it. This method is exactly the same method used to cook pasta!
You can also cook orzo using the slow cooking method that is usually used to make risotto. I explained this method many times on the blog in my risotto recipes such as this Pumpkin Risotto recipe. The method is pretty simple as well: you basically cook the orzo in a pan. You can first toast it using your choice of oil or some vegan butter, then you add the liquids – water, stock or a mix of both. Maybe add in a little wine as well, like I did today. Then all you need to do is stir and wait for the orzo to absord all the liquid. That's it!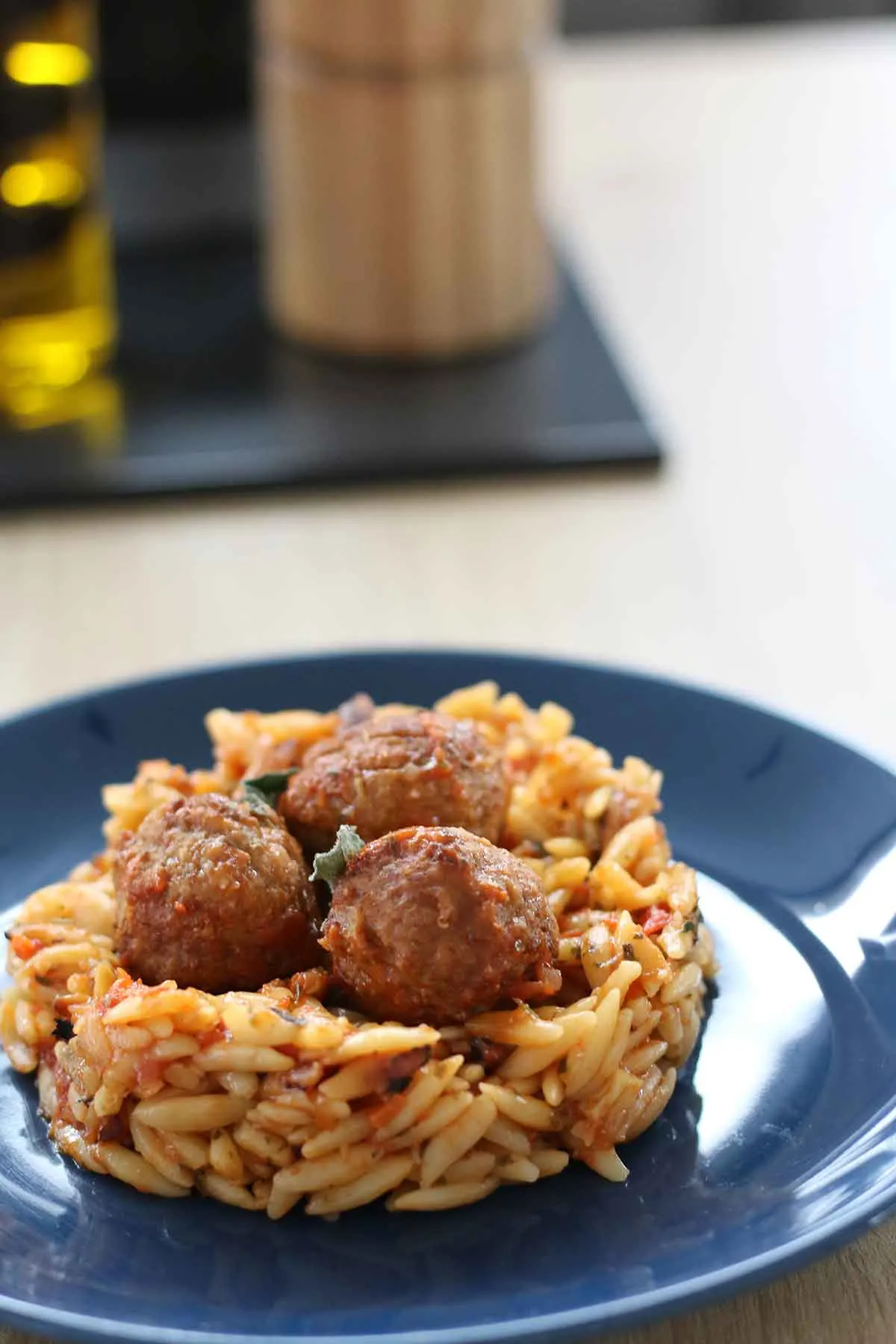 I chose to cook this creamy orzo with veggie balls today using the risotto method. Although simple, this method requires your complete attention: you need to stir regularly into the pan for 10 minutes (or until the orzo is finished cooking) in order to ensure the pasta doesn't stick to the bottom of your pan. That's the only trick you have to keep in mind!
I chose to serve this creamy orzo with veggie balls. Because I was in a rush, I decided to not waste time preparing one of my now consecrated patty recipes – for example, these Cauliflower Patties or these Flavorful Vegan Chickpea Patties. I know, it's a shame, but I found a quicker solution that's just as healthy!
Instead, I chose some veggie balls from Naturli. I've spoken about Naturli and my absolute love for it lots of times before – because they're really worth it! They have clean vegan food that's extremely quick and easy to cook: veggie balls, minced 'meat', plant-based pizza, burger patties, schnitzels, and more. I especially like their veggie balls because, besides the fact they're really yummy, they're also gluten-free and protein-rich because they have pea fibers. Plus, you can cook them directly from the freezer!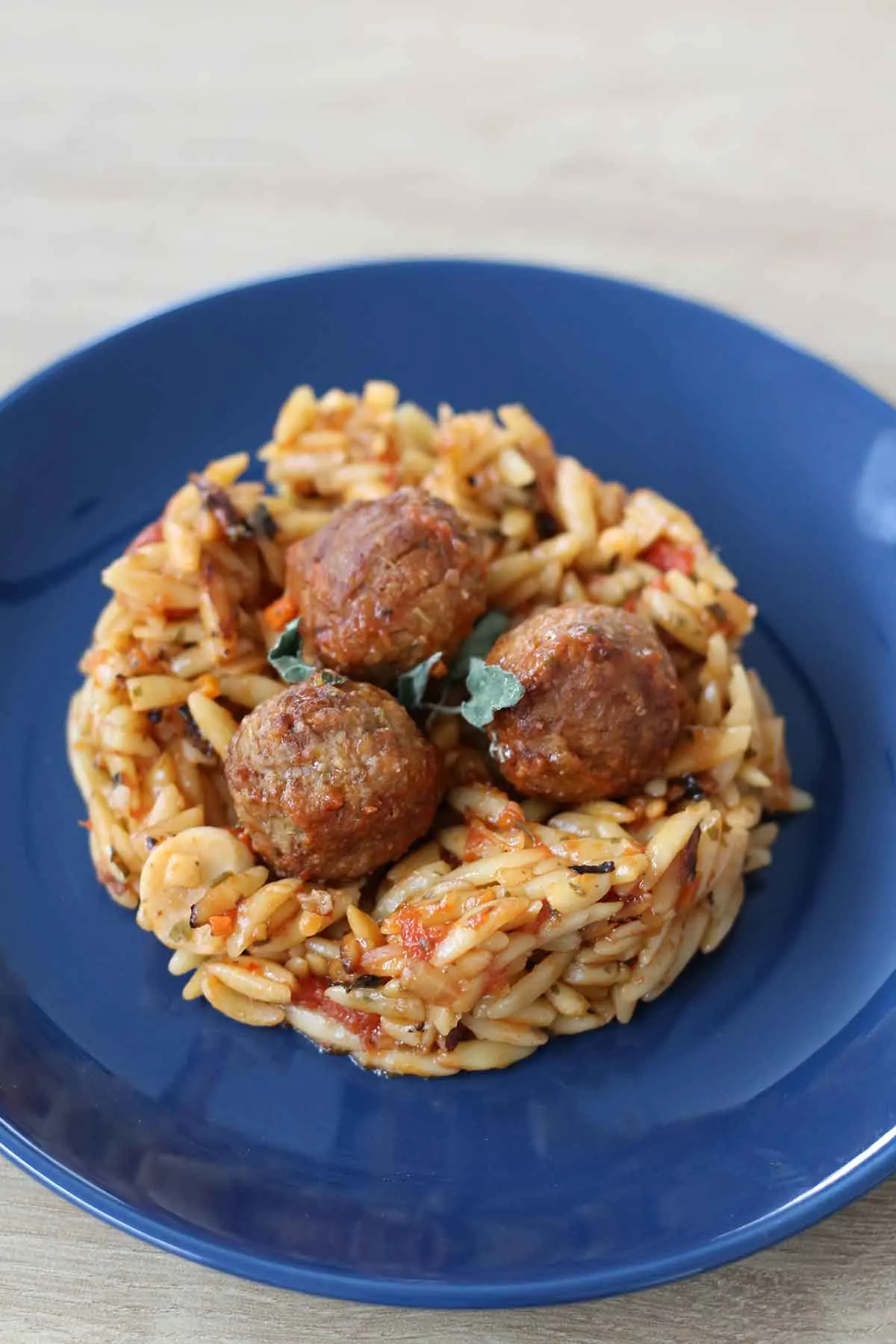 For me, the combination between a creamy side dish (mashed potatoes or orzo) and crunchy veggie balls is the ultimate comfort dish. I can't explain why; it probably has something to do with my childhood when my mother used to make this kind of combo meal for dinner after I came back from school.
I think this creamy orzo with veggie balls is an ideal meal for winter. When the weather is awful, with tons of rain or snow, enjoying hot, comforting meals is one of the best things in the world. Although this winter we don't have any snow (for now) where I live, we have lots of cold wind, so this creamy orzo was well-deserved for me today.
In case you haven't cooked with orzo until now, I hope I convinced you not to be intimidated by this ingredient. It's so easy and quick to cook that you'll wonder why you haven't tried it until now. And chances are that, once you start cooking with orzo, you'll never stop! This has happened to me as well and I don't regret it. After all, who doesn't love a type of food that's both delicious and hassle-free?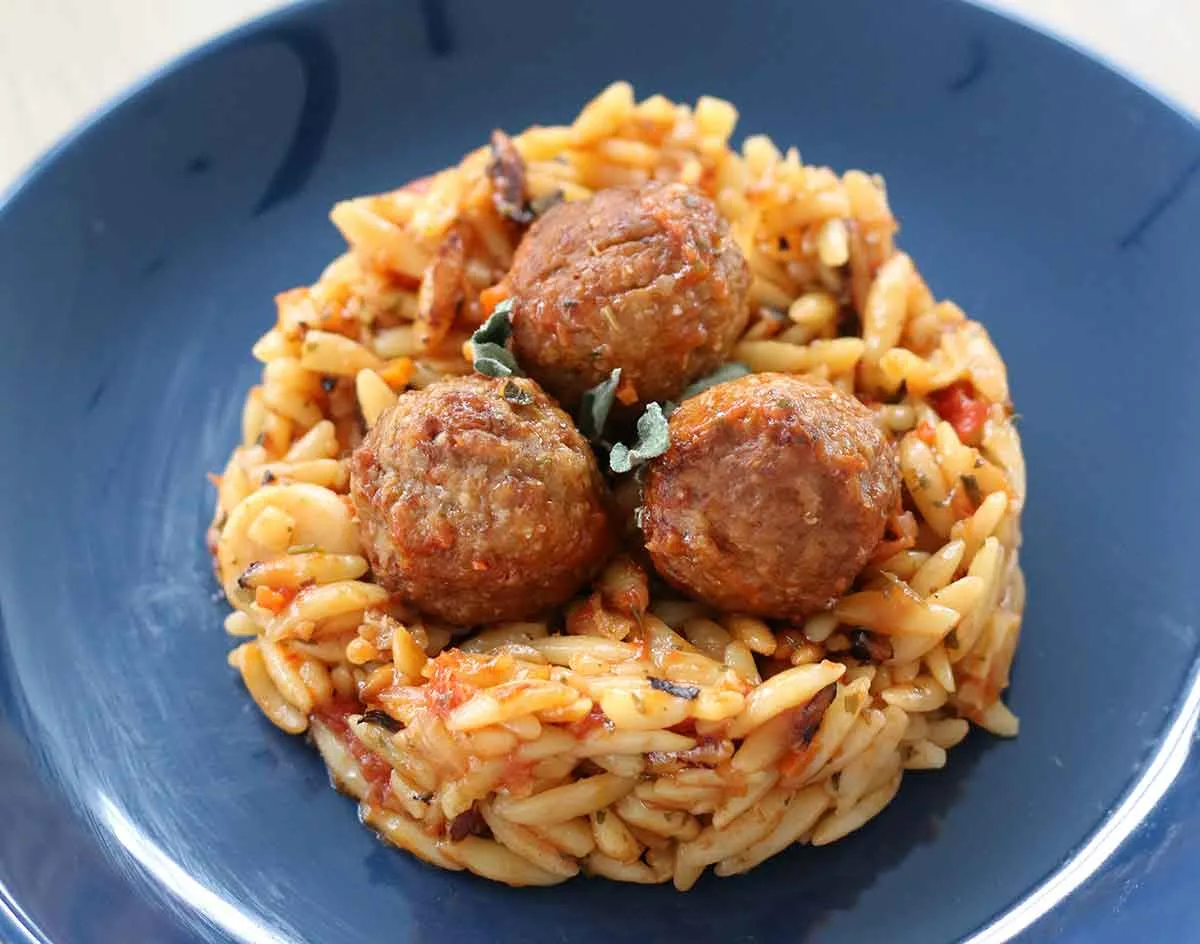 I really hope you'll give this creamy orzo with veggie balls a try soon. It's the ideal lunch when you're in a rush but you still don't want to limit your meal to a plain sandwich or salad. If you do make it, make sure to let me know how it went – I always love reading your comments.
Happy cooking! 🙂
Yield: 2
Creamy Orzo with Veggie Balls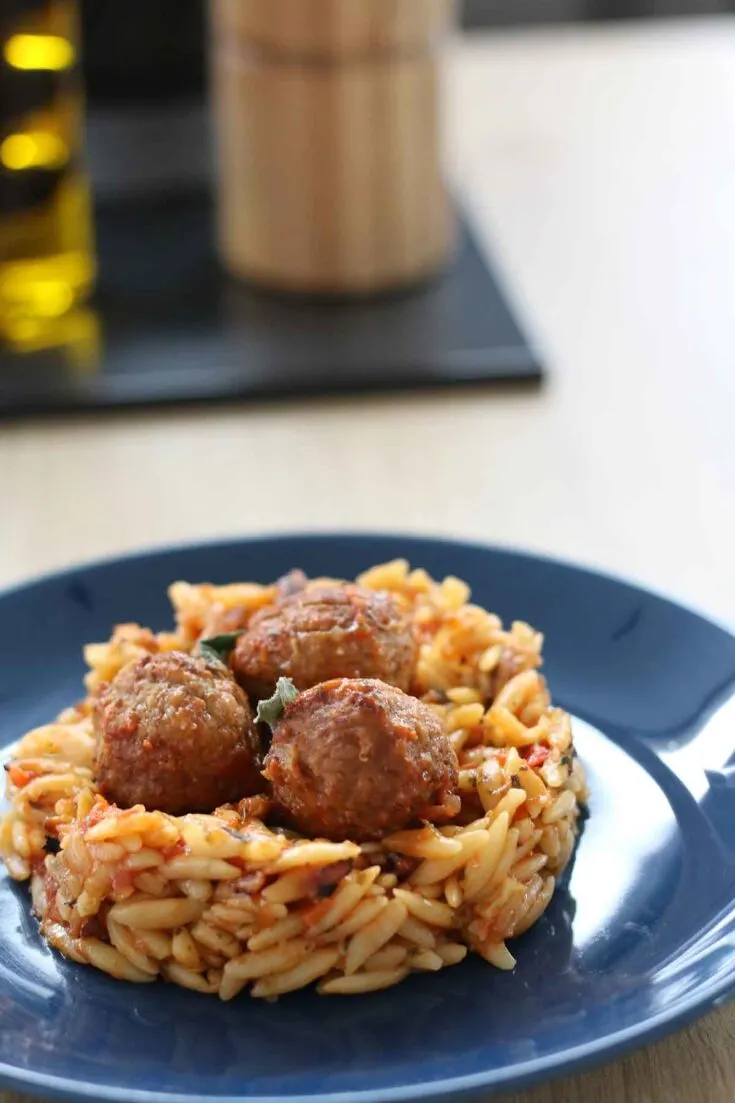 If you're a fan of quick, painless meals, then you'll absolutely love this creamy orzo with veggie balls! It's comforting, quick, and super delicious!
Ingredients
200g (7 oz) orzo
250ml (1 cup) soy vegetable cooking cream (I use Alpro Cuisine)
200g (1 cup) crushed, canned tomatoes
50ml (1.6 oz) dry, white wine - alternatively, you can replace it with water or vegetable stock
300ml (10 oz) water or vegetable stock
2 Tbsps olive oil
basil, fresh or dry, to taste
salt and pepper, to taste
8 Naturli veggie balls
Instructions
To cook the veggie balls, simply toss them on an oven tray, just as they are - frozen - and bake them at 200C for 15 minutes.

Heat the oil in a large pan. Add the orzo and cook it over medium heat for 1 minute, stirring constantly.

Add the wine, water or vegetable stock, cooking cream and the crushed, canned tomatoes. Add the seasonings.

Simmer for 10 minutes or until all of the liquid is absorbed. Make sure you stir regularly so it doesn't stick to the bottom of the pan.

Serve with veggie balls on top.
Nutrition Information
Yield
2
Amount Per Serving
Calories

525
Total Fat

20g
Saturated Fat

6g
Trans Fat

0g
Unsaturated Fat

13g
Cholesterol

17mg
Sodium

1080mg
Carbohydrates

62g
Fiber

20g
Sugar

18g
Protein

13g
I strive to keep the information as accurate as possible but make no warranties regarding its accuracy. I encourage you to make your own calculations using your preferred nutrition calculator.