Learn how to make the most delicious vegan Swedish meatballs using this easy recipe. Enjoy a comforting, healthy and high-protein vegan meal, perfect for the whole family.
Though not the most exciting advert for Swedish food, Köttbullar med gräddsås (meatballs with cream sauce) is one of the most popular Swedish dish for sure.
I think it's safe to say that meatballs are sort of a comfort food for the Swedes. And it's also true that if you'd ask ten Swedes for the standard Köttbullar recipe, you'd receive a different answer from each of them. That is because there is no standard, each Swedish family adjusting the recipe and twitching it a bit according to their own taste buds: a little more of this spice, a little less of that.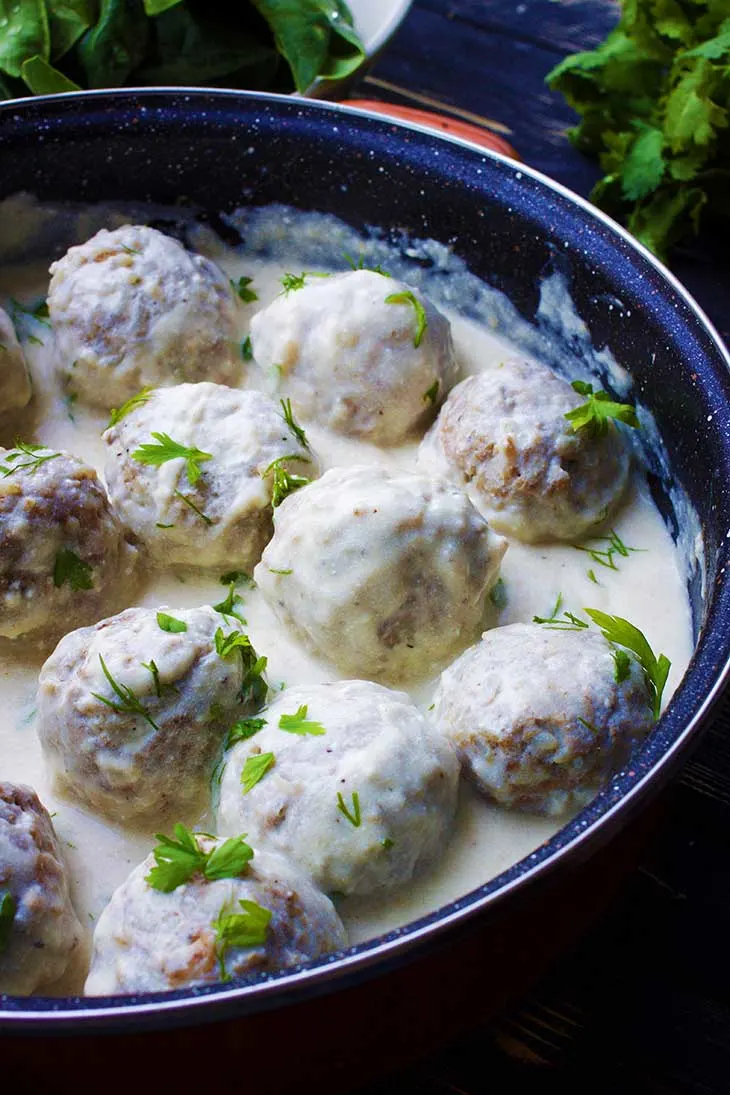 However, the recipe's essence remains the same. Köttbullar meatballs are basically ground meat rolled into small balls. The meats of choice for the Swedes are ground beef, or a mix of ground beef, pork, veal, or sometimes even venison. Other ingredients may be added into the mixture, such as vegetables, spices, and breadcrumbs soaked in milk. The meatballs are cooked by frying, baking, steaming or braising in sauce. They're typically small, with a diameter of about 2 or 3 centimeters, but a larger kind is sometimes served in restaurants.
Serving Köttbullar with the creamy gravy sauce is not the traditional Swedish way, as one might think. However, the Swedes came to love this version of meatballs and adapted to it. Traditionally, the meatballs are served with potatoes or pasta and rårörda lingon (lingonberry jam). Sometimes a pickled vegetable such as cucumber, or pressgurka (pressed cucumber) may be added on the side.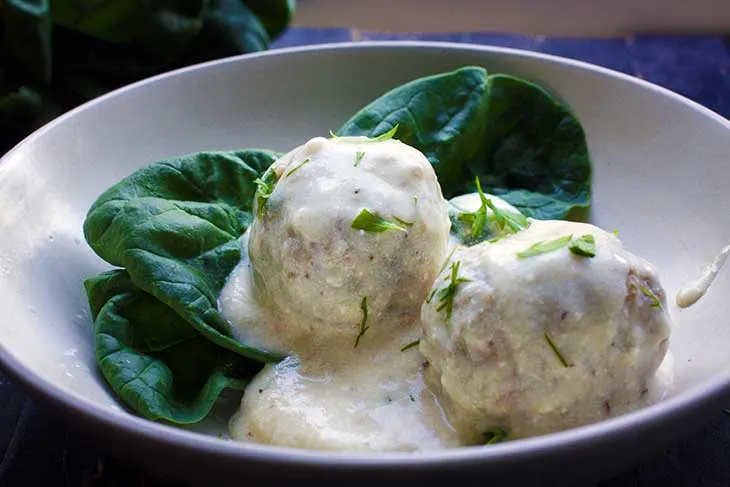 As for the occasion, the Swedish meatballs may be considered a festive food; you'll surely find it on any Swedish table during a holiday or a celebration. There's even a Christmas version of meatballs called julköttbullar, and you'd bake these ones rather than frying them.
The way to make this at home is by choosing your favorite kind of ground meat and start working. As I said earlier, you can definitely use two types of meat, let's say beef and pork.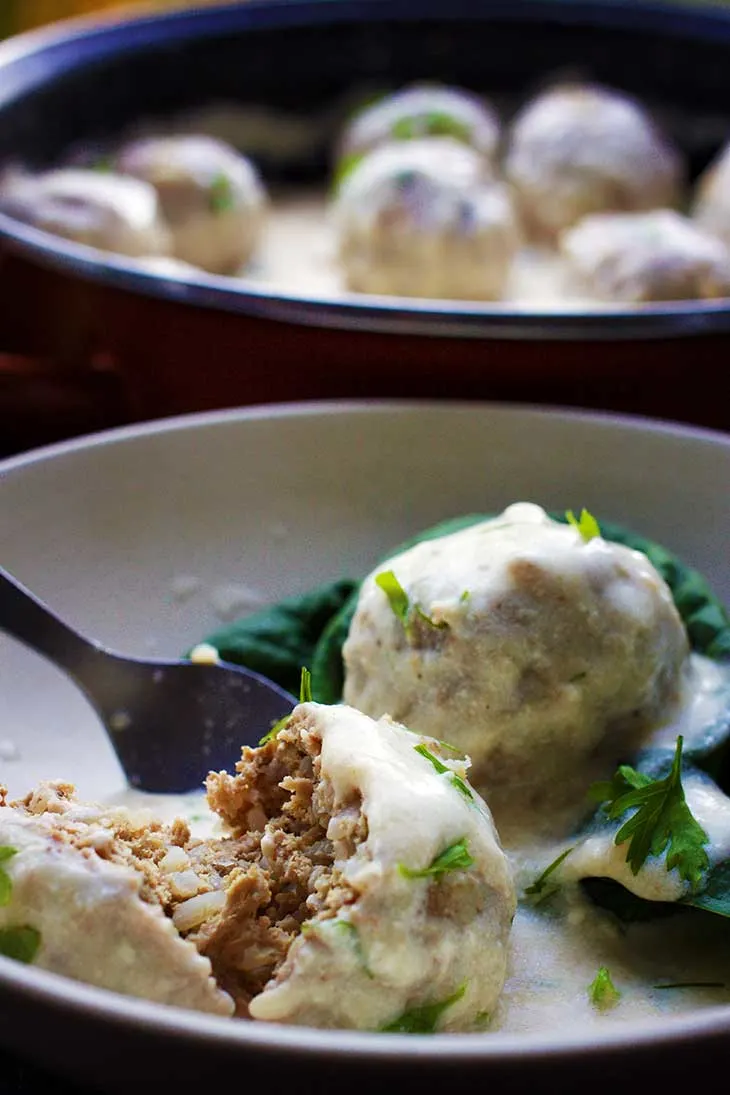 In order for the meatballs to keep their juiciness while they're heating up, you'll want to soak the breadcrumbs in some milk. Then come the minced onions and the parsley. Mix everything together very well, pressing the mixture. You know you've reached the perfect consistency when you can press the mixture in your fist and it keeps its shape. It is the time to roll the meatballs into small spheres. Take your time when doing this step, otherwise, your meatballs won't hold together!
If you want to add even more flavor to this delicious dish, use butter for frying. Be patient when cooking the mixture and add a maximum of two at a time so you can observe them and take them out at the right moment. Move them onto a plate and cover it up.
As for the gräddsåssauce (the cream sauce, similar to gravy), it couldn't have been easier to make. For once, you are asked NOT to wash your pan. The leftover meat juices will be the base of your gravy. Add butter, a bit of flour and stock or broth, mix everything together until you reach the creamiest consistency possible, and you're done! If you want to make the meatballs lighter and lower in carbs, you can replace the flour with a mixture of cornstarch and water. The flour can also be replaced by ground almonds.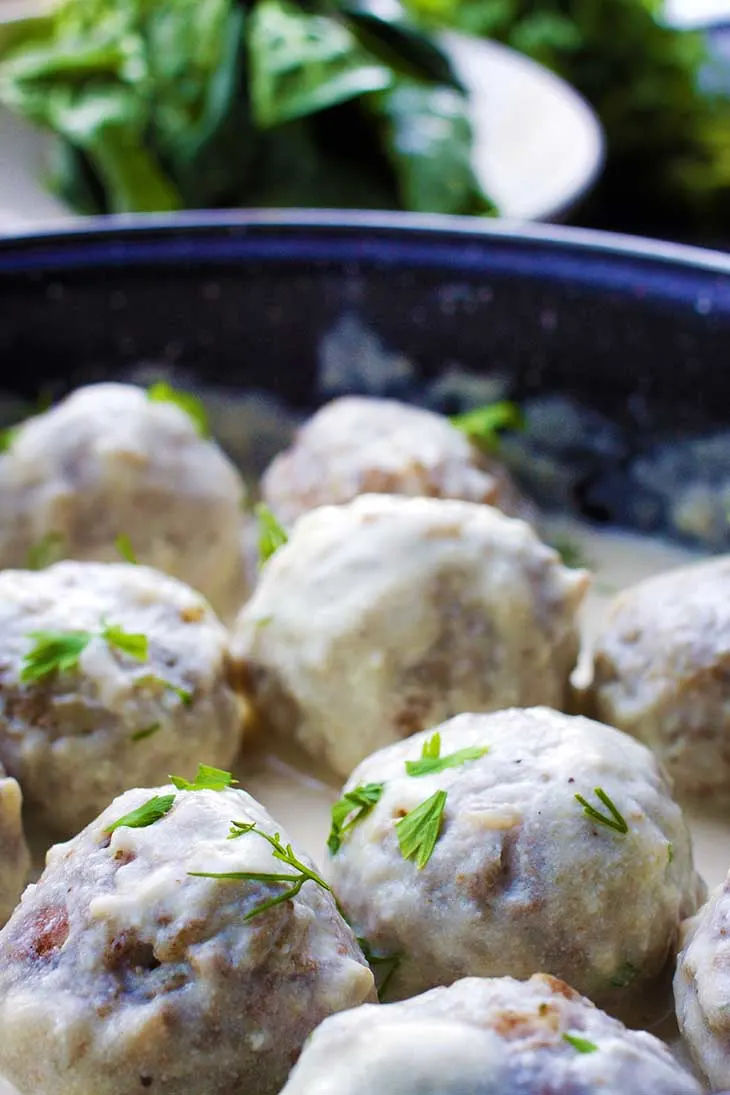 That's really all there is to know about Swedish meatballs. And because this dish is so popular and delicious, I have decided to create a very similar recipe for vegan Swedish meatballs that you can easily recreate at home! These vegan Swedish meatballs have just the right consistency, an amazing taste and will be loved by adults and children alike!
You can change the recipe according to your taste, so have fun experimenting, but don't forget to cook up some mashed potatoes or pasta – the meatballs get lonely on their own.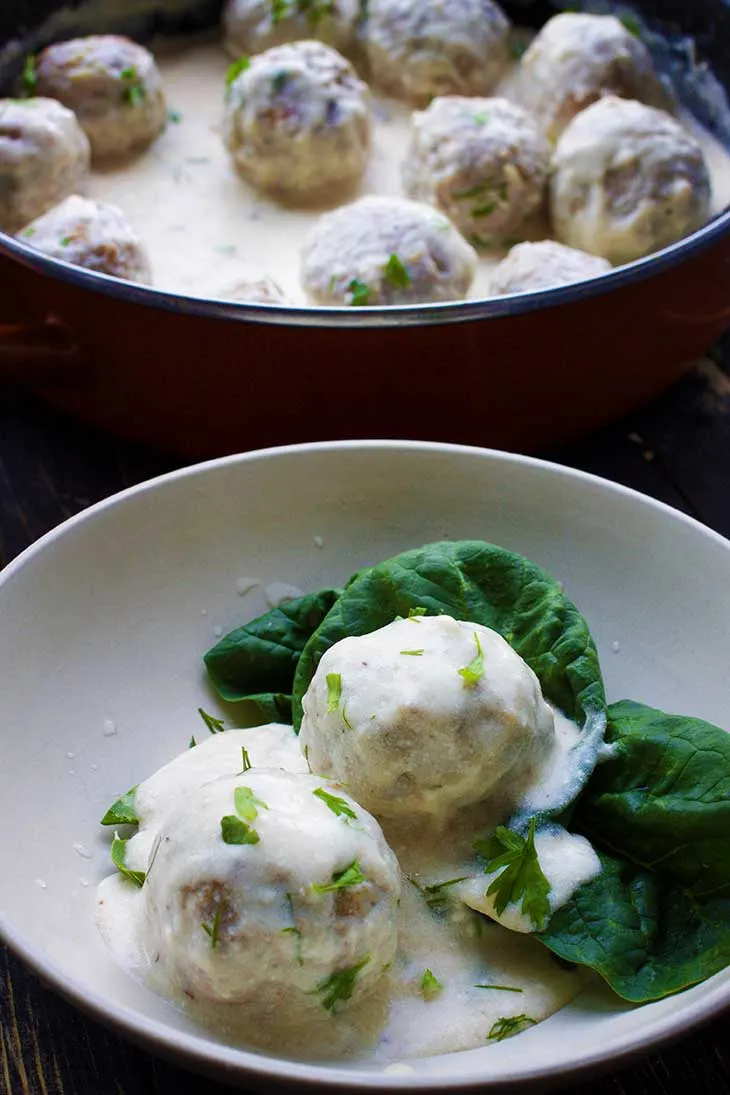 Yield: 4+
Vegan Swedish Meatballs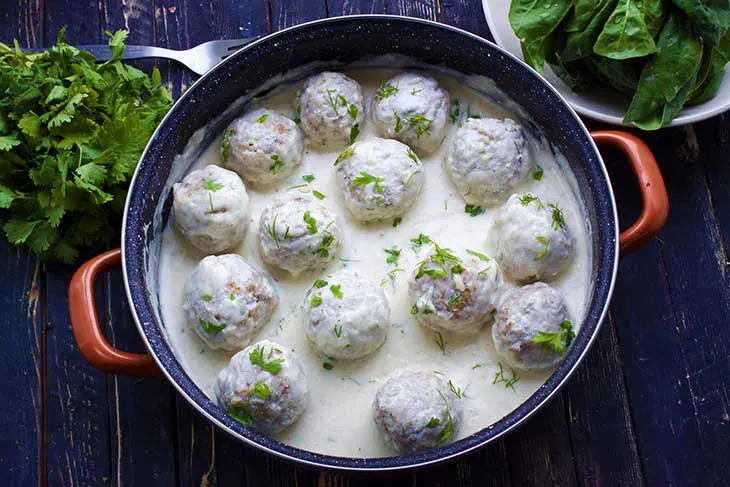 Learn how to make the most delicious vegan Swedish meatballs using this easy recipe. Enjoy a comforting, healthy and high-protein vegan meal, perfect for the whole family.
Ingredients
150g (1 ½ cup) textured soy protein, granules
240ml (1 cup) vegetable broth
1 onion, finely chopped
2 cloves garlic, minced
2 Tbsp olive oil
100g (½ cup) pilaf rice, cooked
2 Tbsps psyllium husks or flax 'eggs'
½ tsp cumin
1 Tbsp smoked paprika
2 Tbsp Italian seasoning
2 Tbsp nutritional yeast
30g (¼ cup) breadcrumbs, use GF if needed
salt and pepper, to taste
For the sauce:
500ml (2 cups) vegetable broth
230g (1 cup) full fat coconut milk, canned
30g (¼ cup) flour, lightly roasted (use GF if needed)
½ tsp garlic powder
½ tsp nutmeg
salt and pepper to taste
Instructions
Preheat oven to 200C
Start with meatballs.
Bring the veggie broth to a boil and pour the textured protein over.
Add cumin, smoked paprika, Italian seasoning, salt, and pepper.
Cover and allow to sit for 10 minutes until absorbed.
Heat a skillet with a Tbsp of olive oil on a medium heat.
Add the chopped onion and minced garlic.
Sautee for about 3 minutes or until the onion is translucent.
Discard the excess of liquid from the TSP granules.
In a bowl, add the TSP, onion and garlic, flax eggs or psyllium husks, bread crumbs,paprika, nutritional yeast, salt and pepper to taste. Mix until well combined. Add the cooked rice and combine the mixture with a spatula. Roll the meatballs, using 1-2 Tbsp mixture per each.
Lay the meatballs on a baking tray and bake them for about 20 minutes.
Heat a Tbsp of olive oil in a skillet on a medium heat. Add the baked meatballs and fry on both sides, for about 3 minutes each.
Add vegetable broth, coconut milk, roasted flour, and mix until the mixture starts to thicken. Season with garlic powder, nutmeg, salt, and pepper.
Serve with some salad, mashed potatoes, pasta or anything else you like.
Nutrition Information
Yield
4
Amount Per Serving
Calories

411
Total Fat

10.2g
Carbohydrates

55.3g
Protein

24.4g