What could be more simple and delicious than a full plate of roasted garlic mushrooms? For me, this combination is pure bliss! Learn how to make the perfect roasted garlic mushrooms – quick and easy!
Mushrooms are simply one of my favorite thing to cook in the kitchen, but that shouldn't come as a surprise if you've been following my recipes. I love mushrooms for their diversity, their taste, the many ways you can cook them and the many recipes that use them, and how they manage to be delicious in every context.
It seems that you can make anything out of mushrooms these days, from pies to soup to side dishes. Mushrooms are also a great replacement for meat in many of my favorite vegan and vegetarian recipes, as they are a rich source of protein and other delightful nutrients.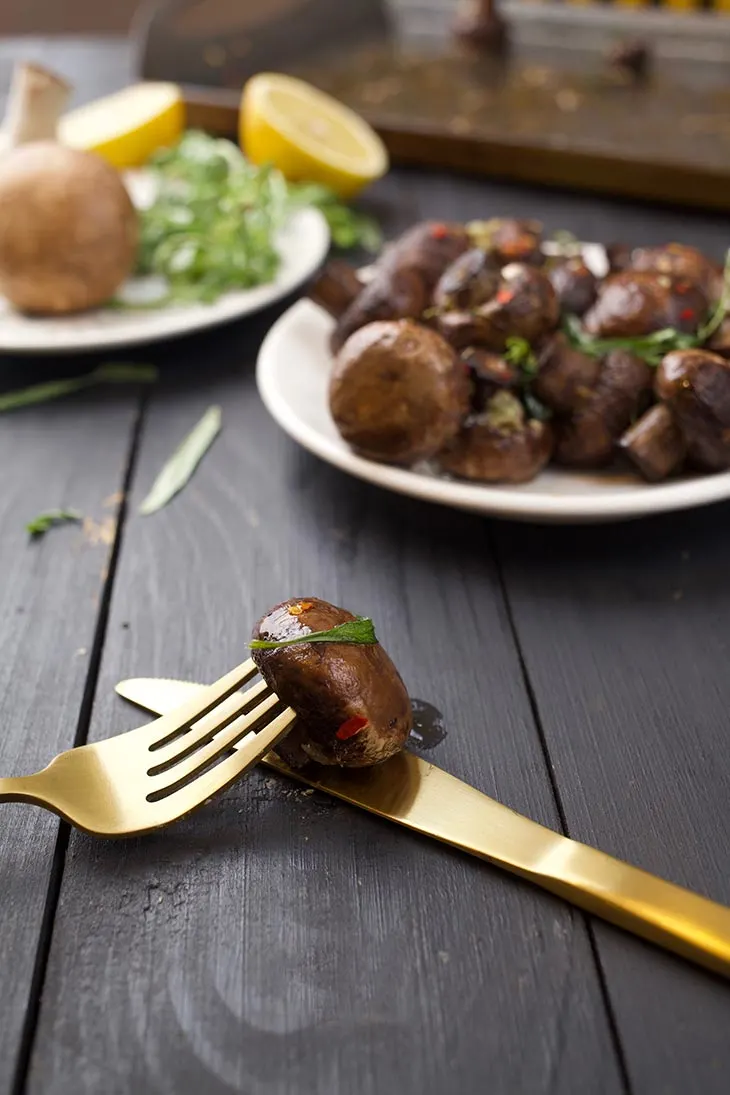 So we've established that mushrooms can be used in tons of ways, but at the end of the day, I just want to make a simple and effective recipe that hits the spot. If you're in the mood for a comforting recipe with garlic spice, look no further. Today we are going to make roasted garlic mushrooms in the oven. Garlic, mushrooms, herbs and spices, and nothing else! 🙂 Utter perfection in simplicity.
This is a dish that will work in so many ways. You can use these roasted garlic mushrooms as a side dish, as an appetizer or even add them to a Buddha Bowl. You can even eat them as is – no surprises!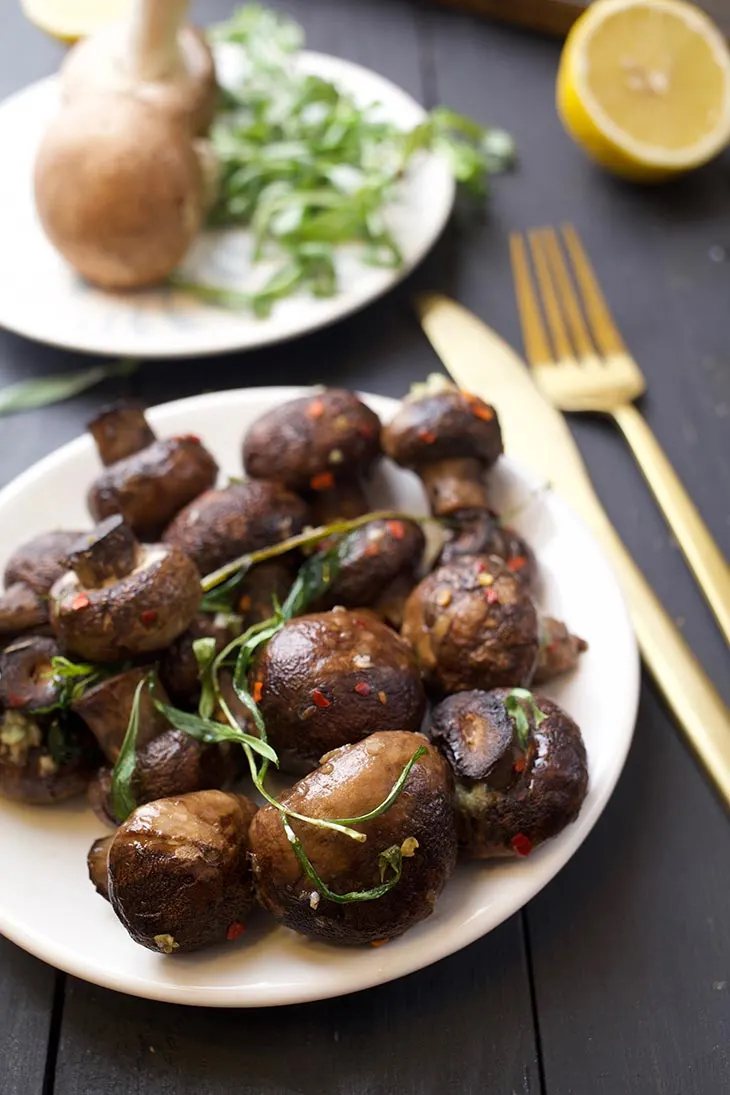 As the title implies, this dish relies heavily on garlic. Roasted garlic is a great addition to many side dishes because it will take the flavor to 11! Roasting the garlic releases the tasty oils from the clove, after which they spread throughout the mushrooms. For this recipe, you will need to chop the garlic finely and mix it with butter-flavored coconut oil, lemon juice, and all your seasonings. If you have a garlic press, more power to you – you'll do half the work for twice the taste!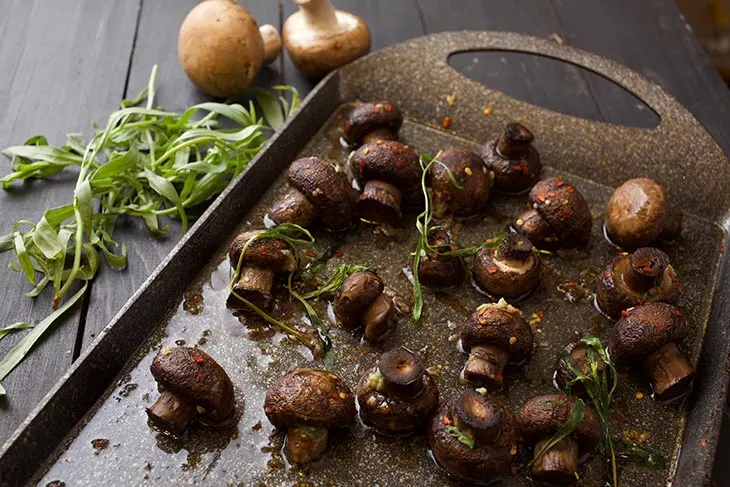 I should say a few words about which are the best mushrooms to use in this recipe. On a personal level, you know I love all mushroom types equally. However, for today's recipe, you are going to want to use either cremini or butter mushrooms. This recipe requires mushrooms with a meaty texture, that will eventually get creamier as they cook.
Apply the butter-flavored coconut oil over the mushrooms before you put them in the oven. This will help it infuse into the mushroom and give off the best taste possible.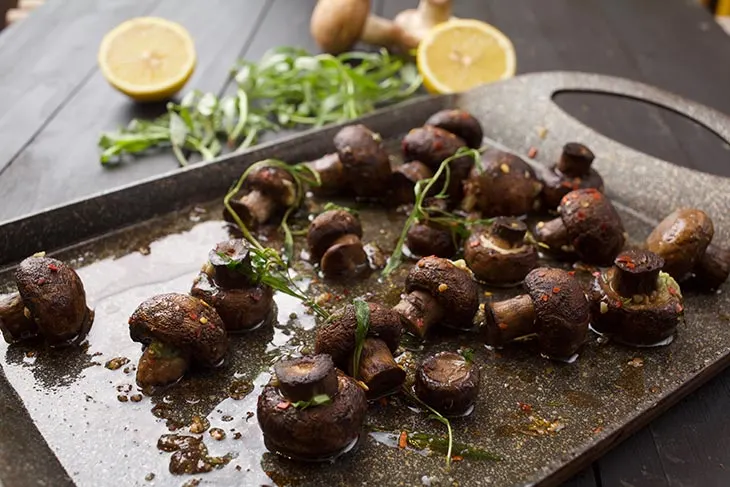 Then, you have the option of keeping the mushrooms whole or slicing them up. To be fair, this decision should boil down to what size are the mushrooms that you're using. You can cut them into thinner slices if you want, and that will accelerate the cooking process, not to mention that the coconut oil will spread more evenly across.
These amazingly good roasted mushrooms should be the highlight of the side section on your table. You can serve them up with the main dish, be it a vegan steak or anything else. My favorite way of serving these mushrooms is by themselves in a bowl, maybe with a little grated vegan cheese – the combination is simply amazing! Of course, you can top your mushrooms with any topping really, as long as it fits with the garlic flavor.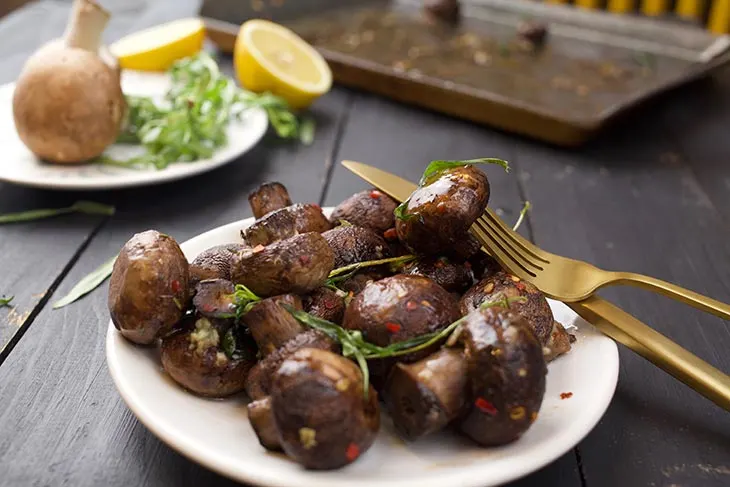 What I like about this recipe is that it can be as much of a quick snack as it can be a fancy dinner, too. There's no cooking stigma attached to comforting meals that are also presented well! So dig in – workout pants or tuxedo, these perfect roasted garlic mushrooms are going to work either way! 🙂
Your kids are going to love these garlicky mushrooms as well. If you're cooking for your kids only, you might want to go easier on the garlic, and maybe add some healthy vegetables there for them as well. Either way, home cooking is highly beneficial for children's development in general, and if you cook them tasty dishes, they'll learn to appreciate good food and hard work, which can only lead to good things later in life, am I right?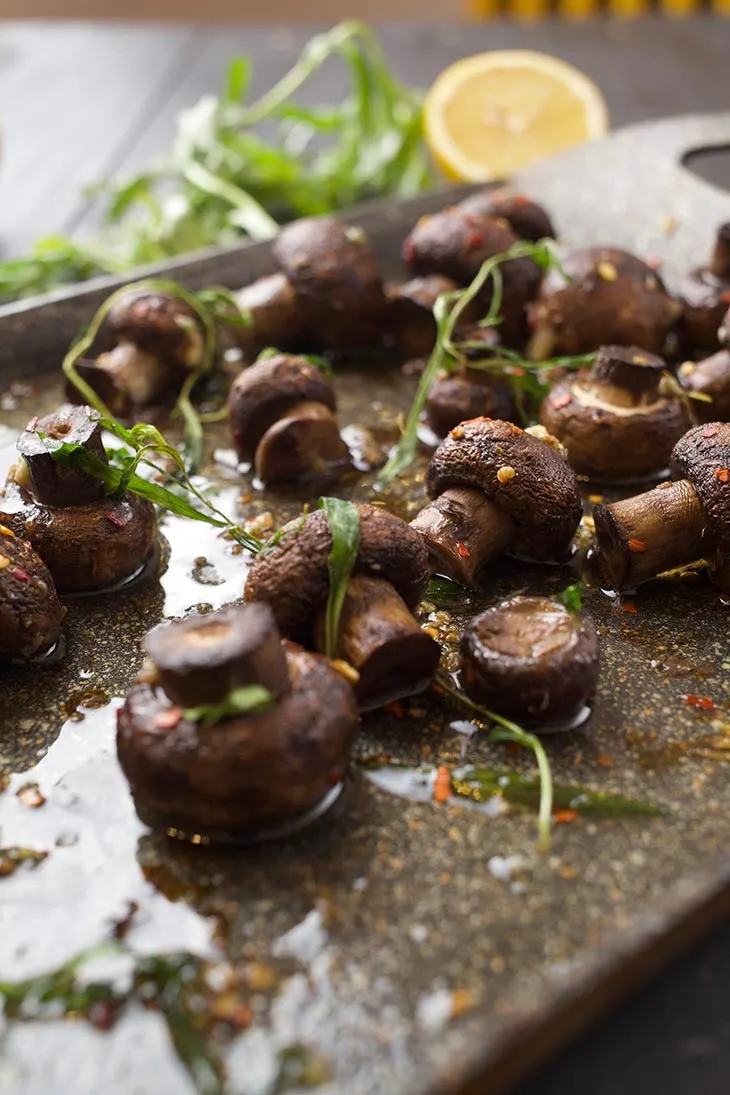 I hope you have a blast making these tasty roasted garlic mushrooms. If you have any questions or suggestions, don't hesitate to leave a comment! And don't forget to tell me how it went! 🙂
Yield: 2
Perfect Roasted Garlic Mushrooms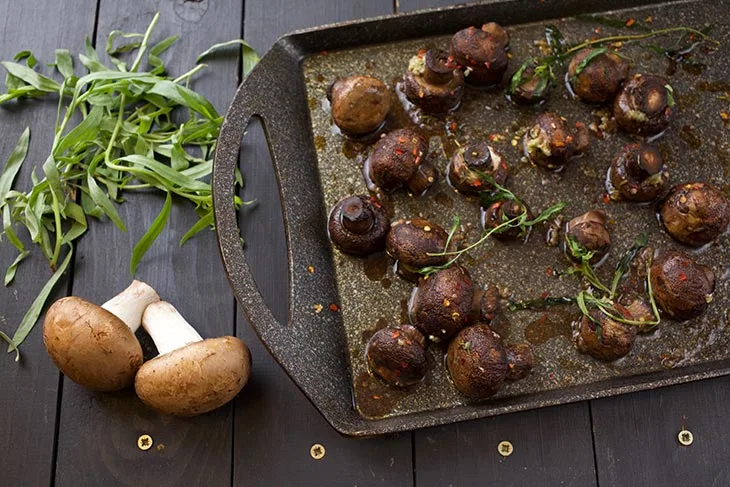 What could be more simple and delicious than a full plate of roasted garlic mushrooms? Literally nothing! Learn how to make the perfect roasted garlic mushrooms - quick, easy and divine!
Ingredients
180g (2 cups) whole button mushrooms
1 garlic head, garlic cloves peeled and smashed
40g (3 Tbsp) butter-flavored coconut oil, melted
1 Tbsp lemon juice
1 tsp red pepper flakes
1 tsp dry onion flakes
½ tsp sea salt
½ tsp white pepper
a handful of fresh tarragon sprigs
Instructions
Preheat the oven to 200 C. Cover a baking tray with baking paper.
In a big bowl, add all the ingredients.
Mix everything to evenly toss mushrooms with oil and spices.
Discard the mixed ingredients on the baking tray, so that the mushrooms lay in a single layer.
Bake for about 18 minutes until the mushrooms have browned a bit and the flavors are combined.
Nutrition Information
Yield
2
Amount Per Serving
Calories

204
Total Fat

19g
Carbohydrates

6.4g
Protein

1.5g