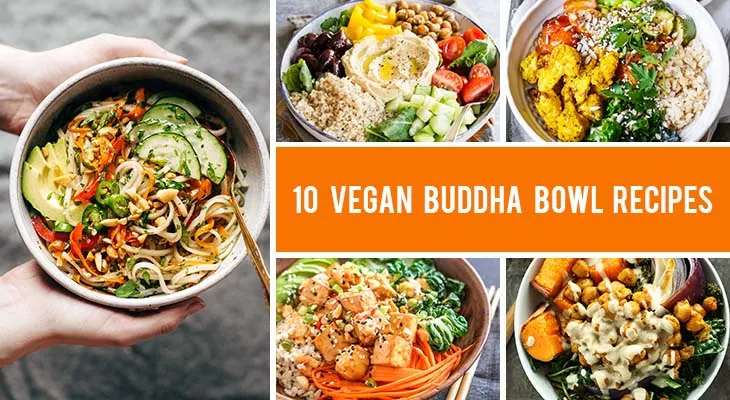 Looking for some hearty, healthy and filling meals? Here are 10 vegan Buddha bowls you'll want to eat again and again! Check out the recipes!
If you haven't heard about vegan Buddha bowls yet, then you're in for a real treat! Buddha bowls are literally big bowls of food, packed with so many ingredients they look like a full belly, very much as Buddha's. So, as you might have already guessed, Buddha bowls means eating your favorite things from a big bowl of deliciousness!
And because Buddha bowls don't automatically mean that you just throw everything you have in your fridge in a bowl (although that works pretty well, I have to admit!), there are some special combinations that you can make in order to achieve the most delicious meal!
Vegan Buddha bowls contain all the best ingredients that this diet has to offer: colorful, delicious veggies, hummus, yummy sauces and spices, noodles, grains, herbs and everything else in between! There are endless possibilities of creating an amazing vegan Buddha bowl and everything depends on your personal preferences and imagination.
I know I got you all excited about vegan Buddha bowls, that's why I want to show you some of the best recipes that I could find for vegan bowls! You will find here many different recipes, but each of them is super easy, quick and packed with amazing flavors. Craving an Asian-inspired meal? There are a spring roll Buddha bowl and a jackfruit sushi bowl waiting for you! Are you more on the Mediterranean side? There's a Buddha bowl out there for you, too, and I included all of them in this delicious yummy list article!
Click on the linked titles in order to access these vegan Buddha bowl recipes. And, as always, don't forget to tell me which is your favorite combination! I simply can't decide for myself!
Vegan Buddha Bowls
I just had to start my list of Buddha bowl recipe recommendations with this brilliantly simple, beginner-friendly bowl, perfect to fill you up with delicious veggies during autumn or winter. It's made of a combination of colorful, nourishing roasted veggies, crispy falafel, and creamy tahini – what more could you ask for?!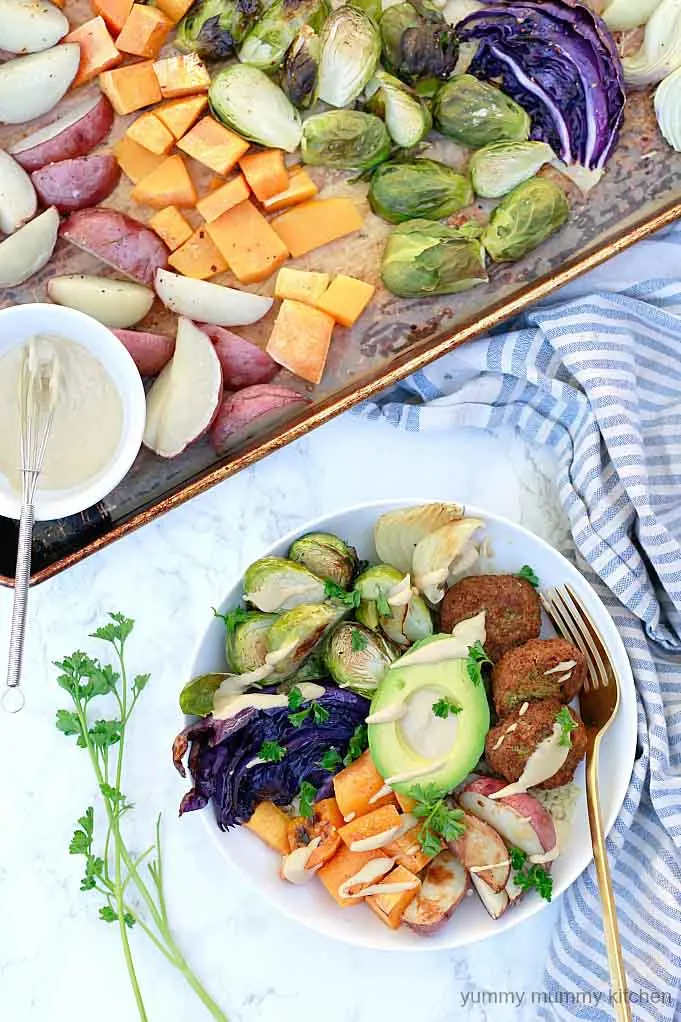 If you are a fan of Greek recipes, then this one is for you! I love this protein and fiber-packed Buddha bowl, full of Mediterranean flavors! This bowl is super easy to make and it is full with lots of fluffy, nutty quinoa, crunchy fresh veggies and crispy roasted chickpeas completing the entire composition! Of course, this Buddha bowl wouldn't be perfect without a dollop of creamy hummus in the middle. Irresistible!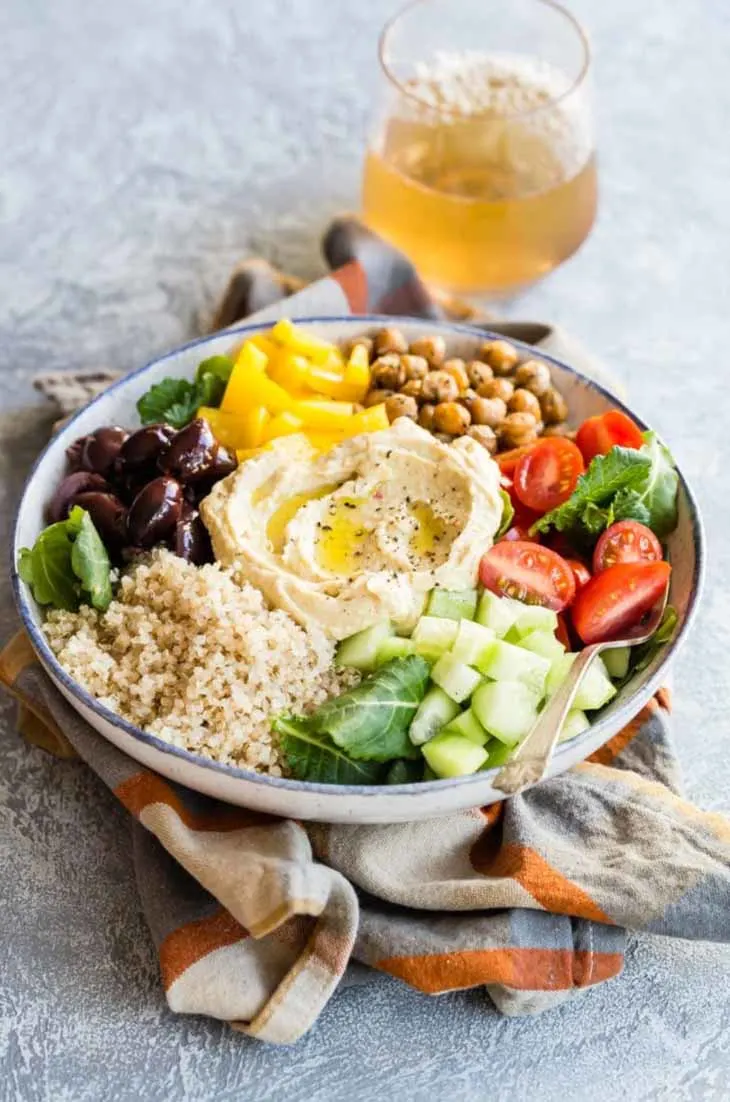 This Asian-inspired recipe is incredible because it proves that Buddha bowls can come in literally any combination of flavors. Plus, it's low-carb thanks to the light cauliflower rice! This Buddha bowl is topped with a mouth-watering combination of teriyaki-glazed sweet potatoes, edamame, avocado and roasted corn. You have to try it for yourself!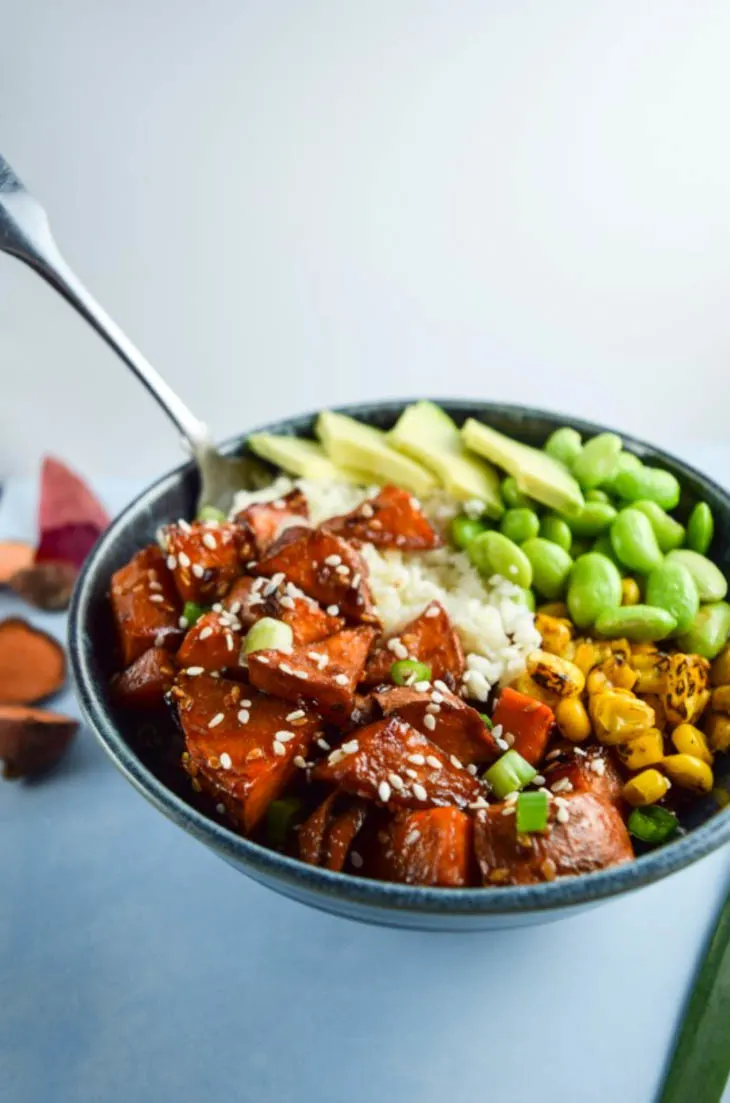 This is a colorful, delicious and very healthy recipe! You will get all the health benefits of turmeric (which is a great antioxidant and anti-inflammatory spice!), good carbs from the brown rice, fibers from the greens and veggies, drizzled with a delicious sesame oil and tahini dressing. Give it a try!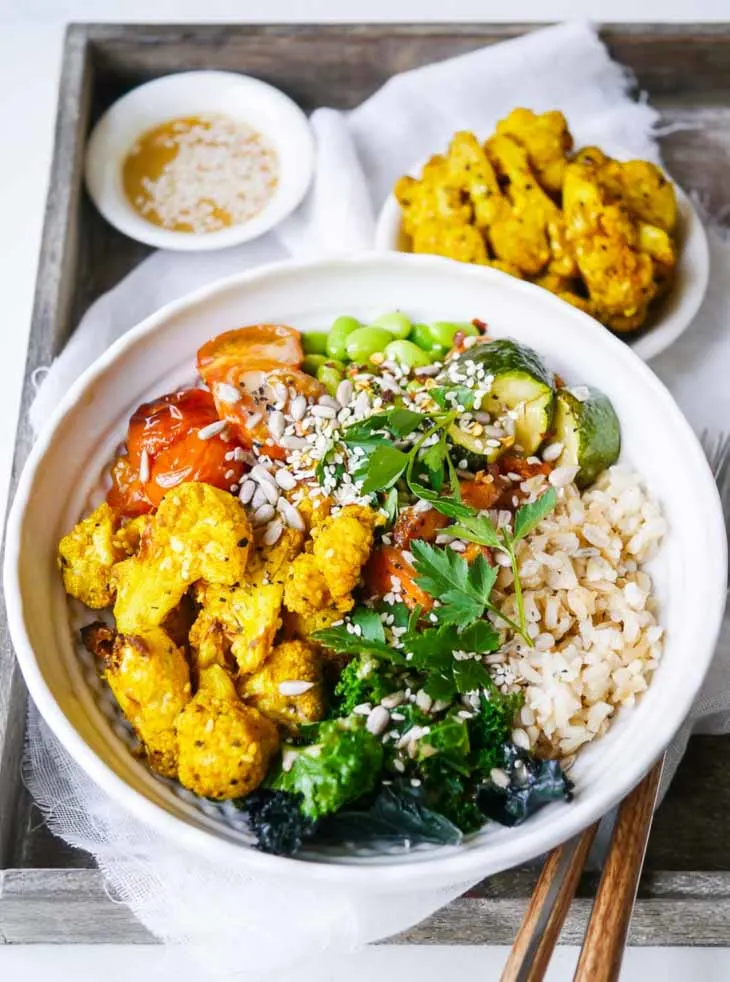 I hope everybody knows by now that I love Mexican food! Despite the title, I could have this bowl for waaay more than just lunch! The toasted spicy seeds crumb topping is absolutely delicious and I admit I've been eating it out of the pan long before assembling the rice, beans, corn, veggies, and dressing. Don't take my word for it, you just have to try it!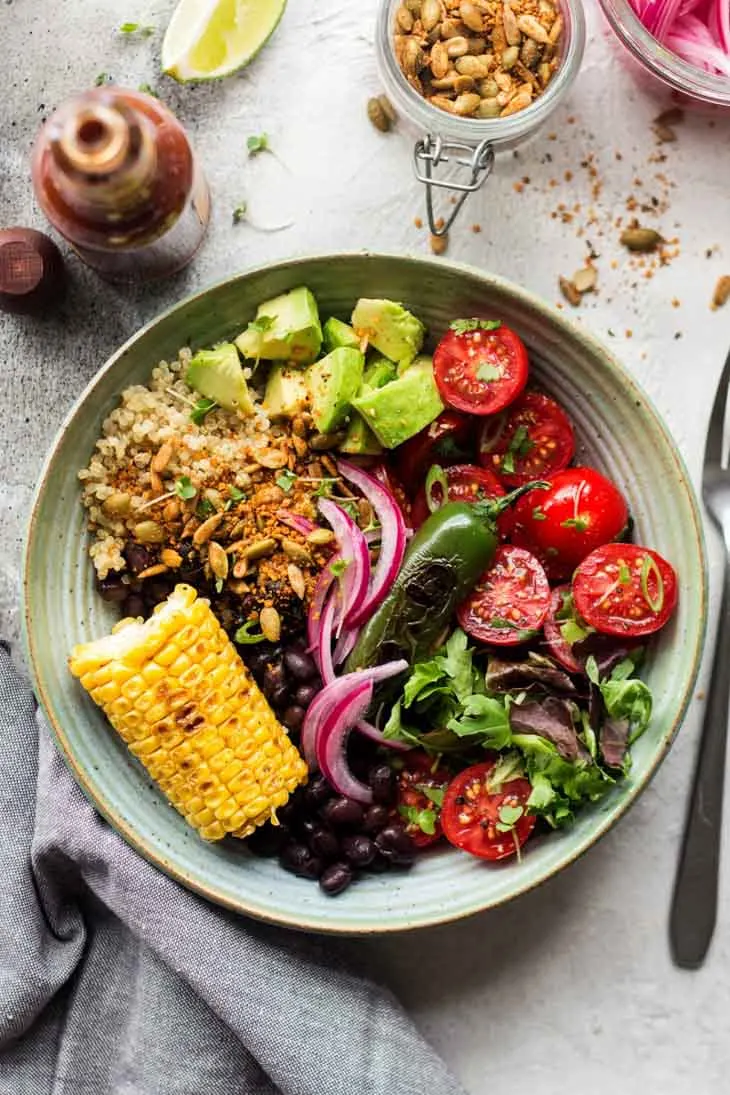 This incredibly flavorful, fragrant recipe features golden, crispy tofu bites, marinated in a creamy peanut butter sauce with a spicy kick! Combine it with crunchy greens and avocado on a bed of fluffy brown rice – doesn't it sound just perfect? This Thai peanut tofu Buddha bowl is literally an explosion of flavors!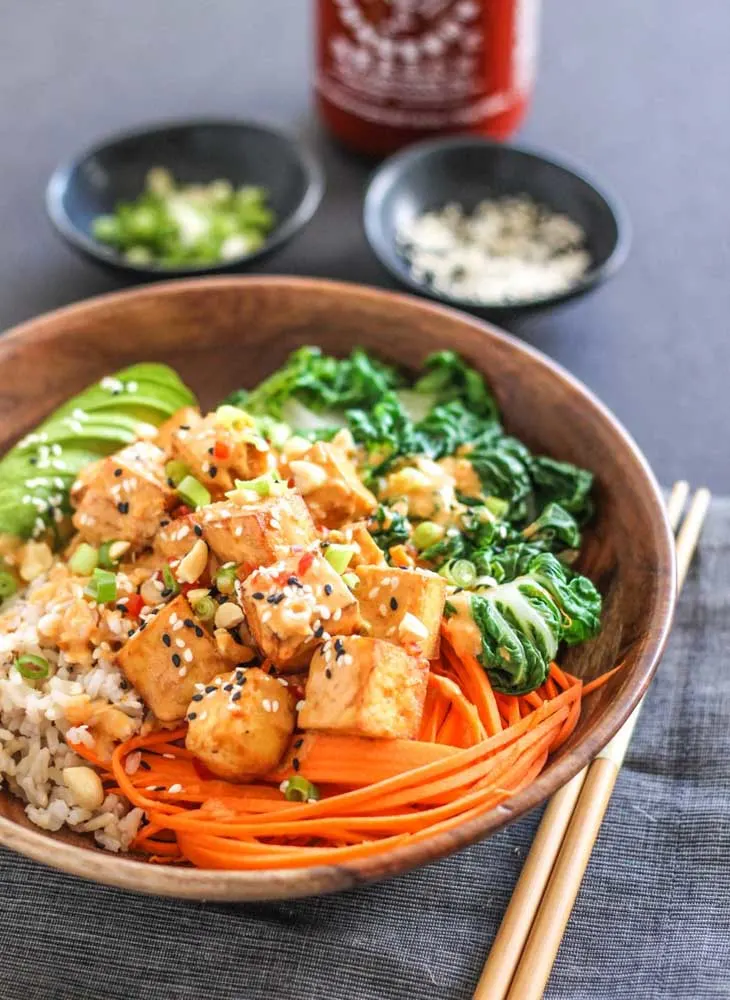 If you're already getting excited about Buddha bowls and want to try making one as soon as possible, this recipe is just perfect! It only takes 30 minutes to achieve a comforting bowl full of goodness! This amazing sweet potato chickpea Buddha bowl is made of oven-roasted veggies, crispy chickpeas and maple-tahini sauce. It's simply delicious!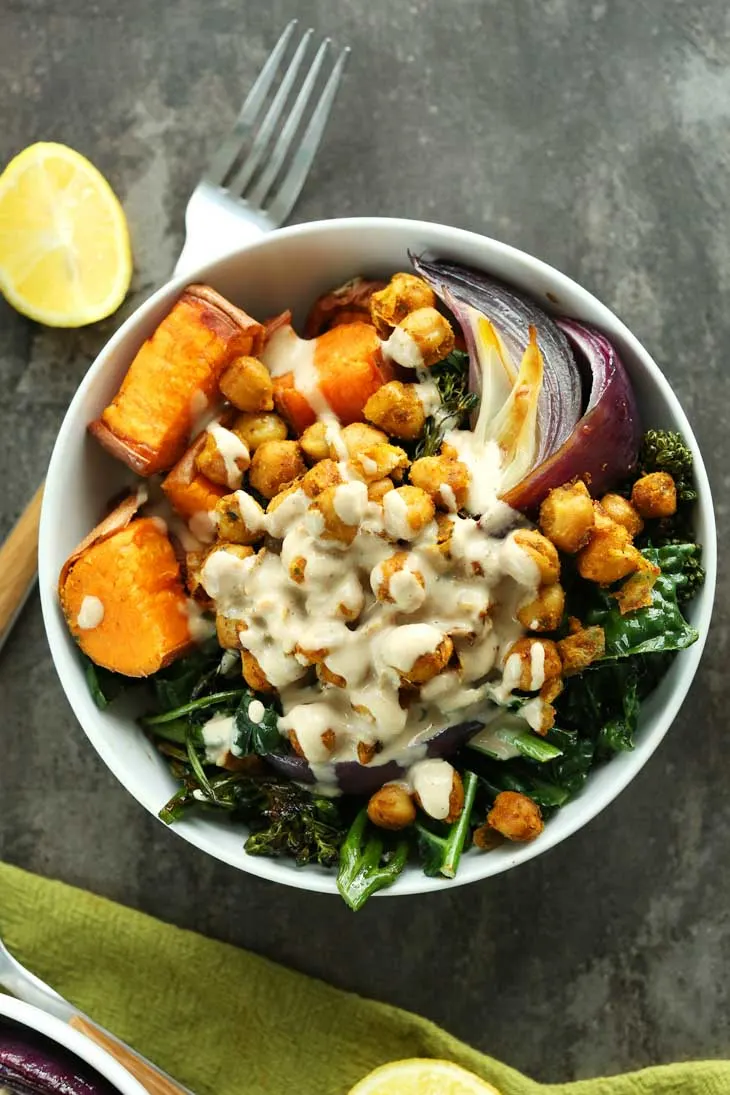 This super-simple and easily customizable recipe contains all the goodness of a crispy veggie spring roll without the heavy questionable oil quantities of takeaway Asian food. These spring roll bowls with sweet garlic lime sauce are a refreshing, summery treat, full of herbs and a delicious sweet garlic lime dressing. It's worth trying it out!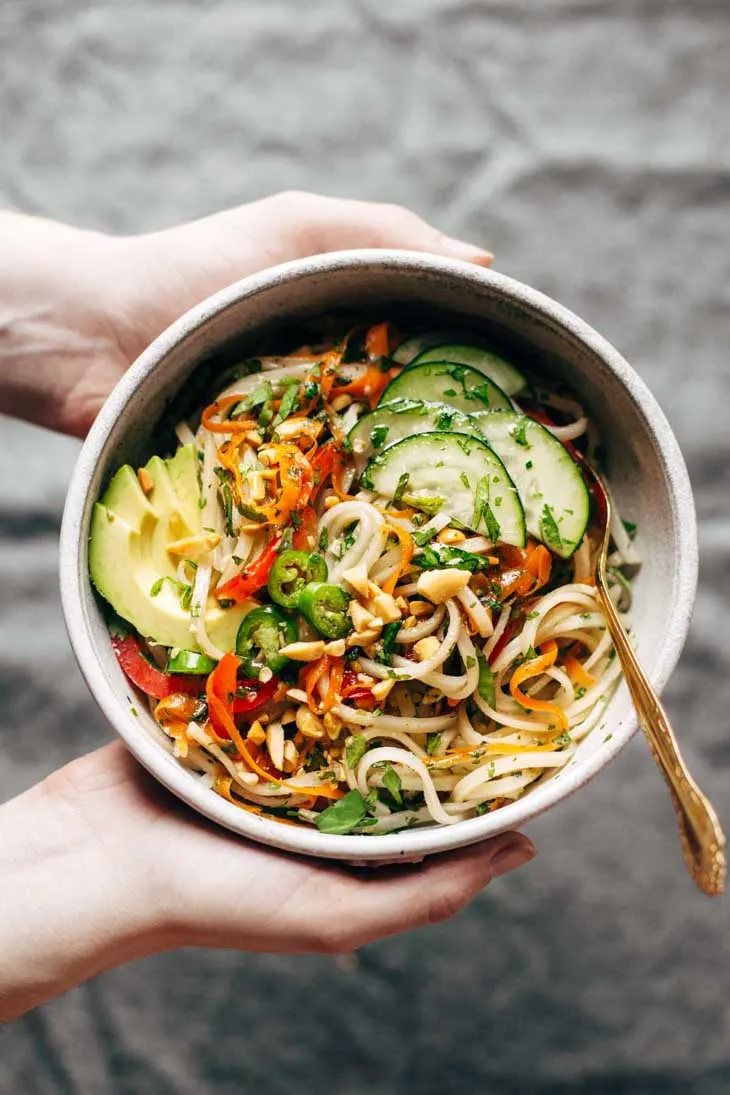 This Asian-inspired recipe provides a delicious and creative alternative to meat in sushi, with canned jackfruit replicating the texture of pulled chicken to perfection! The combination with teriyaki sauce, nutritious spinach, wakame and vitamin C-rich sesame is simply fantastic! Try it if you don't believe me!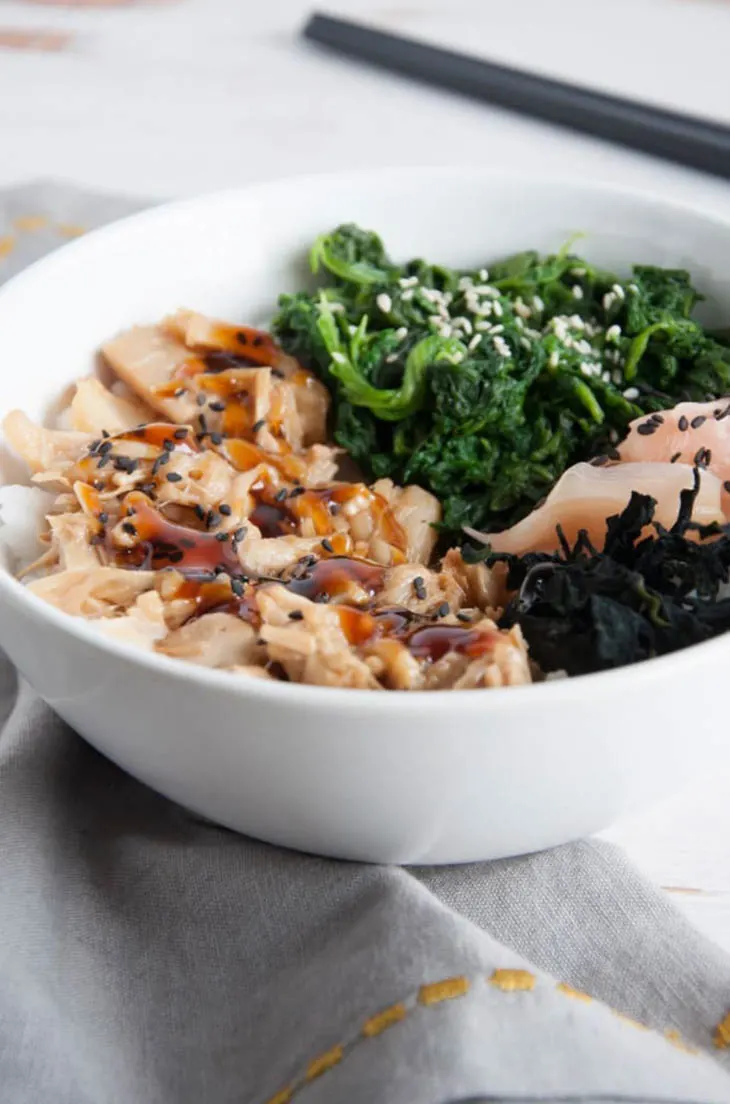 Even if you are not the biggest fan of Indian food on a regular basis, I guarantee you will be charmed by this incredibly flavorful and nourishing recipe! This veggie masala Buddha bowl is also very easy to make, with accessible, inexpensive ingredients. The veggie curry, creamy and spicy brown rice and sauteed spinach are a match made in heaven!