You won't believe how incredibly similar this vegan beef bourguignon is to the original French recipe! Give it a try and enjoy a delicious, comforting French stew recipe.
Beef bourguignon or boeuf bourguignon in French is a popular French dish originating from the Burgundy region, situated in the eastern part of France. Burgundy is a culinary paradise from which world-known dishes such as escargots, coq au vin, escargot, and pain d'épices were born.
This popular recipe is basically a stew made with braised beef in red wine, Burgundy wine being used traditionally, and flavored with onions, garlic, mushrooms and a bouquet garni. Also, bacon is added before serving, right after the stew is cooked.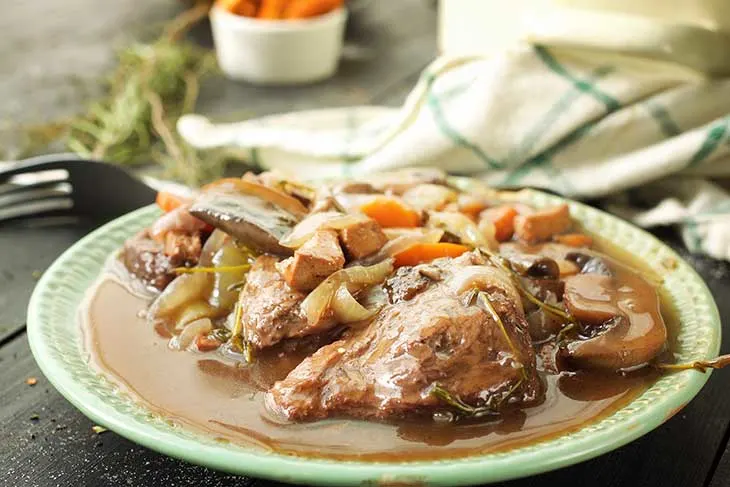 Beef bourguignon may sound fancy but it was actually a peasants' dish which nowadays has become a refined haute cuisine meal. Even though this meal is meat-based, it doesn't mean it can't be successfully modified and made vegan! With so many amazing meat replacements available in stores, such as TSP, mushrooms, tofu, seitan and more, it's almost impossible not to get it right.
To mimic the texture of beef as much as possible, I decided to use TSP – textured soy protein in the form of slices. You can also find it as granules, which is amazing to make ground beef recipes like this Bolognese sauce, or soy chunks which I frequently use when I want to replace chicken in some recipes, like this delicious Tikka Masala.
Just by looking at these photos, can you believe this vegan beef bourguignon is 100% meat-free?! I promise you can even fool your non-veg friends into believing this is the real thing. 🙂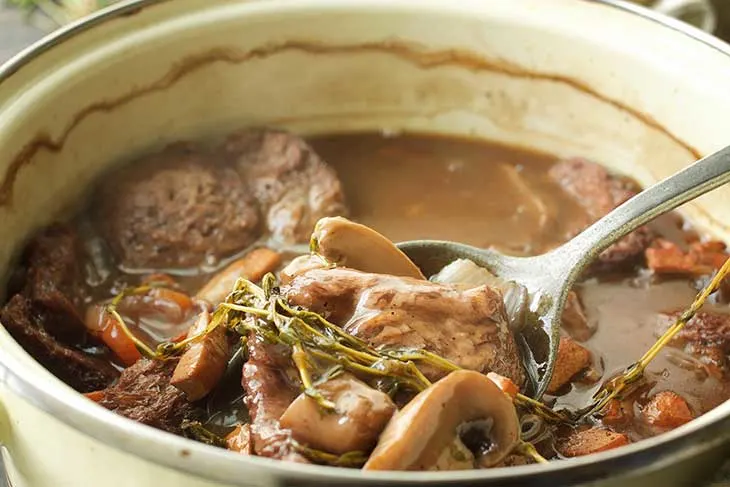 I mentioned above that for making this vegan beef bourguignon you will need a bouquet garni. But what is a bouquet garni?!
It is simply a bouquet of herbs tied with a string. Thyme, bay leaves, and sage are frequently used. A bouquet garni is used to flavor soups, stocks, stews and casseroles and it is removed right before serving the meal. You can also make a bouquet garni with other herbs like basil, rosemary, tarragon, and more!
Hope you'll enjoy this vegan beef bourguignon recipe as much as I did. You may have to spend some time in the kitchen but trust me, it is SO worth it! 🙂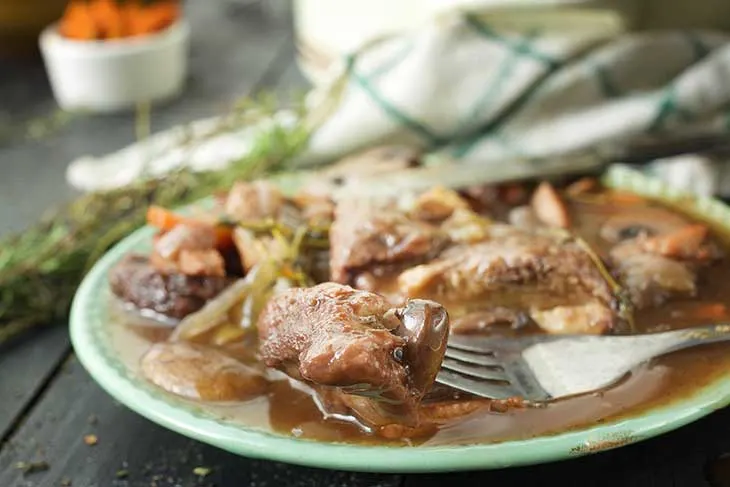 Yield: 6+
Vegan Bourguignon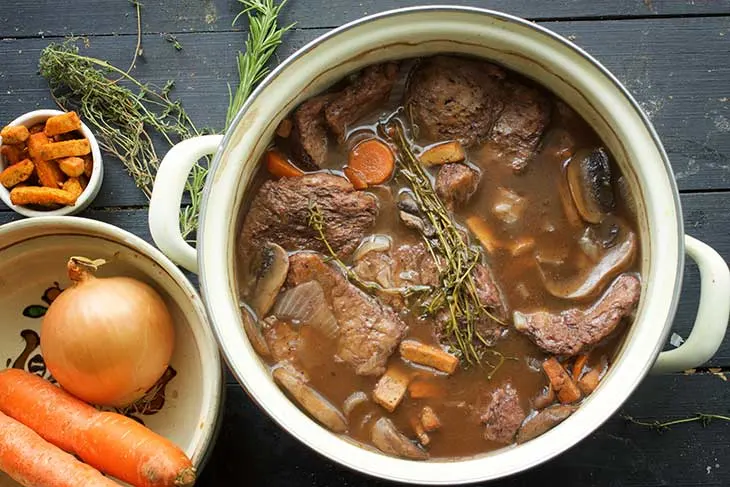 You won't believe how incredibly similar this vegan beef bourguignon is to the original French recipe! Give it a try and enjoy a delicious, comforting French stew recipe.
Total Time
1 hour
15 minutes
Ingredients
For the "beef":
100g (1 cup) textured soy protein, slices
240ml (1 cup) vegetable broth
240ml (1 cup) hot water
½ tsp sea salt
½ tsp ground pepper
½ tsp smoked paprika
½ tsp garlic powder
½ tsp onion powder
¼ tsp chili powder
½ tsp coriander
½ tsp mustard powder
1 tsp brown sugar
½ tsp cumin powder
For the "bacon":
250g (1 cup) smoked tofu
1 tsp smoked paprika
For the bourguignon:
2 medium carrots, sliced
1 large onion, sliced
250g (2 cups) button mushrooms, sliced
1 bouquet garni - with thyme, rosemary, bay leaf
360ml (1 ½ cup) dry red wine
1 tsp tomato paste
2 cloves garlic, crushed
240ml (1 cup) vegetable broth
salt and ground pepper, to taste
1 Tbsp flour
olive oil, for frying
Instructions
Let's start by making the vegan beef.
In a medium pot, combine hot water with spices and veggie broth. Soak in the TSP slices for at least an hour, preferably overnight.
Next, make the vegan bacon.
Heat the olive oil in a skillet, over medium heat. Add sliced tofu, smoked paprika, salt, and pepper to taste and fry until the tofu is crispy on both sides. Set aside.
In the same skillet, add the mushrooms and fry until tender, stirring occasionally for about 7 minutes. Set aside.
Use the heated skillet to fry the soaked TSP slices, previously drained, for about 3 minutes, on medium heat. The should be slightly crispy on both sides.
Preheat the oven to 200C/400F.
In a large, oven-friendly pot, heat some olive oil over medium heat. Add the sliced onions, carrots and crushed garlic. Stir-fry until the onion is translucent. Add the TSP slices.
Sprinkle the flour and give it a stir.
Add the red wine, stir and add the cooked mushrooms.
Add veggie broth, tomato paste, salt and pepper and the bouquet garni.
Cover and let it cook in the oven for about 40 minutes, until the veggies are tender.
When the meal is ready, add the tofu bacon and serve.
Nutrition Information
Yield
6
Amount Per Serving
Calories

237
Total Fat

9.6g
Carbohydrates

18.8g
Protein

18.8g