Make this baked plum crisp with blackberry sorbet and be amazed by the awesome flavors and textures! It's refined sugar-free and healthy too!
Yum Yum Yum!! I saw a great plum crisp recipe yesterday and decided to try it myself, but when I read the ingredients I was very disappointed…The plum crisp recipe I found on Pinterest had tons of butter, white flour, sugar and other nasty ingredients.
I wanted to make something similar, but fat and refined sugar-free. I had some frozen blackberries, fresh plums and muesli, and that's when the idea hit me! This plum crisp with blackberry sorbet turned out absolutely perfect!
This recipe is great for kids as well. They'll love the colors, taste and texture. You can use other fruits too: mango, peaches, nectarines, raspberries..anything you want! Unfortunately, the muesli I had was not plain and it contained dry fruits, so there was some unwanted added sugar in it; I recommend you to use plain muesli.
As you know, crisps go very well with ice cream. First, I wanted to make a lovely, sweet and sour grapefruit sorbet, but because of my laziness, I changed my mind. I made a quick blackberry sorbet with the remaining frozen blackberries. It's better to try it with an ice cream with different flavor and color. A vanilla flavored ice-cream would have been ideal, but it's delicious this way too.
So, if you want a quick and healthy plum crisp dessert, this is just right for you!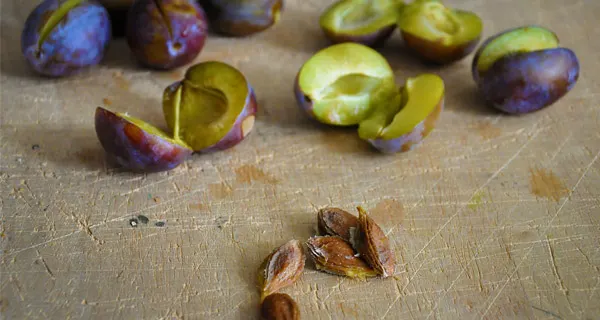 Yield: 6 servings
Plum and Blackberry Muesli Crumble with Blackberry Sorbet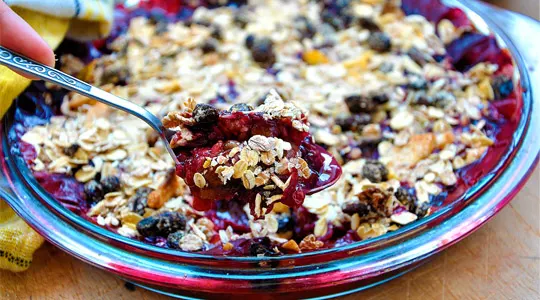 Make this baked plum crisp with blackberry sorbet and be amazed by the awesome flavors and textures! It's sugar-free and healthy too!
Ingredients
Muesli Crumble
7-8 plums, pitted and sliced
300-450g (about 3-4 cups) blackberries, I used frozen but you can use fresh as well
65g (about ¾ cup) muesli, preferably plain
1 ½ Tbsp whole wheat flour
any healthy sweetener you want, to taste (I used stevia extract)
Backberry Sorbet
300g (2 cups) frozen blackberries
1 lime/lemon's juice
healthy sweetener, to taste
Instructions
Heat the oven to 300°F.
In a large bowl, add sliced plums, blackberries, flour and sweetener (you can use stevia, honey, maple syrup, brown sugar etc.) and mix well.
Pour the mixture in a glass baking dish and spread evenly.
Sprinkle muesli on top until all covered. (be careful not to use too much muesli; use just enough to cover the fruits with a thin layer)
Place in oven for 20-25 minutes.
Serve with 2 scoops of sorbet!
Nutrition Information
Yield
6
Amount Per Serving
Calories

163
Total Fat

0.7g
Carbohydrates

37g
Protein

2g