Do you like poached pears? Then you must try this special recipe for white wine poached pears with vanilla-pistachio blondie! It's simply unique!
After sharing my recipe for red wine poached pears with chocolate brownie earlier, I have another ace up my sleeve for you today. Yes, it's another poached recipe, but this time we're playing with white wine. I'm talking about these amazing white wine poached pears with vanilla-pistachio blondie, of course!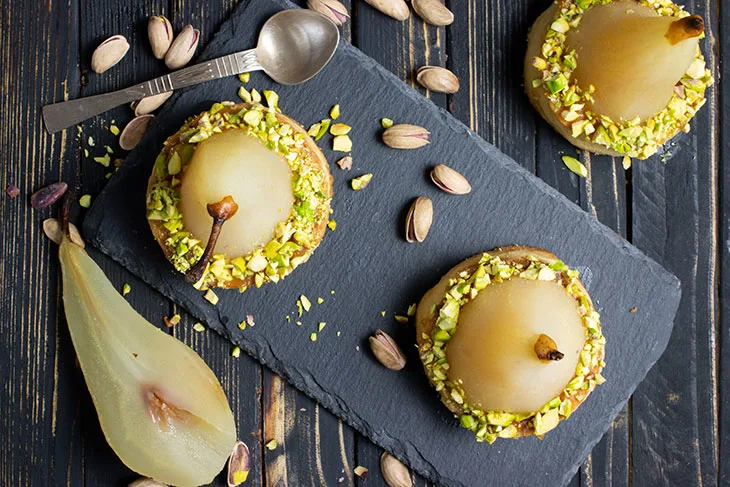 This recipe is basically the 'lighter' version of my red wine poached pears, you guessed it right. And let me tell you why it works. First of all, poached pears are simply incredible. An out-of-this-world experience. A gift from above. Then, you may already know how much I love blondies (the vanilla version of brownies). And lastly, who can resist when pistachio is involved? For me, this is THE recipe for success!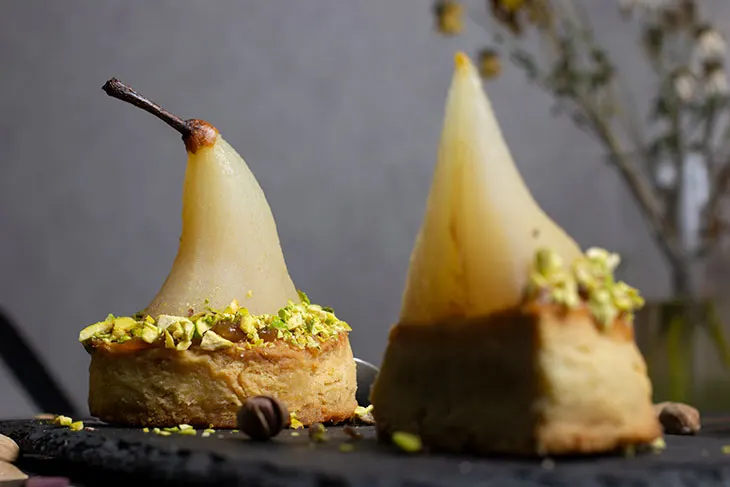 Even though most recipes for poached pears out there include red wine, let me tell you right from the start that white wine works just as well for this process. Sure, the result won't be as pinkish and gorgeous, but the taste is simply divine and irresistible. Red wine poached pears are romantic, but white wine makes them fairy-like, while the texture will be just as tender. It's all about preference, after all! 😉
And to perfectly complete the yummy pears poached in white wine, I chose to combine them with a vanilla-pistachio blondie. These two elements – the pears and the blondie – are simply amazing by themselves. But when you combine them? Oh. My. God. Amazing is an understatement, trust me. 🙂
Pears are really underrated if you ask me. And I didn't like them much when I was little either. I had to grow up and start experimenting in the kitchen in order to fully understand that this rather common fruit is a hidden gem. And, in all honesty, cooked fruit needs a little more recognition and popularity because it's just SO good!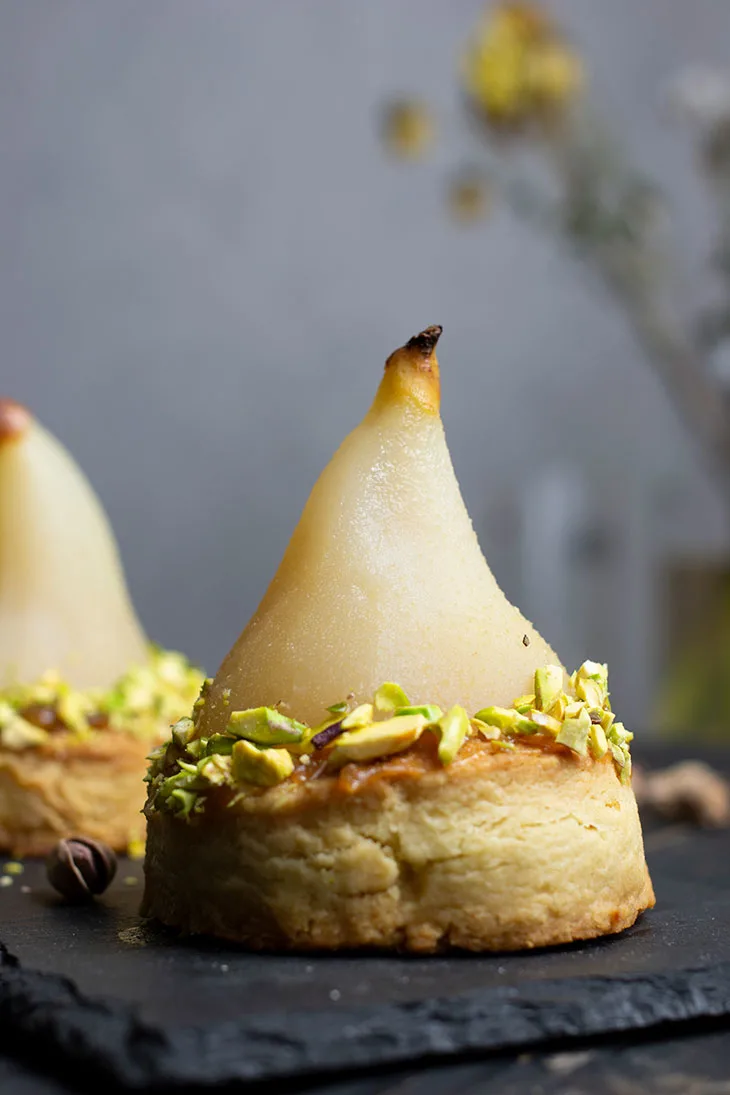 You may already know that I'm not a huge dessert eater. Sure, I love some homemade vegan ice cream from time to time and some chocolate lime tart, that's for sure. But I'm not constantly craving a sweet bite after lunch. But when it comes to these white wine poached pears… well, they're something else, I can assure you!
I could eat these pears every day if I could and I would still think they're extremely yummy and special. You just can't get bored of this flavor and texture! And what I love most about this recipe is that it isn't extremely sweet. It's just right.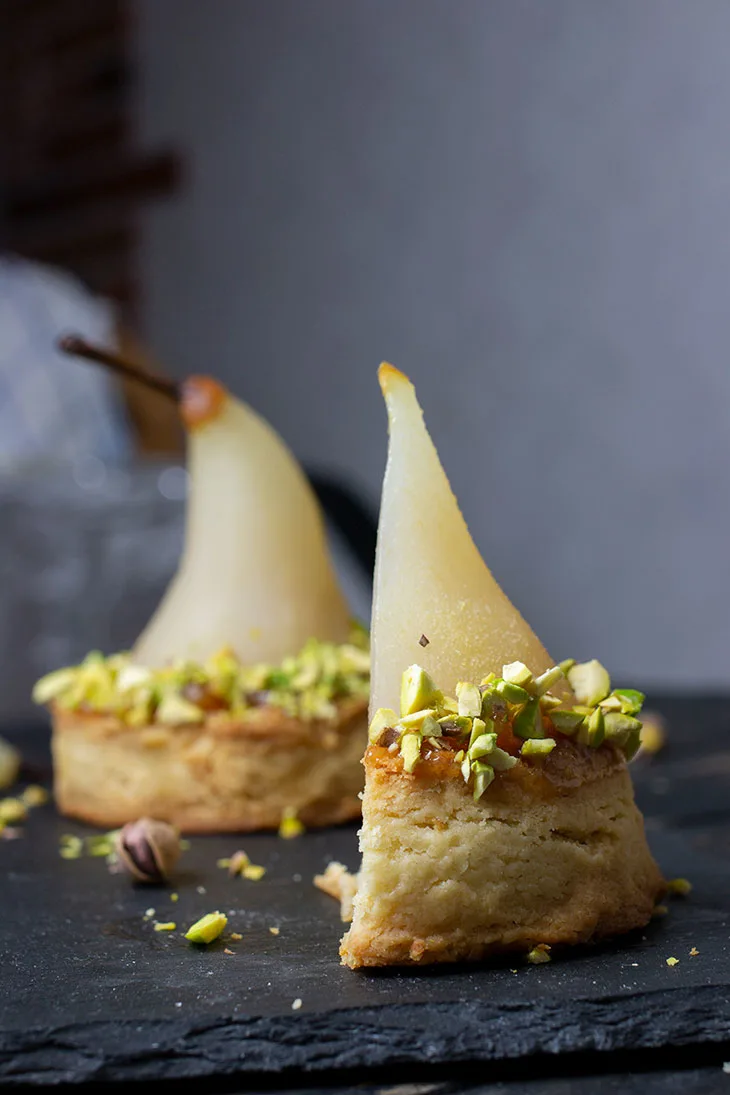 Simmering the pears in white wine really brings up their aroma. And it's gonna be intense, trust me! You can already forget about the plain, boring pears! Plus, their new, tender texture is something really special. And today I chose to combine these elements with a subtle, fluffy vanilla-pistachio blondie. Because if there's some indulging to be done, let's do it properly, shall we?
If you want to really go crazy, you can serve these white wine poached pears with a scoop of vanilla ice cream on the side. For some, it may sound a bit excessive, but some will simply get addicted to this dessert. There's no wrong side here!
White wine poached pears are actually pretty popular in France, so let's make them just as popular worldwide, shall we? After all, they're so easy to make and even easier to eat, hehe!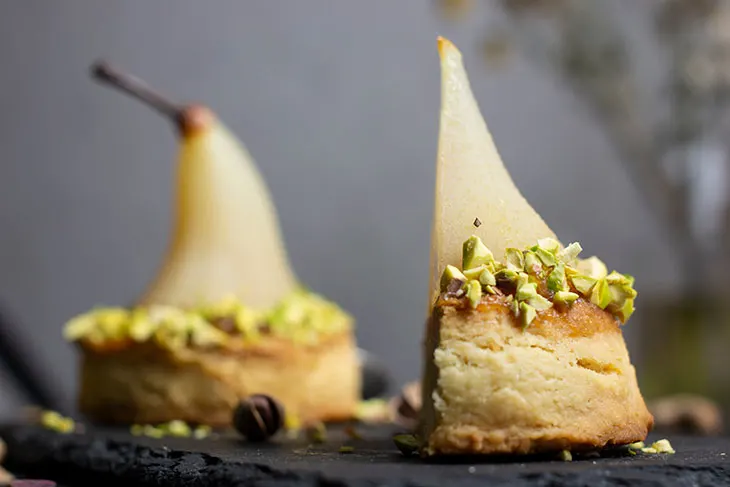 TIP: The only rule when it comes to the wine you're using is to use a good quality one. If you'd drink it, then you can use it to cook this dessert as well. I recommend a Riesling or a Chardonnay this time if you want a sweet result, as dry wines tend to be a bit too 'harsh'.
Now I hope I convinced you to try this amazing, decadent dessert. Be it for a special occasion or just to treat yourself at home during the weekend, there's no wrong or right time to make these white wine poached pears. Just be ready to be impressed, as they're SO good!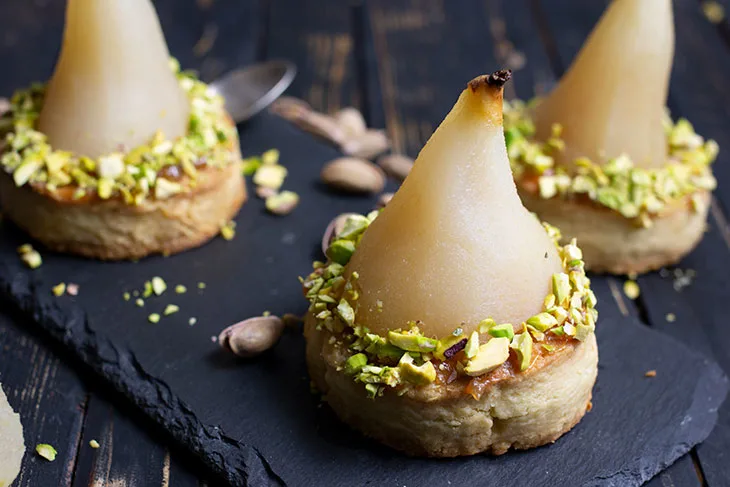 In case you decide to give this recipe a try, be sure to come back here and drop me a line in the comments down below – I'm so curious to find out if you loved them as much as I do!
Yield: 6
White Wine Poached Pears with Vanilla-Pistachio Blondie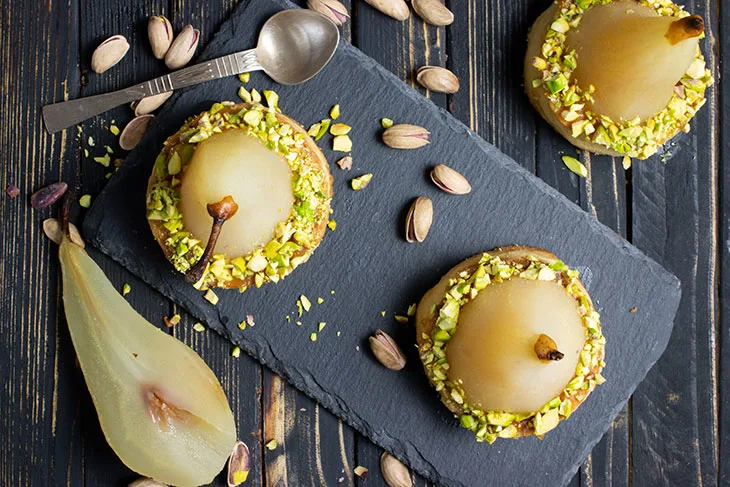 Do you like poached pears? Then you must try this special recipe for white wine poached pears with vanilla-pistachio blondie! It's simply unique!
Total Time
1 hour
5 minutes
Ingredients
For the blondies:
150g (1 cup) flour
50g (¼ cup) brown sugar
50g (6 Tbsp) butter, at room temp (or vegan butter)
1 flax egg - mix 1 Tbsp of ground flaxseed with 3 Tbsp of water. You can also substitute for one large egg if you're not vegan.
1 tsp baking powder
½ tsp cinnamon
2 tsp vanilla extract
¼ tsp salt
For the poached pears:
6 small pears
White wine
200g (1 cup) sugar
1 lemon
1 vanilla bean
50g (½ cup) pistachios, chopped
Instructions
In a bowl, cream the butter and sugar using a hand mixer.
Add the vanilla and flax egg and combine.
In a separate bowl, combine and mix the flour, baking powder, cinnamon and salt then add them to the wet mixture.
Mix with the hand mixer.
Place round cookie cutters on a lined baking pan, pour the mixture and bake at 180 degrees C for 15-20 mins.
Let them cool completely.
Peel and deseed the pears. In a pot, add the pears and enough white wine to cover them. Add the zest and juice from the lemon, and vanilla bean. Once simmering, add the sugar. Stir well and cook for 15-20 minutes. Take out the pears, cut the bottom part and place them on the blondies. Sprinkle pistachios around the pear. Cover the pears with 1-2 Tbsp of the wine mixture.
Nutrition Information
Yield
6
Amount Per Serving
Calories

444
Total Fat

19g
Saturated Fat

9g
Trans Fat

0g
Unsaturated Fat

10g
Cholesterol

93mg
Sodium

342mg
Carbohydrates

63g
Fiber

7g
Sugar

50g
Protein

6g
I strive to keep the information as accurate as possible but make no warranties regarding its accuracy. I encourage you to make your own calculations using your preferred nutrition calculator.