Romantic dessert? Yes, baby, bring it on! Here's how to make the most wonderful red wine poached pears. On top of an incredible chocolate brownie, of course!
Ah, yes, the month of love is here. Yes, I'm talking about February. Yes, I agree, love should be celebrated every day, not just on February the 14th. But let's face it: isn't it sweet when you celebrate this special day with your other half? I'm skeptical (and kind of a grumpy cat) about this kind of celebration too, but I won't say no to a romantic dessert. No, sir, I'm human too! 🙂
And while I was thinking about some pretty desserts that would turn V-Day into a real celebration, I came up with the perfect idea: red wine poached pears. Come on, nothing can beat this! Just look at them!
Hey, don't be sad, please. In case you're single (and ready to mingle), you can VERY WELL prepare these red wine poached pears all for yourself. Make an entire pan, treat yourself! Or invite some friends over and swoon them with this elegant dessert. They won't say no, I assure you! 😉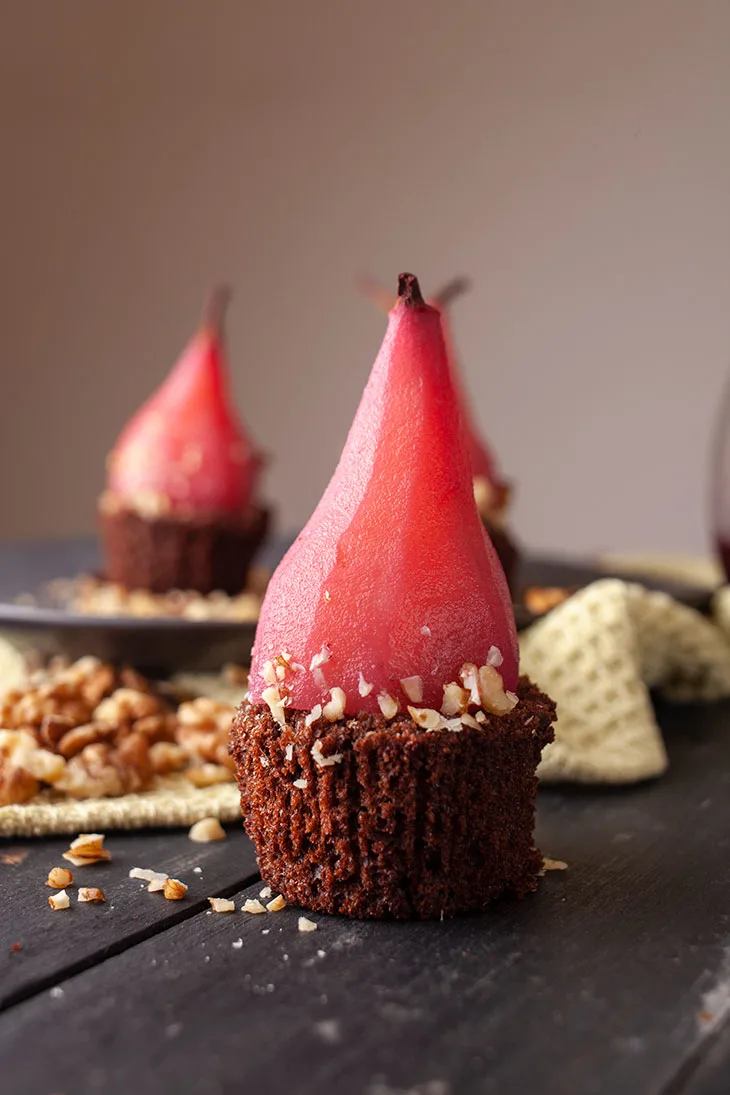 Red wine poached pears are the best dessert idea for February – or for any other moment when you feel like indulging in something special. And let me tell you why.
First of all, they're simply gorgeous. No, not just gorgeous – they're actually worthy of being put on the cover of a foodie magazine. The color, the silhouette, the fluffy brownie on the bottom. Ah, perfection!
And don't even get me started on the flavor… it's absolutely insane! The pears are infused in a combo of red wine and incredible spices (I'm talking about star anise and vanilla, heh). Then, after boiling, the wine transforms into a syrup. So the pears are already heaven-sent. What's next? We combine them with some brownie muffins with plum jam and that's it. And what more could you need? They're simply INSANE!
If you want to be extra (but please, read with caution), you can even add one or two scoops of homemade vegan ice cream when serving these red wine poached pears. Vanilla works best if you ask me. Or peanut butter. But that's only if you're ready to impress. They're addictive like this, by the way. You have been warned!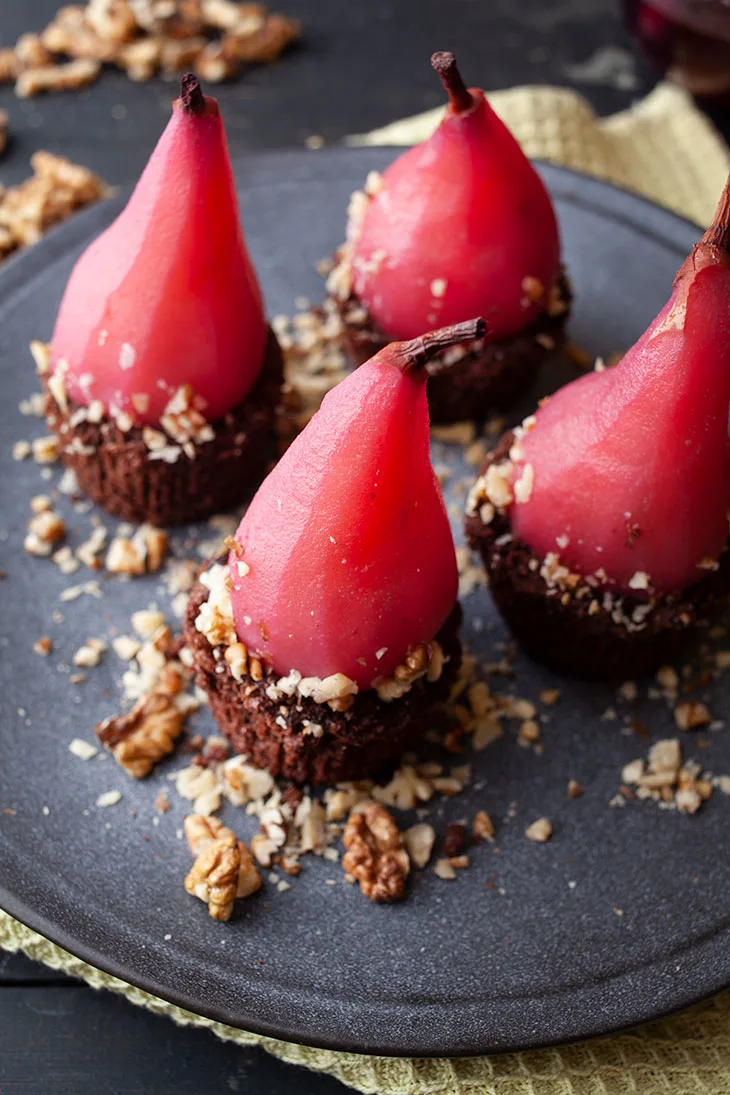 A short note about the wine: dry red wine works best in this combo and it's the most recommended. You can either use a Cabernet Sauvignon or a Merlot – either one you prefer!
After all, what could be more romantic than red wine and chocolate? Literally nothing! So why not combine the two into one of the most amazing desserts I ever made on this blog (and ever tasted, if I have to be honest)? And the best part is that you'll make this all by yourself. So the result will make you super proud, I promise. Especially if you do it out of love. For your partner or for yourself – there's no wrong answer here.
Now let's get real for a bit. This recipe is super easy and quick BUT. Yes, there's a "but". You'll have to be a bit patient with the pears, as they take a while to reach that perfect level of poached-ness that will offer them that incredible flavor and tenderness. After poaching, you'll have to leave the pears to reach room temperature for a bit. So that implies some waiting, what can you do?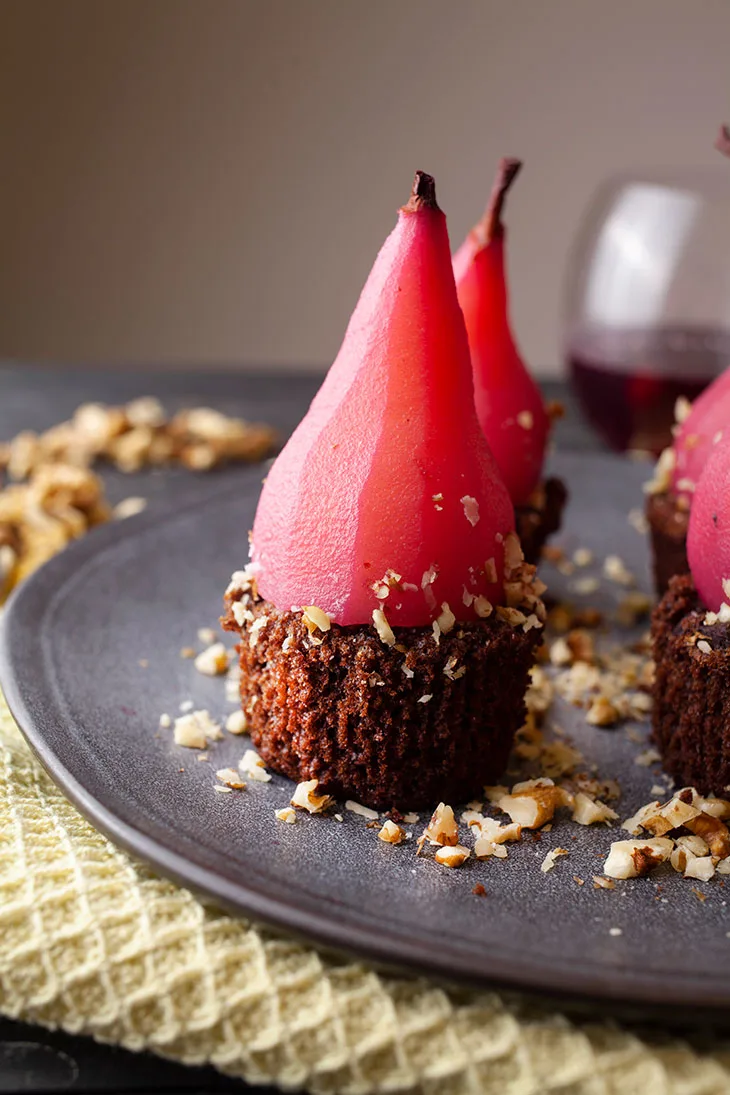 My tip here is to prepare the poached pears one day before you want to eat these delicious red wine poached pears. Or early in the morning, so they can cool off. Meanwhile, you can prepare the chocolate brownie and assemble everything. Again, the process is not hard at all, it just implies a bit of waiting!
One thing I love most about this recipe is that the result is super impressive. Your loved ones (or, again, yourself) will simply love it – the looks, the taste, the texture. Everything! It's a really special dessert that has to be served on a special day.
The process is flexible as well. You can prepare individual poached pear portions like I did today, or you can prepare a big round pan of brownie and top it with the pears – this way you'll end up with a proper cake rather than some brownie muffins.
It's spicy, it's tender, it's sensual, it's sweet and it's really special. Basically everything you need to celebrate Valentine's Day this year. And it's 100% vegan too, so it really doesn't get better than this.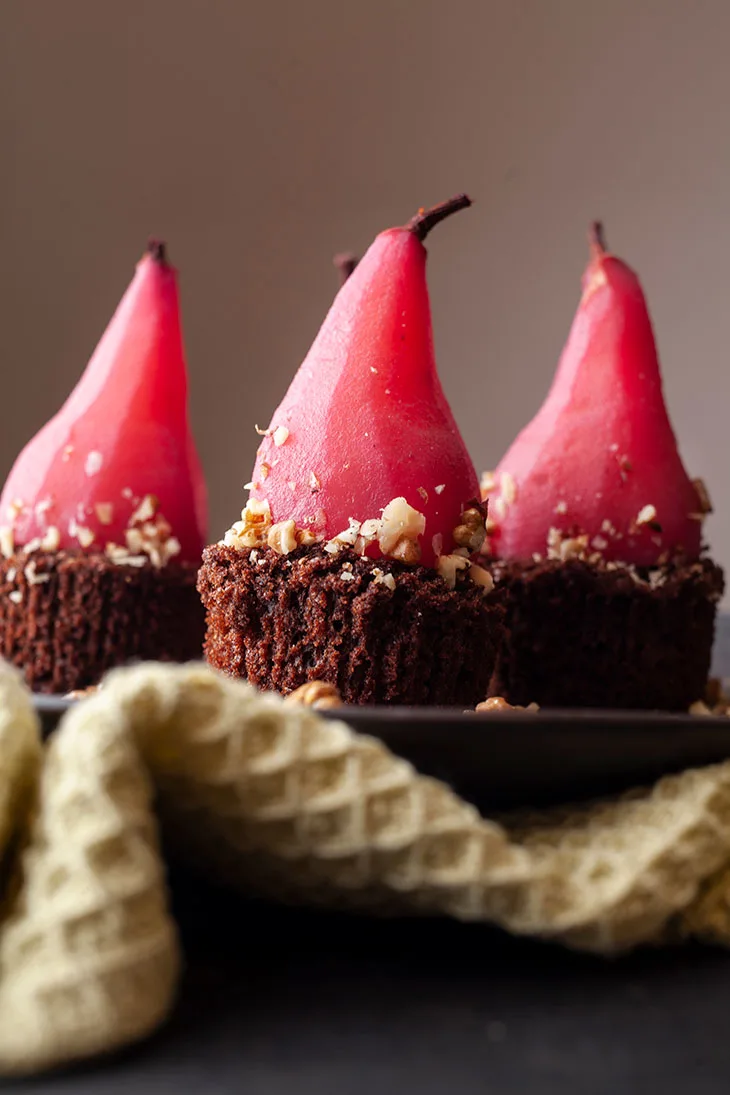 If you decide to give this recipe a try – first of all, get ready to have your mind blown. And second of all – don't forget to tell me how it went. Happy cooking and happy indulging!
Yield: 6
Red Wine Poached Pears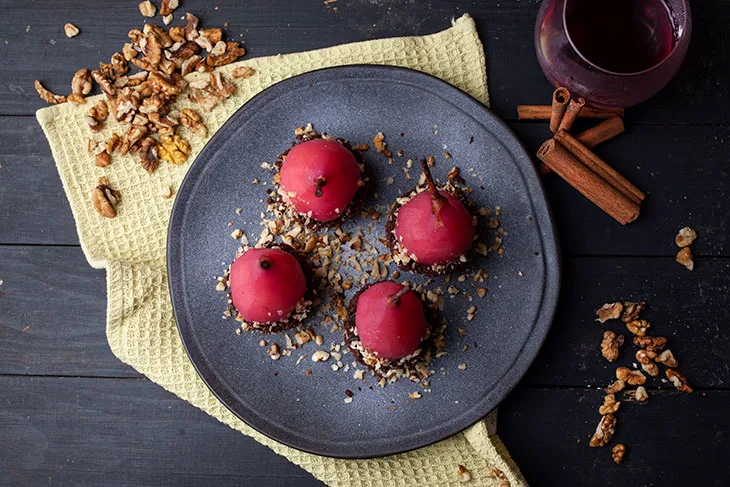 Romantic dessert? Yes, baby, bring it on! Here's how to make the most wonderful red wine poached pears. On top of an incredible chocolate brownie, of course!
Total Time
1 hour
20 minutes
Ingredients
200g (1 ¼ cups) all-purpose flour
50g (4 Tbsps) brown sugar
100g (1 cup) walnuts, chopped
4 Tbsp cocoa powder
3 Tbsp plum jam
200ml (1 cup) sparkling water
50ml (1.7 oz) grapeseed oil
a pinch of sea salt
7g (1 ¾ tsp) baking powder
1 tsp rum extract
For the pears:
500ml (2 cups) dry red wine
70g (⅓ cup) caster sugar
1 vanilla stick
2 whole star anise
2 cinnamon sticks
1 vanilla bean, split
4 pears, peeled and deseeded
Instructions
Put all ingredients, except the walnuts, in your food processor and mix well. Add chopped walnuts and pulse once or twice.
Grease a muffin pan. Divide the composition in each muffin cup evenly.
Preheat oven at 180C/375F. Let the brownies bake for 30 minutes.
Meanwhile: prepare the pears:
In a pot, add the pears and enough red wine to cover them.
Add the anise stars, cinnamon sticks, and vanilla bean.
Once simmering, add the sugar. Stir well and cook for 20 minutes.
Take out the pears, cut the bottom part and place them on the brownies.
Sprinkle with nuts and pour over some wine mixture.
Nutrition Information
Yield
6
Amount Per Serving
Calories

262
Total Fat

3g
Saturated Fat

0g
Trans Fat

0g
Unsaturated Fat

2g
Cholesterol

0mg
Sodium

32mg
Carbohydrates

52g
Fiber

5g
Sugar

25g
Protein

3g
I strive to keep the information as accurate as possible but make no warranties regarding its accuracy. I encourage you to make your own calculations using your preferred nutrition calculator.