Risotto lover? Autumn fan? Then one thing's for sure: you have to try this amazing vegan pumpkin risotto. Perfectly delicious and healthy as well!
I love a well-made risotto. Creamy, comforting, and full of carbs, I truly believe this dish to be one of the most amazing inventions on earth! 🙂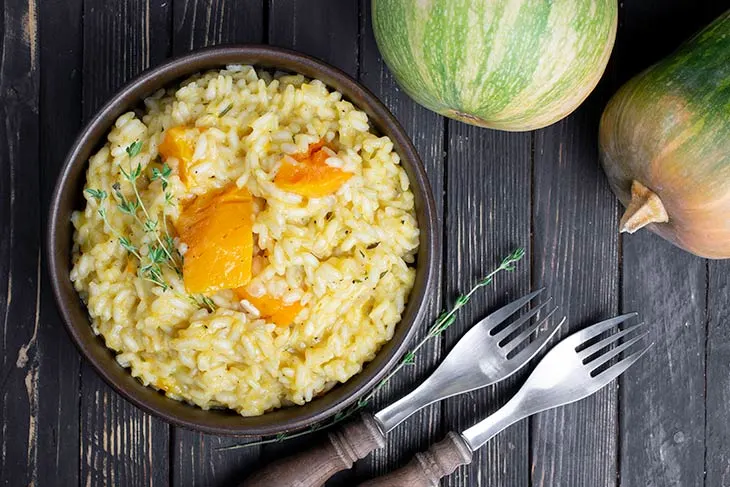 If you're not familiar with it, risotto is a northern Italian rice dish cooked in broth until reaching a perfectly creamy consistency. This is suitable for both vegans and people who eat meat, as, according to preferences, the broth can be derived either from meat or from vegetables.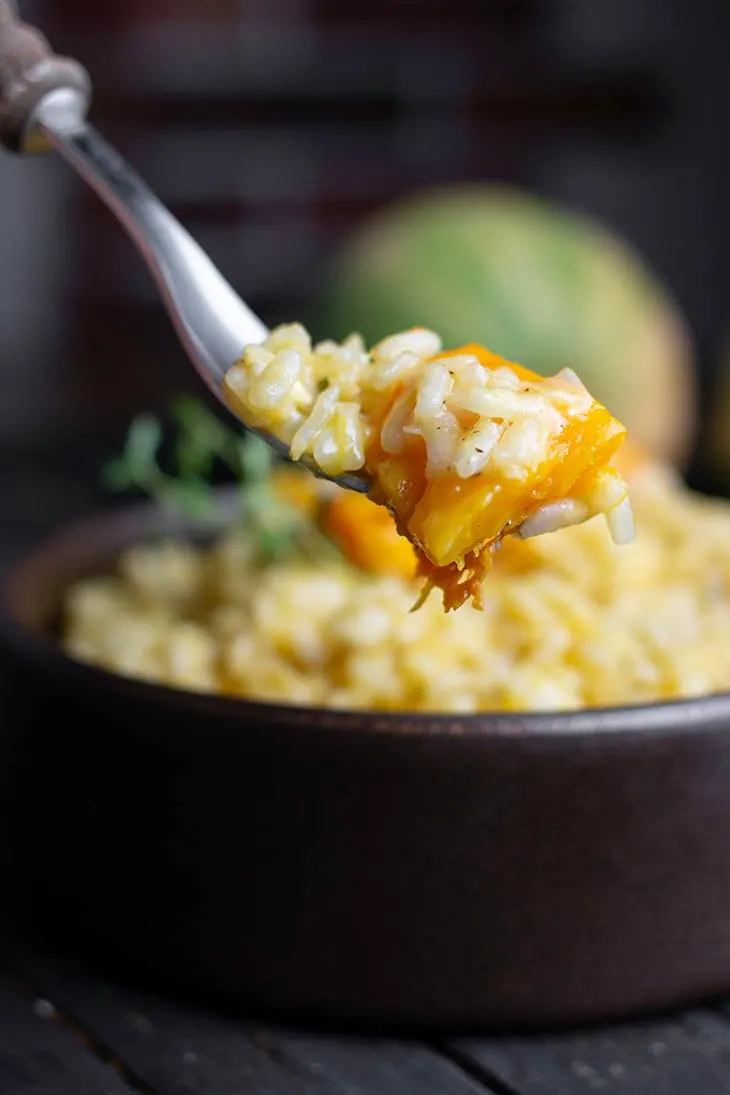 There are a lot of types of risotto, and many of them contain butter (for extra creaminess), onion, white wine, and parmesan.
For this type of meal, it's preferable to use round, medium, or short-grain white rice, as it is more starchy. These types of rice have the ability to absorb liquids and to release starch, thus making them stickier than the long grain varieties. And, as you are about to find out, this recipe is all about starchy, sticky goodness! 😉
The main rice varieties traditionally used in Italy are Arborio, Baldo, Carnaroli, Maratelli, Padano, Roma, and Vialone Nano. This recipe differs a bit from other rice-based dishes in that, firstly, you should not, under any circumstances, wash the rice (this removes most of the starch, and you need that starch for a creamy consistency), and, secondly, it does require constant care and attention.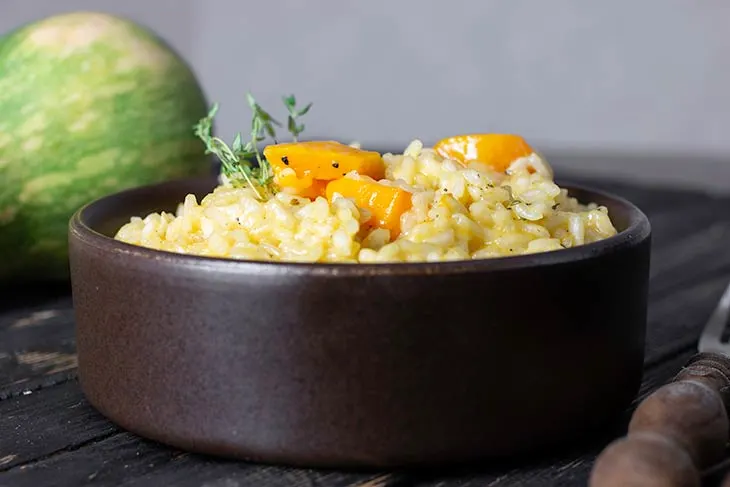 You cannot simply leave this on the stovetop and go about your day. You need to constantly stir and add the liquid bit by bit in order to make sure the risotto ends up super homogenous and creamy!
You can use a bunch of different pumpkin varieties, such as kabocha or butternut squash. They all work pretty much the same, not to mention that they are all packed with nutrients.
That's why pumpkin is one of my favorite ingredients ever and I can't get enough of it. I think the taste is amazing, and if cooked properly, it can reach the creamiest of textures. And to think that it's also super healthy and not frowned upon? Come on!
If cooked right, you can reach a super creamy consistency without butter or parmesan cheese, to keep things vegan. However, if you're a vegetarian, I suggest you go for these, as they are traditionally used and super delicious.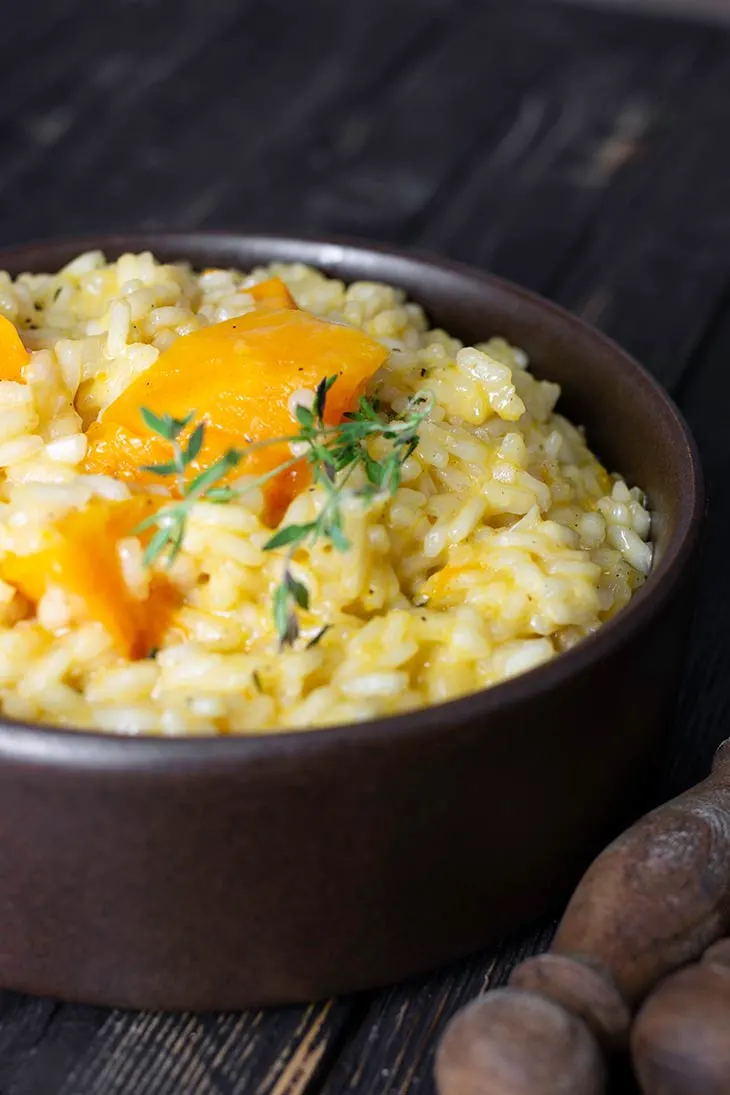 Not only does this pumpkin risotto taste absolutely heavenly – it looks the job too. Thanks to the pumpkin, this risotto has the most wonderful, bright yellow, almost orangey color. If you're going to make this for your next family gathering or Halloween party, it's for sure going to be the star of the show.
I mean, it's so simple, right? Only rice. But boy, does it look impressive! Add a little garnish on top, such as a few pumpkin seeds, and you're good to go. I honestly can't think of a reason you might not like this, other than hating pumpkin, in which case… What? How can you hate pumpkin?
Like all recipes I've added here lately, this one is super comforting and perfect for a cold, autumn day. But you can also make it for a fancier occasion. Since this pandemic situation doesn't seem to end, I always believe it to be really nice when we can make something fun indoors, such as a fancy dinner.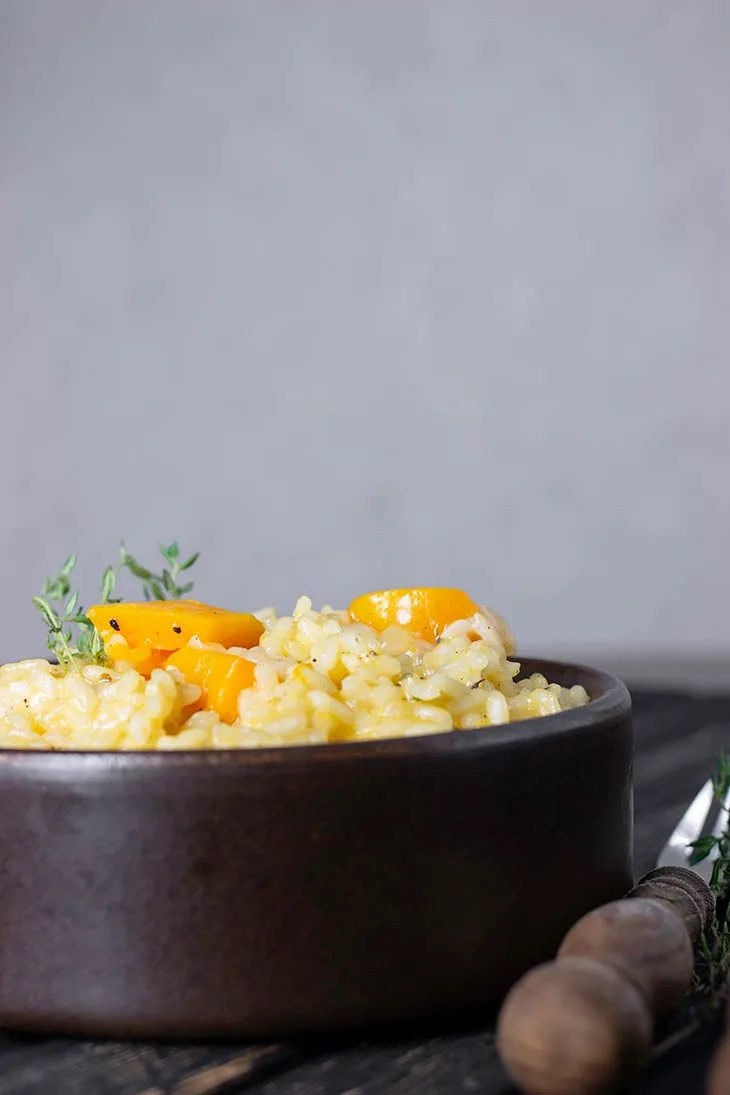 Sure, pizza nights are fun, and so are Taco Tuesdays, but if you really want to feel fancy and out of the ordinary, this pumpkin risotto really does the job. Pair it with a nice glass of wine, and you're sure going to have a nice evening next to your loved one, or with a dear friend.
If you feel like this needs a little more cheese, you can opt for Parmesan, which is traditionally used, or even goat. It works really, really well. What I sometimes like to do is sprinkle a little cheese on top, along with some pumpkin seeds and dried cranberries for texture diversity. The cranberries are sweet and sour, adding a really nice unexpected flavor to the dish. But, in all fairness, when I first made this I thought it was so good that I was really tempted to eat it straight out of the pot, with a spoon.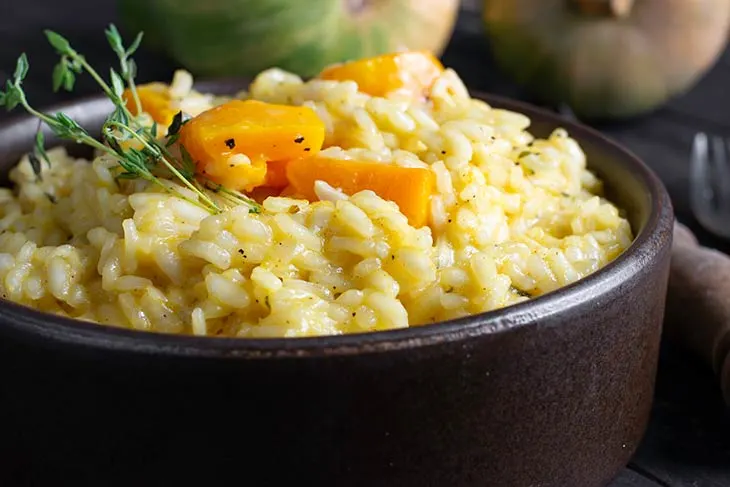 That's about it when it comes to this pumpkin risotto. It's nutritious, delicious, and easy to make. You shall give it a try and see for yourself! 🙂
Yield: 4+
Pumpkin Risotto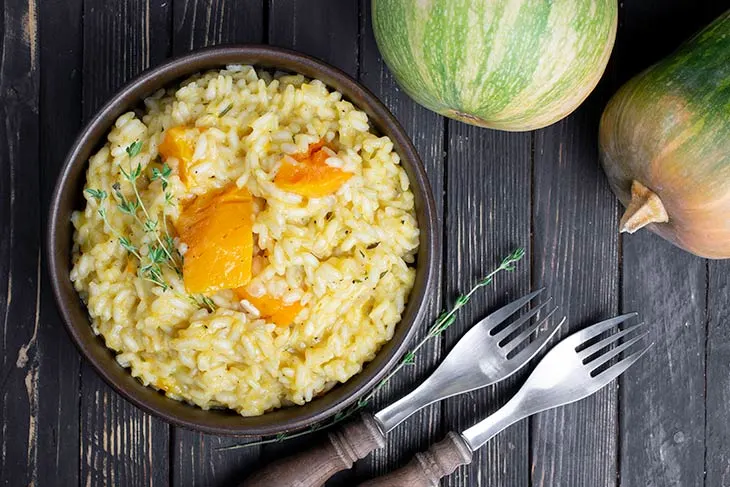 Risotto lover? Autumn fan? Then one thing's for sure: you have to try this amazing vegan pumpkin risotto. Perfectly delicious and healthy as well!
Ingredients
250g (2 cups) pumpkin or butternut squash, cut into cubes
180g (1 cup) Arborio rice
750ml (3 cups) veggie broth or water
1 medium onion, chopped
3 garlic cloves, minced
4 Tbsp olive oil 2 for the roasted pumpkin and the rest for the risotto
some fresh thyme leaves
4-5 Tbsps cup nutritional yeast flakes
Salt and Pepper
Instructions
Coat the pumpkin or butternut squash in some olive oil, season with a pinch of salt, and roast in the oven until cooked.
In a pan, sautee the onion and garlic in olive oil until translucent.
Add fresh thyme and cook for another 30 seconds.
Add the rice and stir for another 30 seconds before adding the veggie broth, little by little.
Add a few tablespoons of broth at a time, stir until it's absorbed by the rice, and then add more.
Repeat until the rice is fully cooked through and the risotto is creamy.
Add the roasted pumpkin/butternut squash and nutritional yeast.
Mix well, adjust the seasoning and serve.
Nutrition Information
Yield
4
Amount Per Serving
Calories

497
Total Fat

22g
Saturated Fat

4g
Trans Fat

0g
Unsaturated Fat

16g
Cholesterol

12mg
Sodium

622mg
Carbohydrates

55g
Fiber

13g
Sugar

6g
Protein

27g
I strive to keep the information as accurate as possible but make no warranties regarding its accuracy. I encourage you to make your own calculations using your preferred nutrition calculator.