Autumn desserts? Yes, sir, give me as many as possible! Here's how to make the most delicious vegan pear cobbler – quick and healthy!
Autumn is probably my favorite season, culinary-wise. I mean, how can it not be? It's nature's most abundant season, the time of year when there's the most food diversity around – fresh fruit and veggies at any corner. After all, it's the time of the harvest.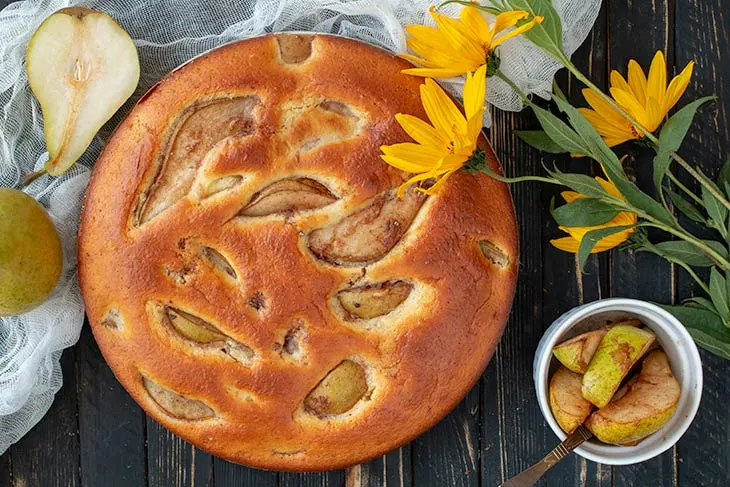 Food diversity means it's a lot easier to eat seasonally this time of year without getting bored. You might wonder why this is so important.
First and foremost, seasonal fruit is fresher, which automatically means it tastes better and it's a lot more nutritious than food consumed out of season, which is generally shipped from other countries. Ever bought strawberries in the winter and noticed they taste like nothing, while during the summer they're so sweet and perfect? This is probably why! 🙂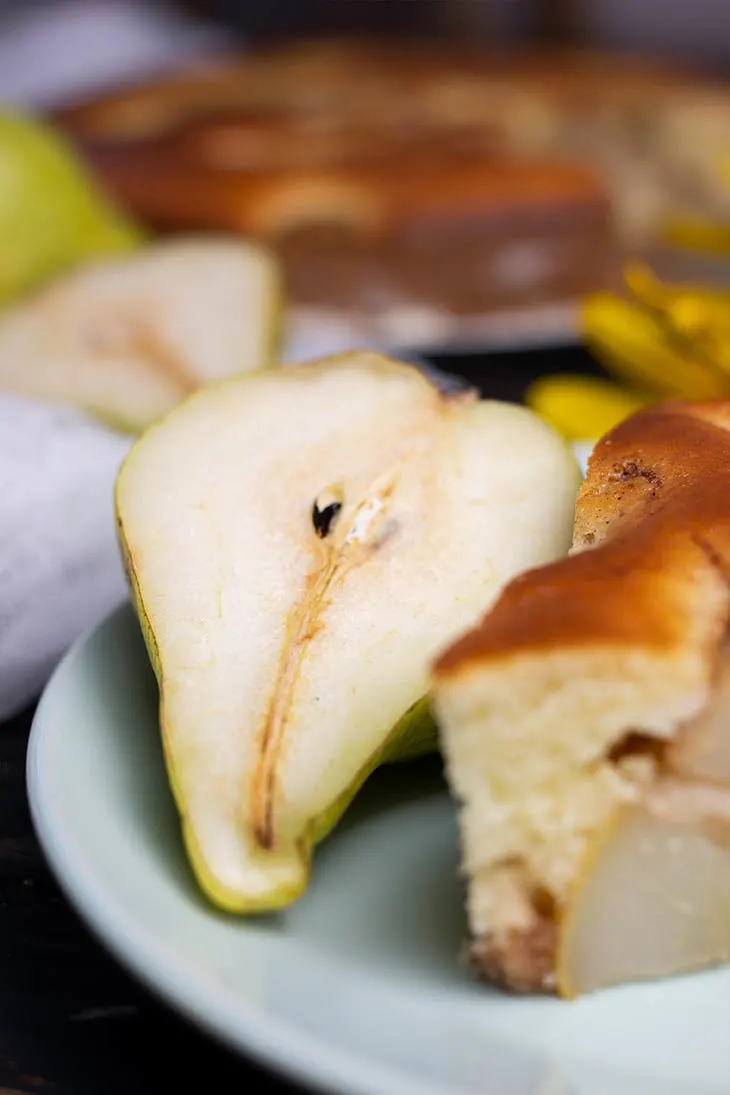 Seasonal fruits and vegetables also contain more nutrients when they're allowed to ripen naturally. Eating locally grown food also helps to support local farms and businesses, which, in turn, helps the economy and community. Moreover, eating this way plays a huge role in reducing our carbon footprint, as locally grown food doesn't require a huge amount of energy – the way shipped produce does.
During autumn, I take immense joy in going to the farmers' market and picking fresh fruit for delicious, homemade desserts. I truly believe this to be the best season for pie baking, not only because you can find fresh apples, pear, and pumpkin everywhere, but also because of the weather.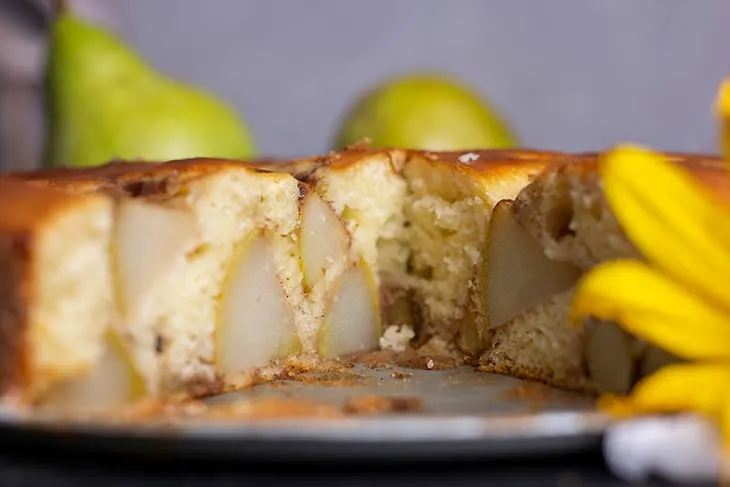 Do you truly enjoy turning on the oven when there's like 40 degrees Celsius outside? Yeah, me neither. But there are few things I love more than the smell of freshly baked pie on a chilly evening when maybe outside is a little bit gloomy and it starts to rain a bit. There's something so calm and peaceful about creating a cozy atmosphere inside your home when the weather outside is less than ideal. And a warm dessert just makes everything better.
This vegan pear cobbler suits this kind of vibe perfectly. And you don't have to be an experienced baker in order to succeed at doing this, since cobblers are, let's say, the more forgiving versions of pies.
In case you're not familiar with this dish, let me introduce you. Cobbler is a type of dish consisting of a sweet or savory filling poured into a deep baking dish and covered with a batter, biscuit, or dumpling before being baked. Easy peasy. It's part of the cuisine of the UK and USA and it's generally confused with a crumble, though it's an entirely different thing.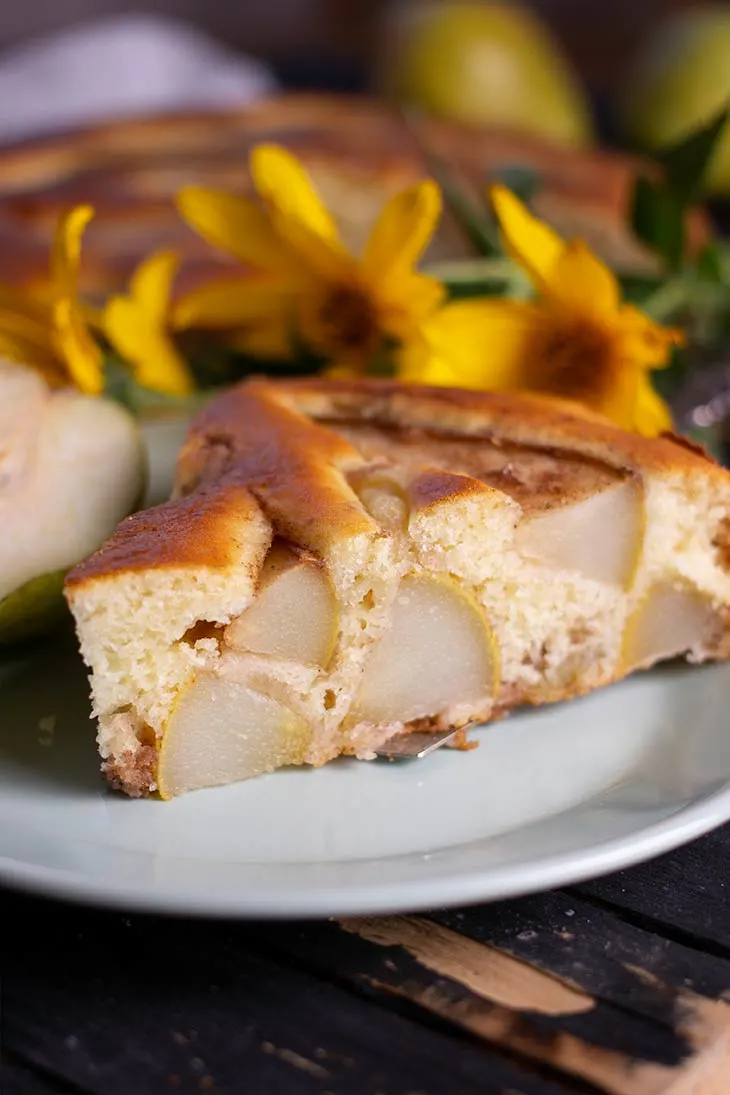 Depending on the variety, cobblers may be cooked on the stovetop or in an iron skillet or pan, with the dough on top of the stewed filling. Cobblers are, most commonly, filled with fruit, and combinations are not that widespread. Popular varieties include blackberry, blueberry, cherry, peach, and so on.
Though savory cobblers are less common, they're a thing as well. They may be filled with vegetables such as tomatoes and onions. In this case, the dough is usually composed of savory crackers which may be, in turn, flavored. For example, cheese crackers are a common choice when it comes to savory cobblers.
One thing I love about this pear cobbler is the fact that it doesn't necessarily count as dessert – though it can. I consider this to be pretty healthy, so healthy, in fact, that you might consider having it for breakfast. I made sure to use a whole bunch of spices for this recipe: cinnamon (LOTS of cinnamon), ginger, nutmeg… basically, every spice you can think of that screams "autumn". 😉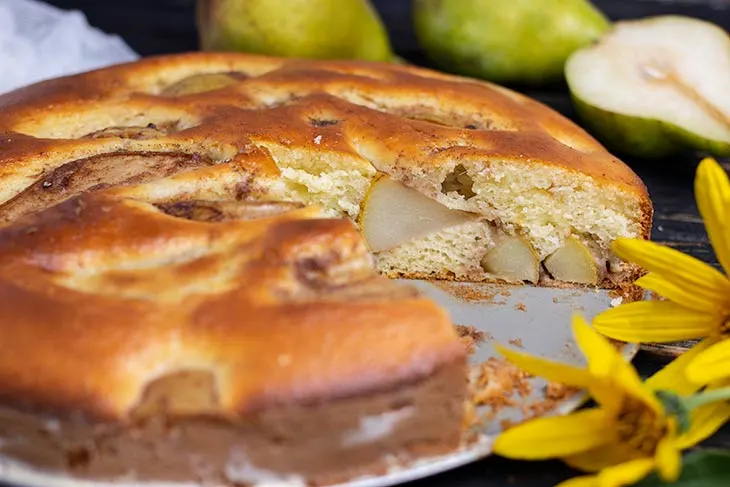 When it comes to your pears, the fresher they are, the better. I highly recommend going to your local farmers' market and picking them out yourself. Few things are as rewarding as bringing home delicious fresh produce and helping out the locals in the process.
This is the type of dessert that is so delicious and filling that it can totally substitute a meal, as I mentioned above. I can really picture having this for breakfast, along with a cup of steaming hot coffee and maybe a few dollops of yogurt as a topping. If you want to take it to the next level and serve it as dessert, you can either consume it as it is, after a meal, or alongside a generous scoop of your favorite ice cream. The combination is to die for!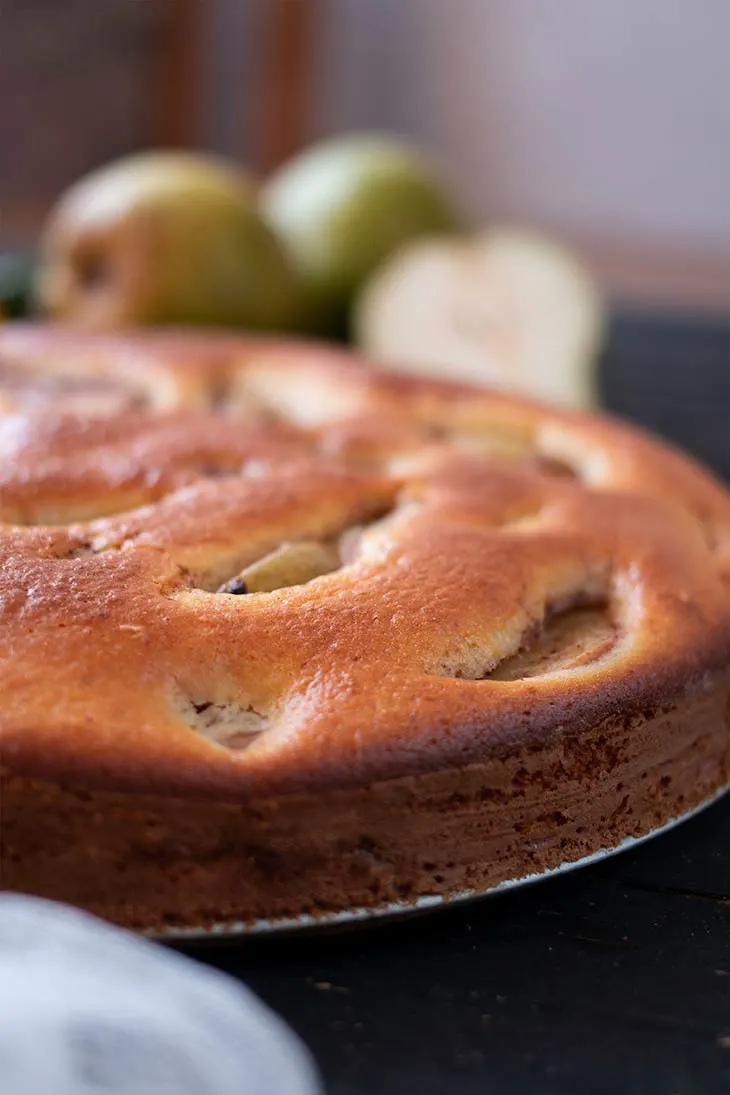 Whether you decide to consume this in the morning or as a luscious dessert, I can't recommend this recipe enough and I hope you'll get baking! You won't regret it.
Yield: 8 servings
Vegan Pear Cobbler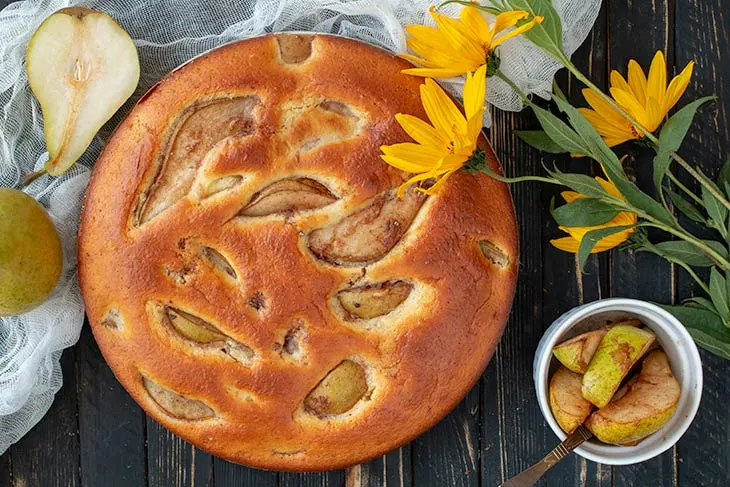 Autumn desserts? Yes, sir, give me as many as possible! Here's how to make the most delicious vegan pear cobbler - quick and healthy!
Ingredients
5 medium pears
85g (⅔ cup) all-purpose flour
85g (⅔ cup) whole-wheat flour
50g (⅓ cup) brown sugar
50g (⅓ cup) granulated sugar
80ml (⅓ cup) sunflower oil
120ml (½ cup) non-dairy milk
3 Tbsp ground flax seeds, or psyllium husks
1 Tbsp ginger, grated
1 tsp corn starch
1 tsp cinnamon
½ tsp ground cardamom
1 Tbsp baking powder
1 tsp vanilla extract
Salt
Instructions
Deseed and slice the pears.
Toss with brown sugar, ginger, corn starch, cinnamon, cardamom and set aside.
In a mixing bowl, combine the flour with baking powder and a pinch of salt.
In a different bowl, mix the granulated sugar with the ground flax seeds (or psyllium husks), vanilla extract, non-dairy milk, and oil.
Add the flour and mix well until creamy.
Grease your baking pan with oil, add the peas and pour the batter on top.
Bake at 180 degrees C for 40-45 minutes or until a toothpick comes out clean.
Nutrition Information
Yield
8
Amount Per Serving
Calories

323
Total Fat

11g
Saturated Fat

1g
Trans Fat

0g
Unsaturated Fat

9g
Cholesterol

1mg
Sodium

267mg
Carbohydrates

56g
Fiber

7g
Sugar

32g
Protein

4g
I strive to keep the information as accurate as possible but make no warranties regarding its accuracy. I encourage you to make your own calculations using your preferred nutrition calculator.