Are you craving something sweet, comforting and super easy to make? No worries, I got you! Here is how to make the best vegan peach crumble pie – for all peach lovers out there!
In my last recipes, I was boasting about how the weather is finally cool enough for me to turn on the oven and get back to more lengthy recipes. The celebration for that is still not over, as I realized I really missed all the pies and bakes that I couldn't approach during summer.
My enthusiasm is probably paying off, as all the recipes I tried so far have turned out great. So today I decided to go for something a little bit more challenging, still on the dessert side! So here's one of my favorite recipes, one of the BEST pies ever – peach crumble pie! And to my great pleasure, it turned out absolutely amazing!
I said that it might be a little bit challenging as getting the right consistency of the dough is essential for crumble pies. Too soft and it won't stick together, too much flour and it might turn out hard as a rock. But over time I perfected the recipe so that this pie will be perfect. And I really think I nailed it this time! Perfect crisp crumbles, sweet but still firm and not overly mushy peach filling, this recipe is really a hit!
If you too are dreaming of a perfect crumble pie you should stick around, as today you are going to learn how to prepare exactly that. Buttery crumbles, soft fruity filling, and perfect pie exterior – just imagine the feast it will be for your tastebuds! 🙂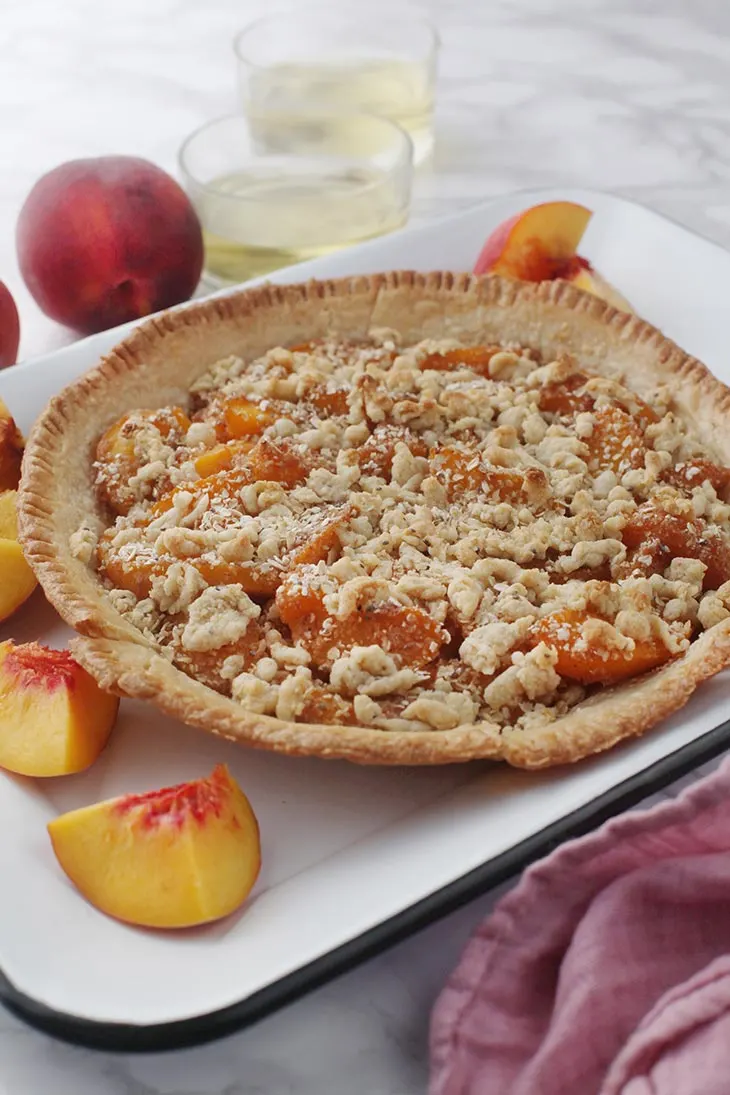 In case you are wondering if things can get even better, believe me, they can: it's all completely vegan! No dairy, no eggs, and absolutely no meat! Many non-vegan friends are asking me how can I survive following a vegan diet and not eating all of the delicious desserts that contain milk. Little they know about the vegan world!
There are absolutely no restrictions when it comes to cake and pie recipes – we have vegan alternatives for almost any sweet recipe we can think of! I think this is a thing more people should know: we don't live in a world where no eggs and no dairy means no cakes and no pies!
And none of the deliciousness is lost during the process of recipe 'veganization' (if I'm allowed to use this probably non-existent word). Most of the time people don't even feel the difference… and even more often the taste of vegan recipes are even better than the original ones, if I may say so myself!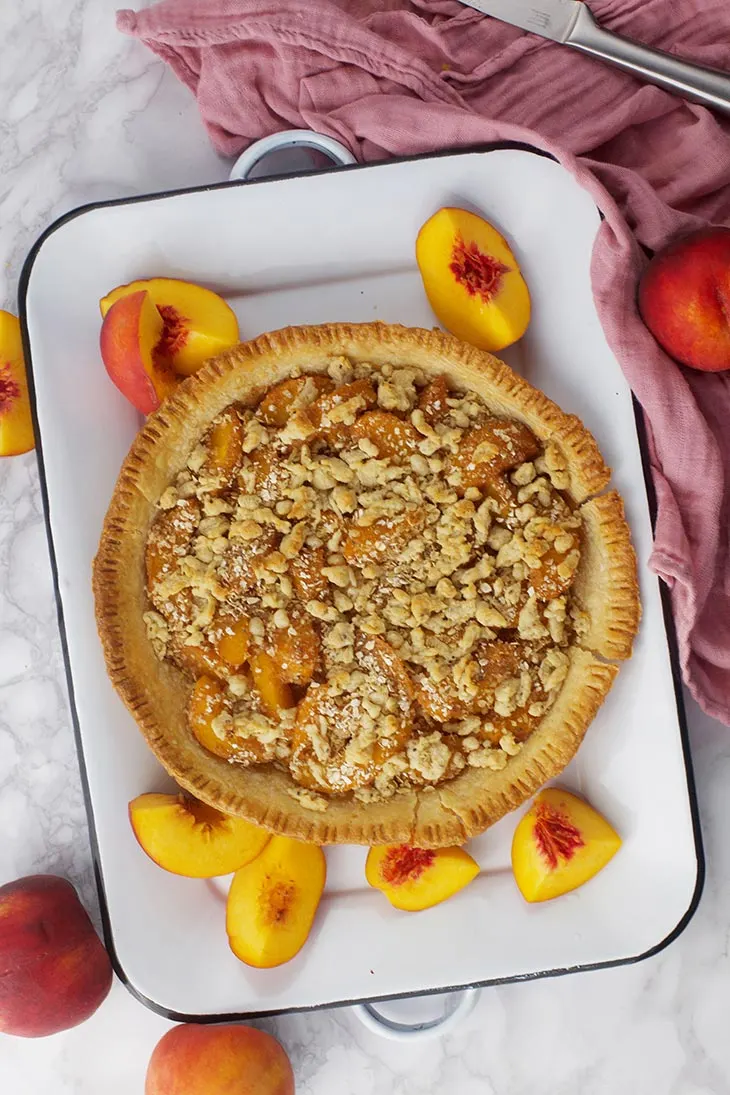 So maybe it's a good idea to share this amazing pie with all your friends. Spread the sweetness, spread the deliciousness and spread the wonders of the vegan cuisine!
There's a great chance that many people are simply not aware of the fact that they can switch to a vegan diet without actually missing out on anything! And maybe a piece of this perfect vegan peach crumble pie would help someone make a good decision!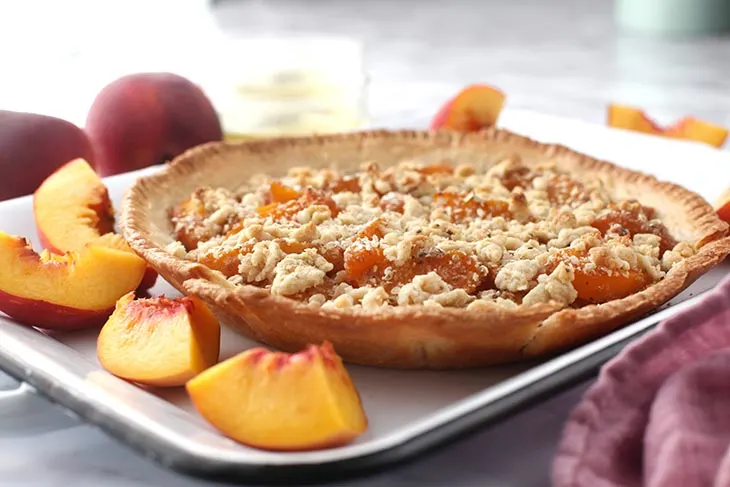 Before proceeding to explain the steps you need to follow in order to make yourself a beautiful vegan peach crumble pie, I just want to give you one more tip. I just want to make sure that the results will be perfect.
It's essential that your peaches have the right consistency! Too ripe and your pie filling will get soggy. Not ripe enough and the peach taste in your pie won't be present enough! So when you go for peach shopping, make sure that the peaches are just a little bit soft, but without any brown spots!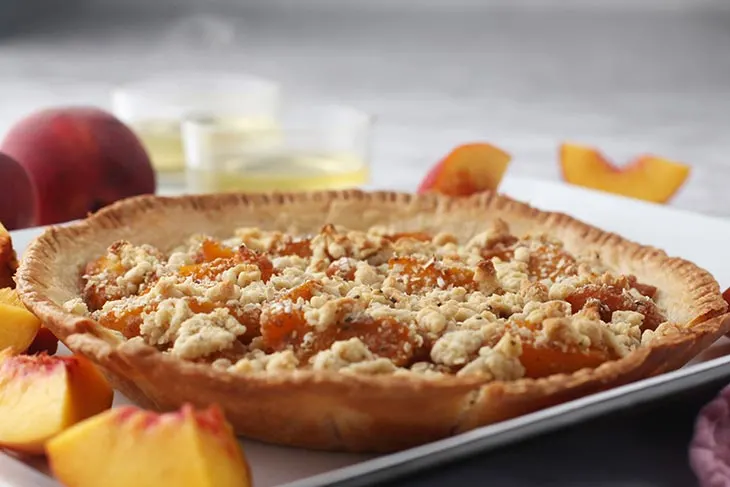 Another option would be to buy some firm peaches and keep then in a paper bag for one or two days until they get a little bit softer. It's even better to buy more peaches than you need – during the process some of them might develop very soft brown spots, so it's better to have some extra ones to choose from. Just eat the rest, no worries! 🙂
Now that I shared with you all the tips and tricks I have for the most perfect peach crumble pie, I think we are now ready to head to the kitchen. I must confess that I am excited when it comes to preparing the pies.
I've always loved to knead the dough with my bare hands, it makes me feel that I get into real contact with all the ingredients. It simply gives you a special connection with your pie.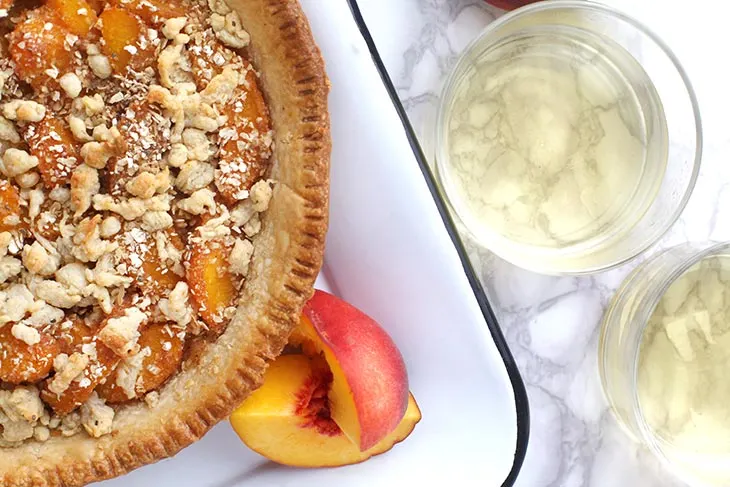 All that being said, follow my recipe and you will end up with a perfect pie, I promise! Just tell me in the comments how it all worked out for you, I'd love to hear all about it!
Yield: 16
Peach Crumble Pie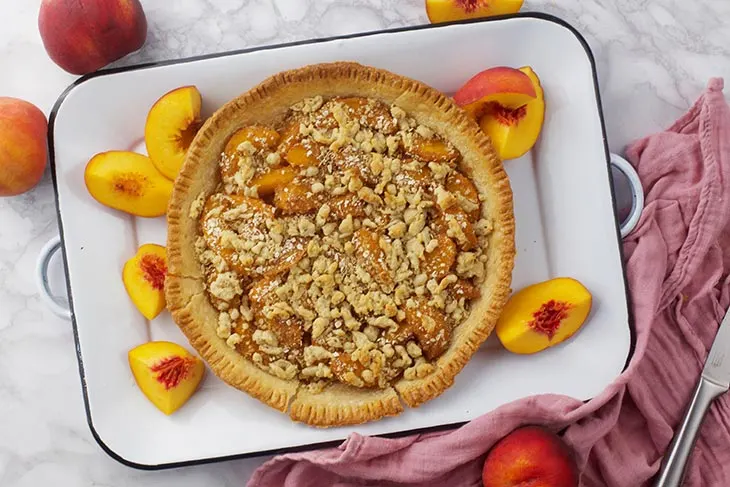 Are you craving something sweet, comforting and super easy to make? No worries, I got you! Here is how to make the best vegan peach crumble pie - for all peach lovers out there!
Ingredients
For the crust:
240g (2 cups) all-purpose flour
2 tsp baking powder
1 tsp salt
1 Tbsp sugar
6 Tbsp almond milk
90g (6 Tbsp) soft vegan butter
4 Tbsp water
1 tsp lemon juice
For the peach filling:
8 peaches, peeled, pitted and sliced
3 Tbsp coconut sugar
1 tsp ground cinnamon
1 Tbsp lemon juice
2 Tbsp cornstarch
¼ tsp salt
For the topping:
1 Tbsp oats
1 tsp chia seeds
1 Tbsp almond flour
Instructions
For the crust:
Preheat the oven to 200 C.
In a medium bowl, combine the flour, baking powder, salt, and sugar.
In another small bowl, combine the almond milk, butter, water, and lemon juice.
Pour the milk mixture into the flour mixture. Stir until combined.
Divide the dough in two.
Roll out one half of the dough on a lightly floured surface with a floured rolling pin, into a circle.
Transfer the circle to the pie pan.
For the filling:
In a large bowl, add the sliced peaches. Add the rest of the peach filling ingredients to the bowl and mix to incorporate. Set aside.
Make the top crumble by mixing the remaining dough with topping ingredients, and add the mixture to the meat grinder.
Cover the pie crust bottom with the peach filling and top with crumbled mixture.
Bake for about 25 minutes or until the edges are golden.
Nutrition Information
Yield
16
Amount Per Serving
Calories

135
Total Fat

59g
Carbohydrates

21g
Fiber

2g
Sugar

8g