Learn how to make a delicious vegan Bundt cake inspired by the authentic German dessert recipe. It's extremely rich in chocolate and has an incredible texture you'll love.
I am sure you are familiar with the world-famous Bundt cake by now and maybe you've already seen countless beautiful pictures of ring-shaped cakes on Pinterest! But have you ever wondered what is so special about a Bundt cake and, moreover, how can you achieve that unique, beautiful shape?
Well, first we have to start with the basics.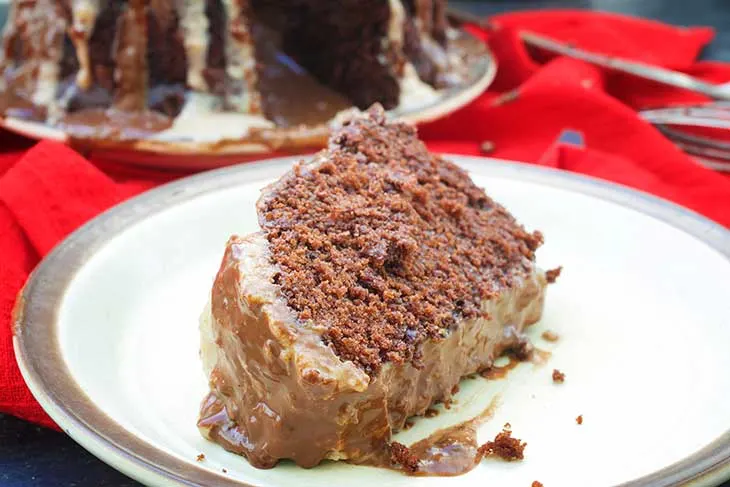 The Bundt cake got its name from the special, ring-shaped pan you bake it in, simply called a "Bundt" pan. Even though there are some recipes dating from 1901 that mention a "bundte" cake, the cookware company "Nordic Ware" trademarked the name "Bundt" when they started producing these special pans in the 1950s and 1960s and ever since then the cake never stopped growing in popularity and people have associated this special type of cake with the aluminum pan.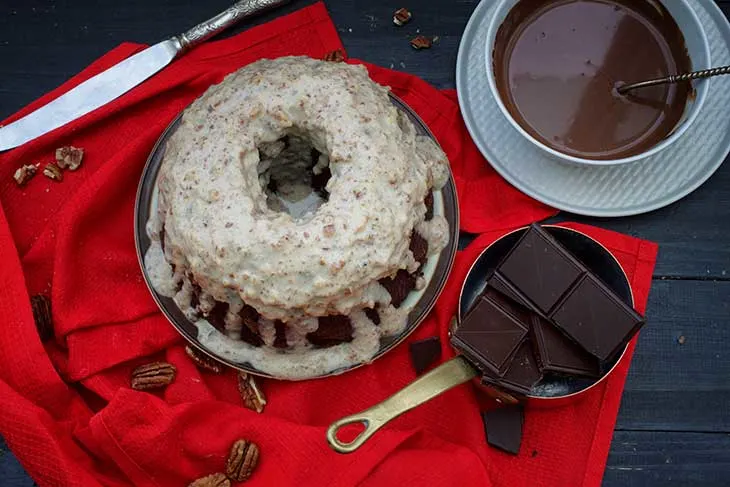 If you are curious to find out more about the traditional, authentic recipe for Bundt cake, we have to say right from the start that there isn't one.
It is said that the "father" of the Bundt cake is Gugelhupf, an old European recipe for a cake similar to a brioche, very popular in Germany, Poland and Austria, but the truth is that you can use countless different recipes in order to make a Bundt cake. There is no right or wrong way to make the dough, the only essential element is the shape – the central hole in the cake given by the pan's shape, to be more specific.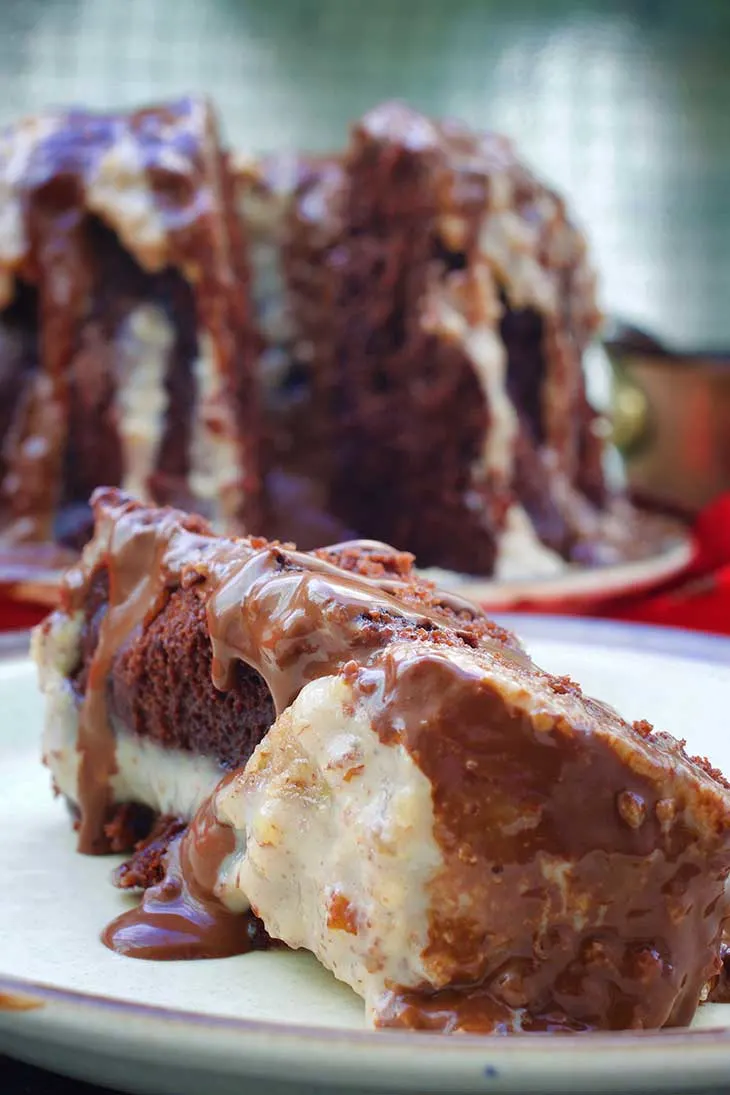 The main idea of this special pan is that, unlike the traditional pan, a bigger part of the mixture touches the surface of the Bundt pan, so the baking is faster and evener.
But what does the word "Bundt" actually mean? There are many opinions on this matter, but we cannot know for sure. It is possible for this word to mean "bunch", as the mixture is shaped around the central tube. In The Netherlands, this type of cake is known as "tulband", which means "turban".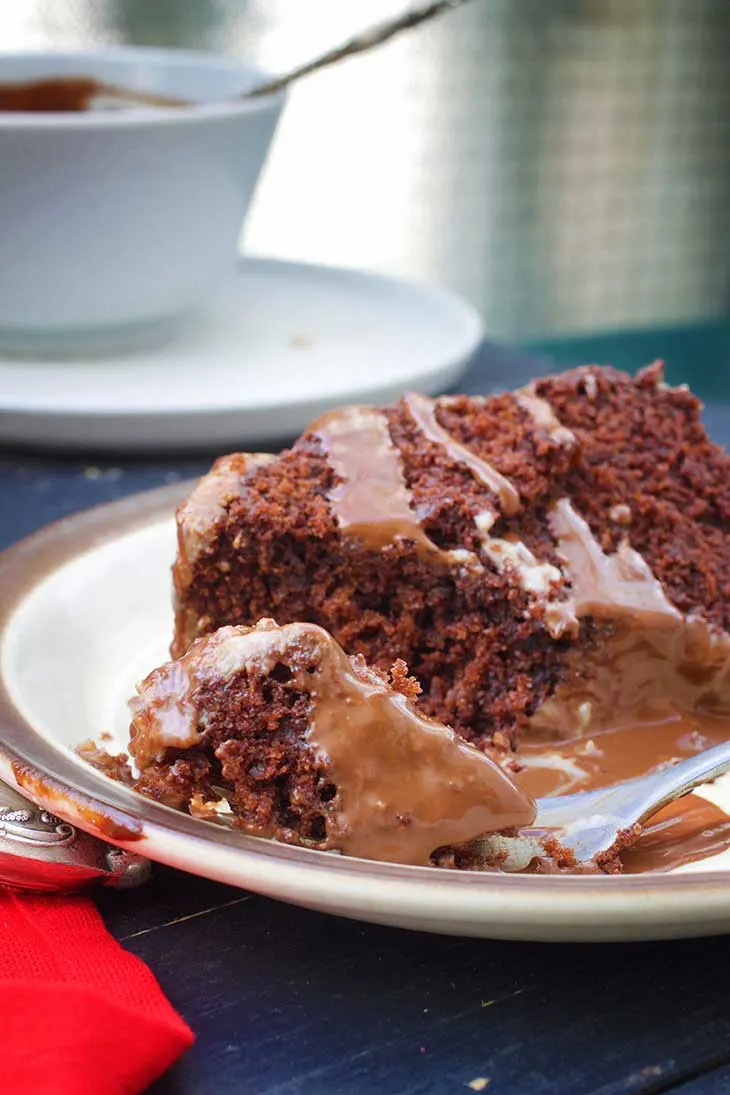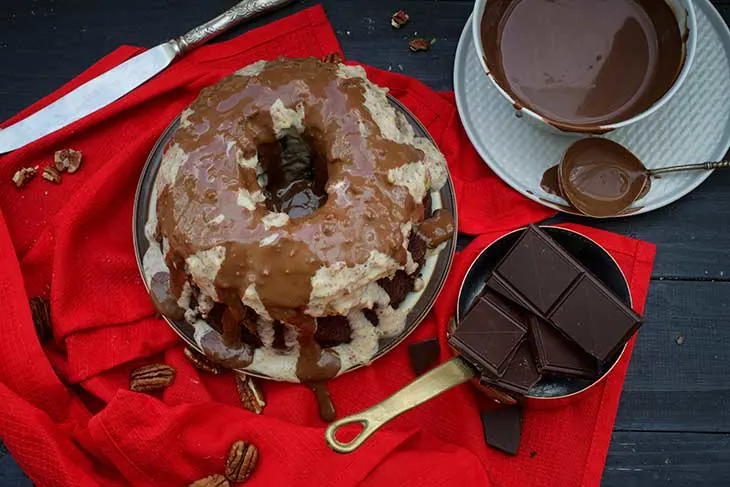 A Bundt cake can be literally any cake: a spongy one similar to a brioche, with or without filling, a fruit, chocolate or vanilla cake, an autumn-inspired pumpkin-cinnamon cake or any other recipe you might want to use. Because of its shape, a Bundt cake cannot be decorated in many ways, to the common practices include dusting it with sugar or glazing it with some shiny frosting.
So, as a conclusion, Bundt cakes are impressive, beautiful and delicious, but also incredibly easy to make by anyone, regardless of their baking or cooking experience!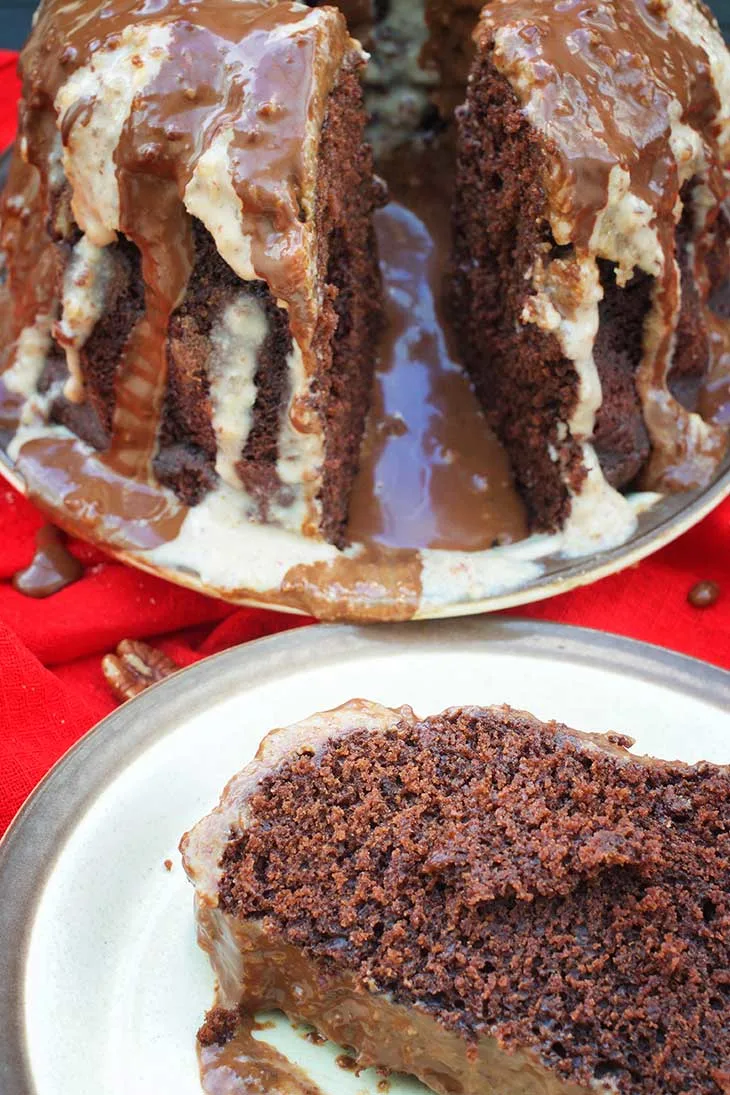 I wanted to create a yummy, decadent vegan Bundt cake and for this, I used one of my favorite sweet ingredients: chocolate! This vegan Bundt cake has a pecan and dark chocolate filling and it's topped with a lovely cream and chocolate sauce! I promise it will be gone in a second!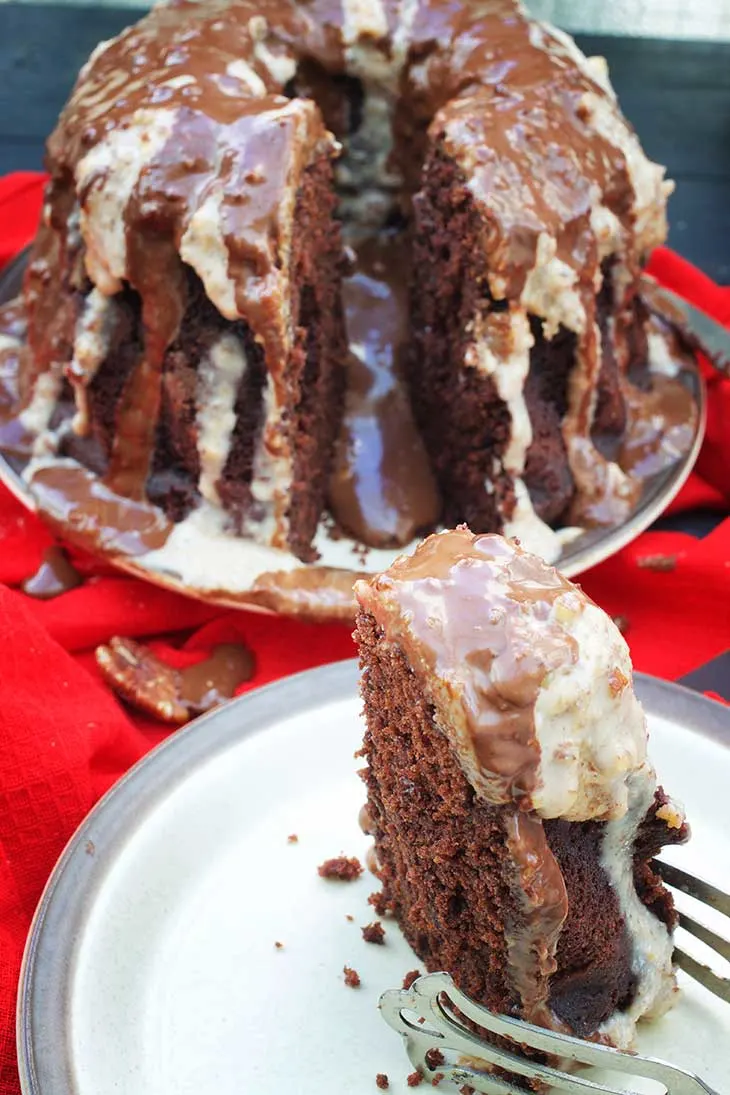 Yield: 8+
Vegan Bundt Cake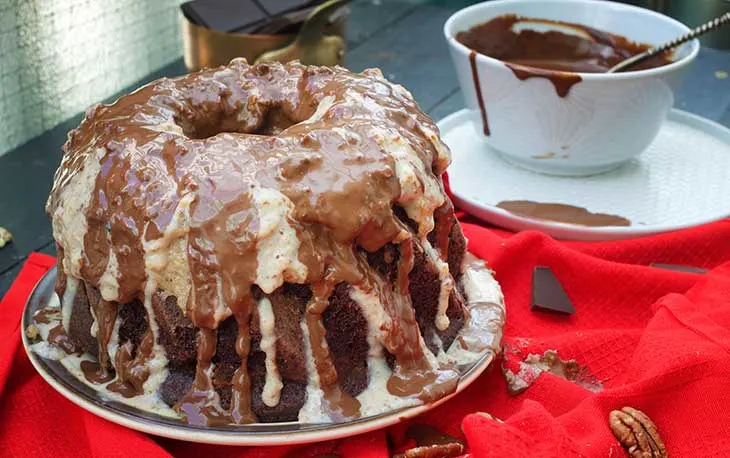 Learn how to make a delicious vegan Bundt cake inspired by the authentic German dessert recipe. It's extremely rich in chocolate and has an incredible texture you'll love.
Ingredients
Dry ingredients:
270g 2 ¼ cups flour
120g (1 cup) cocoa powder
1 tsp baking powder
½ tsp baking soda
200g (1 cup) brown sugar
Wet ingredients:
240ml (1 cup) coconut oil, melted
240ml (1 cup) brewed coffee
1 tsp natural vanilla extract
Filling:
75g (½ cup) chopped pecans
40g (¼ cup) chopped dark chocolate
For the icing:
150g (1 cup) finely chopped pecans
1 Tbsp vegan butter
240ml (1 cup) vegan milk
2 Tbsp brown sugar
½ tsp vanilla extract
½ Tbsp flour
1 Tbsp coconut flour
For the chocolate sauce:
240ml (1 cup) vegan milk of choice
170g (1 cup) dark chocolate chips
Instructions
Preheat oven to 200 C.
Grease a Bundt cake pan.
In a large bowl add all the dry cake ingredients.
In another bowl, combine all the wet ingredients.
Add wet ingredients to dry ingredients and mix well to combine.
Pour half of the batter into a greased pan, top evenly with chopped pecans and chopped dark chocolate and then pour the rest of the batter.
Bake for about 40 minutes or until the toothpick comes out clean. Let cool and set aside.
Frosting:
Set a medium saucepan on low heat. Add vegan butter. When the butter is melted, add flour and whisk until well combined and thick. Add the milk and continue to whisk until homogenous. Add sugar and continue whisking. Add pecans and continue cooking until the sauce is thick. If you want to make it thicker, add a tablespoon of coconut flour (optional).
Add vanilla for flavor. Set aside.
For the chocolate sauce:
In a small pot on high heat, bring the milk to a boil.
Turn off the heat and add the chocolate chips.
Let sit for about 2 minutes. Whisk to combine until you get a nice and smooth chocolate sauce.
To assemble the cake, turn it upside down on a plate.
Top it with pecan frosting and chocolate sauce.
Serve immediately or store it in the fridge.
Nutrition Information
Yield
8
Amount Per Serving
Calories

816
Total Fat

54.2g
Carbohydrates

71.6g
Protein

10.3g