The strudel is probably the most famous german dessert in the entire world! Learn how to make a vegan apple strudel recipe – easily and quickly!
German cuisine is full of tasty, savory wonders that can create unforgettable meals for any occasion. But Germans are also known for having a sweet tooth as well! Their desserts – from the Bundt cake to Streusel cake – are made to impress and satisfy anyone's sweet cravings, while also being incredibly simple and easy to make. The perfect example of this is the most common German dessert in the world: the strudel!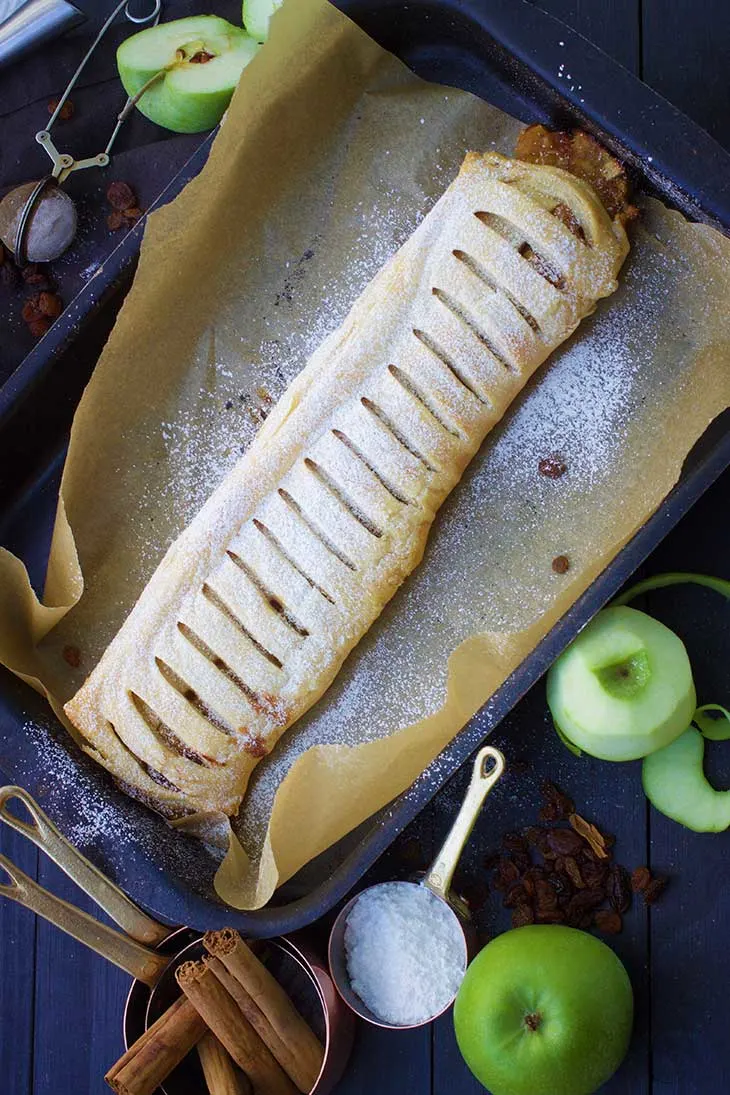 A "strudel" is a special kind of long pastry with a sweet filling in most cases. If you're wondering what "strudel" actually means, you should know that this is a German word meaning "whirlpool" or "eddy".
Strudel is a staple in the countries that once formed the Austro-Hungarian Empire and it has been equally loved by children and adults ever since the 18th century. Contrary to popular belief, the strudel is not a traditional German dessert, but an Austrian one instead. It is the typical Viennese dessert and the "national dish" of Austria, that became so popular in the region that other countries adopted it as well, including Germany.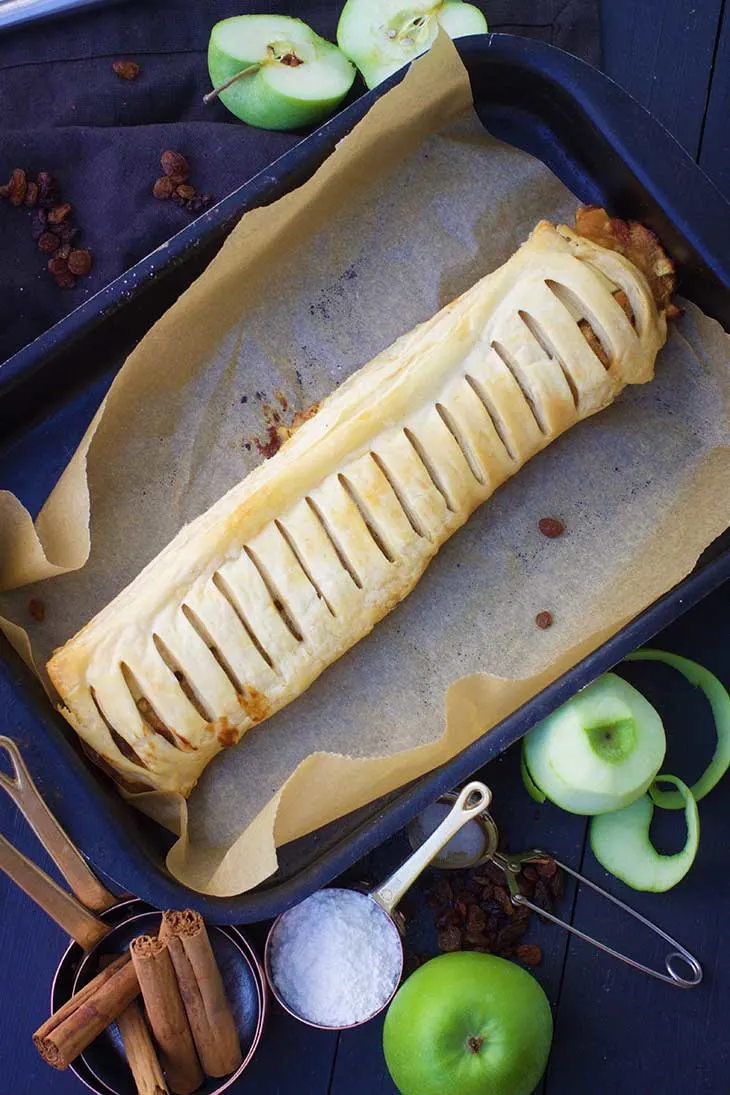 The oldest written proof of this recipe dates back from 1697 and it is said that the strudel was somehow influenced by the famous Middle Eastern dessert – the baklava. Nowadays, German people consider the strudel to be an authentic German recipe. Regardless of what the truth really is, strudels are definitely delicious and enjoyable!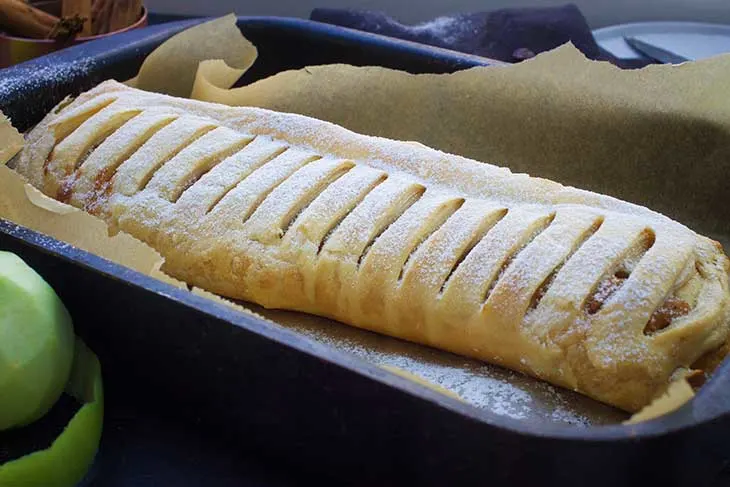 One of the most famous types of strudel is Apfelstrudel – the apple strudel in Germany. There are many types of apples you can use for the filling, but you must keep in mind that your chosen apple variety should keep being firm or semi-firm even after baking. Some good options are Granny Smith, Gravenstein, Jonathan, Rhode Island Greening, and many others.
In the traditional recipe, an apple strudel's filling is made by grating the apples and combining them with cinnamon, sugar, and raisins. The authentic strudel pastry is not crumbly like the puff pastry, but rather soft and "elastic" instead and it doesn't contain any sugar. The dough has to be rolled in a very thin layer. The sweet filling is then added and everything is baked to perfection!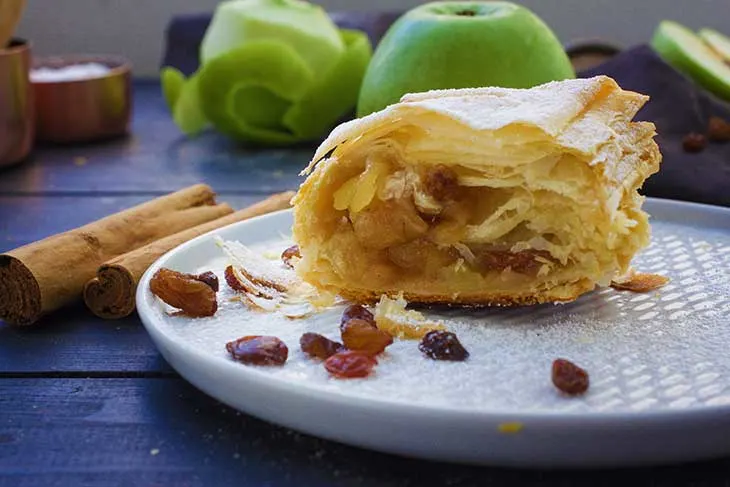 Some other very popular types of strudel are Topfenstrudel (with sweet cheese filling), Millirahmstrudel (filled with milk-cream), Weichselstrudel (sour cherry filling) and Nussstrudel (with a nut filling). All these types of strudels follow the same simple principle: a layered pastry filled with a divine sweet cream that's both easy to eat and easy to make! Of course, there are even some types of savory strudels that we can enjoy as well, with fillings made of different ingredients such as spinach, sauerkraut and more.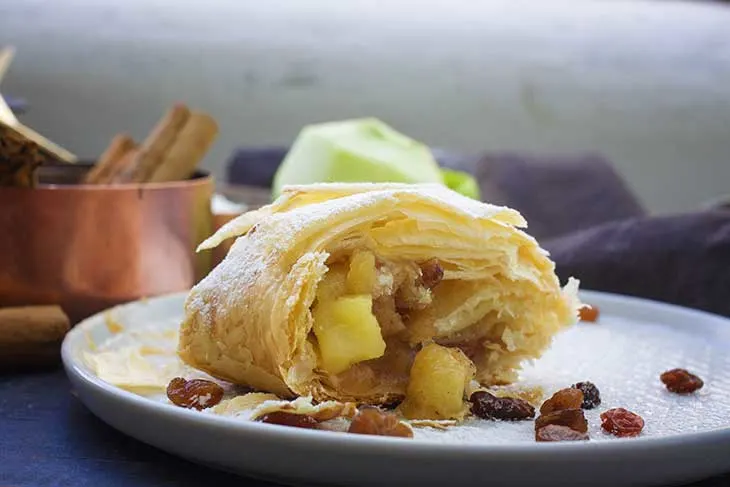 Strudels are best served hot in order to enjoy their deliciousness. You can serve them together with a hot cup of coffee or herb tea, but nothing compares with enjoying this delicious dessert in a German or Austrian café with a view!
If you are curious about how to create the tastiest vegan apple strudel, read on! My recipe for vegan strudel is super easy to make and the results are very comforting and delicious. Enjoy!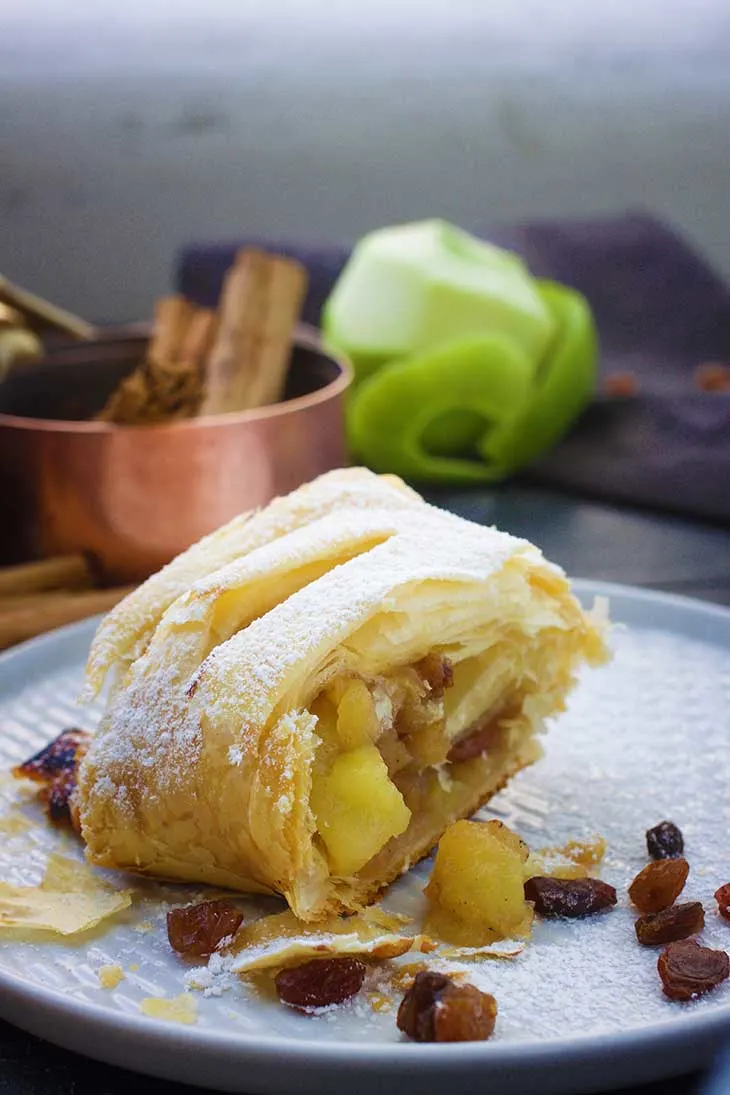 Yield: 4-6
Vegan Apple Strudel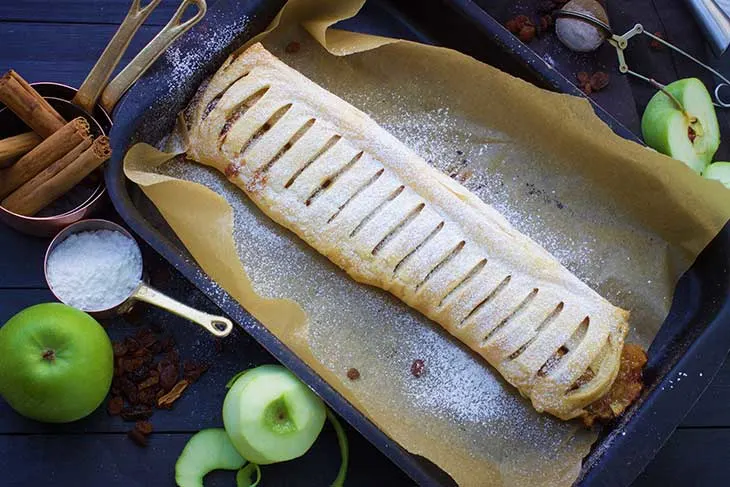 The strudel is probably the most famous german dessert in the entire world! Learn how to make a vegan apple strudel recipe - easily and quickly!
Ingredients
1 sheet vegan puff pastry, room temperature
2 Granny Smith apples, peeled
½ tsp cinnamon
¼ tsp cardamom
¼ tsp nutmeg
4 Tbsp brown sugar
1 Tbsp flour
40g (¼ cup) raisins
2 Tbsp icing sugar
Instructions
Preheat the oven to 200 C.
In a bowl, mix together the cinnamon, cardamom, nutmeg, brown sugar and flour.
Add the raisins to a small bowl and cover with warm water. Let sit.
Cut the apples into small cubes and add them to a big bowl.
Add the flour mixture over the apples and let it sit.
Meanwhile, roll out the dough on a floured surface.
Drain the raisins and add them to the apple mixture.
Put the apple mixture down the bottom half of the long side of the pastry, leaving a little space near the border around the outside.
Fold in the short sides and then roll up.
Put the strudel on a baking sheet with the seam side down.
Cut some slashes diagonally on top of the strudel.
Bake for about 40 minutes or until lightly golden.
Let cool, top with icing sugar and serve.
Nutrition Information
Yield
4
Amount Per Serving
Calories

130
Total Fat

3.4g
Carbohydrates

23.6g
Protein

1.2g