This beetroot borscht is a healthy vegan soup recipe inspired by the traditional Ukranian borscht soup and it is perfect for any season!
Today is a cold Autumn day. The wind is howling and the leaves started to fall. I really wanted to make a hot, flavorful soup to warm me up from inside-out and enjoy it while I watch a good, old movie. I decided to make this lovely, ruby-colored beetroot borscht.
Borscht is a traditional and classic soup originating from Eastern Europe, particularly Ukraine and Russia. It's a staple in many households and is a warm and comforting dish, especially during cold weather.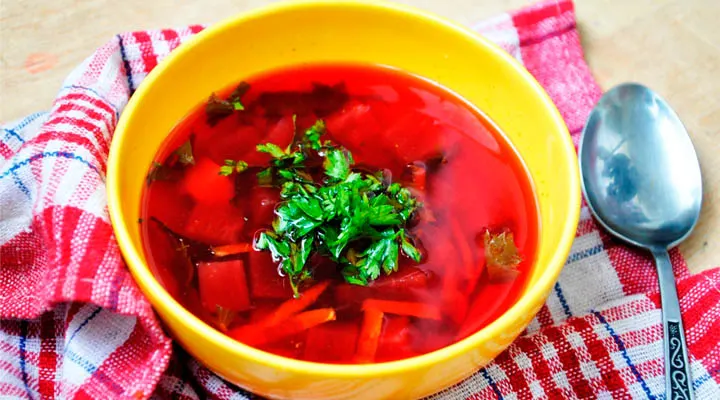 This beetroot borscht recipe is similar to the Ukrainian borscht, but unlike the original recipe, it was made vegan, as it does not contain any beef broth.
Beetroots are amazing veggies and should be eaten as often as possible! This beetroot borscht is a great way to add more beetroots into your diet. Another way would be drinking this awesome pink lemonade!
Variations for borscht:
You can add more root vegetables to the soup, such as turnips, parsnips, or celery root.
You can also add a cup of shredded cabbage to the soup for a heartier borscht.
Some people like to add a dollop of vegan sour cream or yogurt to the soup before serving.
For a spicier version, you can add a pinch of ground paprika or cumin to the soup.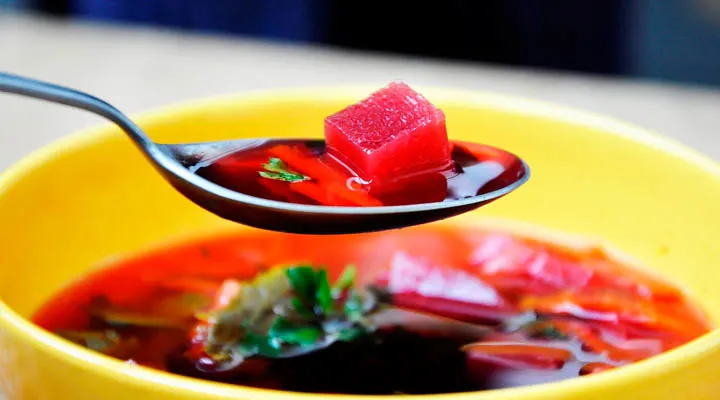 Tips for the best beetroot borscht:
Grating the beets makes for a smoother and creamier soup, but if you prefer a chunkier borscht, simply dice the beets instead.
You can use red or golden beets for this recipe, but keep in mind that golden beets will result in a milder flavor.
If you don't have white wine vinegar, you can substitute it with apple cider vinegar or red wine vinegar.
I hope this guide helps you make a delicious and authentic beet borscht. Give it a try! I'm sure it will become one of your favorite soup recipes! 🙂
Yield: 6+
Vegan Beetroot Borscht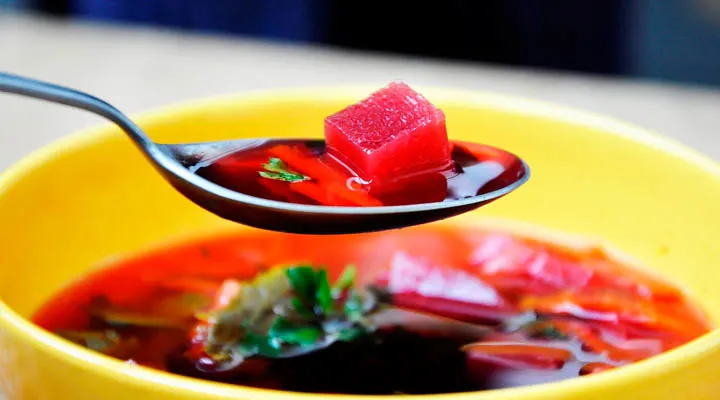 This beetroot borscht is a healthy vegan soup recipe inspired by the traditional Ukranian borscht soup and it is perfect for any season!
Ingredients
1 beetroot, large, chopped in small cubes
1 carrot, large, grated
2 onions, medium, diced
50g (½ cup) celery root, chopped in small cubes or grated
1 Tbsp sunflower oil
3 Tbsp vinegar
15g (½ cup) celery leaves or lovage leaves, chopped
sea salt, to taste
⅓ tsp ground pepper
3L (12 cups) water
chopped parsley, for garnish
Instructions
In a large pot, heat some oil over medium heat and add the onion. Cook until the onion is soft and translucent, around 5 minutes.
Add the veggies to the pot and cook for another 5 minutes.
Stir in the rest of the ingredients, except vinegar and herbs. Bring the mixture to a boil and then reduce the heat to low.
Let the soup simmer for around 30 minutes, or until the vegetables are soft.
Add vinegar and chopped celery leaves.
Taste the soup and adjust the seasoning as needed.
Serve the borscht hot, garnished with fresh lovage or celery leaves and a dollop of vegan sour cream (if using).
Nutrition Information
Yield
6
Amount Per Serving
Calories

58
Total Fat

2.2g
Carbohydrates

8.3g
Protein

1.2g