Here's one of the easiest and most delicious dessert recipes I ever made – Shibuya toast! It's vegan, it's healthy and it's extremely tasty – perfect for any occasion!
Today, our culinary journey will take us to Japan. This is a very popular dessert that I've been wanting to try for quite some time. And I decided that today is finally the day! 🙂
Today we are going to make Shibuya toast! It's a Japanese treat, very popular there, that is super sweet, super tasty and super good looking!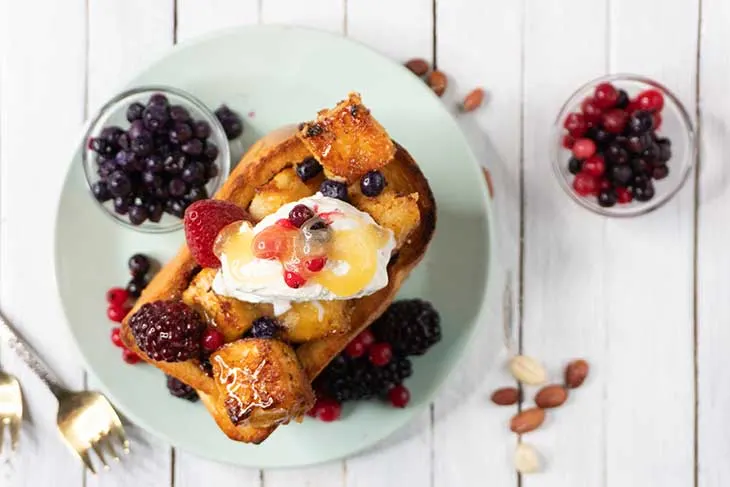 By the way, the taste is not all that there is to this cake! If you decide to try preparing this dessert, your Instagram will probably thank you for it.
Shibuya toast, also known as honey toast or brick toast, is a dessert that originated in Japan. It's a fairly new invention, as it appeared somewhere in the 80s. But its popularity steadily grew and is now served in many Japanese tea shops and restaurants. It also became quite popular in other parts of the world, such as Taiwan and Singapore.
Shibuya toast is really impressive to behold. It is made out of a loaf of fluffy bread, topped with various toppings including ice cream, fresh fruit, syrups, whipped cream or toasted nuts.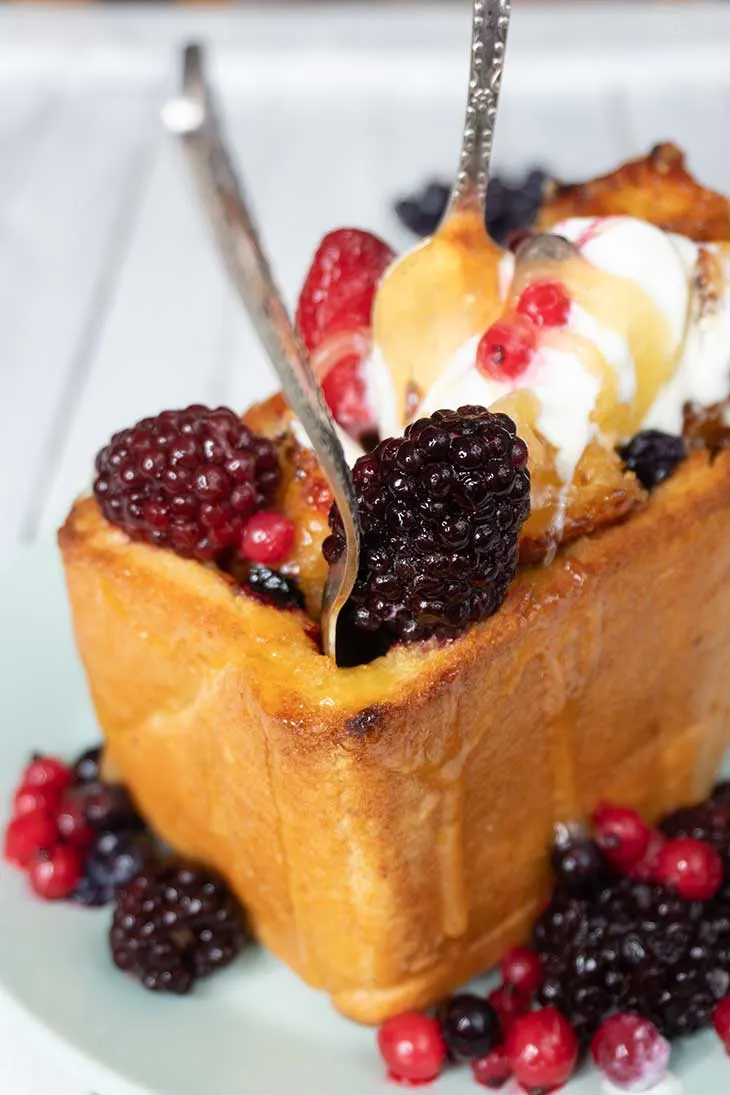 For this dessert, you might need calling some friends to help you! One portion of this is usually too big for one person, but hey – the more the merrier! 🙂 When I first prepared this, I was having two friends over and it took all the three of us to finish the dessert! Not to mention we were all so impressed at how good it looked and tasted – even myself!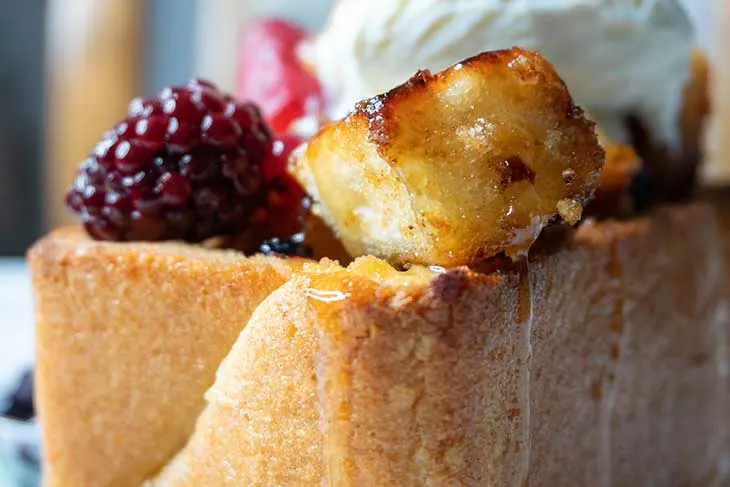 Preparing a Shibuya toast is super simple! But first, you need to choose the right kind of bread. That's crucial to getting a tasty, perfect Shibuya toast. You will want to choose a fluffy, moist bread. Nothing too old or dry! Once you choose your bread, you need to cut it towards one end – you need to end up with five sides of crust on the bread. Next, preheat the oven. The key to this delicious Shibuya toast is getting the bread caramelized in the oven!
While the oven is heating, prepare your toppings. There are tons of options available here, and it's all up to you! Now, it's time to prepare the toast box! The bread will serve as a bowl for adding all your delicious toppings. With a knife, start cutting from the crust-less side. Remove a cube of bread from inside, making sure to leave thick enough margins to the loaf of bread that it won't collapse. Then, cut up the removed bread into smaller cubes.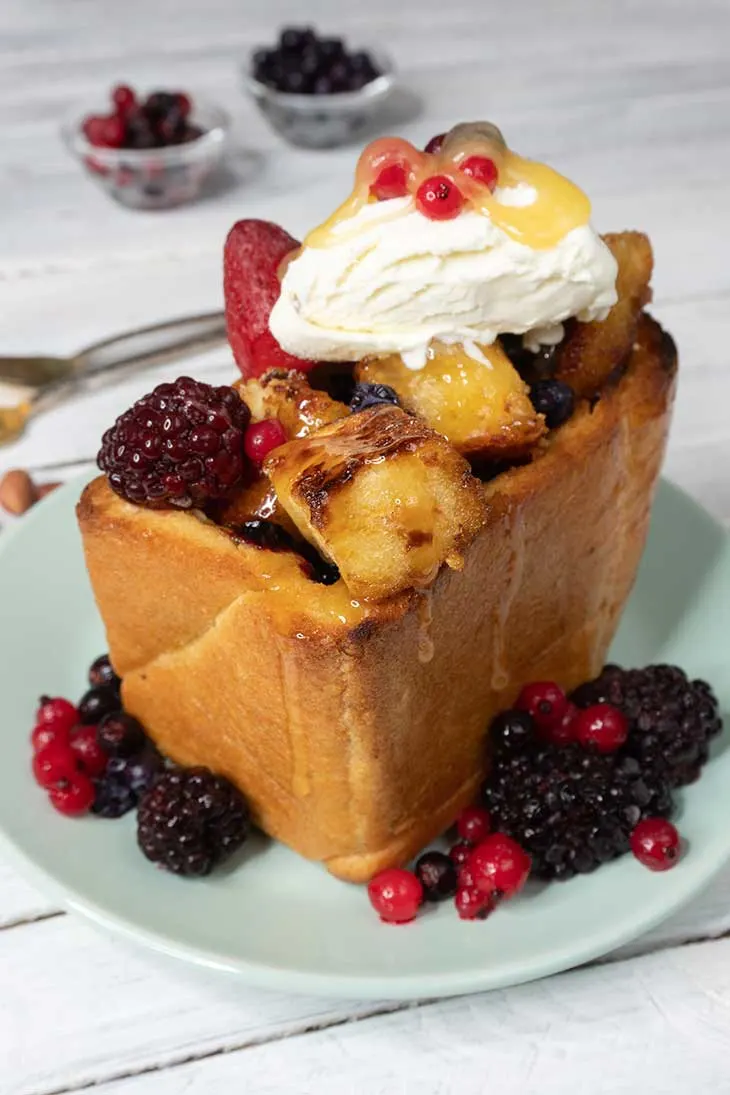 Put the toast box together with the small bread squares into the oven – not before you brush everything with melted vegan butter! Then, let them roast for about 15 minutes.
You will probably need to get out the small bead squares first and leave the bread box for an additional 10 minutes. When everything is ready, it's time to assemble your Shibuya toast! Add everything inside the toast box, using your favorite toppings and fruit. Drizzle with some honey and that's it! Don't forget to serve it while hot and fresh – this dessert won't last long and needs to be eaten right away!
In terms of the toppings, there is no limit to how creative you can get! You can stick to some classic fruit and whipped cream, or you can add sprinkles, Oreos, chocolate, ice cream…whatever you may think of! There is really no right or wrong when it comes to toppings for Shibuya toast. As long as everything tastes delicious to you, you are doing the right thing!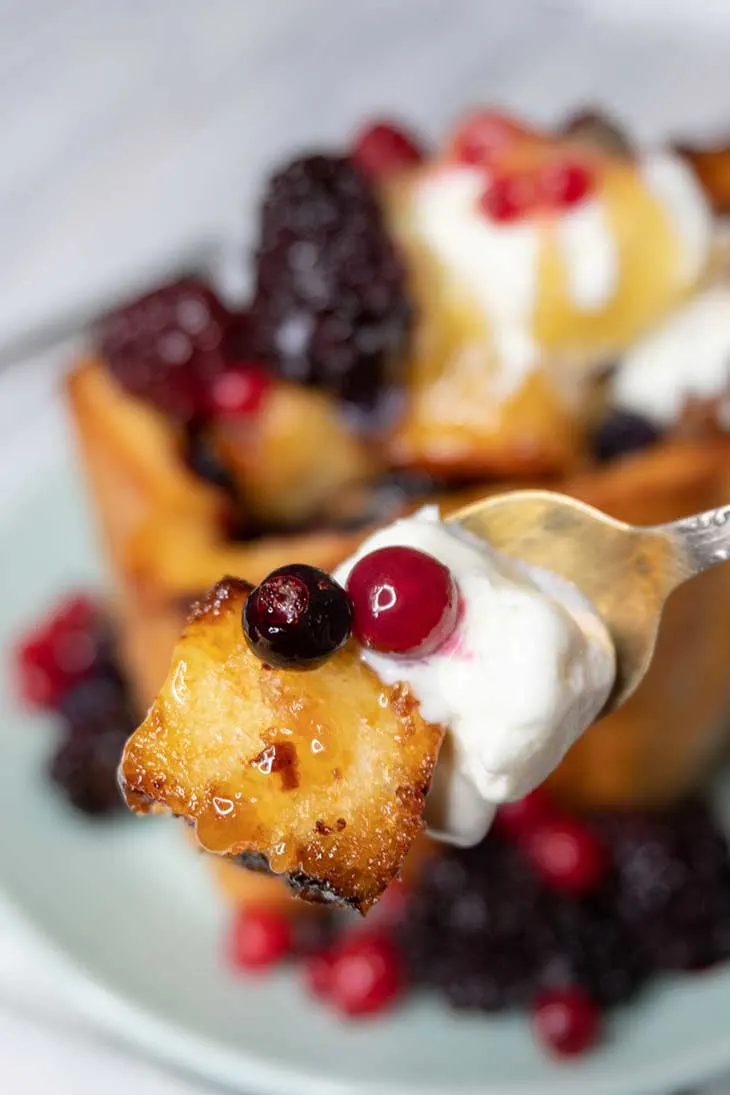 For me, this recipe was a hit. The first time we made it, I and my friends were absolutely impressed – because honestly, it looks amazing! So, of course, I made it again and again on different occasions and each time I wasn't disappointed! It's a great dessert to cook for someone on their birthday or on some special occasion! It's guaranteed to get all the attention, and everybody will be super delighted. Not to mention if you have kids – they will 100% enjoy this!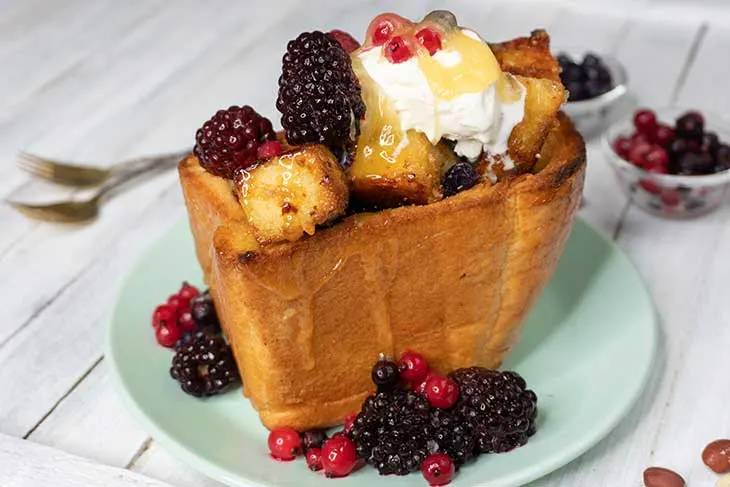 I think you are probably anxious to try the Shibuya toast so let's get to work! Gather your ingredients and meet me in the kitchen. Below, you will find detailed instructions that will help you prepare the most delicious Shibuya toast! Once you're ready, leave a comment to tell me how it worked out for you! I want to hear all about the toppings you choose to include, as I am always looking for fun new ideas to make my recipes even more delicious!
---
Personalized meal plans and workout videos | Get your customized meal plan today! [x_button shape="square" size="mini" float="none" target="blank" href="https://shop.gourmandelle.com/?utm_source=mainsite&utm_medium=site&utm_campaign=inpost" info="none" info_place="top" info_trigger="hover"]I WANT A MEAL PLAN![/x_button]
---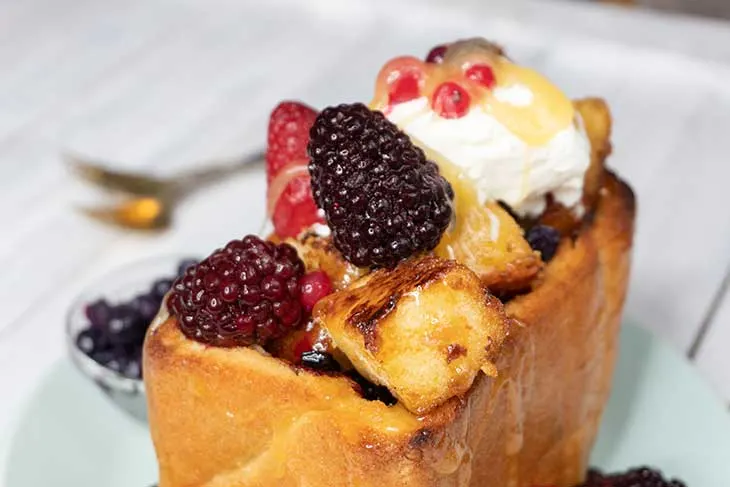 Here's one of the easiest and most delicious dessert recipes I ever made - Shibuya toast! It's vegan, it's healthy and it's extremely tasty - perfect for any occasion!
Ingredients
white bread, cut from the end of the loaf
70g (1 cup) mixed berries
3 Tbsp vegan butter, melted
4 Tbsp honey or maple syrup
½ tsp cinnamon
1 scoop vanilla ice-cream mixed with grated ginger, to taste
Instructions
Cut out the center part of the bread. Cut into 1-inch cubes.
In a pan, add the melted butter and 3 Tbsp honey. Cook for 1-2 minutes.
Transfer the mixture to a bowl leaving 1 Tbsp in the pan.
Add the bread cubes to the pan and fry until golden brown.
Use the melted butter and honey mixture to brush the toast box inside and out.
Bake at 200 degrees for 10-15 minutes until golden and crispy.
Put the berries in a pan with the remaining 1 Tbsp of honey and cook for 3-4 minutes.
Fill the toast box with layers of berries and bread cubes.
Top with ice-cream and a sprinkle of cinnamon.
Nutrition Information
Yield
1
Amount Per Serving
Calories

576
Total Fat

17.3g
Carbohydrates

100.5g
Protein

4.4g