Let the summer begin! Here's how to make the most delicious and refreshing beet greens soup that works wonderfully as a light lunch! Give it a try!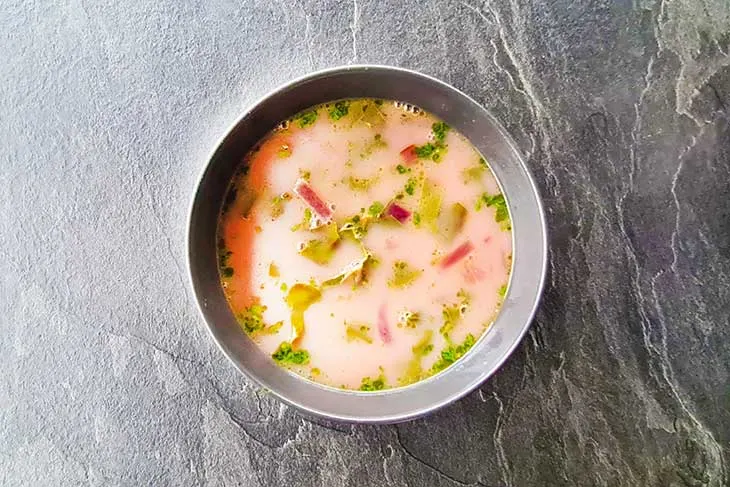 Summer is here, which can only mean one thing: let the light recipes begin! It's too hot outside for a boiling plate of pasta or a hot ramen soup, am I right?
I just love simple foods and straightforward recipes, made with few, good-quality ingredients. I feel like this type of meal balances our spirit and nourishes both our bodies and our souls. I know, it may sound cheesy, but it's true!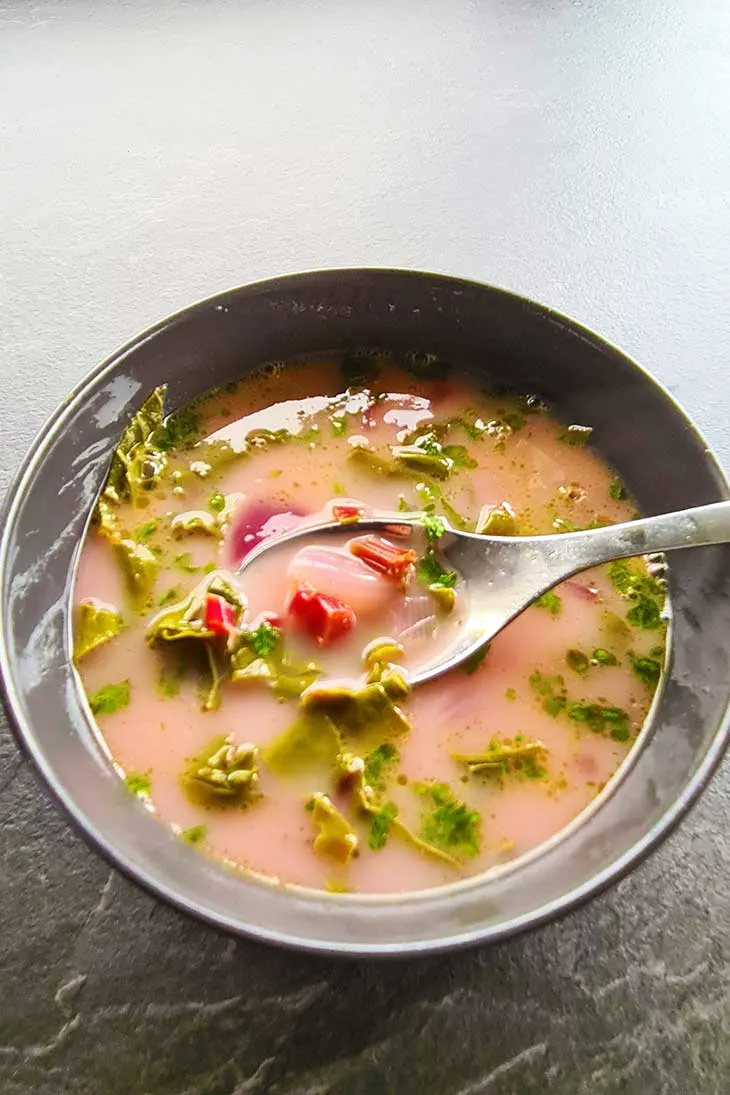 I love food of all kinds, from burgers to salads, but I feel like all need some kind of 'reset' from time to time, a "back to basics" of sorts. This means simplicity in all chapters of our lives, including our diets! 🙂
This is exactly how I would describe this beet green soup: simple, basic, and refreshing. A reset for my spirit. But trust me when I say that as simple as it is, it's also extremely delicious! You know I really dislike complicated, tasteless dishes, regardless if we're talking about a simple salad or soup. I always try to incorporate good flavors and interesting textures and this beet greens soup is the perfect example for summer.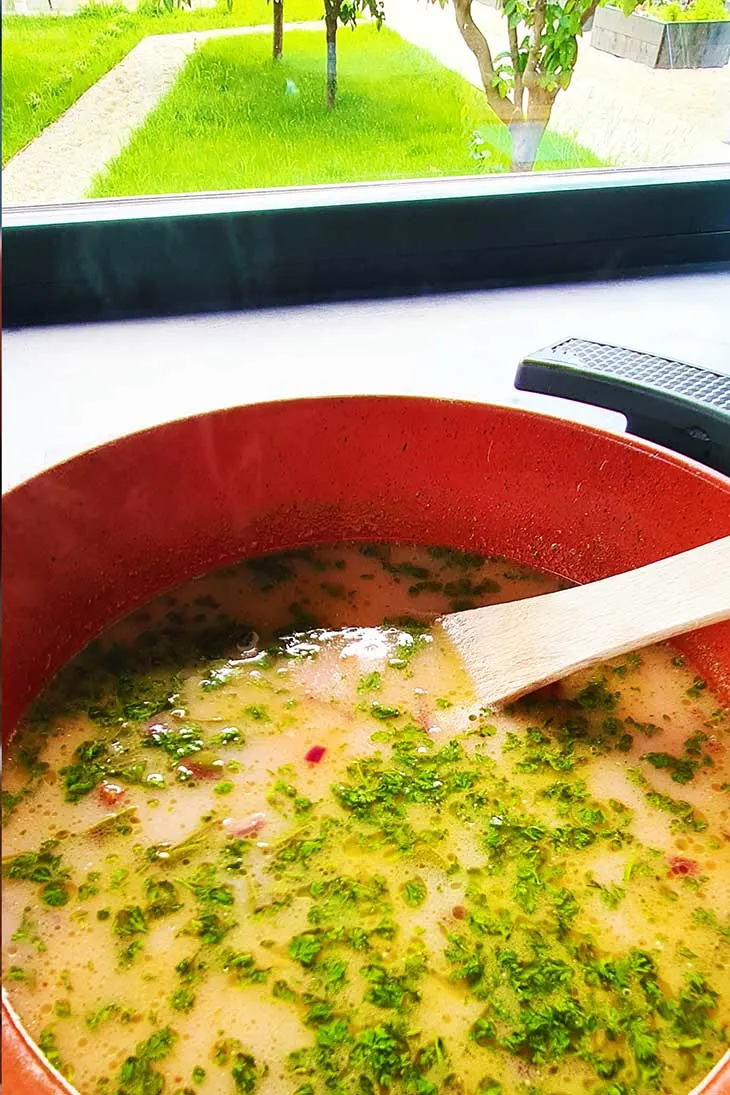 This beetroot green soup is inspired by my good ol' orache soup. I basically call it a 'leaves' soup because I always keep the same base, regardless of what type of leaves of leafy greens I choose to use. This time I made it with beetroot leaves, but you can also use orache or salad leaves as well. All these work wonderfully in this sour soup!
The recipe you'll find in the instructions below is the base recipe that I use each and every time. When I want to make it more consistent, I usually add some beaten eggs in the mix (but, beware, this means our recipe won't be vegan anymore), a handful of rice, or some small potato cubes. They work wonderfully in this combo!
I love my leaves soup to have a light color, which I why I always use unsweetened rice milk or vegan rice cream in it (the one from Alpro is definitely my favorite). I sometimes even use both if I have them in my kitchen. So, so good!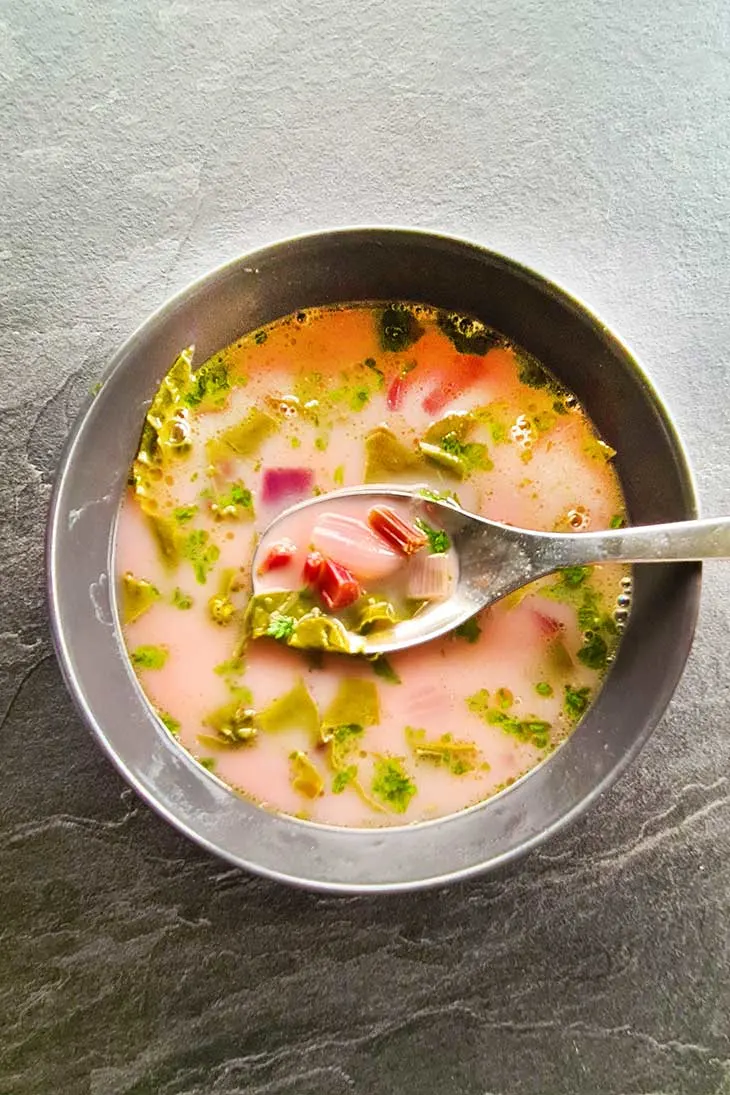 For this sour beet leaves soup I prefer using the leftover vinegar from pickle jars for a few reasons: first, because it's already seasoned, and second, because its taste is not too strong, which means it's not that harsh on our stomach. Wine vinegar isn't really working for my digestion, so I found out that rice vinegar is a very good alternative – yes, the same one we use for making sushi. I find it to be less sour and really good for soups. Give it a try whenever you can and let me know if you agree!
Lovage is also an essential element in each and every soup that I make. But there are times when I don't have fresh lovage and neither any frozen leaves in the freezer – that's when I replace it with parsley, which works wonderfully as well. Sure, it's not the same, but it's good enough!
For this beetroot leaf soup, I used both greens: lovage AND parsley. There are never too many fresh greens in my soup. No, sir! 🙂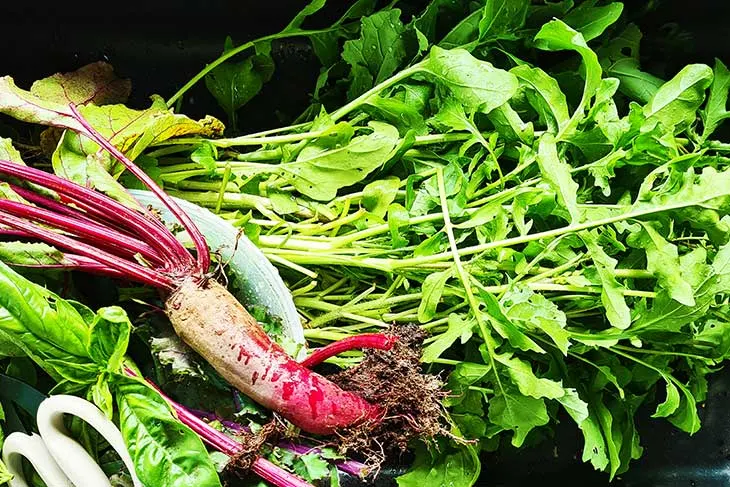 If you're the same as me and feel like eating a refreshingly cold, leafy soup in the summer is the best idea for hot temperatures, then you'll definitely fall in love with this beet greens soup. It's quick, it's easy to make and it's very delicious.
If you decide to give it a try, don't forget to let me know how it went, I'm so curious to read your comments. I will definitely make it again this weekend, I just can't wait! Until then, I wish you happy cooking and happy eating! 🙂
Yield: 8 servings
Beet Greens Soup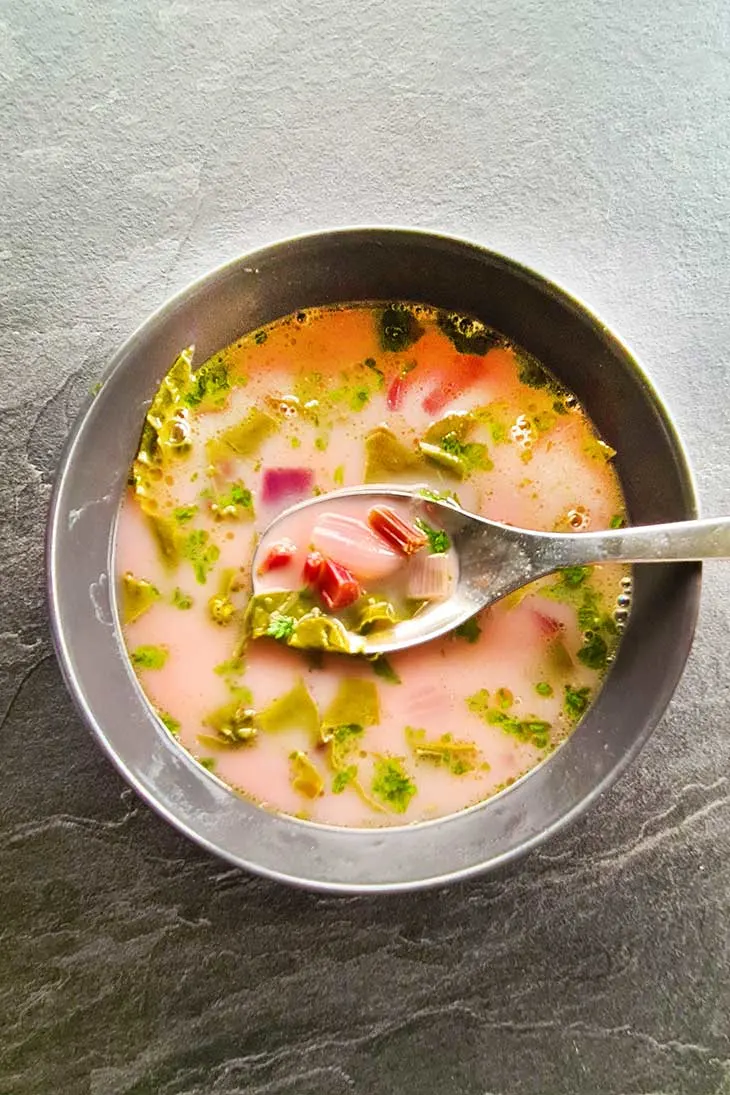 Let the summer begin! Here's how to make the most delicious and refreshing beet greens soup that works wonderfully as a light lunch! Give it a try!
Ingredients
the leaves from 3-4 red beets, roughly chopped (including the stems, which you can cut into smaller pieces)
1 red onion, big, thinly chopped
4L (16 cups) water
250ml (1 cup) vegan rice cream, I use Alpro
vinegar - I used 1/2 of the vinegar left from one 750ml pickle jar. If you're using rice vinegar, only add 2-3 Tbsp, then mix and taste. Then you can add more, according to your preferences.
1 big bunch of parsley, thinly sliced
1 big bunch of lovage, thinly sliced
optional: 2 Tbsp miso paste - I use miso paste in soups to replace salt. It also adds a boost of probiotics, compared to regular salt.
salt and pepper, to taste
Instructions
Add the water into a big pot.

Add the chopped onion and beet leaves. Boil for 15 minutes.

Turn off the heat and add the vinegar, chopped greens, vegan cream. Add salt and pepper to taste.
Nutrition Information
Yield
8
Amount Per Serving
Calories

125
Total Fat

4g
Saturated Fat

1g
Trans Fat

0g
Unsaturated Fat

2g
Cholesterol

7mg
Sodium

1070mg
Carbohydrates

19g
Fiber

2g
Sugar

6g
Protein

4g
I strive to keep the information as accurate as possible but make no warranties regarding its accuracy. I encourage you to make your own calculations using your preferred nutrition calculator.