Craving a comforting, subtly spicy soup? Try this Mexican zucchini soup – delicious, hearty and with an amazing flavor you'll love!
You must've noticed already that I absolutely love soups! Not only are they delicious and most often very easy to make, but they appear in every cuisine around the world offering hundreds of variations for every taste, mood and season. Soups have a high nutrient density, which means while they are low in calories, they're filling, rich in vitamins, easy to load with protein and good carb and low in saturated fats or processed starches – and this makes them incredibly good for you!
One of my favorite soups is this fragrant Mexican zucchini soup with an incredible texture, which makes it the perfect comfort soup for any season.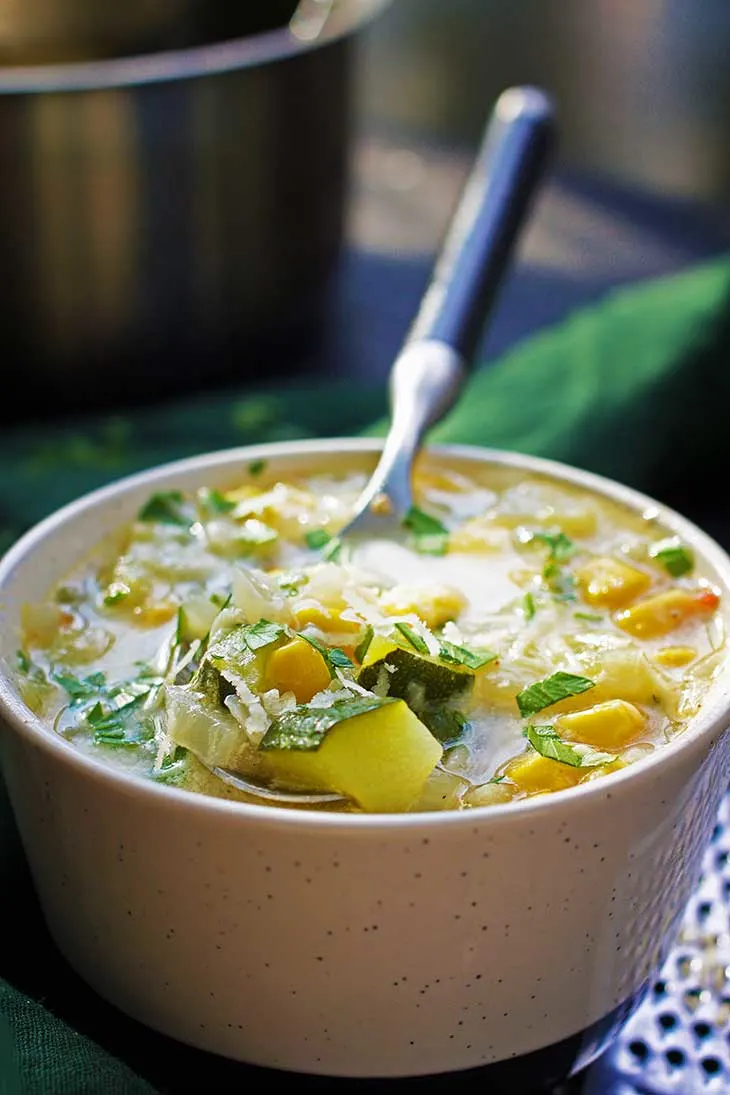 This zucchini soup is a simple, comforting authentic Mexican dish traditionally called sopa de calabacitas, or, if corn is added to the recipe, sopa de calabacitas con elote. It's very easy to make in under 20 minutes, by frying onions and garlic in olive oil, adding flour until it becomes golden brown, veggie broth (the authentic recipe also contains milk and chicken broth), and blend the mix with boiled zucchini into a delicious and flavorful soup.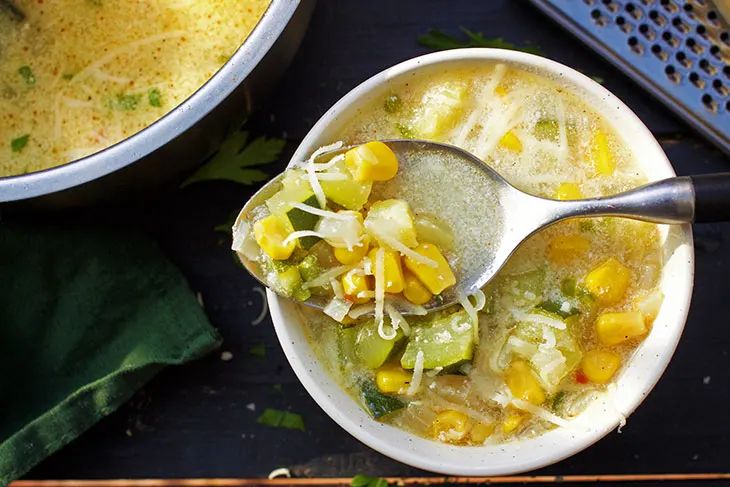 This recipe is a family favorite, made often by moms and "abuelitas" (grandmothers) in Mexican households because of its delicious, accessible and inexpensive ingredients. The zucchini soup can easily satisfy a crowd and you can make variations to your own taste. The traditional Mexican zucchini soup is usually made with milk, heavy cream, cheese, corn, onion or coriander. It's a summer recipe, ideal when zucchini and corn are in season, but surely possible with frozen ingredients as well, and you can vary the level of spiciness with poblano (sometimes called pasilla) chiles, serrano or jalapenos.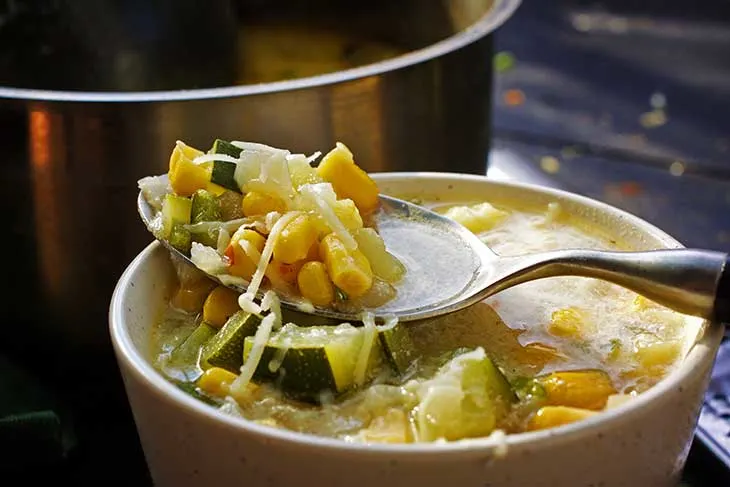 Calabacitos are actually a kind of Mexican squash similar in taste with zucchini, but a bit smaller, with a greenish-yellow skin. However, "calabacitas" also refers to a New Mexican dish that could be used either as a thick chunky soup or a dip made of corn, squash and peppers.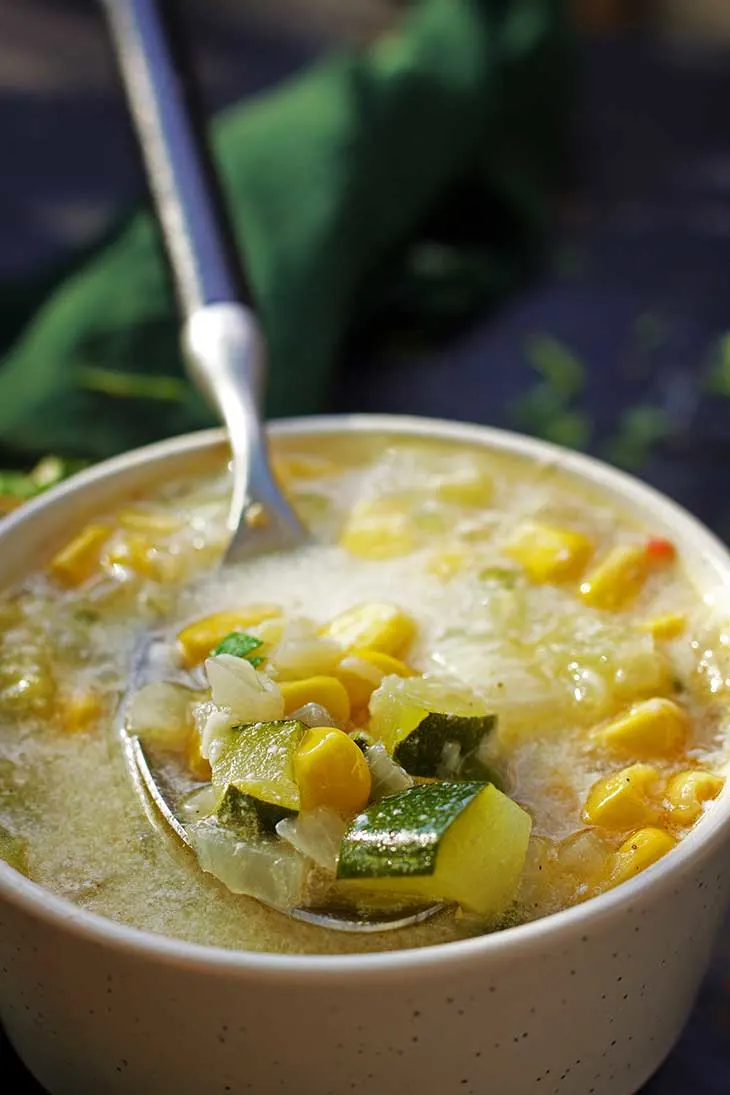 Zucchinis have tons of health benefits for you and they are rich in vitamin A, key antioxidants, and, for the nutritionally conscious, they're low in calories! More importantly, zucchinis have anti-inflammatory properties and contribute to regulating blood sugar levels by helping our body produce insulin. They are also rich in B-complex vitamins, vitamin C, K, magnesium, copper and manganese. I'm sure you are convinced that, besides being very vibrant and delicious, this Mexican zucchini soup is also full of nutrients!
For these health benefits and many more, if you're vegan or lactose intolerant, zucchinis are a great nutritional replacement of milk. And this delicious soup is a fantastic, easy way to introduce more zucchini into your diet!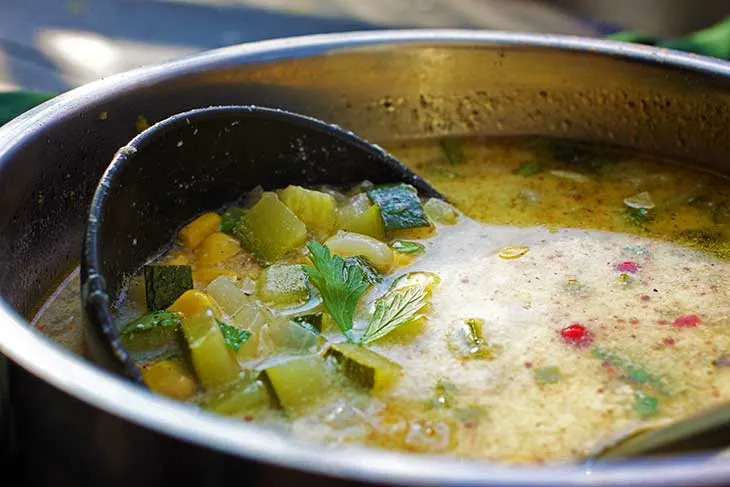 For the vegan version of this Mexican zucchini soup, I tried to follow the original recipe for "chunky" soup, not the creamy version. The result is a filling and flavorful soup boasting pieces of zucchini, sweet corn, soy yogurt and more. Top your warm bowl of zucchini soup with fresh chopped cilantro and vegan cheese. Enjoy!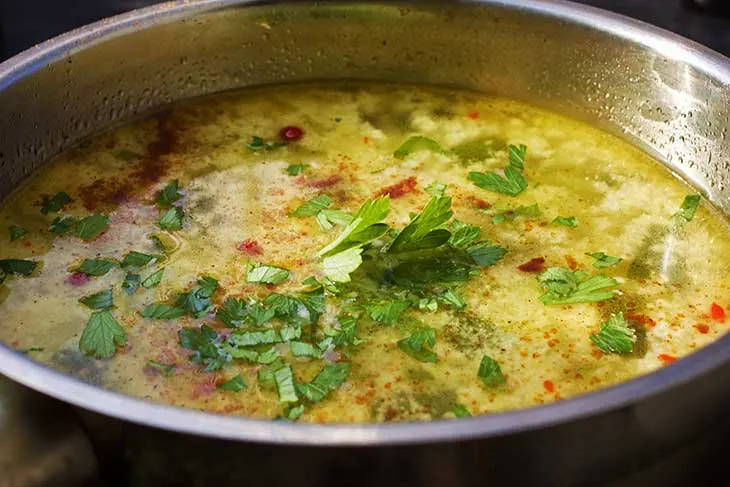 Yield: 6 +
Mexican Zucchini Soup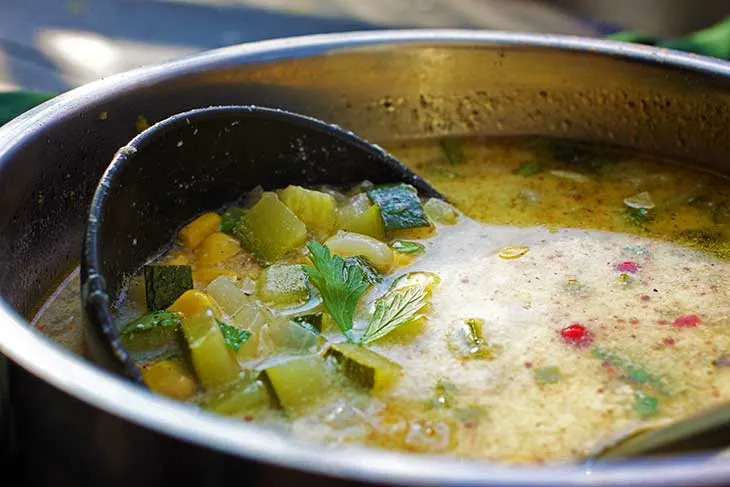 Craving a comforting, subtly spicy soup? Try this Mexican zucchini soup - delicious, hearty and with an amazing flavor, you'll love!
Ingredients
1 small onion, finely chopped
2 tsp olive oil
500ml (2 cups) veggie broth - or water
1 large zucchini, diced
330g (2 cups) sweet corn
1 jalapeno pepper, finely chopped
½ tsp black pepper
½ tsp sea salt
250g (1 cup) soy yogurt, unsweetened
2 Tbsp nutritional yeast flakes
1 tsp nutmeg
1 tsp red smoked pepper flakes
2 Tbsp parmesan or vegan cheese, grated (optional)
2 Tbsp fresh cilantro
Instructions
Heat a skillet over medium heat. Add olive oil. Saute the onion until translucent, for about 3 minutes.
Add the zucchinis and saute for about 4 more minutes. Add the corn and jalapenos and cook for 2 more minutes.
Stir in the veggie broth or water.
Add the black pepper and salt.
Bring to a boil.
Cook for about 7 minutes.
Remove from the heat.
Add the soy yogurt and nutritional yeast.
Stir and garnish the soup with nutmeg and pepper flakes.
Cover and let it sit about 5 minutes before serving.
Top with freshly chopped cilantro and parmesan or vegan cheese before serving.
Nutrition Information
Yield
6
Amount Per Serving
Calories

143
Total Fat

3.6g
Carbohydrates

21.7g
Protein

5.9g