Here's how to make delicious, cheesy vegan quesadillas that are just as good as the original Mexican recipe! Enjoy this quick, easy and healthy alternative!
Originating back in colonial Mexico, the quesadilla is not only the Mexicans' favorite simple snack, but a worldwide popular dish, super easy to prepare and guaranteed to satisfy a crowd. Quesadilla consists of a corn tortilla – that is usually replaced with a flour tortilla in Northern Mexico and the United States – filled with cheese and other optional toppings, and then grilled to perfection.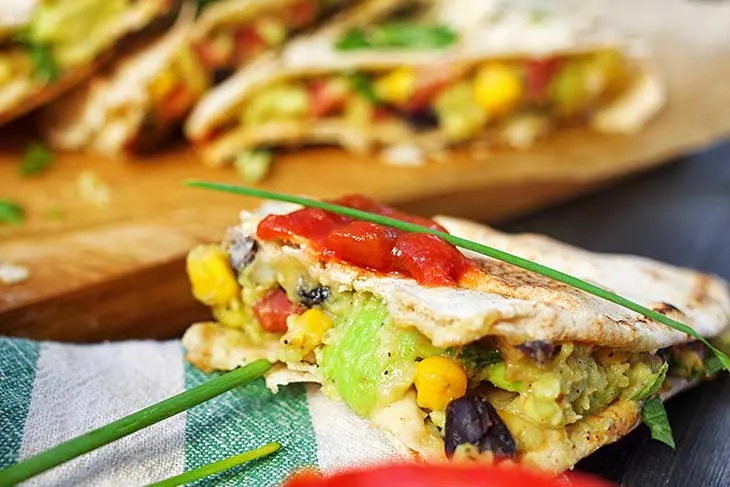 Spanish settles developed quesadillas in Mexico in the 16th century; however, the tortilla was a Mesoamerican food that had been consumed many years before the colonial period. Therefore it can be said the humble quesadilla was a product of the Old World and New World combined and is a perfect example of "fusion food".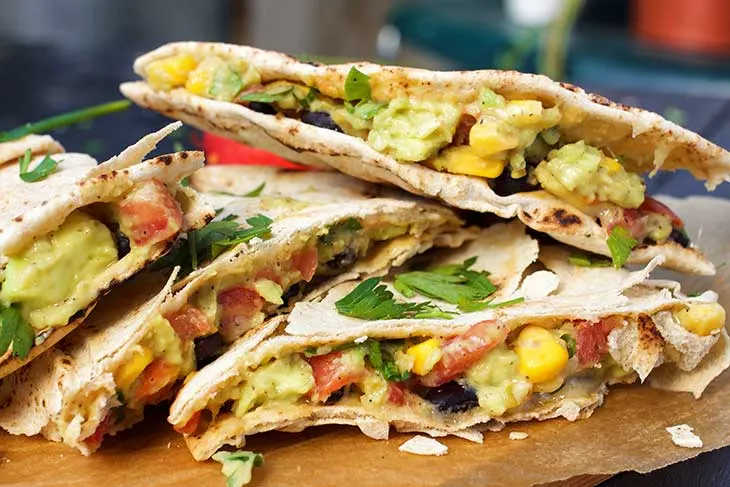 Like every other dish that resisted the test of time, the quesadilla has changed throughout the years as people brought their own regional or preference-based variations to the recipe. In central and southern Mexico, the quesadilla is made out of thin corn masa tortillas, filled with stringy Oaxaca cheese (a typical Mexican cheese similar in texture and taste to mozzarella), and cooked on a comal griddle until the cheese has melted and the perfect consistency is achieved.
Mexicans just love their simple cheesy quesadillas, dipped in salsa and served as they are! But other fillings like cooked vegetables, potatoes, mushrooms, chorizo, sauteed squash blossoms ("flor de calabaza"), chicharron or other cooked meats are often used in addition or instead of the Oaxaca cheese. They are usually cooked without any additional oil and served with a variety of toppings such as green or red salsas, guacamole, onions, tomatoes or cilantro in order to perfectly complete its taste.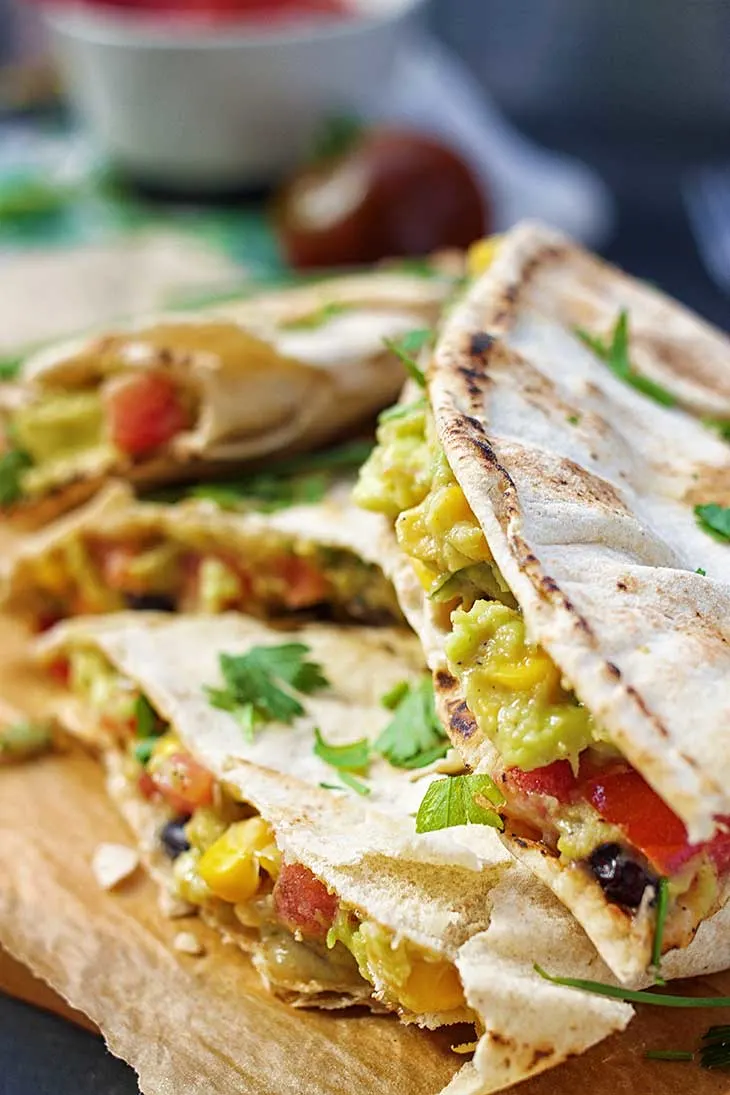 A delicious variation of the classic quesadilla is quesadillas fritas, which means the quesadillas are fried in oil instead of grilled. Traditional Mexican quesadillas are made by filling ready-cooked tortillas, then further cooking until the cheese melts, but the fried ones are prepared almost like empanadas, from uncooked dough (called masa). The dough is formed into small circles, topped with fillings and folded into a quesadilla that is fried until the exterior becomes golden and crispy.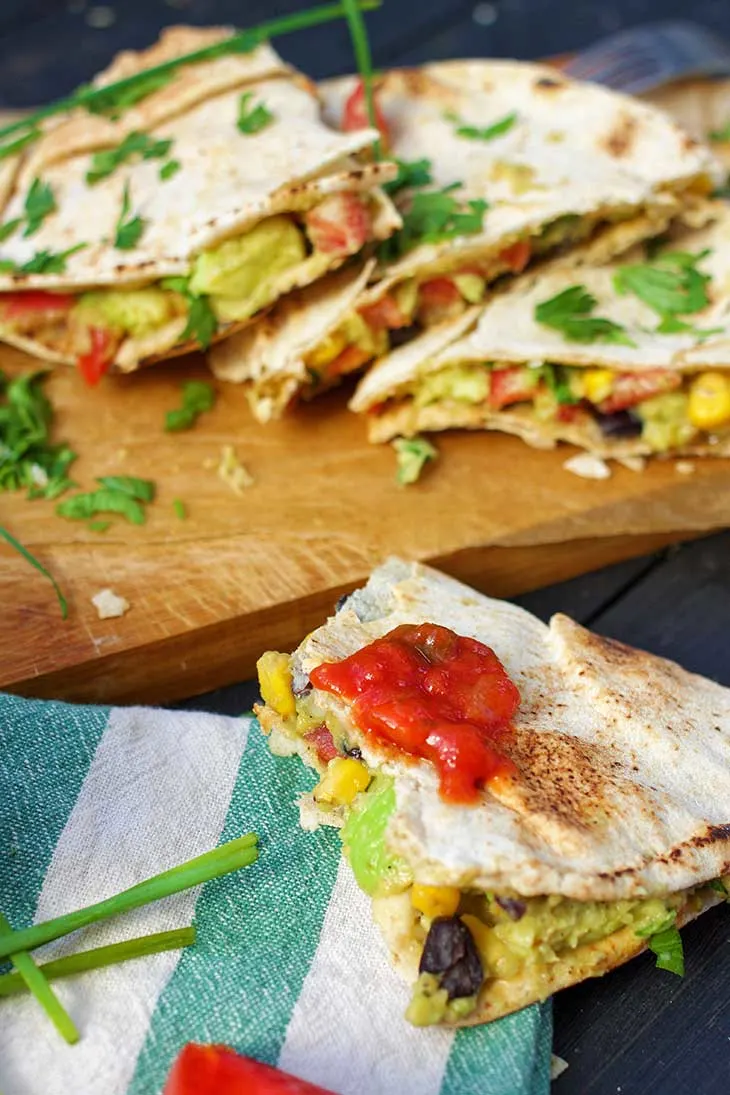 Other variations include using wheat or white flour tortillas, especially in the United States or North-eastern Mexico, or a variety of fillings and toppings that are far from the simplicity of the authentic recipe, such as zucchini, goat cheese, spinach or tofu. Dessert quesadillas are an American take on the recipe and they exist in Mexican fast food chains all over the United States, filled with chocolate, fruit or caramel sauce.
It's interesting to mention that, even though it has the same name, Salvadorian quesadilla has nothing in common with the savory Mexican snack quesadilla. The Salvadorian quesadilla is a thick, fluffy, sweet dessert cake often found in local bakeries and prepared with local unsalted queso fresco, or fresh cottage cheese.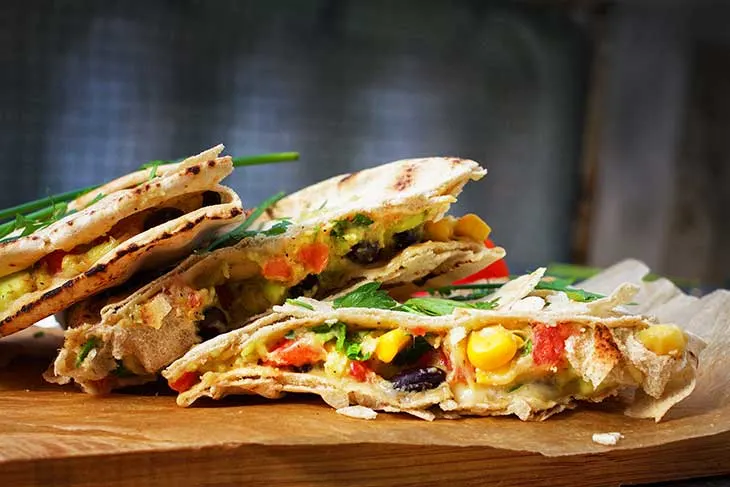 Now that we traveled through the history of quesadilla, let's see how we can prepare a delicious, vegan version of it right at home! For my vegan version of this dish, I used bell pepper, black beans, avocados and other yummy ingredients, all folded in a soft flour tortilla and cooked on medium heat until melty and delicious!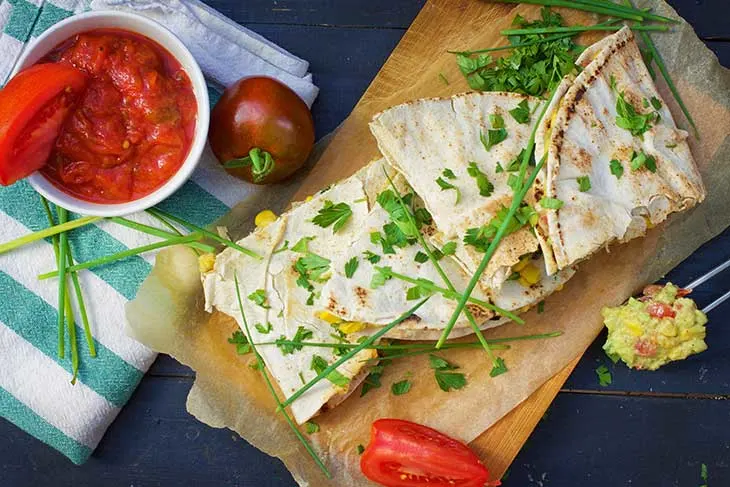 Yield: 4
Vegan Quesadillas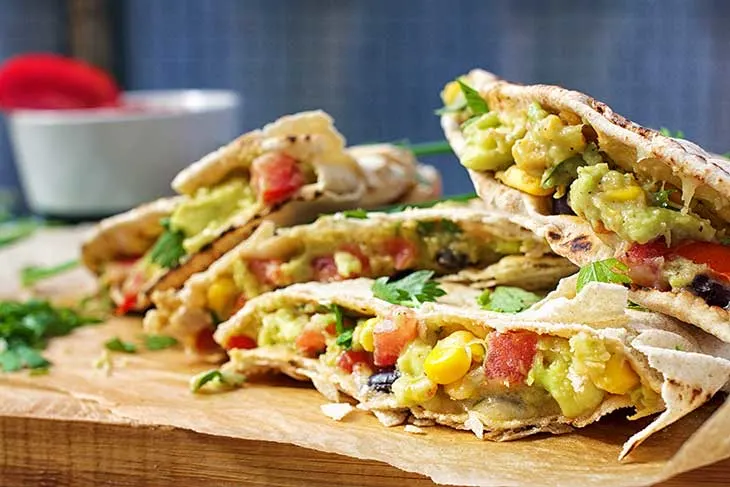 Quesadillas are some amazingly delicious Mexican snacks that you can easily make at home! The vegan recipe is extremely easy, delicious and healthy!
Ingredients
½ onion, chopped
½ bell pepper, diced
1 Tbsp olive oil
120g (½ cup) black beans, drained
4 medium soft flour tortillas - you can also use GF tortillas for the GF version
2 avocados, peeled, halved, seeded and lightly mashed
15g (¼ cup) minced cilantro or parsley
1 tomato, diced
60g (⅓ cup) sweet corn
½ lime, juiced
120g (1 cup) vegan mozzarella cheese, shredded
For the seasoning:
chili powder - to taste
¼ tsp garlic powder
¼ tsp onion powder
¼ tsp dried oregano
½ tsp paprika
1 ½ tsp ground cumin
1 tsp sea salt
1 tsp pepper
Instructions
In a small bowl, add all seasonings and mix to combine.
In a medium pan over medium heat, saute the onion and the bell pepper in 1 Tbsp oil for 2 minutes. Add the black beans and seasoning mix. Cook for another minute. Transfer the mixture into a small bowl and set aside.
Set another clean and dry pan on a medium heat.
In a small bowl, lightly mash the avocados with a fork. Stir in the cilantro or parsley, the juice of 1/2 lime, add the chopped tomato and corn. Season with salt and pepper to taste.
Spread a quarter of the mashed avocado onto half of a tortilla.
Top with the bean mixture and ¼ cup of cheese. Fold the tortilla closed over the filling.
Repeat with the rest of the ingredients.
Cook on medium heat for 2-3 minutes, on each side, until crispy. Serve with your favorite salsa.
Nutrition Information
Yield
4
Amount Per Serving
Calories

300
Total Fat

15.7g
Carbohydrates

32.1g
Protein

7.8g