Tacos are a very popular street food in Mexico and around the entire world. Check out this vegan tacos recipe, bursting with authentic flavors and super easy to make! Give it a try!
Tacos are one of the most iconic and beloved traditional dishes of Mexican cuisine. They're simple but full of personality and a favorite street food both in Mexico and around the entire world. Tacos consist of small corn or wheat tortillas folded and filled with juicy ground meats, salsas, cheese, cream, and many other ingredients depending on your taste and preference. They're usually consumed without any cutlery in order to be fully enjoyed, topped with guacamole, cilantro, chili, onions, lettuce or tomatoes.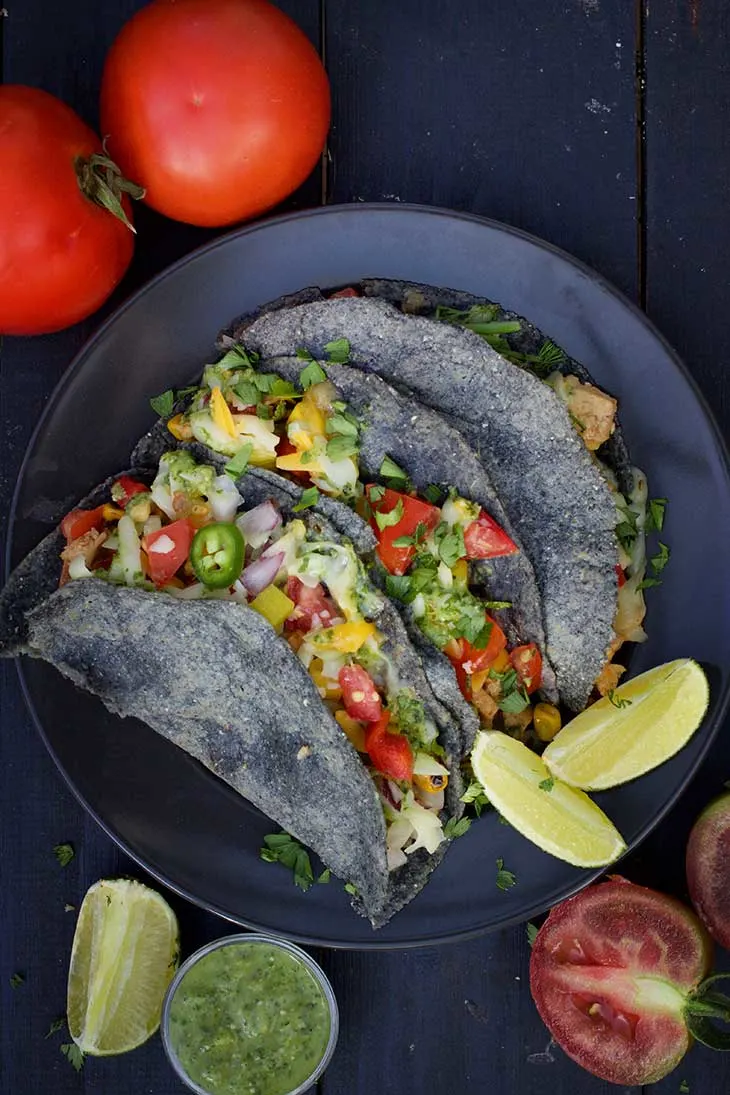 The origins of tacos lack enough evidence so we cannot say for sure, but it's quite certain that tacos existed in Mexico before the arrival of the Spanish settlers. Anthropological evidence shows that indigenous people living in the Valley of Mexico ate tacos filled with fish. Tacos are so amazing that they've become extremely popular all around the world now, but the first taco meal enjoyed by Europeans was a meal organized by Hernan Cortes in Coyoacan at the time of the Spanish conquistadors, documented by Bernal Diaz del Castillo.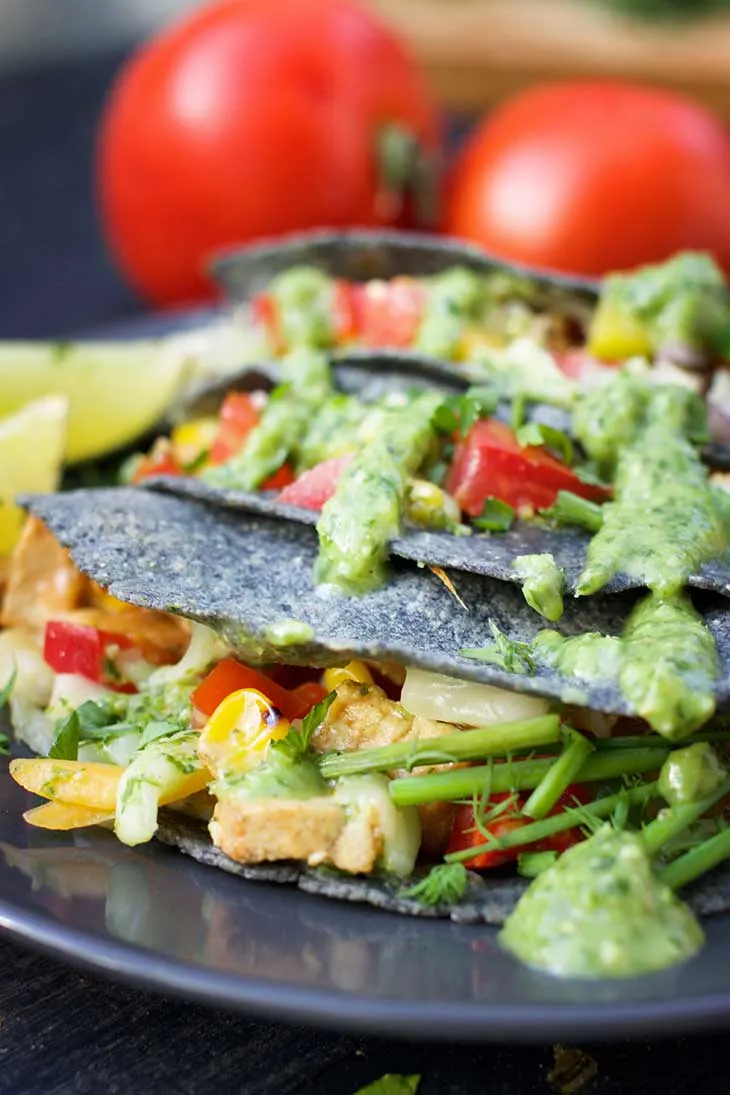 And because tacos are such an incredibly versatile dish, allowing for plenty of combinations of fillings, there are many varieties of this dish accepted all around as being traditional. Let's see which are some of the most popular types of tacos!
Tacos de asador (grill tacos) are made of grilled meat, usually chorizo or tripe, grilled until crisp and served with guacamole, salsa, onions, and cilantro.
Tacos de pescado (fish tacos) consist of grilled or fried fish, lettuce or cabbage, pico de gallo and a citrus mayonnaise sauce squeezed into the tortilla. They're extremely popular in California, United States, where street vendors serve them with a side of coleslaw salad.
Tacos de camarones (shrimp tacos) are very similar to the fish tacos, except they have grilled/fried shrimp instead of fish.
Tacos dorados (golden tacos, also called flautas, flutes, or taquitos) are a type of tacos with shredded meat in which the tortilla is rolled into a cylinder and deep-fried until crisp. And probably the most interesting type of tacos: tacos sudados (sweaty tacos) are tacos that are filled with spicy meat and covered with a cloth while still hot, so the steam will easily soften the tortillas.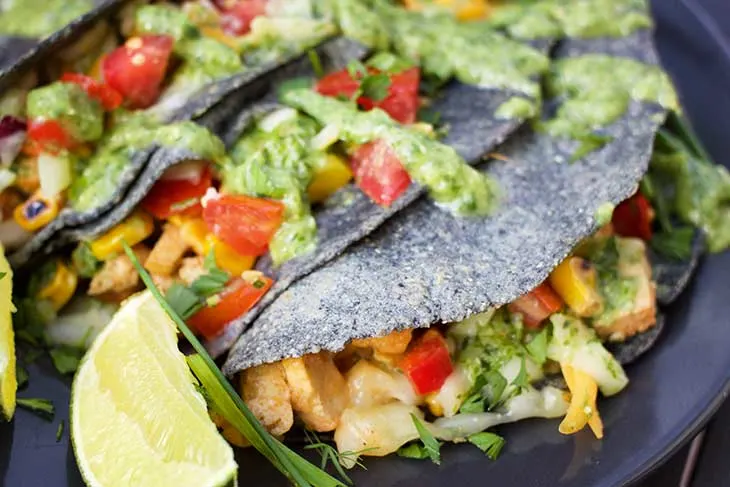 And because tacos are so simple, delicious and versatile, they have traveled all around the world and have been twisted and changed differently in each region. "Breakfast taco" is a very American type of taco and it is usually filled with eggs, cheese and breakfast meats like sausages or bacon. Another type of non-traditional tacos are the hard-shell tacos, made with a crunchy tortilla and popular in the United States and Canada.
Regardless of which way you like to enjoy your tacos, one thing is certain: this yummy Mexican dish is bursting with amazing flavors and it is so easy to make! And because of this, tacos are really easy to 'veganize'. For my vegan version of tacos, I used plenty of vegetables and tofu cubes in order to make sure they have the right amount of protein. Top everything with some homemade green salsa and chopped greens and enjoy your delicious meal!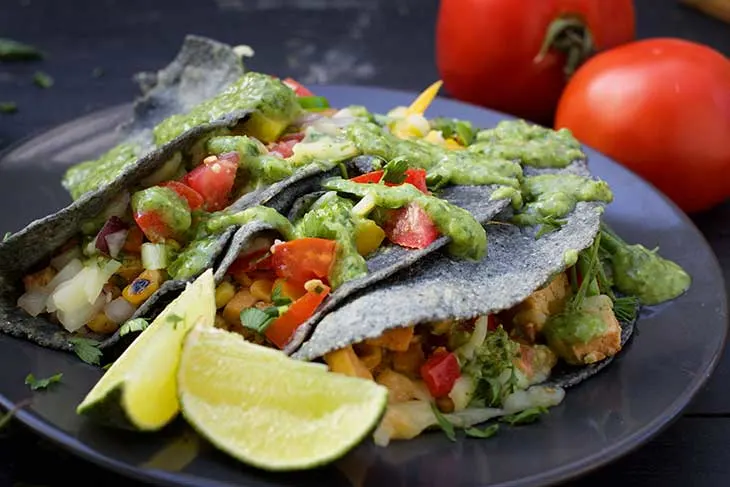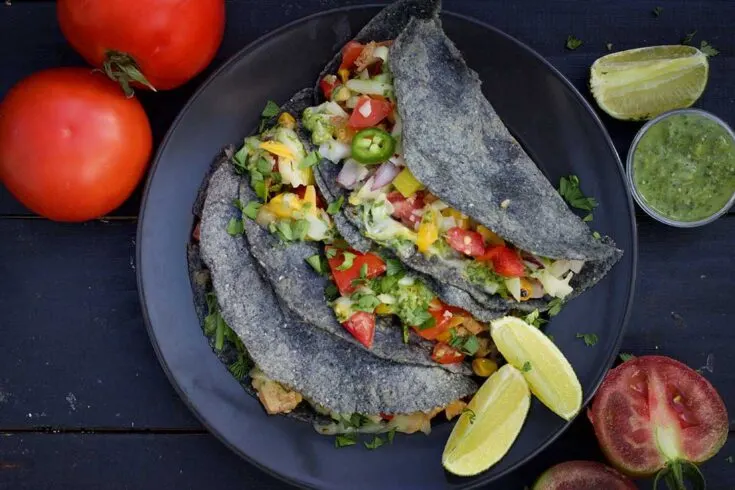 Tacos are a very popular street food in Mexico and around the entire world. Check out this vegan tacos recipe, bursting with authentic flavors and super easy to make! Give it a try!
Ingredients
3 taco shells , use GF if you want
190g (¾ cup) smoked tofu, cubed
1 Tbsp olive oil
⅓ tsp cumin powder
¼ chili powder
⅓ tsp garlic powder
⅓ tsp onion powder
3 Tbsp sweet corn, grilled
2 small tomatoes, chopped
1 Tbsp red bell pepper, chopped
1 Tbsp yellow bell peppers, chopped
1 Tbsp green bell pepper, chopped
1 Tbsp jalapenos, sliced
3 Tsp red onion, finely chopped
1 Tbsp cilantro, chopped
1 Tbsp chives, chopped
60g (¼ cup) vegan mozzarella, shredded
130g (½ cup) green salsa
Instructions
Heat a skillet with olive oil on medium heat. Add the cubed smoked tofu, cumin, chili, onion and garlic powder. Cook, stirring, for about 5 minutes until golden. Set aside.
In a small bowl, combine the red, yellow and green bell pepper with sliced jalapeno.
Using a spoon, top the shells with the filling.
Start with the cubed tofu and divide it between the wraps. Top with sweet grilled corn, 1 Tbsp cubed tomato on each, 1 Tbsp bell pepper mix, 1 tsp red onion, 1 Tbsp salsa verde, 1 Tbsp vegan cheese and top with some chopped greens.
Serve it fresh or warmed on a dry skillet.
Top with more salsa and some more greens.
Nutrition Information
Yield
3
Amount Per Serving
Calories

283
Total Fat

15.4g
Carbohydrates

20.5g
Protein

15.6g