If you want to try new, exciting soup recipes, this Mexican sweet corn soup is exactly what you need! With a subtle spiciness and full of flavors, this easy Mexican recipe will surely become your favorite!
Soups are one of my favorite easy and nourishing lunch meals – there is so much variety to what you can do to tweak a soup recipe to your taste! A steaming bowl of soup is the perfect comfort food on a chilly gloomy day and cold soups like gazpacho are a refreshing, light summer meal! If you're one of those people who think soups are boring, read on and let me convince you otherwise, because this flavor-packed Mexican sweet corn soup is anything but dull! Plus, corn is a great source of fiber and has a low-to-medium glycemic index.
Mexican sweet corn soup (also called sopa de elope, crema de elope or crema de maiz) is quintessential to Mexican cuisine, combining its most representative flavors in a creamy, comforting dish, adored by grown-ups and kids both, in Mexico and across the borders!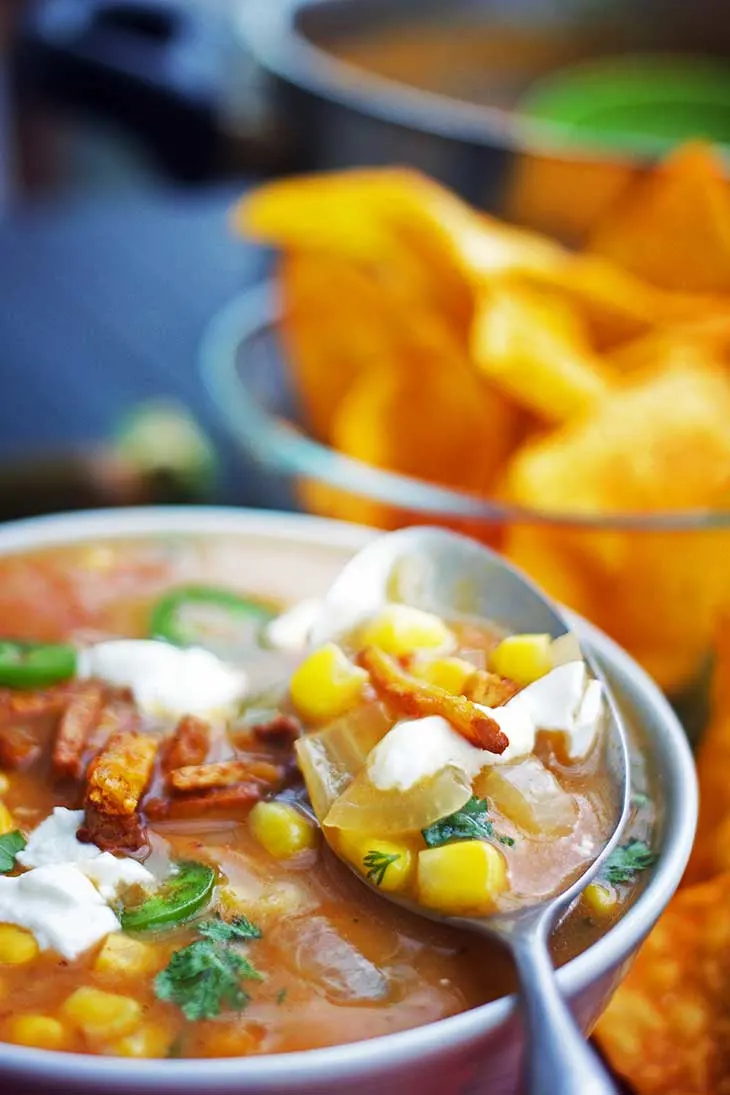 It's primarily made out of corn kernels that had been pan-roasted before simmering in broth, with milk and coriander, and then adding toppings and seasonings to taste, of course.
The combination between the sweetness of the corn, creaminess of the dairy and adjustable spiciness levels makes it an absolute hit with the kids!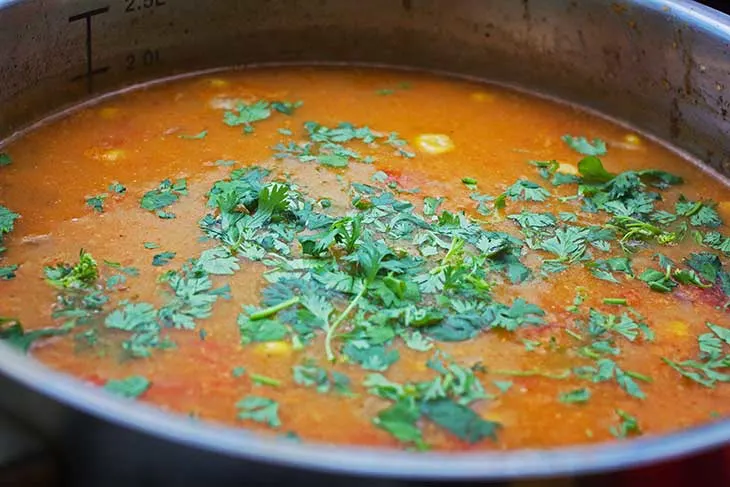 Although the origins of the corn soup aren't proven, one thing is for sure: the love story between corn and Mesoamerican cultures goes back thousands of years, when indigenous people cultivated and cooked with corn what we could call the predecessors of the street-style dishes, delicious, quick and easy to eat, before there were even streets.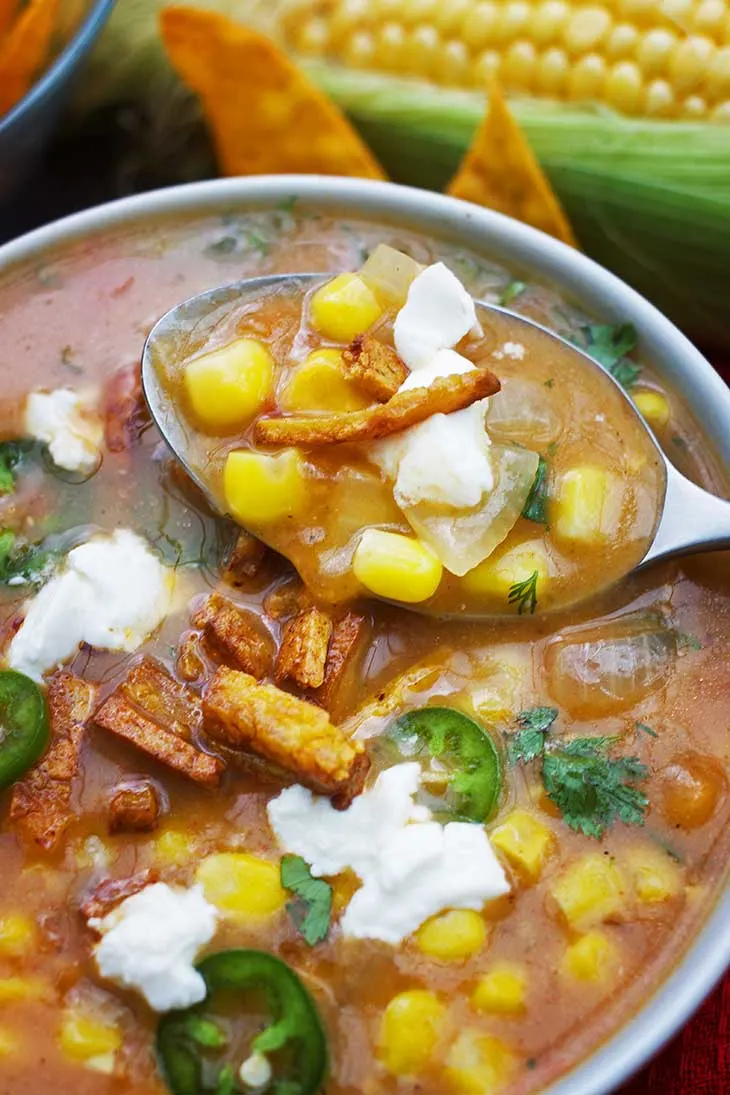 Mexican street corn soup is a flavorful dish reminding of Mexican street corn on the cob from street vendors. It's made with additional sour cream and lime, with plenty of crumbly Cotija cheese and smoky seasonings, and served with bacon and jalapenos.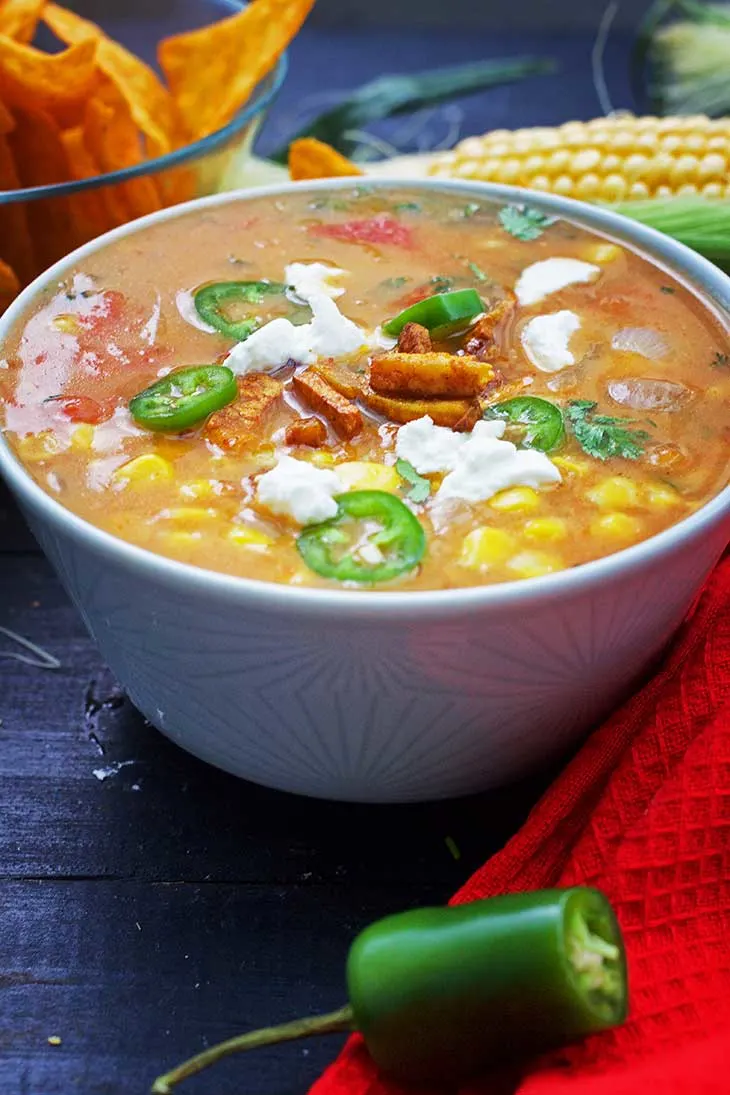 It's an incredibly versatile dish that, made at home, is fully customizable according to your taste and preferences. You can adjust the chili quantity, garlic, and cumin, make it gluten-free if you decide to serve it without any tortillas or tortilla chips, add poblano peppers instead of jalapenos for a milder spice or go wild with the chili powder and paprika for a more intense flavor! You could even get a smokier flavor by grilling the corn ears instead of pan frying before you remove the kernels from the cob. Whichever way you decide to make it, you have to know that much like any other soup, it freezes really well, so it's perfect to make a big batch and defrost it when you need to satisfy a crowd!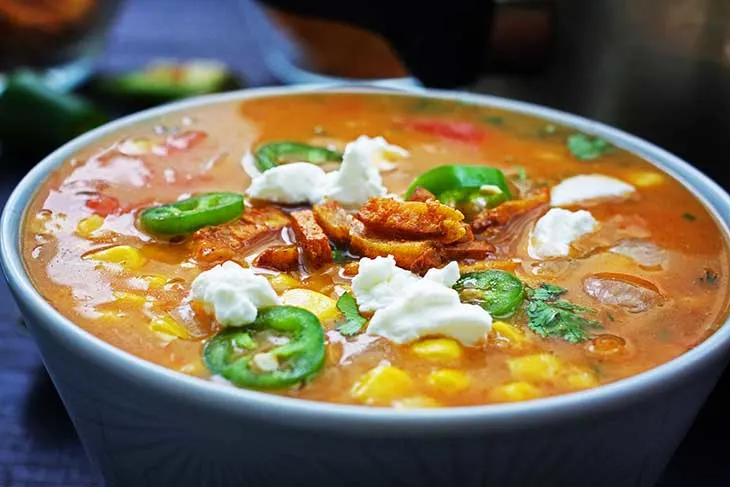 And because this Mexican sweet corn soup is such an authentic delicacy, I decided to include it in this month's challenge of 'veganizing' famous dishes from the Mexican cuisine! This vegan version is basically bursting with Mexican flavors and the jalapenos give it just the right amount of spiciness. Serve your bowl of soup with chopped cilantro, jalapenos and cream cheese on top and don't forget about the tofu bacon if you want to achieve a real treat!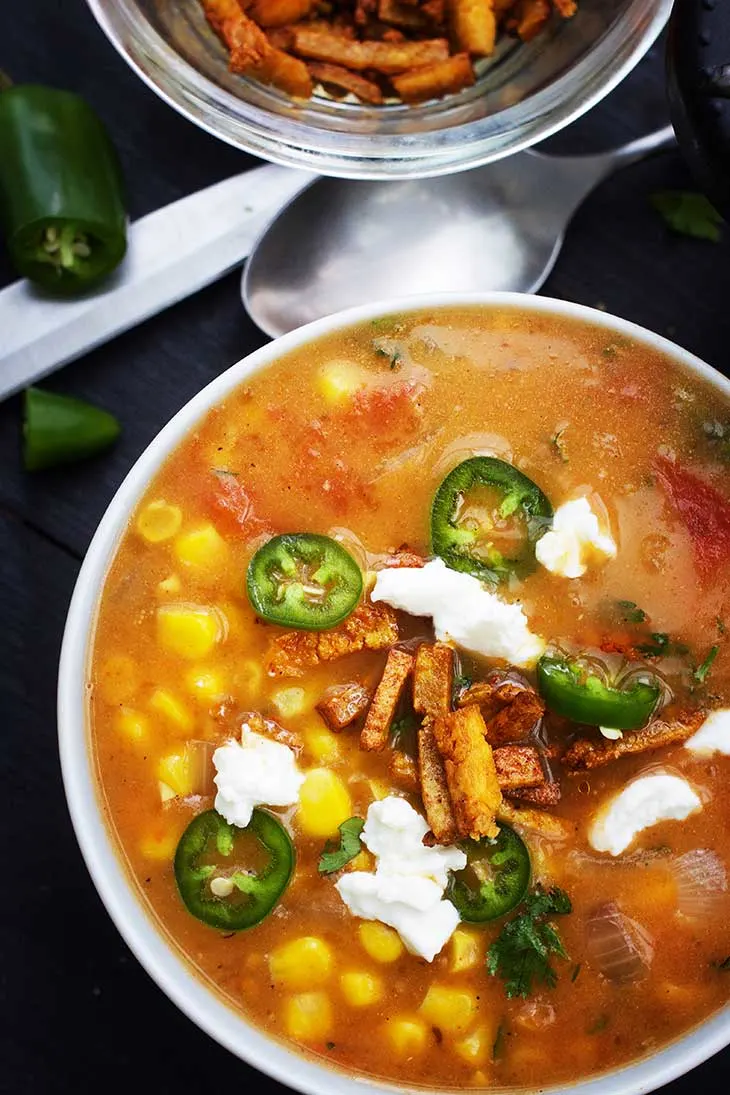 Yield: 6 +
Mexican Sweet Corn Soup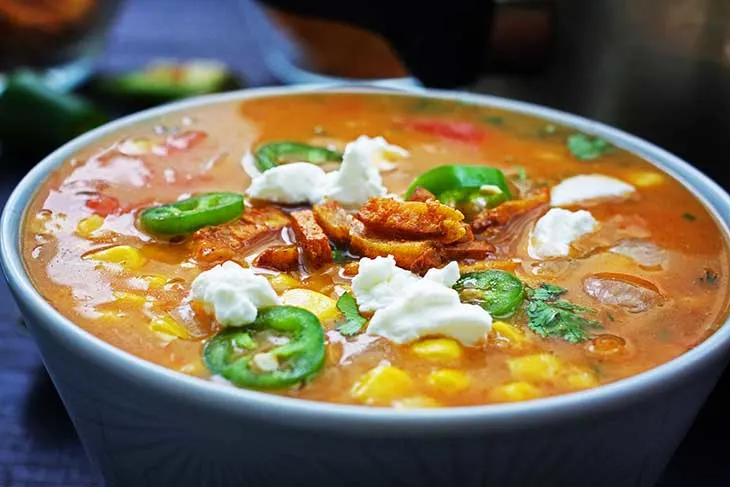 If you want to try new, exciting soup recipes, this Mexican sweet corn soup is exactly what you need! It has a subtle spiciness and it's full of flavors!
Ingredients
4 Tbsp olive oil
1 large onion, chopped
1 jalapeno, minced
1 large tomato, peeled and diced
3 cloves garlic, crushed
2 Tbsp tapioca flour
2 Tbsp ground cumin
1L (4 cups) veggie broth
1kg (6 cups) sweet corn
1 Tbsp coconut sugar
1 Tsp salt
½ Tsp black pepper
1 can (400g | 14oz) coconut milk
For topping:
3 Tbsp fresh cilantro, chopped
1 jalapeno, sliced
225g (1 cup) vegan cream cheese - optional
Vegan bacon:
½ block extra firm smoked tofu, sliced into strips
1 Tbsp olive oil
1 Tsp smoked paprika
Instructions
Heat the olive oil in a large saucepan over medium heat.
Add onions, jalapeno, garlic, and cook, stirring occasionally for about 5 minutes, until the onion is translucent.
Add tapioca flour and cumin, stir to combine.
Add the diced tomato and cook for about 2 more minutes.
Add corn and pour into the veggie broth.
Add salt, pepper and coconut sugar.
Stir well to combine all the ingredients.
Simmer for about 7 minutes.
Add coconut milk, stir to combine, cover and let it sit.
Meanwhile, prepare your bacon.
In a skillet over medium heat, add olive oil. Add the sliced tofu and paprika. Cook, stirring occasionally, for about 8 minutes, or until the tofu pieces are crispy and golden.
Serve the corn soup with chopped cilantro, jalapenos, vegan cream cheese and tofu bacon on top.
Nutrition Information
Yield
6
Amount Per Serving
Calories

455
Total Fat

22.9g
Carbohydrates

46.7g
Protein

15.3g