Here's how you can make the perfect gazpacho – a delicious and refreshing cold soup recipe perfect for hot Summer days!
It's time to explore the Spanish cuisine! I have so many awesome recipes to share with you so stay tuned if you want to experience the wonderful flavors of Spain! 🙂
I start the series of Spanish recipes with this world-popular gazpacho – a cold soup recipe that's so refreshing, flavorful and nourishing! It's perfect for this season as it's completely raw and served chilled.
Gazpacho is an Andalusian recipe (a region in the south of Spain) and it's a soup recipe served cold made with raw blended veggies. This popular recipe has ancient origins and many versions with different colors and ingredients. Gazpacho is more of a wide term used for different kinds of cold soup recipes. You can make gazpacho with the blend in the recipe below or add other ingredients such as watermelon and even grapes! Some regions also add in cooked seafood and make it with meat stock.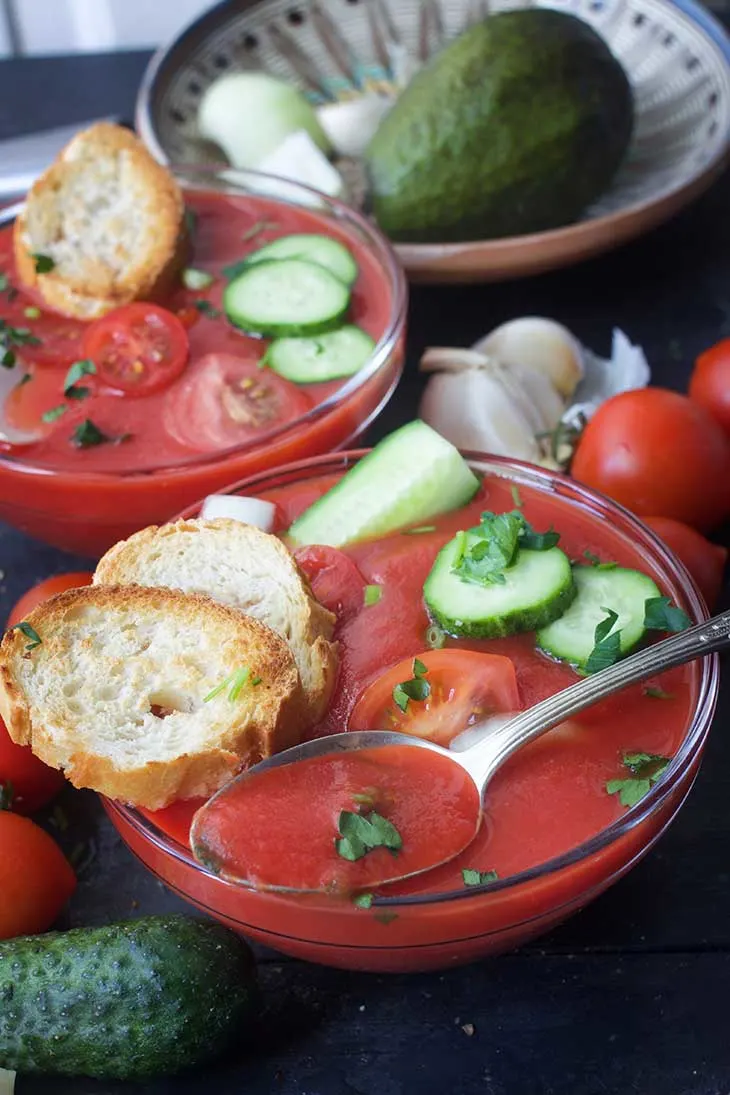 Traditionally, the Andalusian gazpacho is made with tomatoes, cucumbers, bell pepper, onion, garlic, wine vinegar, olive oil, and salt. I was inspired by this authentic gazpacho recipe but decided to add some avocado and chili powder for a smoother texture and a subtle spicy flavor.
This cold soup recipe is so refreshing and healthy! It's perfect for Summer and the best part is that it's raw, so the blender will pretty much do all the work, no cooking is needed.
Hope you'll give this recipe a try! If you liked my cold soup recipe, drop a comment below. I'd love to hear your feedback!
P.S. Get your own custom meal plan, with healthy & delicious recipes, plus organized grocery lists! Save both time and money! Check out my meal planner app!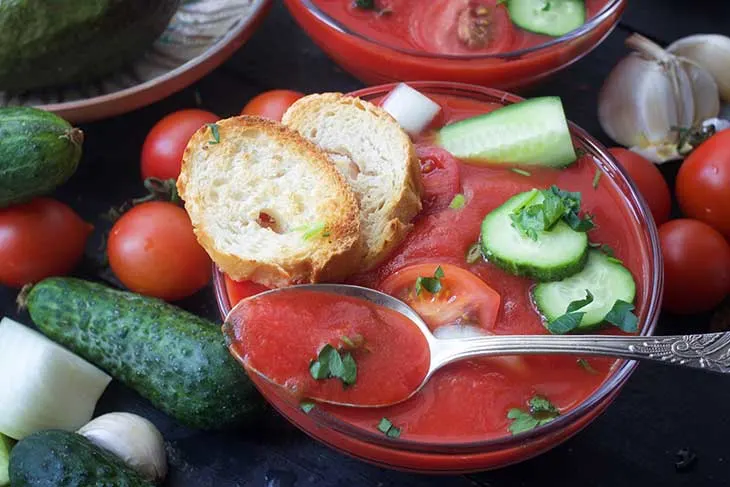 Yield: 2 +
Gazpacho | Cold Soup Recipe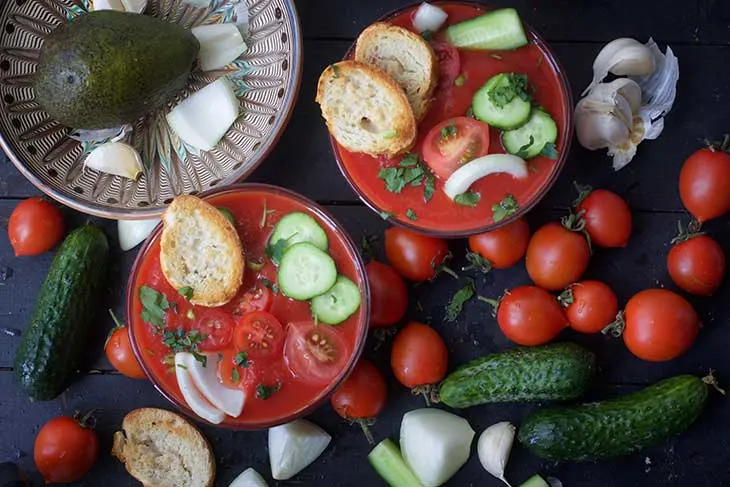 Here's how you can make the perfect gazpacho - a delicious and refreshing cold soup recipe perfect for hot Summer days!
Ingredients
1 cucumber, chopped
120g (½ cup) tomato juice
6 large ripe tomatoes
½ ripe avocado
½ red bell pepper
2 cloves garlic
1 Tbsp lemon juice
½ red onion
3 Tbsp red wine vinegar
½ tsp salt
black pepper. ground, to taste
1 Tbsp olive oil
some chili powder, ground, to taste
fresh herbs, croutons and veggie sticks for serving
Instructions
Add the tomato juice, tomatoes, red bell pepper, avocado, cucumber, onion, garlic and lemon juice, in a blender and blend until perfectly smooth.
Add the rest of the seasonings: olive oil, salt, chili, pepper, and vinegar and blend again.
Press the mixture through a strainer especially if you don't have a high-power blender. We want this to be extra-smooth.
Pour into a glass jar and cover. Chill in the fridge for a few hours or overnight.
Before serving, shake the jar. Pour into bowls, and garnish with toppings such as chopped cucumbers, avocado, cherry tomatoes, croutons.
Nutrition Information
Yield
2
Amount Per Serving
Calories

631
Total Fat

34.2g
Carbohydrates

73.7g
Protein

7g