Try the recipe for colcannon – Irish mashed potatoes – and give free rein to the authentic tastes of Ireland on a plate.
Mashed potatoes have been my favorite food since I was little. I love them creamy, with lots of butter and some meatballs on the side. So, today I decided to explore the wonderful world of potato dishes and discovered a traditional Irish recipe called colcannon – which is practically a less elegant mashed potato with cabbage, onion and interesting spices. I hope you like this best colcannon recipe and read the information below about it with interest.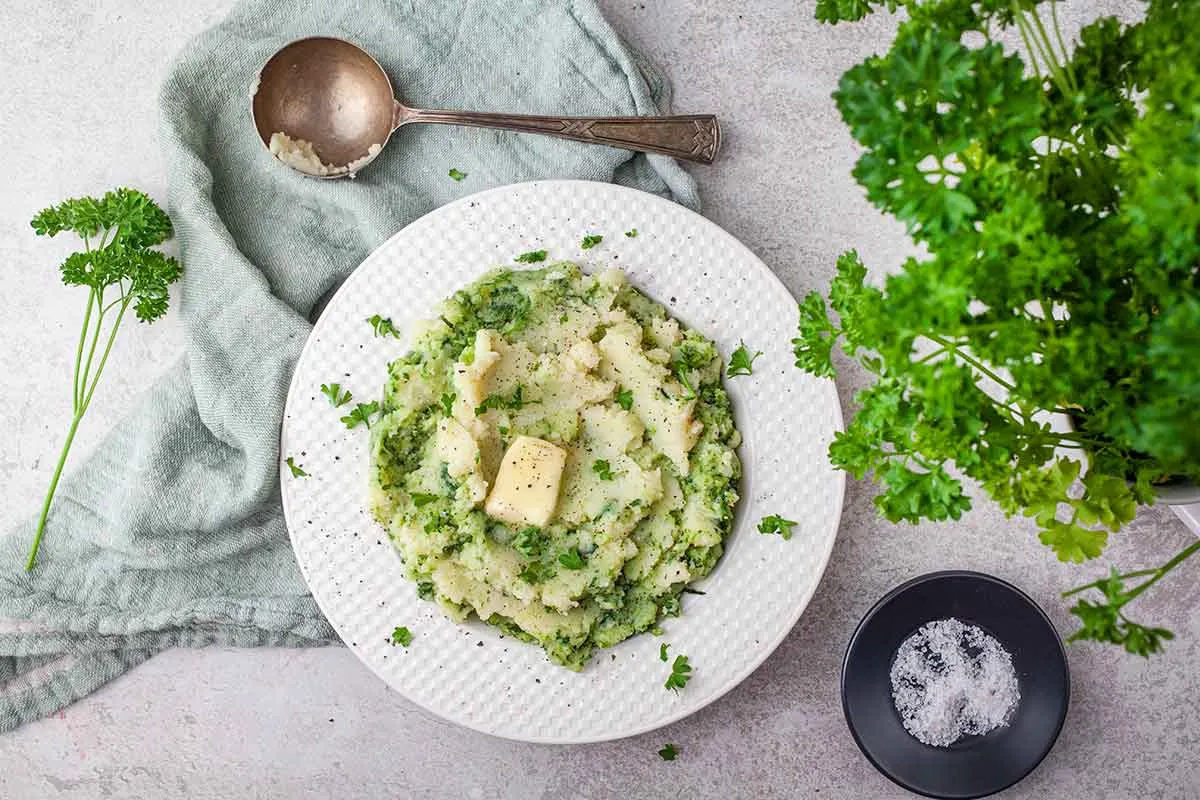 History of Colcannon
Colcannon, a simple Irish mashed potato, is loaded with cultural and traditional meanings. In particular, its connection with Halloween night, known in Irish Gaelic as "Oiche Shamhna", makes it a truly special food in the hearts of many Irish people.
Dating back to the 17th century, colcannon mash became popular when the potato became a staple in the Irish diet. However, the Halloween holiday in Ireland has much older origins, with roots in the pagan era. It was seen as the night when the world of spirits and the world of living people intermingled, a mystical night of divination and predicting the future.
This is how, as this irish mashed potatoes with cabbage recipe grew in popularity, it also became part of Halloween traditions. It has become a habit to hide objects such as coins or rings in this food. Those who gassed these objects received a vision of what the future had in store for them. A ring, for example, could predict that the person who found it would get married soon.
The tradition does not stop here. On Halloween night, young girls in Ireland, full of hope and dreams, would put a portion of colcannon in a sock and hang it on the fireplace, hoping to dream about their future husband.
Although using traditional colcannon for divination may no longer be as widespread in modern Irish society, this type of food remains a favorite. And, whether it is served on a regular night or on Halloween, the colcannon carries with it stories and traditions of Irish culture.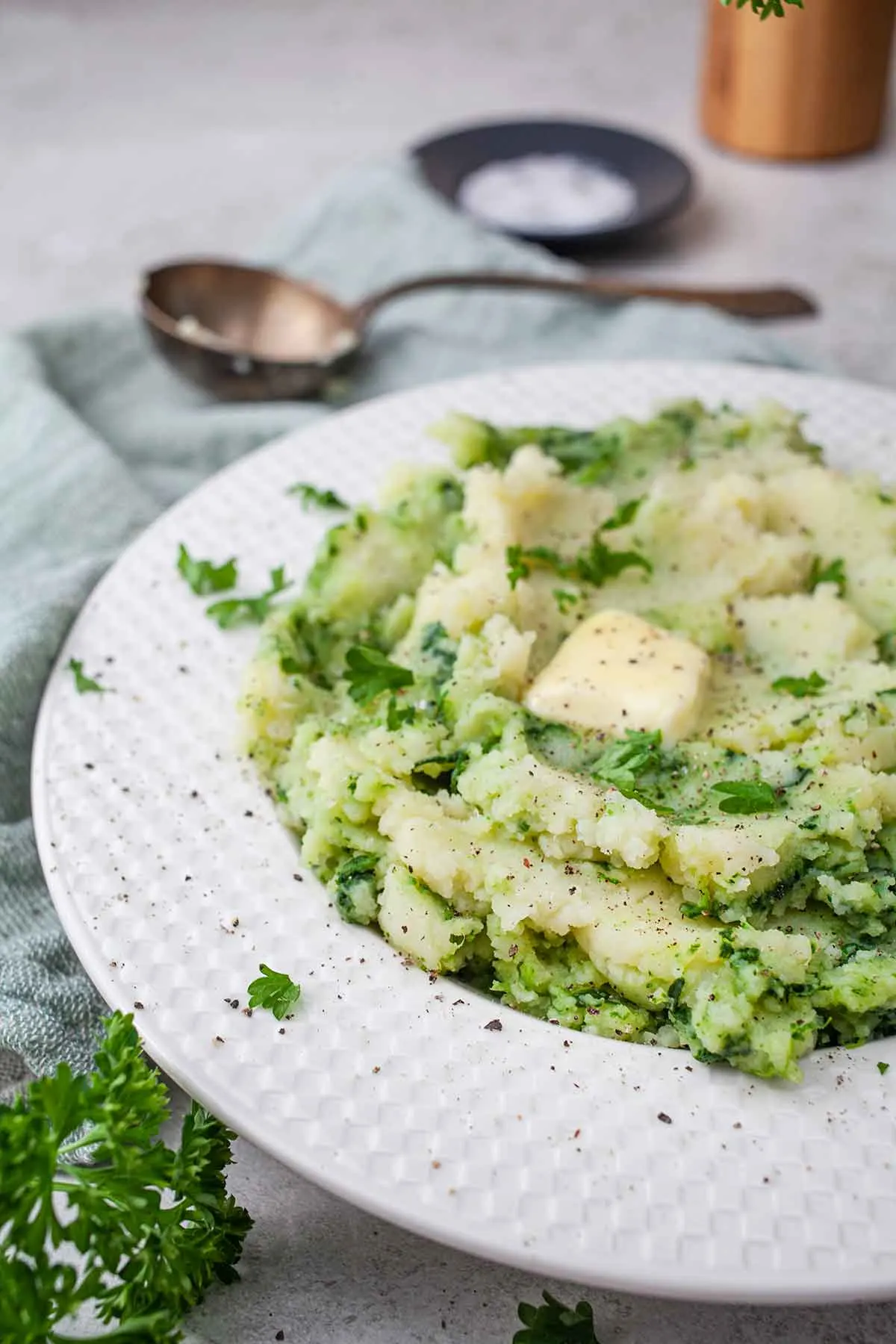 Variants of colcannon mash
In certain regions of Ireland, such as the most rural or coastal ones where the soil is more suitable for kale or wild cabbage crops, these become the basic ingredient for colcannon. Kale, also known as wild cabbage, is a dark green leafy plant with a slightly firmer texture than traditional cabbage. The use of kale gives colcannon a slightly different texture and a more intense taste.
Beyond the variety of greens used in the puree, the method of preparation and the additional ingredients also vary. For example, in the regions of the west of Ireland, where pork production is more abundant, it is not unusual for colcannon to include pieces of bacon.
Colcannon and champ
Colcannon and champ are two traditional Irish potato dishes, but each with its own distinct characteristics. Colcannon, originally from the province of Munster, combines mashed potatoes with cabbage or kale, offering a slightly robust texture and a bitter taste that complements the sweetness of the potatoes.
On the other hand, champ, specific to the Ulster region of Northern Ireland, mixes mashed potatoes with finely chopped green onions, resulting in a soft and creamy texture with a mild spicy note.
Although both dishes are potato-based and popular throughout Ireland, the subtle differences between them reflect the variety and richness of the country's culinary traditions.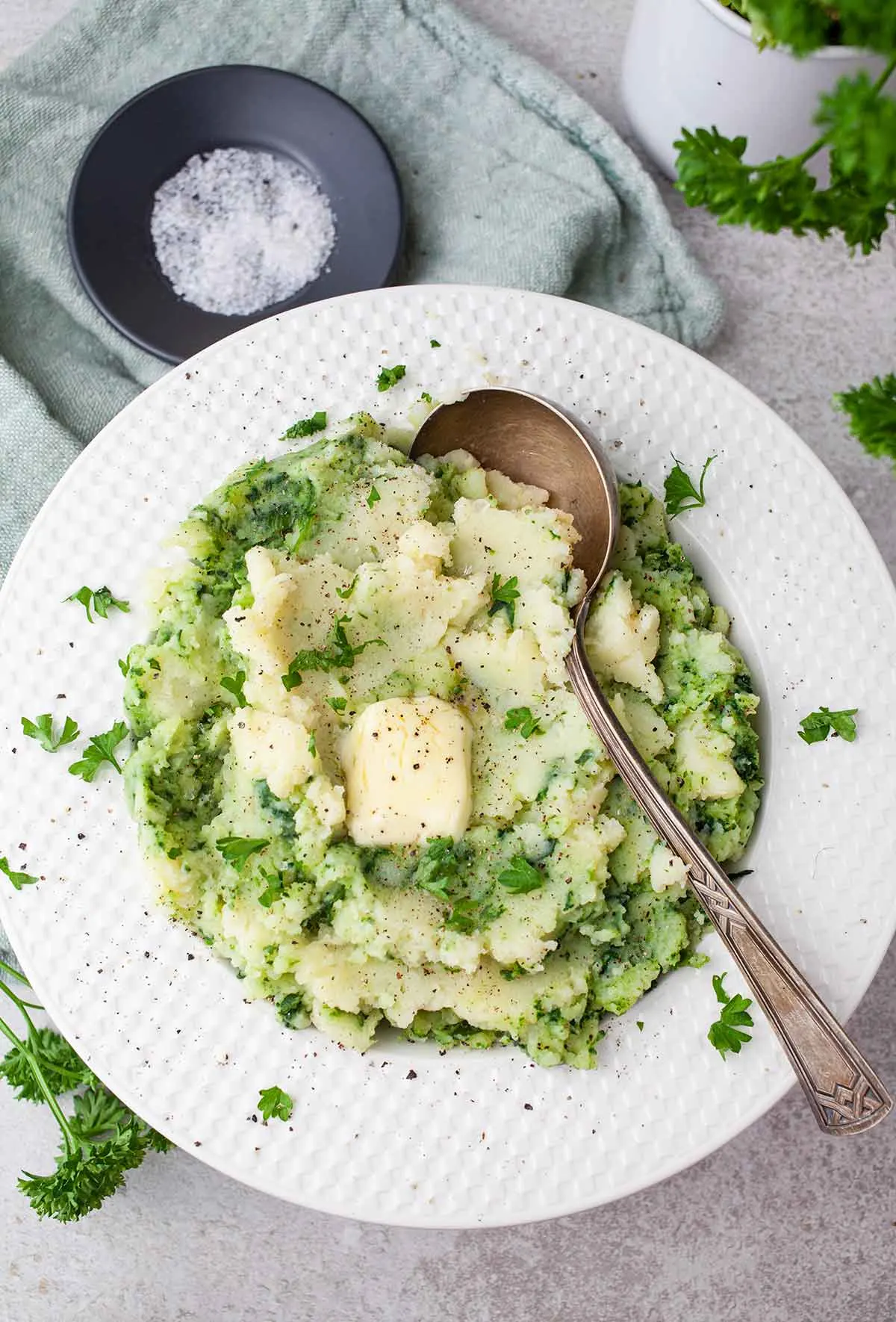 Dietary alterations
Vegetarian Colcannon
In its simplest form, colcannon is already suitable for vegetarians, assuming you don't add bacon or other meat ingredients. If the traditional recipe you are following recommends adding bacon, simply omit this ingredient or replace it with vegetarian versions of bacon available in many stores.
Vegan Colcannon
Modifying the recipe to make it vegan requires some additional changes. First of all, instead of butter, you can use coconut oil, olive oil or my vegan butter recipe to give the desired creaminess to the puree. Also, if the recipe calls for milk, opt for almond milk, soy or any other preferred vegan dairy option. These substitutes not only make the recipe vegan, but can also add a different and interesting note of flavor.
Gluten-Free Colcannon
Fortunately, the basic ingredients of colcannon mash – potatoes, cabbage or kale and green onions – are naturally gluten-free. However, if you are adding additional ingredients or serving colcannon with other foods, be sure to check the labels for any possible gluten content.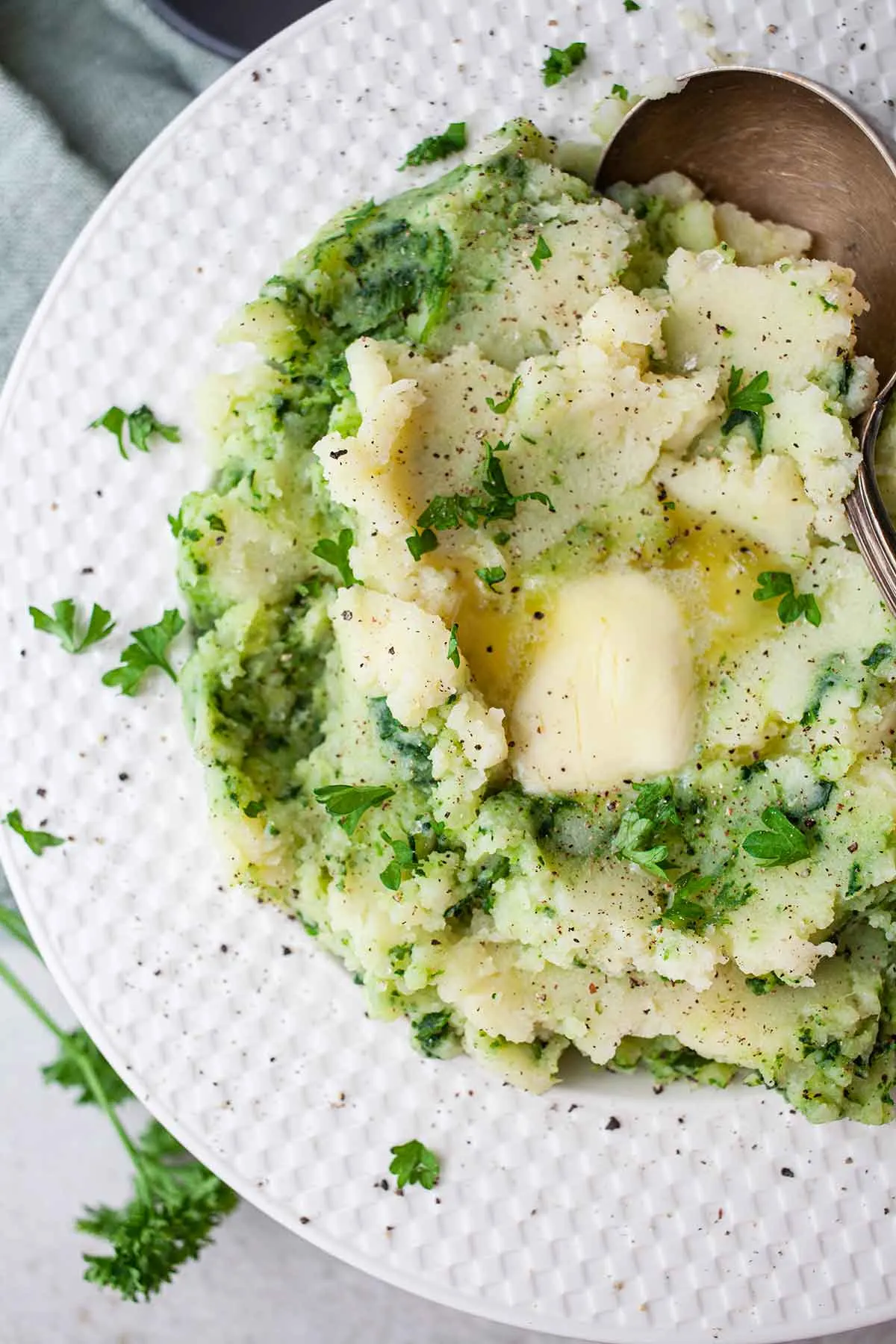 Ingredients
Potatoes: The creamy and comforting base of colcannon, potatoes bring the soft texture and sweet taste of the dish.
Butter: It enriches the colcannon with a velvety texture and a rich aroma, intensifying the taste of each ingredient. In the vegan version, you can replace it with olive oil.
Mixed leaves of baby kale and baby spinach: Adds a touch of freshness and a slight hint of bitterness, balancing the sweetness of the potatoes and adding extra texture.
Green onion: Provides a spicy and crunchy note, contrasting with the soft mashed potatoes and adding depth to the overall flavor.
Bay leaf: Infuses the colcannon with a subtle herbal aroma that amplifies the complexity of the taste.
Milk: It gives the puree a more fluid and creamy consistency, making it easier to mix and intensifying the richness of the butter. In the vegan version, you can replace it with soy milk.
Mustard powder and black pepper: Add a slight spicy aroma, contrasting with the sweetness of the potatoes and deepening the flavors of the other ingredients.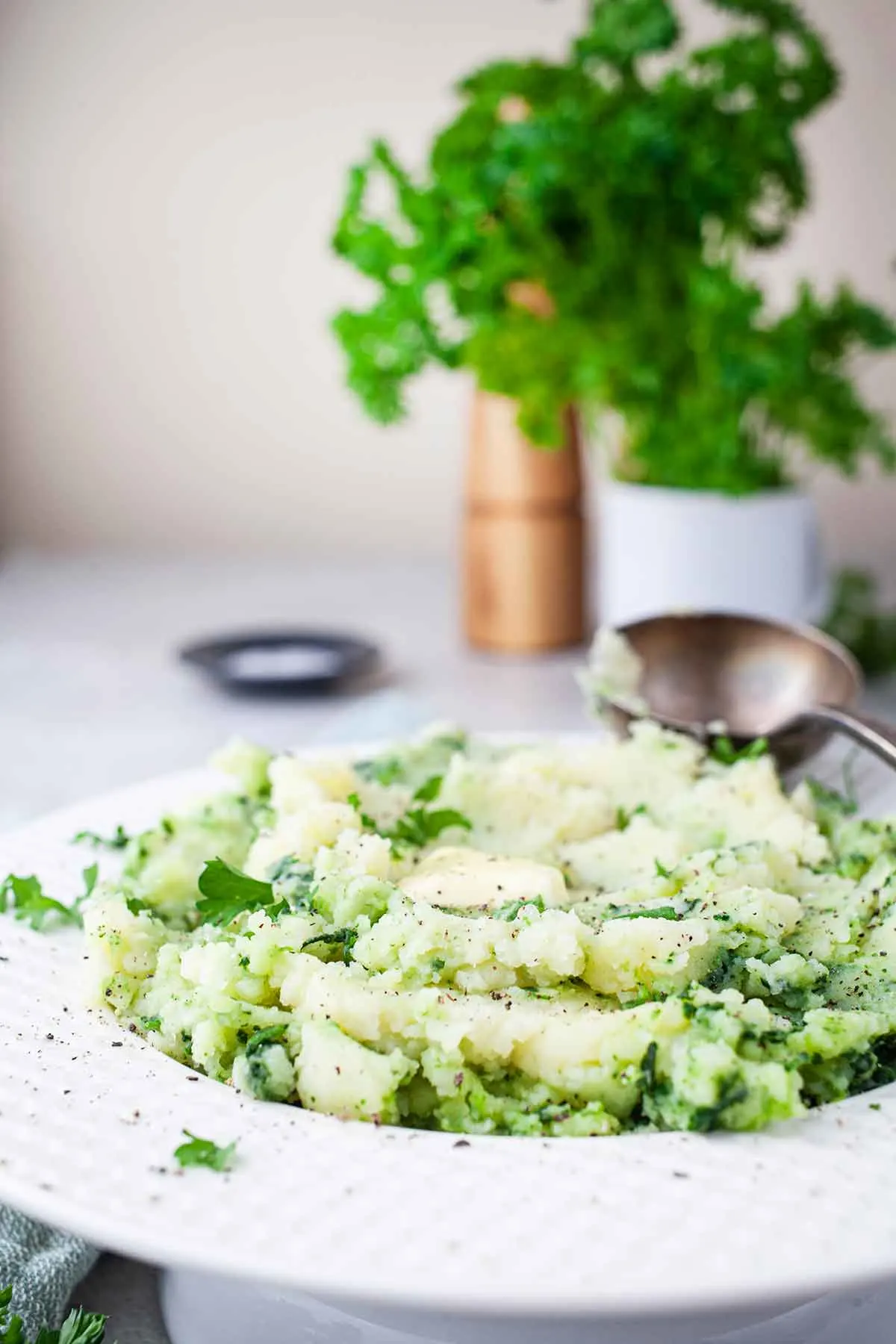 Storage and Reheating
Storage: After letting the colcannon cool down to room temperature, transfer it to an airtight container and store it in the refrigerator. For the best quality, it is recommended to consume it in the next 2-3 days, but it can last up to 5 days in optimal refrigeration conditions.
Reheating: When it comes to reheating colcannon, the chosen method can significantly influence the texture and taste of the dish:
On the stove: Transfer the colcannon to a saucepan and heat over low to medium heat, stirring occasionally. If the puree seems too thick, you can add a little milk or water to thin it until it reaches the desired consistency.
In the oven: Preheat the oven to a temperature of 175°C. Transfer the colcannon to a heat-resistant dish and cover with aluminum foil. Heat for 15-20 minutes or until completely heated.
Irish mashed potatoes recipe
Yield: 4 servings
Colcannon - Irish Mashed Potatoes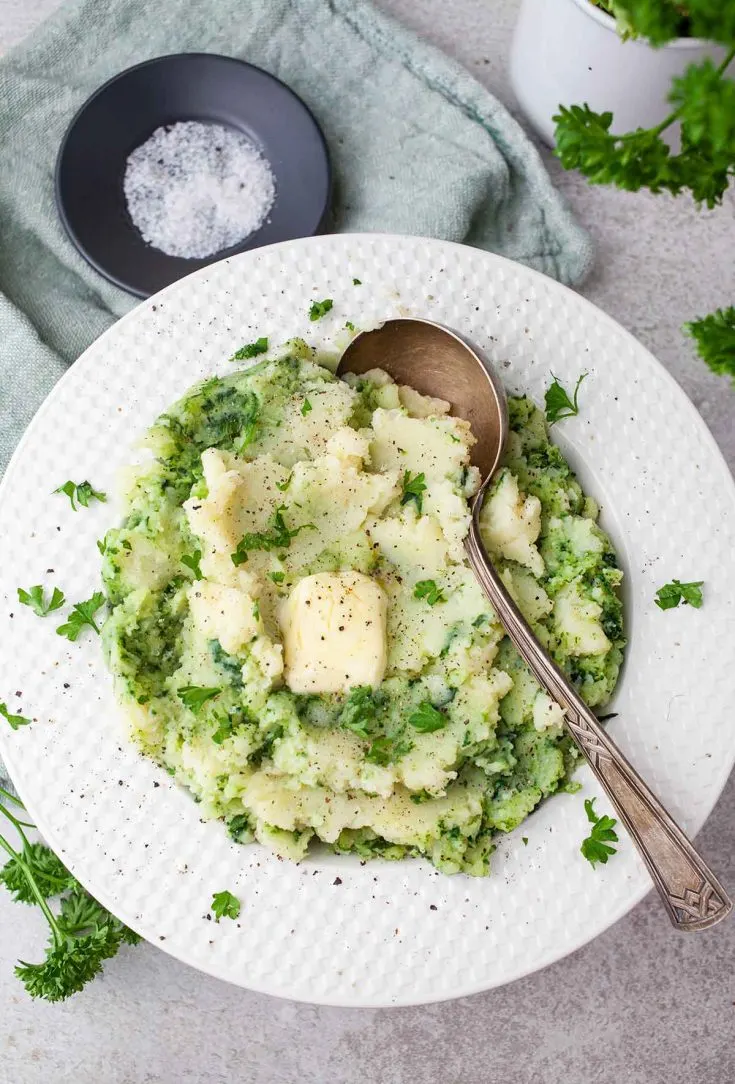 Try the recipe for colcannon - Irish mashed potatoes - and give free rein to the authentic tastes of Ireland on a plate.
Ingredients
3 large white potatoes, peeled, cut into pieces
2 teaspoons sea salt
6 tablespoons butter, room temperature
3 cups mixed leaves of baby kale and baby spinach, chopped
4 tablespoons chopped green onion
1 bay leaf
1 ¼ cup milk
1 teaspoon mustard powder
½ teaspoon black pepper, ground
Parsley for serving
Instructions
Put the potatoes in a pot. Cover the potatoes with water and add salt. Boil the potatoes until they become soft.
Drain the water and leave the potatoes aside.
Meanwhile, heat a pan on medium heat with two spoons of butter, when the butter melts, add kale and spinach leaves, green onion, bay leaf.
Then add milk and mustard powder. When the milk heats up and forms small bubbles on the edges, lower the heat to minimum.
Put the potatoes in a large bowl and mash them with the remaining 4 tablespoons of butter. You can use a potato masher for a chunkier consistency or a hand mixer. for a smoother outcome.
Remove the bay leaf from the milk mixture and add it over the potatoes.
Mix until the ingredients are incorporated.
Sprinkle with freshly ground black pepper and chopped parsley.
Nutrition Information
Yield
4
Serving Size
1
Amount Per Serving
Calories

434
Total Fat

20g
Saturated Fat

12g
Trans Fat

1g
Unsaturated Fat

6g
Cholesterol

52mg
Sodium

1283mg
Carbohydrates

58g
Fiber

7g
Sugar

8g
Protein

11g
I strive to keep the information as accurate as possible but make no warranties regarding its accuracy. I encourage you to make your own calculations using your preferred nutrition calculator.