Try the recipe for healthy apple muffins – the perfect indulgence for any time of the day, which combines the natural sweetness of ripe apples with essential nutrients for a delicious sweet treat.
It's apple season and since this year my apple trees gave me fruit like never before, I decided to make as many apple recipes as possible to enjoy their wholesome gift.
I made apple juice, cider, apple vinegar, put grated apples with cinnamon in the freezer for the winter and now I decided to enjoy some extra-ripe apples in this recipe for apple and cinnamon muffins. I hope you enjoy my best apple muffins recipe!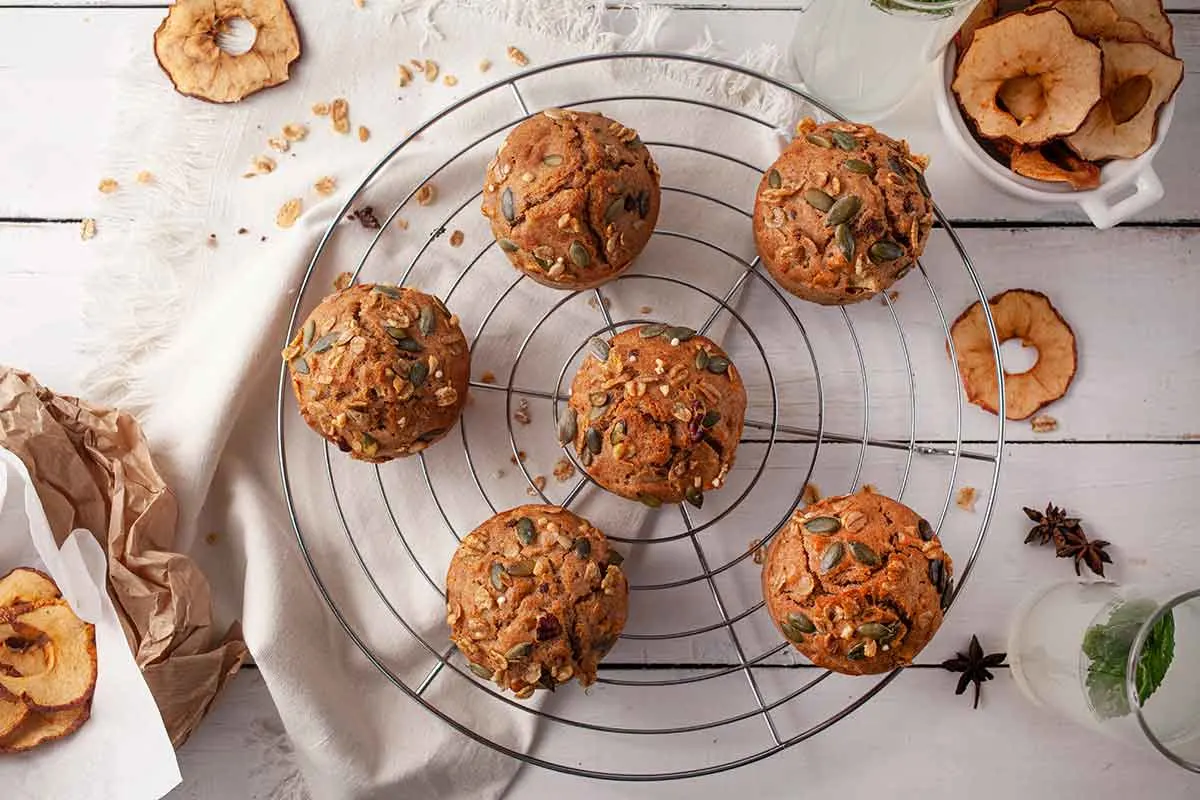 Varieties of apples recommended for making apple muffins
Unfortunately, I don't know what apple varieties I have in my yard, there are about 5 different types and I really don't know how to recognize them, but I have done my research and added below some apple varieties that are generally well-known as being suitable for baked goodies.
Granny Smith: These green apples are famous for their pronounced acidity and firm texture, which is maintained even when baked. Their slightly sour taste contrasts nicely with the sweetness of other ingredients in the muffins, offering a taste balance.
Golden Delicious: They are sweet and slightly sour apples, with a crunchy texture that softens easily when baked. They add a natural sweetness to these easy apple cinnamon muffins, eliminating the need to add large amounts of sugar.
Braeburn: A versatile option, Braeburn has a sweet-sour taste and a firm texture that bakes beautifully. These apples contribute to a muffin with a complex taste that is neither too sweet nor too sour.
Jonagold: It is a hybrid between Jonathan and Golden Delicious. They have a sweet-sour taste and a rich texture. They are excellent for baking due to their combination of sweetness and acidity.
Fuji: With an intense sweetness and a firm texture, Fuji is a popular choice for desserts. It may be necessary to adjust the amount of sugar in the recipe, considering the natural sweetness of these apples.
Honeycrisp: These apples are crunchy and extremely juicy, with a perfect balance of sweet and sour. They can add additional moisture to the apple cinnamon muffin recipe, making it soft and fluffy.
When choosing apples for muffins, consider how sweet or sour you like your dessert and adjust other ingredients accordingly. A mix of two or more varieties of apples can also bring an interesting taste and texture to your moist apple cinnamon muffins.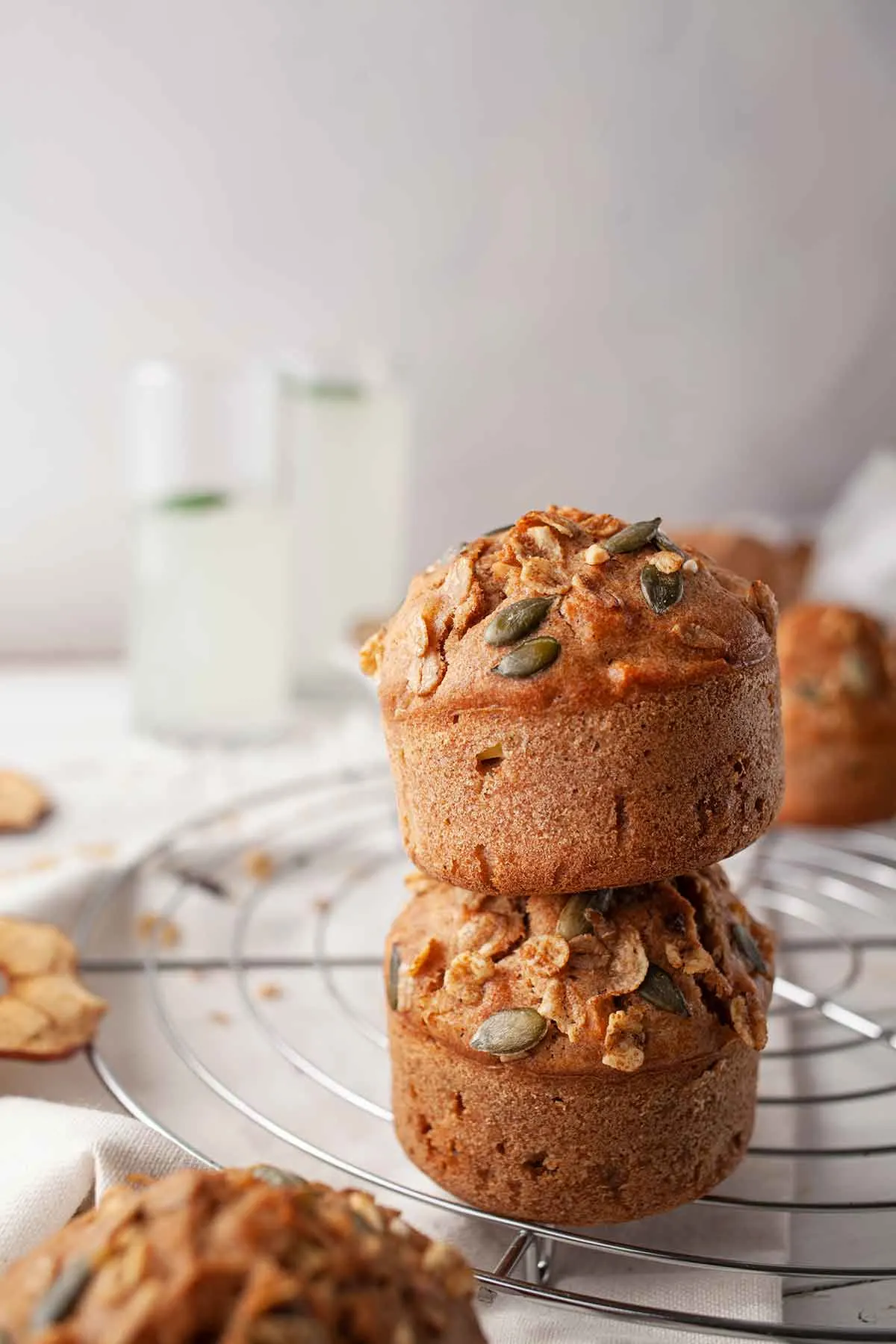 Healthy alternatives to sugar in muffins
Honey: Honey is a natural sweetener, rich in antioxidants, vitamins and minerals. Besides the fact that it adds sweetness to the dishes, it also gives you a distinct taste and extra moisture. When replacing sugar with honey, be careful to adjust the amount – honey is sweeter than sugar. You may also need to reduce the liquids in the recipe a bit, as honey adds moisture.
Agave syrup: Derived from the agave plant, this syrup has a lower glycemic index compared to sugar, which means that it will not cause large fluctuations in blood sugar levels. It is sweeter than sugar, so you will use less. It has a liquid consistency similar to honey, so you may need to adjust other liquid ingredients in the recipe.
Stevia: It is a natural sweetener extracted from the leaves of the stevia plant. It has the advantage that it does not contain calories and does not affect the blood sugar level. Since it is much sweeter than sugar, you will need to use a much smaller amount. There are versions of stevia specially created for sugar-free baking, which keep the proportions with sugar, but without the additional calories.
When you choose to replace sugar with one of these alternatives, it is good to start with a smaller amount and adjust according to taste. In addition, remember that each alternative brings not only sweetness, but also specific characteristics – such as humidity or texture – that can influence the final result of these healthy apple cinnamon muffins. Experiment and see which best suits your preferences!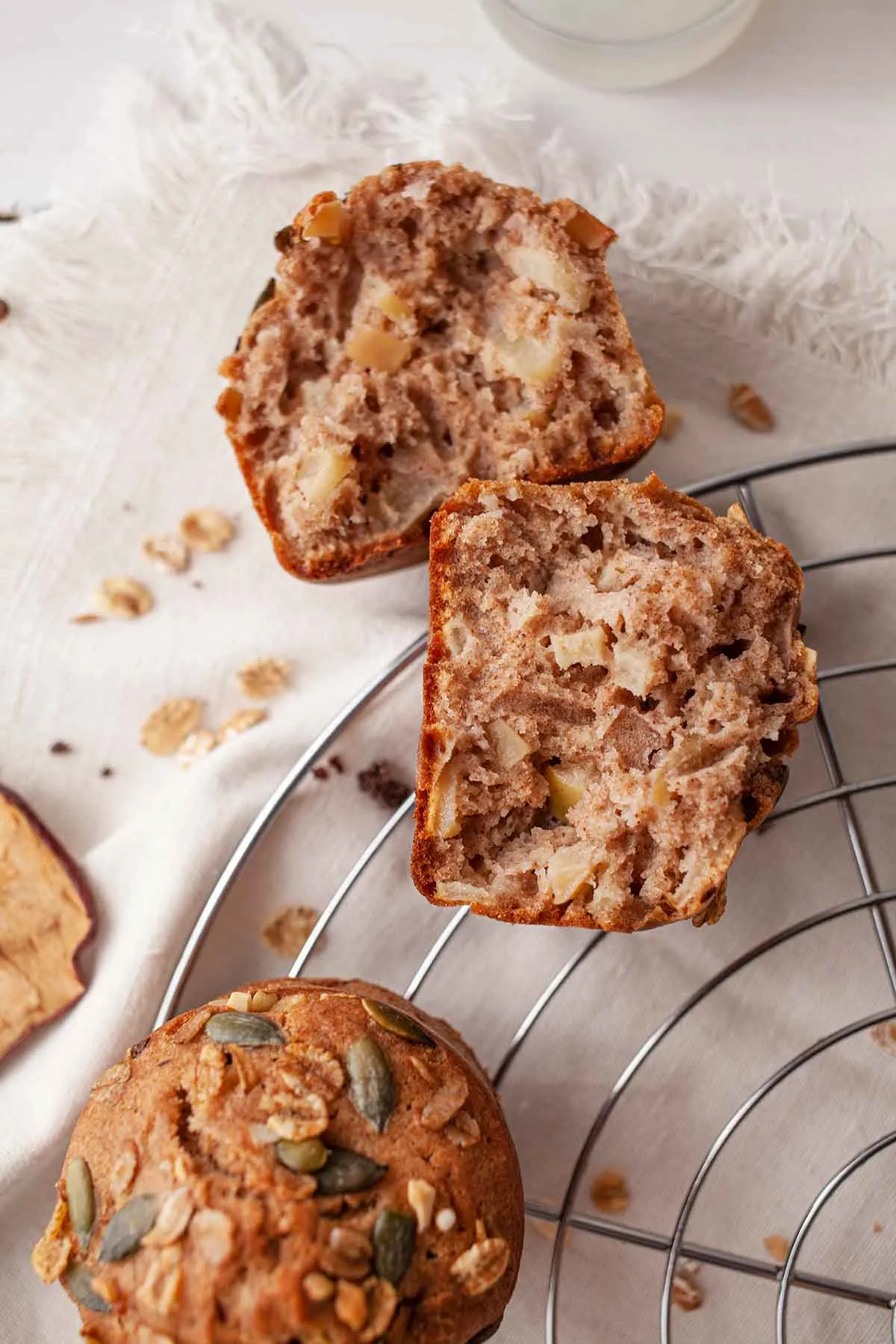 Types of flour for healthy muffins
Choosing the right flour can totally change the texture and nutritional value of your muffin. Here's what you might know about each option:
Whole wheat flour: This is made from the whole grain of wheat, which means that it retains more fiber, vitamins and minerals than white flour. When you use wholemeal flour, your apple pie muffins will be a little denser and with a richer and "nutty" taste. It is a wonderful alternative if you want to increase your fiber intake.
Oat flour: Made from ground oats, this is a gluten-free option (as long as you make sure the oats haven't been contaminated with gluten during processing). Oat flour gives the muffin a slightly grainier texture and a sweet taste. Moreover, oats are known for their cardiac benefits, thanks to their rich content of beta-glucans.
Almond flour: This is made from finely ground almonds and is ideal for people with gluten intolerance or those following low-carbohydrate diets. Almond flour has a high content of proteins and healthy fats, which gives the apple spice muffins a soft and moist texture.
When you replace white flour with one of these alternatives, you may need to adjust the amount of liquid or other ingredients to achieve the desired dough consistency. For example, almond flour can absorb less liquid compared to white flour. So I advise you to add the liquids gradually, until you reach the right consistency. I chose a combination of wholegrain flour and almond flour for these easy apple muffins, but you can experiment and see what you like best!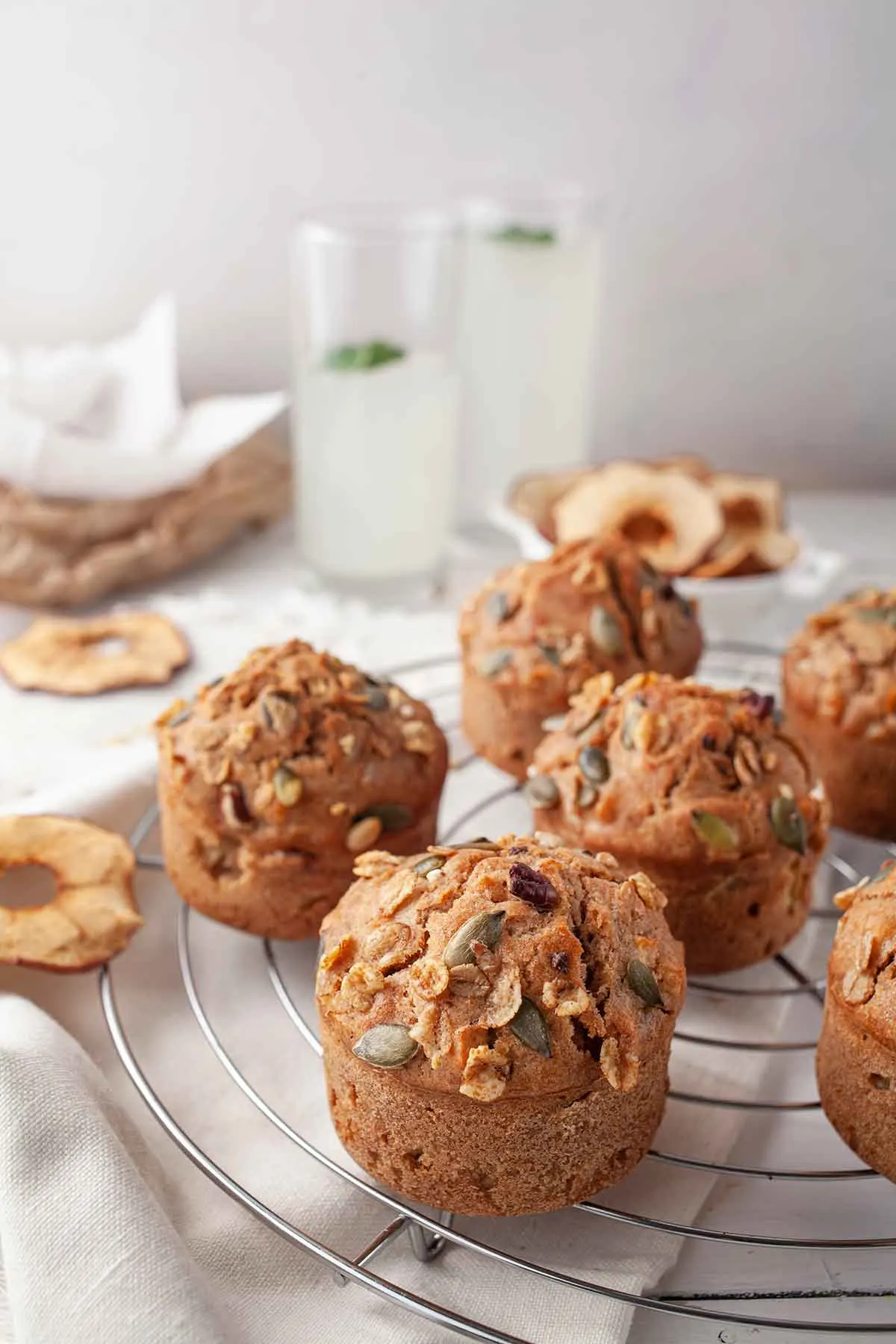 Dietary modifications for healthy apple muffins
Vegan apple muffins
Egg replacement: You can use ground flaxseed mixed with water (known as "flax egg") or applesauce as an egg substitute. Another popular option is "aquafaba," the liquid from canned chickpeas, which can be used as a substitute for egg whites.
Replacing dairy products: There are many alternatives to cow's milk, such as soy, almond, oat or cashew milk. Depending on the desired texture, you can choose the version that suits you best. For butter, you can opt for vegan butter versions available in stores or simply for coconut or olive oil.
Gluten-Free Apple Muffins
Substituting flour: We have already discussed oat and almond flour as gluten-free options. You can also consider coconut flour, buckwheat flour or special gluten-free flour mixes ( I recommend Schar Mix C Patisserie) that are designed for baking. Just be sure to check the labels to make sure the products are truly gluten-free.
Sugar-free apple muffins
We have already covered alternatives to sugar such as stevia, honey or agave syrup. If the goal is to reduce sugar, you can use stevia or erythritol, which are calorie-free sweeteners.
Nut-free healthy apple muffins
If the recipe contains nuts and you want to eliminate them because of allergies, make sure you replace the texture and moisture they provide. You can use seeds (like sunflower or pumpkin seeds) or even oatmeal to add texture.
Adapting recipes to various dietary restrictions may require some experimentation. You may need to make some adjustments until you reach the desired taste and texture. But with patience and creativity, you will be able to enjoy delicious apple cinnamon muffins that fit your lifestyle or dietary needs!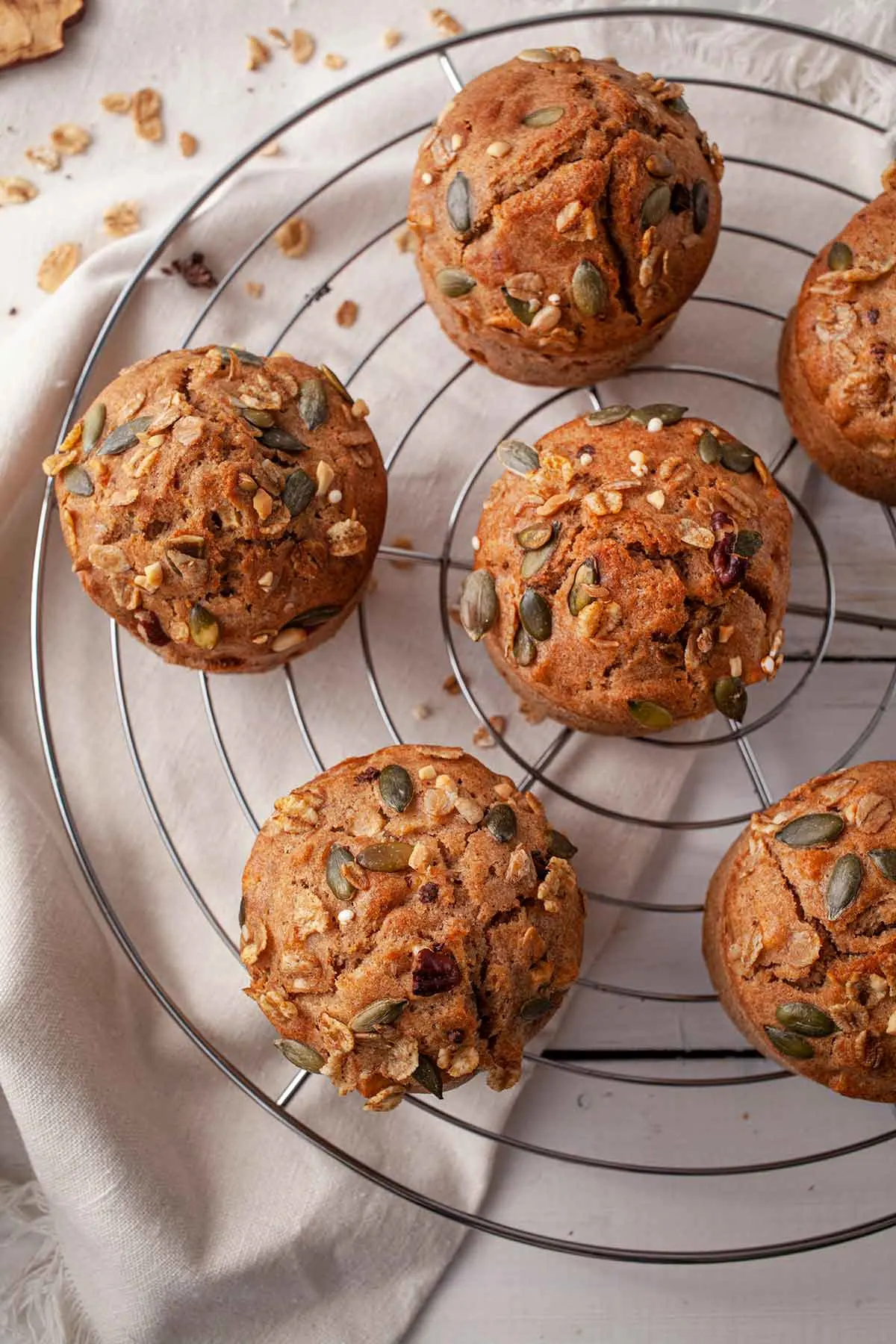 Apple muffins recipe
Yield: 8 apple muffins
Healthy Apple Muffins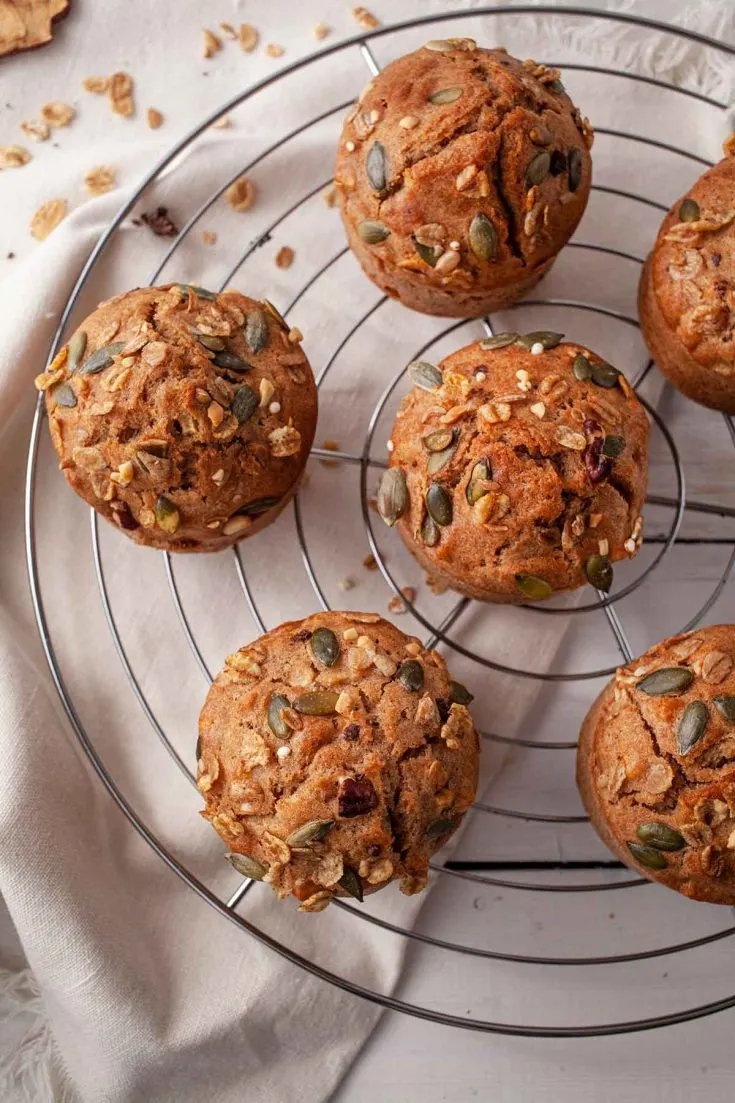 Try the recipe for healthy apple muffins - the perfect indulgence for any time of the day, which combines the natural sweetness of ripe apples with essential nutrients for a delicious sweet treat.
Ingredients
2 large apples, cut into small cubes
½ teaspoon cinnamon
1 tablespoon honey
1 teaspoon lemon juice
¾ cup wholegrain flour
½ cup wheat bran
¼ cup almond flour
1 teaspoon baking soda
½ teaspoon ground nutmeg
¼ teaspoon salt
1 cup applesauce
1 tablespoon olive oil
2 egg whites (replace with aquafaba for vegan version)
¼ brown sugar
1 teaspoon vanilla extract
½ cup granola, for topping
Instructions
Heat the oven to 190 C (374F).
Grease the silicone muffin tin with a little olive oil.
In a bowl, add the apple cubes, cinnamon, honey and lemon juice. Mix and leave the bowl aside.
In another bowl, mix the dry ingredients, flour, bran, almond flour, baking soda, nutmeg and salt.
In a third bowl, mix the liquid ingredients, applesauce, oil, egg whites, sugar and vanilla. Mix well until you get a homogeneous, slightly foamy mixture, using a hand mixer.
Add the dry ingredients to the liquid ones as well as the apple mixture and mix slowly using a spatula, until you get a soft batter.
Fill the muffin tins with the batter, sprinkle each one with granola and put in the oven for 35-40 minutes, or until they turn brown and pass the toothpick test.
Nutrition Information
Yield
8
Serving Size
1
Amount Per Serving
Calories

188
Total Fat

6g
Saturated Fat

1g
Trans Fat

0g
Unsaturated Fat

5g
Cholesterol

0mg
Sodium

241mg
Carbohydrates

32g
Fiber

5g
Sugar

14g
Protein

5g
I strive to keep the information as accurate as possible but make no warranties regarding its accuracy. I encourage you to make your own calculations using your preferred nutrition calculator.