What could be more comforting than a curry? Literally nothing! Here's how to make an incredible vegan pumpkin curry that will soothe your soul. Super flavorful!
Autumn is finally here! And with it, the slightly chilly weather that calls for cozy days and comforting food – things that I love deeply, and I hope you do, too.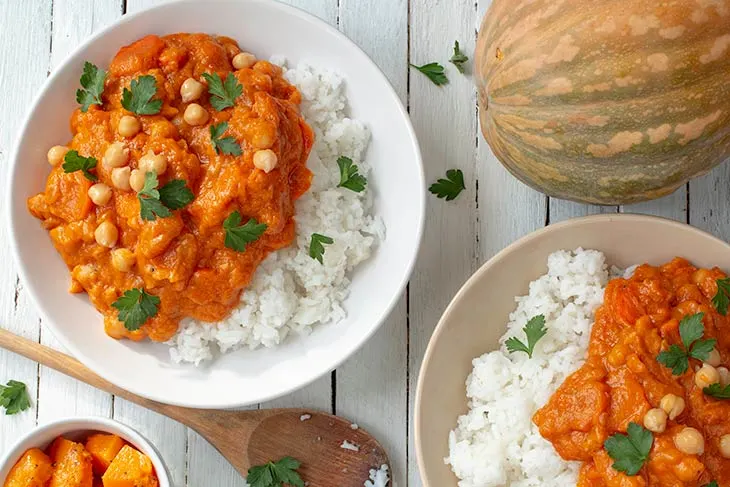 I think most people are a bit sad when summer is over, but I like to make the most out of every season.
And how do I do that? By taking the best features and focusing on them. Yeah, summer days are great. It's lovely going out for ice creams, wearing shorts and colorful dresses, bathing in the sun. But, while in my view, summer is more about having fun and living life on fast forward, autumn is a time of calming down and truly relaxing. And how better can you do that than by curling up on the blanket with a bowl of this super comforting pumpkin curry?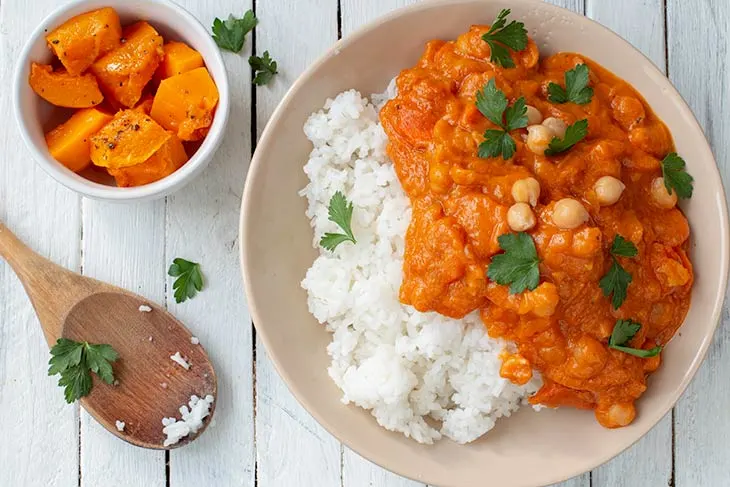 You might say that pumpkin is a bit of an obsession for me, and you would be right. I freakin' love it! How can you not? It's delicious. 🙂
I wish I could find fresh pumpkin in the stores all year round, but, as it is not possible, I'm afraid, I chose to make the most out of this season and include it in most of my meals. So get ready to read about a lot of delicious recipes starring pumpkin as the main star.
Now, let's get to this curry, shall we? I noticed curry to be a type of love-it-or-hate-it food. A lot of people either aren't familiar with Indian cuisine or tried curry and didn't like it. I'm gonna be the first to say that it is a bit of an acquired taste. If you're using too much spice, the flavor can be fairly overpowering, which might set a lot of people off. You need just the right amount.
I believe pumpkin curry to be a great start in your Indian cuisine journey. And a delicious meal altogether! 🙂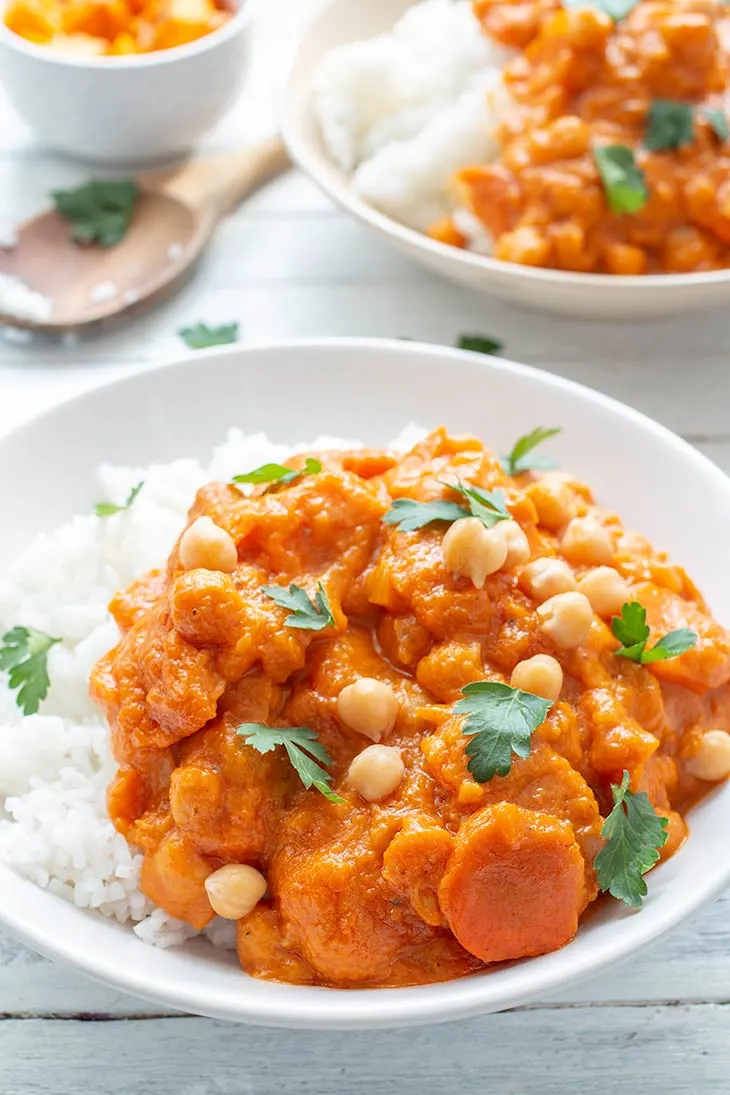 As you might know, the Indians use a complex combination of spices and herbs for this type of dish. This combination includes ground turmeric, ginger, cumin, coriander, and fresh or dried chilies (for the hot part, which many people are crazy for.)
But where does its name come from? That's pretty easy: from the curry tree. Curry leaves are an integral ingredient in Souther India, where this dish originated. Curry comes, of course, in many varieties, one of those being yellow curry, also known as gaeng garee. This one's a Thai curry with Indian influence, including turmeric as a key ingredient – hence its beautiful, yellow color!
What I truly love about this pumpkin curry is the fact that it's hearty, filling, perfect for a cold day, and super comforting, while also being incredibly healthy. You can add a bunch of vegetables to the dish: really anything you like, such as peppers, broccoli, and carrots. And, of course, our beloved pumpkin – the star of the show.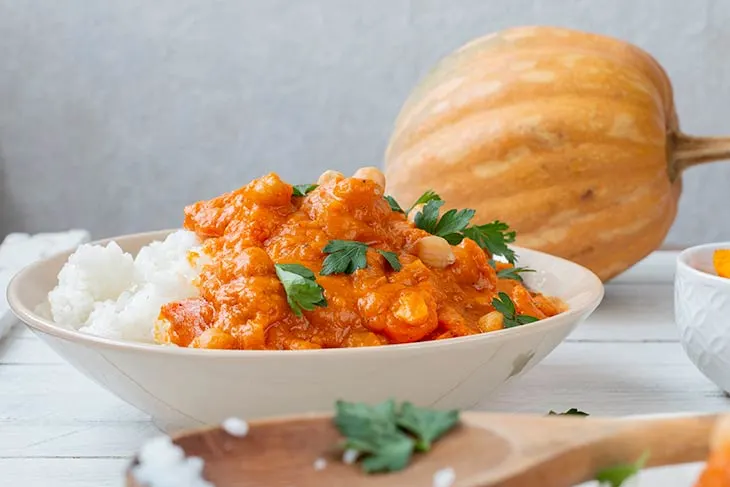 Pumpkin has an impressive nutritious profile. It's packed with vitamins and minerals, such as vitamin A, vitamin C, potassium, copper, manganese, vitamin B, and E. It's also a pretty good source of iron, only one cup of cooked pumpkin providing 8% of the recommended daily amount. It's also low in calories, being mostly water (like most vegetables), so it's friendly with our silhouette. It's packed with fiber, which we could all use more of, and, paired with the other vegetables in the recipe, it's sure to make your tummy happy and satisfied.
You can also add chickpeas to the recipe like I did – a delicious vegan source of protein, which is going to make the meal even more filling. You can adjust the level of spice by either adding more or less chili – this is totally up to you. You can even leave it out entirely if you can't tolerate spicy food, though I love it when things get a bit hot, so I've included it in this recipe.
I love cooking this whenever I feel like prepping something healthy and comforting for the week ahead. It's also a great way of making sure you're not wasting any food, as you can use whatever bits and pieces of vegetables you have in the back of your fridge! And you know I'm all about reducing our waste amount, so that's a big thumbs up in my book.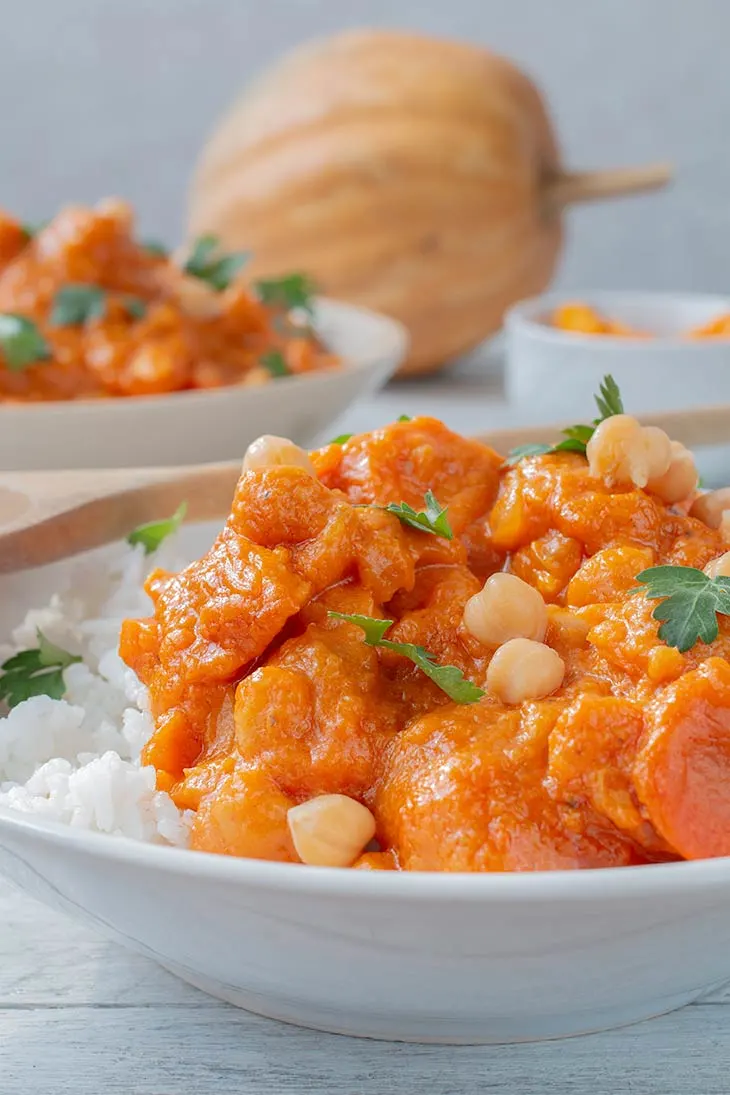 These being said, I hope you're going to enjoy this recipe! Pair it up with a good movie and a soft blanket for maximum relaxation! 🙂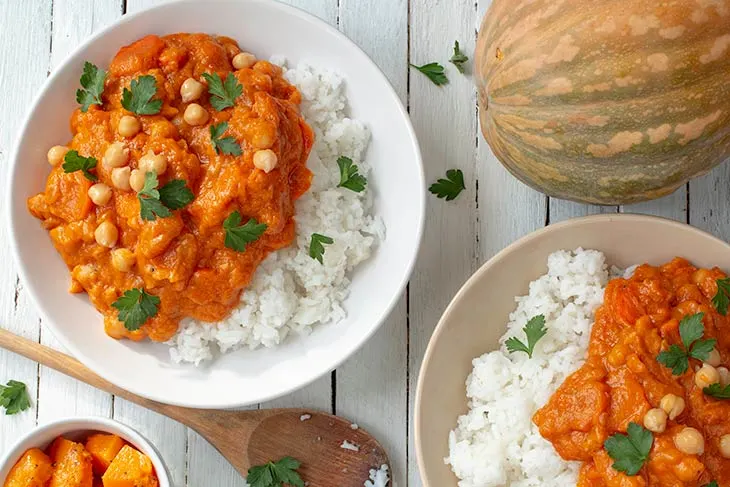 What could be more comforting than a curry? Literally nothing! Here's how to make an incredible vegan pumpkin curry that will soothe your soul. Super flavorful!
Ingredients
200g (¾ cup) pumpkin puree
2 carrots, sliced
1 can (400g | 14 oz) cooked chickpeas, washed and drained
½ can (200g | 7 oz) coconut milk
1 medium onion, chopped
2 garlic clove, minced
1 Tbsp coconut oil
2 Tbsp red curry paste
1 Tbsp ginger, grated
½ lime, juiced
Salt
Pepper
Instructions
Heat a pan over medium heat, add the coconut oil and sautee the garlic and onion.
Add the ginger and curry paste, cook for 2 minutes stirring constantly.
Add the coconut milk, pumpkin puree, chickpeas, carrots, and season with salt and pepper.
Cover and let it simmer for 15-20 minutes, stirring occasionally, or until the carrots are done.
Take off heat, add freshly squeezed lime juice, and serve over rice.
Nutrition Information
Yield
4
Amount Per Serving
Calories

147
Total Fat

5g
Saturated Fat

3g
Trans Fat

0g
Unsaturated Fat

1g
Cholesterol

2mg
Sodium

353mg
Carbohydrates

21g
Fiber

5g
Sugar

6g
Protein

6g
I strive to keep the information as accurate as possible but make no warranties regarding its accuracy. I encourage you to make your own calculations using your preferred nutrition calculator.