In case you're bored with the plain old rice dishes, I have a fresh surprise for you. Here's how to make broccoli rice – super quick, healthy and very yummy as well!
Hello, fellow reader! If you're 1. hungry, 2. passionate about healthy food, 3. bored (or 4. all of the above) – you've wound up just in the right place, as today's tasty recipe will provide a both nutritious and out of the box alternative for the old classic rice!
Now, if you already happen to have some rice, broccoli, lemon and salt in your household, it's your lucky day, as you won't even have to go out shopping for ingredients to make yourself or your loved ones a healthy, delicious meal! 🙂
However, if you're two or even three ingredients short (has anyone ever run out of salt?), you'll probably want to put your shoes on and go get them by the end of this article, because this recipe for broccoli rice simply sounds too good and easy not to make!
It goes without saying: on top of being fairly easy to cook, rice can also be insanely tasty – after all, that's why it is so frequently found among our culinary preferences. But sometimes you just want to try something new, right? And you don't even have to cross rice off the recipe completely, you can just mix it up with another ingredient that you enjoy and feel confident it would go nicely with.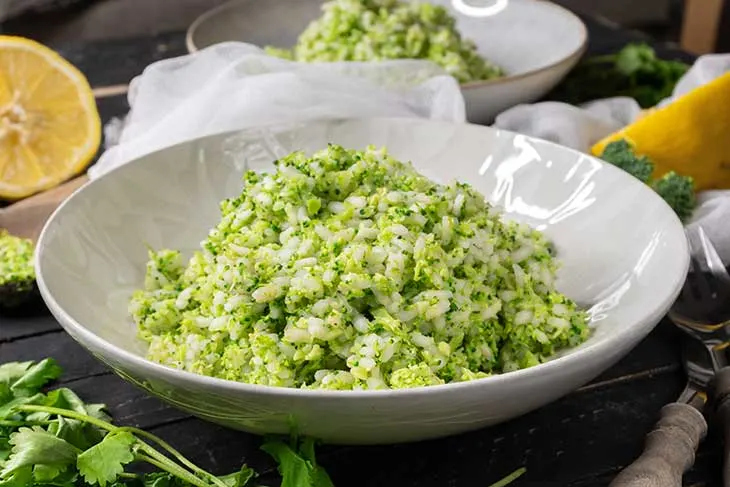 To me, that ingredient is sometimes broccoli, which (together with its sibling, cauliflower) I hold dear to my heart because they always reminded me of the baobab trees in Antoine de Saint-Exupéry's The Little Prince.
But before we start cooking, let's have a look over some fun facts that I've found out about broccoli:
Broccoli is man-made: it was invented in the Roman Empire by mixing cauliflower seeds with green pea seeds.
Although it's been around for over 2000 years, broccoli did not officially leave Italian grounds until the 16th century, when Catherine de' Medici married Henry II and brought the vegetable to France, where people called it the "Italian asparagus".
In the 18th Century, when it was brought to England, it still hadn't gotten rid of its nickname. That happened in the 1920s, with the mass arrival of Italian immigrants in North America.
California produces over 90% of the broccoli grown in the United States.
The heaviest broccoli ever seen was grown by John and Mary Evans of Palmer, Alaska, USA, in 1993 weighed 15.87 kg (34 lb7 oz).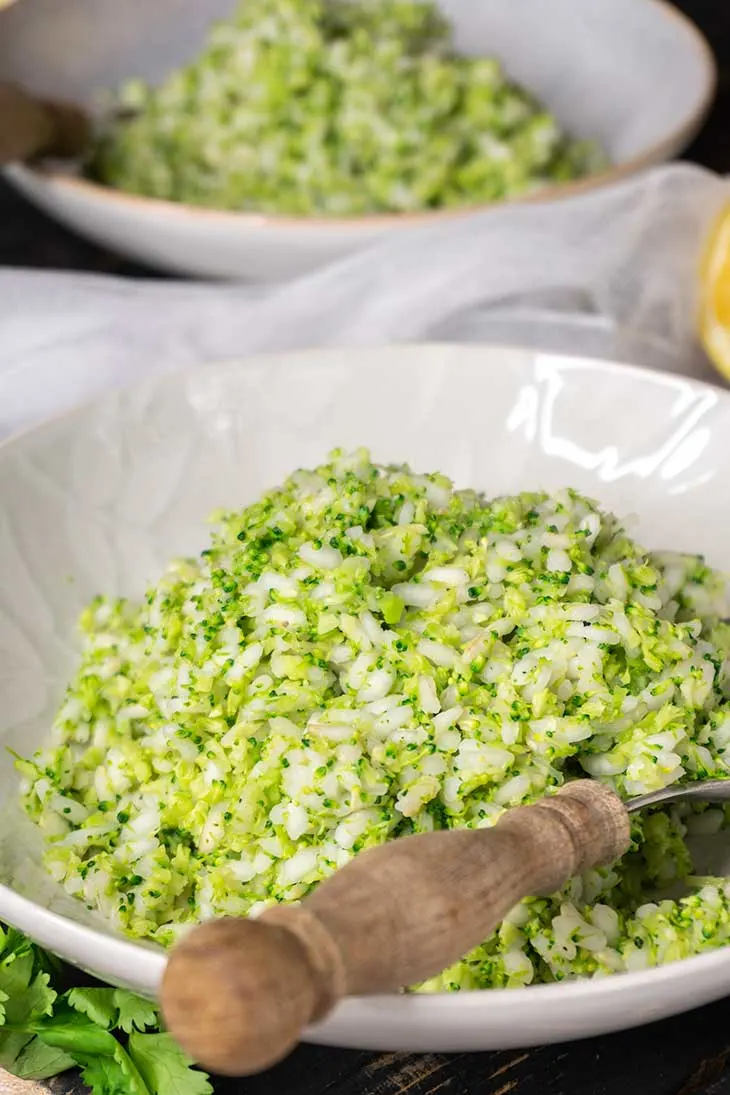 Of course, broccoli hasn't gained the status of superfood because of its cool, tree or flower-like shape that also gave it its name, the term broccoli being made up from the Latin word "brachium" which means "branch" or "arm" or the Italian broccolo, meaning "the flowering top of a cabbage" and diminutive of brocco, meaning sprout.
Like other cruciferous vegetables such as cabbage, Brussel sprouts, cauliflower, radish, arugula, kale or turnip, broccoli has become more and more popular due to its health benefits. Richer in Vitamin C than oranges, this vegetable can help our immune system stay strong during the winter and is also an excellent source of Calcium, iron, potassium, fiber, and Vitamins K and A.
In other words, broccoli improves digestion, eye, and skin health, lowers cholesterol levels and blood pressure and even has antioxidant properties that help prevent cancer. And the list goes on and on, but we've got some cooking to do, so let's get back to our recipe! 🙂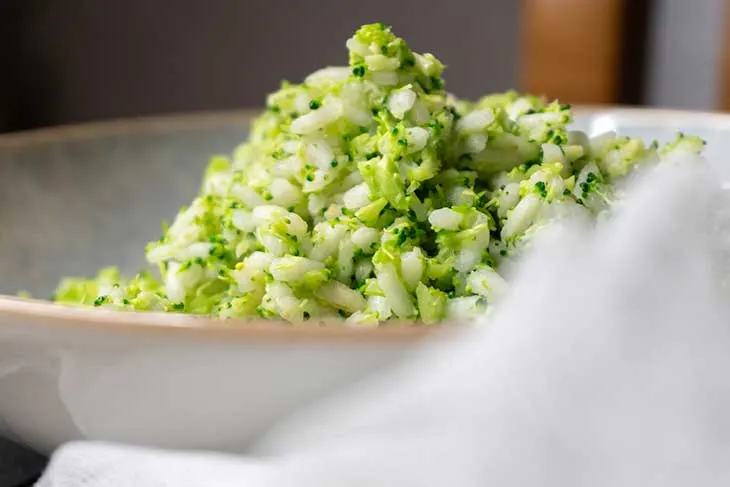 Cook the rice separately, to your own preferences, and then break the broccoli into florets. I know some people who like to boil, steam or even fry these florets and then just add them to the rice and call it a day, but I like it more when the broccoli is raw and cut into pieces the same size as that of grains of rice because it's crunchier and more nutritious this way – and plus, you can enjoy both tastes at the same time in each bite you take. You can do this by chopping it with a chef's knife or by transferring it to a food processor or blender – either way, you'll have a fresh-looking and delicious and healthy meal.
The lemon plays an important part as well. When your broccoli rice is nicely mixed and almost ready to eat, just add some salt and lemon to it and let the fresh flavor of the citrus take things up a notch: you'd be surprised to see what big a difference it makes!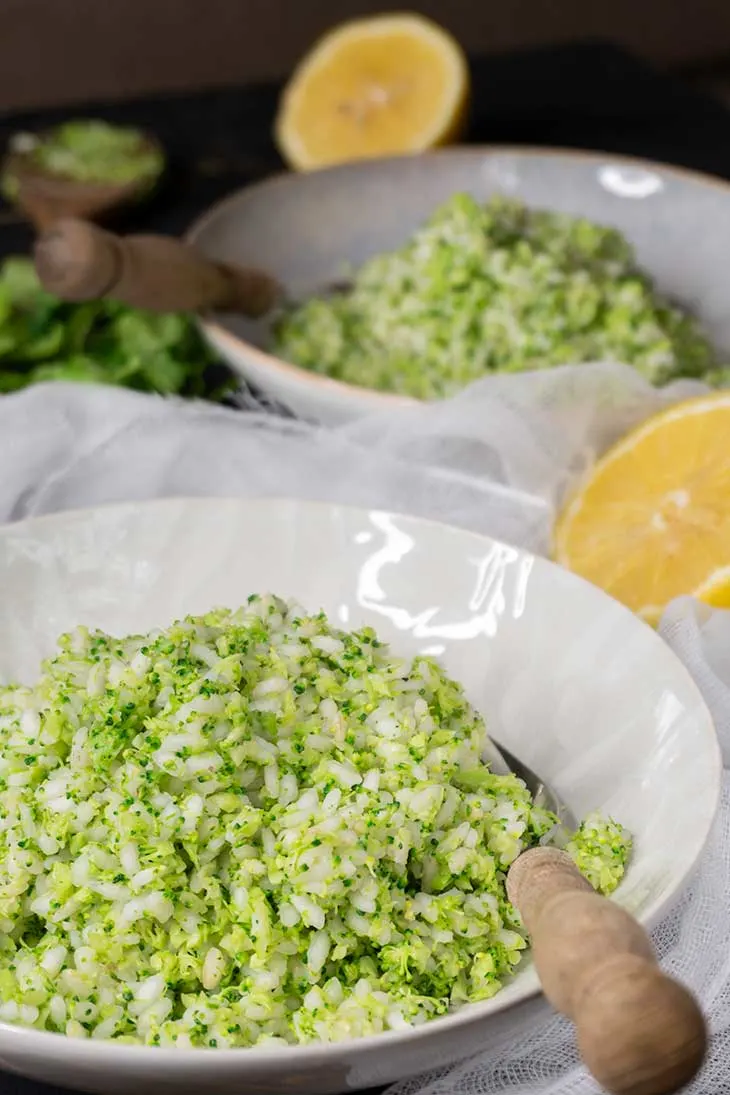 Enough talking now. Broccoli rice is so healthy, tasty and easy to make that it would be a shame not to give it a shot. So please, folks, do try this at home – and tell me all about it in a comment below. I'd wish you good luck, but this time it's just not the case. I trust that my dear readers will not only have any problem cooking this but will also have fun doing it. So all I'm left to do is wish you a bon appétit! 🙂
---
Personalized meal plans and workout videos | Get your customized meal plan today! [x_button shape="square" size="mini" float="none" target="blank" href="https://shop.gourmandelle.com/?utm_source=mainsite&utm_medium=site&utm_campaign=inpost" info="none" info_place="top" info_trigger="hover"]I WANT A MEAL PLAN![/x_button]
---
In case you're bored with the plain old rice dishes, I have a fresh surprise for you. Here's how to make broccoli rice - super quick, healthy and very yummy as well!
Ingredients
200g (1 cup) rice, I chose Arborio
1 medium Broccoli head
salt
lemon
Instructions
Cook the rice.
Break the broccoli into florets, transfer to a food processor or blender and pulse until fine.
Add to the rice, mix well.
Season with salt and top up with lemon juice.
Nutrition Information
Yield
2
Amount Per Serving
Calories

402
Total Fat

1.4g
Unsaturated Fat

0g
Carbohydrates

87.5g
Protein

9.7g