Have you ever tried making gnocchi soup? It's simply amazing! Give this vegan gnocchi soup a try – it's quick, super nourishing and healthy too!
If you're tired from all the bad news on the internet, how about returning to your own private sanctuary and nurture the body with a full bowl of gnocchi soup with a twist? If you're thinking of boosting the immunity system, how about adding an extra layer of deliciousness with the help of spinach, carrots, and asparagus as well?
We've talked before about gnocchi, and now it's time we give this timeless dish one more stir. Whether if you're an expert in Mediterranean dishes or if you just miss the taste of summer, before we begin, let me tell you some quick facts about potatoes, the main ingredients for gnocchi, and spinach as well: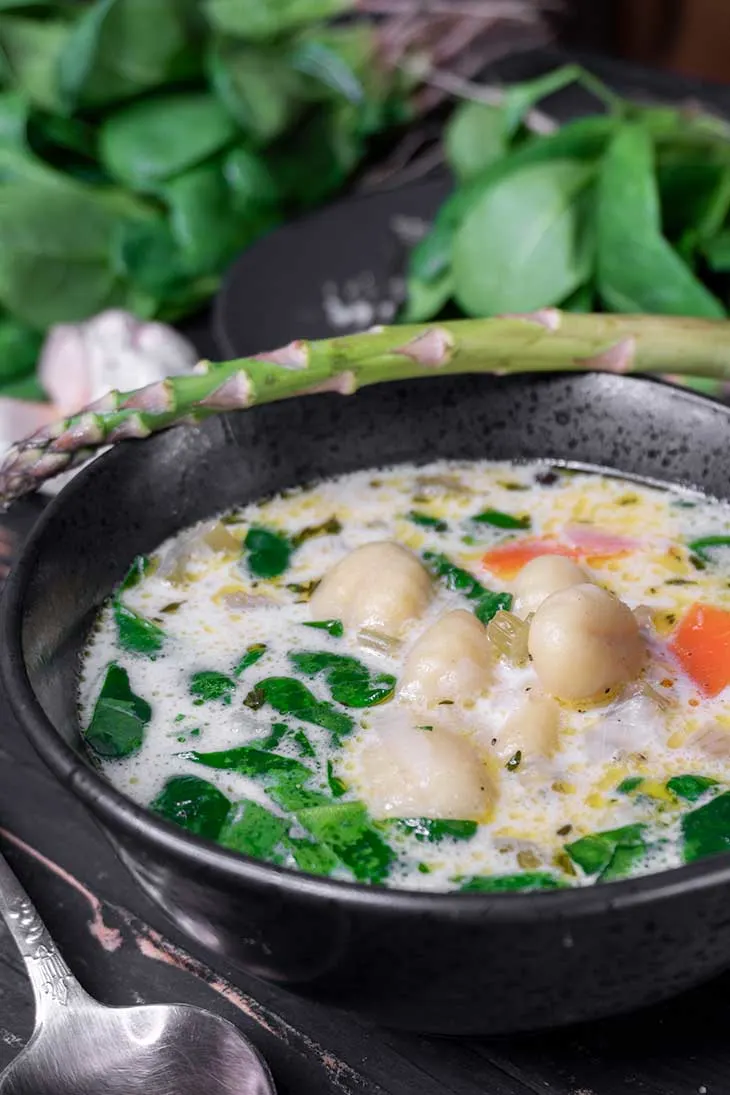 Potatoes:
One potato (of, let's say, medium size) has 164 calories;
It's a rich source of vitamin B6 – one potato can provide around 1/3 of the daily needed intake of this vitamin;
They're very good for bone health thanks to the iron, phosphorus, magnesium, and calcium they contain;
They contain a lot of potassium, which is very good for maintaining good blood pressure;
They're good for a healthy heart as well;
They help with inflammation as well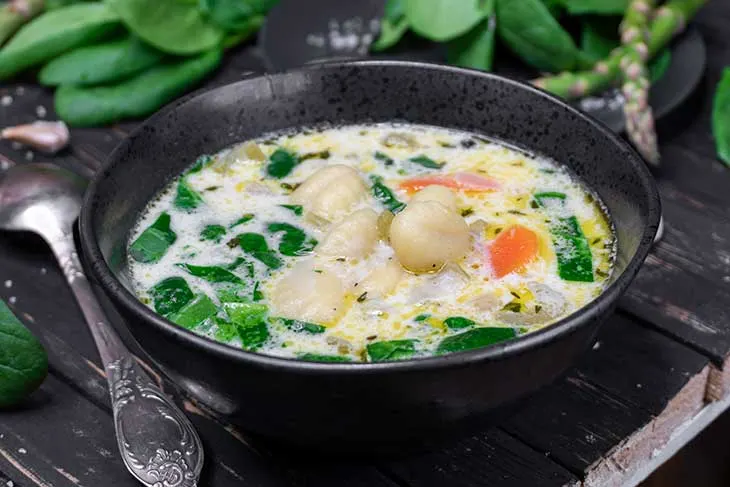 Spinach:
100 grams of spinach contains 23 calories, 2.9 grams of protein, 3.6 grams of carbs, 0.4 grams of sugar, 2.2 grams of fiber and 0.4 grams of fat;
Spinach contains 91% water, so there's no wonder it shrinks a lot when you sautee it, for example!
It has tons of vitamins and minerals such as vitamin A, C, K1, iron, folic acid, and calcium as well;
Some other interesting compounds include lutein, nitrates, and kaempferol;
Spinach is very good for eye health, heart health and it helps to prevent cancer and chronic disease.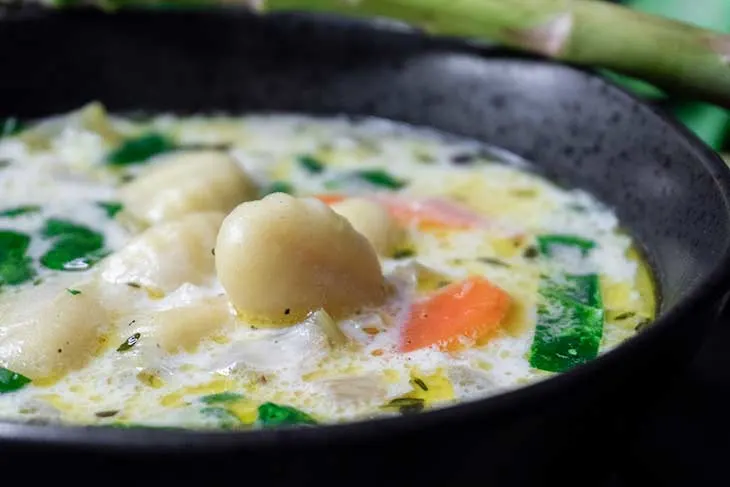 To this combination, for extra vitamin intake, you can add garlic. Lung cancer, brain cancer, hip osteoarthritis, heart protection, this vegetable benefits cover all risks of getting sick! 🙂
That being said, this recipe will not only be super delicious and nourishing but also very healthy! 🙂
Now – what do we know about gnocchi? As I mentioned in the previous recipe, gnocchi is a small Italian dumpling made out of potatoes. There are many regions throughout Italy that claim the origins of gnocchi, but it's largely thought that they originated in Northern Italy. The colder climate there is more appropriate to growing potatoes than grain – that's why gnocchi appeared there as an alternative to pasta.
Generally, the base ingredient for gnocchi is the potato. And throughout the world, gnocchi is most commonly made out of potatoes and you will rarely see something different as the main ingredient. But depending on the specific region in Italy where you might find yourself, there are different types of gnocchi made out of quite different base ingredients: flour, corn, semolina, bread, chestnut flour, or varied vegetables – including spinach and pumpkin!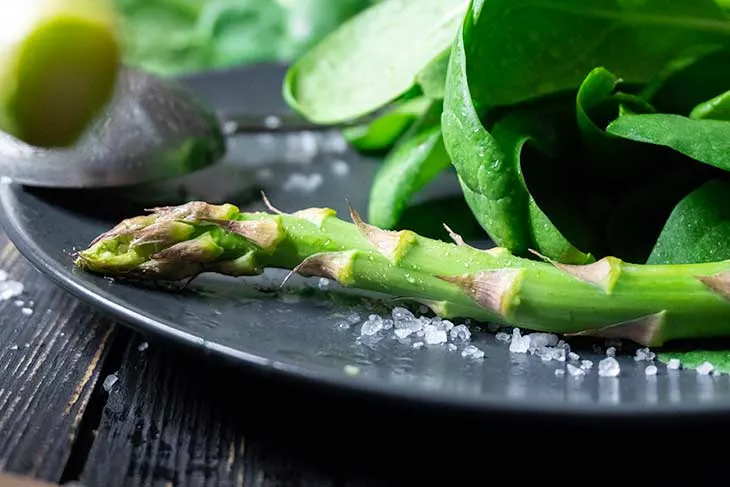 To the heart-healthy olive oil, the flavored garlic and spinach duo, you can add a bit of soy cream as well. If vegetarians make it with milk or parmesan, our dairy-free version doesn't need any of those.
Now, how to incorporate this into an incredible soup? Get ready to make dinner or lunch or brunch, as this recipe works any time of the day!
Let me know what you think about this recipe full of vitamins in the comments below. Also, have you tried using coconut milk in your gnocchi soup? I am super curious if you prefer it salty or sweetened, with an even more creamy texture.
---
Personalized meal plans and workout videos | Get your customized meal plan today! [x_button shape="square" size="mini" float="none" target="blank" href="https://shop.gourmandelle.com/?utm_source=mainsite&utm_medium=site&utm_campaign=inpost" info="none" info_place="top" info_trigger="hover"]I WANT A MEAL PLAN![/x_button]
---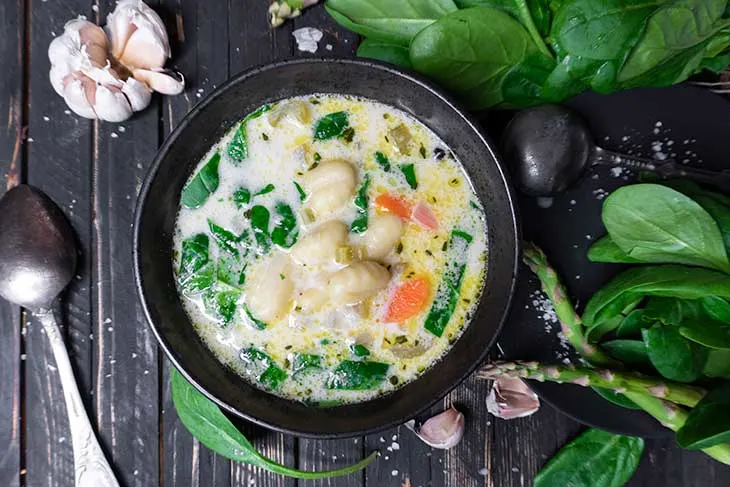 Have you ever tried making gnocchi soup? It's simply amazing! Give this vegan gnocchi soup a try - it's quick, super nourishing and healthy too!
Ingredients
190g (1 ½ cup) gnocchi, store-bought
240ml (1 cup) soy cream, or rice cooking cream, unsweetened - I use Alpro
500ml (2 cups) veggie broth
1 small carrot, chopped
90g (½ cup) asparagus, chopped
100g (1 cup) celery, chopped
1 medium onion, chopped
2 garlic cloves, minced
30g (1 cup) fresh spinach
2 tsp Italian seasoning , basil, thyme, oregano
2 Tbsp flour
2 Tbsp olive oil
salt & pepper
Instructions
In a pan, sautee the garlic and onion in 2 tsp of olive oil until translucent.
Add the carrot, asparagus, and celery, season with salt, pepper, and Italian seasoning. Cook for 5 minutes.
Add 2 Tbsp of flour and cook for 30 seconds before adding the soy cream and veggie broth.
Simmer on low for 8-10 minutes.
Add the gnocchi.
Once they float remove from heat and add fresh spinach.
Adjust the seasoning.
Nutrition Information
Amount Per Serving
Calories

556
Total Fat

25.7g
Carbohydrates

72g
Protein

9.2g