Discover the best mini quiche recipe with 4 different toppings – mushrooms, cheese, spinach and vegetables – perfect for appetizers and parties.
Welcome to the delicious world of mini quiches – those delicious and very good-looking appetizers that are the center of attention at any party or potluck!
I decided to share with you today my basic quiche recipe that I use every time, plus the four basic toppings for mini quiches: mushrooms, cheese, spinach and vegetables!
The history and origins of the authentic quiche recipe
The history of quiche stretches back centuries and is rooted deep in French cuisine. The term "quiche" comes from the German "Kuchen," which means "pie." Originally, quiche was a savory dish, a pie with pastry dough and an egg and milk filling, generally with cheese or ham. This dish was especially appreciated in the German regions, such as Alsace-Lorraine, but also in the eastern part of France.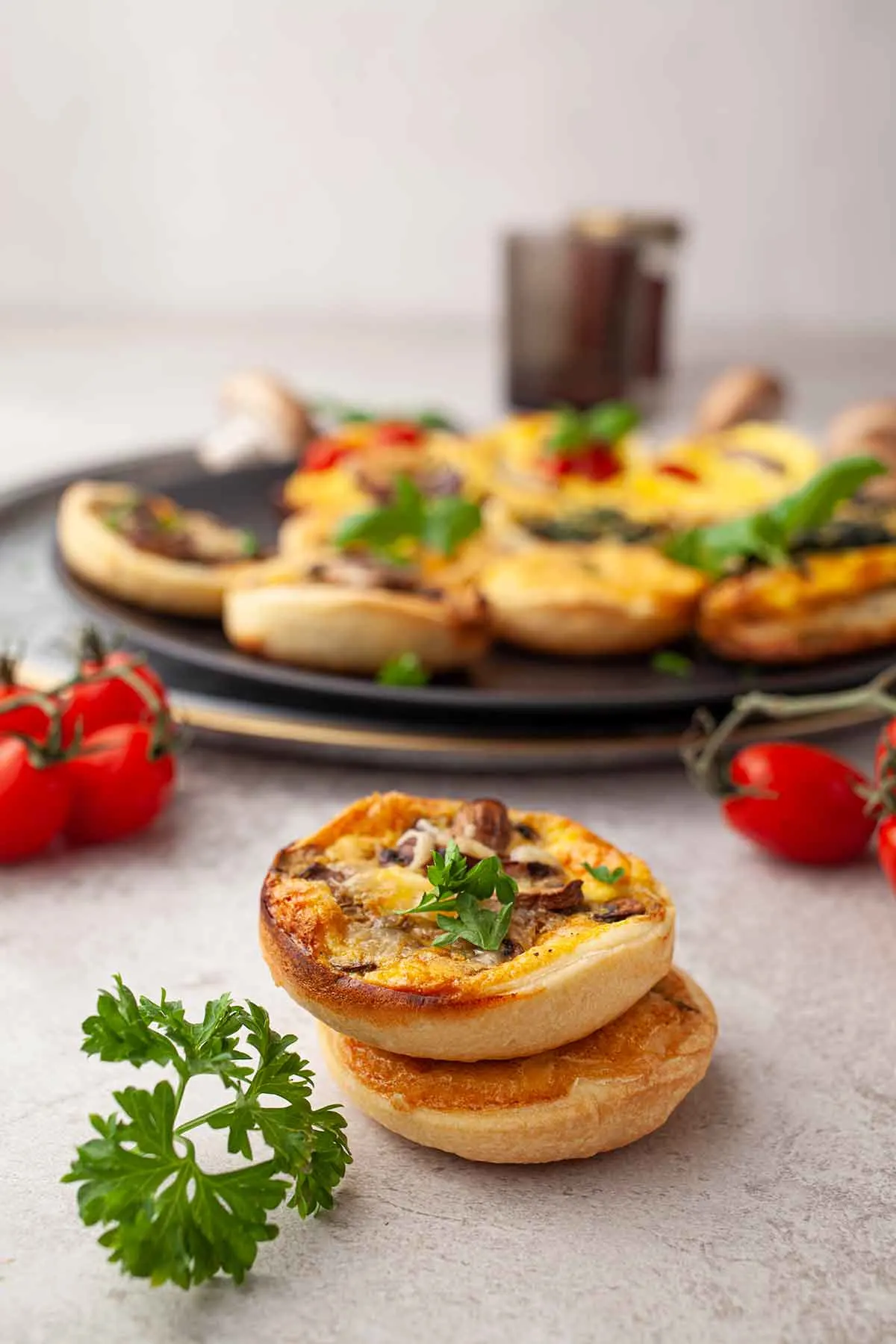 Over time, the quiche recipe evolved and became increasingly popular throughout France. In the 1940s, quiche Lorraine became internationally known, a variation on the traditional ham and cheese quiche. This was one of the reasons that contributed to the popularization of this French delicacy throughout the world.
Try my vegan quiche Lorraine recipe!
Nowadays, the quiche has seen multiple variants and reinterpretations. One of the most popular and versatile types is the mini quiche, which has gained popularity especially because of its adorable appearance and its suitable size to be served as an appetizer or snack.
With the growing interest in smaller appetizers that are easier to enjoy in an elegant and practical way, the mini quiche has become a popular option for festive events, parties and gatherings. These mini versions often come in various shapes, such as individual tartlets or mini pies, where you can combine various fillings, from mushrooms and cheese to spinach and fresh vegetables, to satisfy the diverse tastes of guests.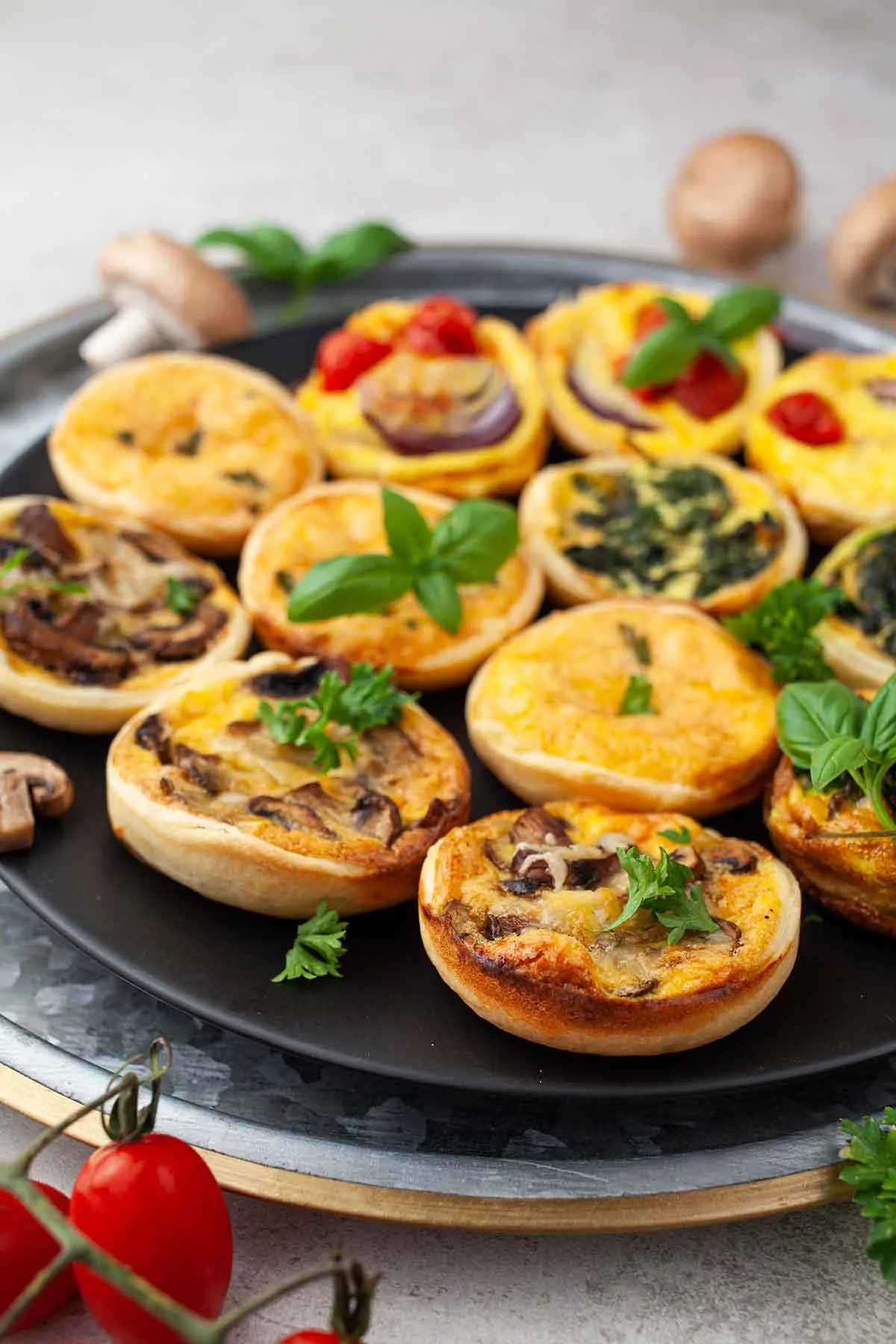 Best Filling Ideas for Mini Quiches
Classic Bacon and Cheese Mini Quiches: For non-vegetarians this is a classical topping idea, made with smoked bacon combined with cheddar or gouda cheese, providing a rich and comforting taste.
Spinach and feta mini quiches: Fresh spinach and feta cheese combine harmoniously, bringing a touch of freshness and flavor.
Green mini quiches with spinach, garlic and green onions: This is a fresh filling idea I love and showcased in the recipe below.
Mediterranean delights with cherry tomatoes and olives: Aromatic cherry tomatoes and olives of various varieties give an irresistible Mediterranean touch.
Exotic vegetable curry adventure: A mix of colorful vegetables and a subtle curry flavor bring an exotic experience to every bite.
Vegetable mini quiches: This is another favorite of mine, showcased in the recipe below, with zucchini, tomatoes and you can also diversify by adding eggplant or peppers.
Savory Mushrooms and Caramelized Onions: Butter-sautéed mushrooms and caramelized onions bring a filling with enticing flavors.
Fresh combination with zucchini and ricotta: Fresh zucchini and ricotta cheese provide a delicate and creamy taste.
Get inspired by this crustless quiche recipe. vegetable quiche recipes and asparagus quiche.
These ideas are just the beginning! Get creative and combine various ingredients to customize your mini quiche recipe to your and your guests' preferences.
Today, the mini quiche enjoys continued success and can be found on the menus of fine restaurants, but also in home kitchens, where housewives put their creative stamp on these delicious appetizers. The combination of the traditional history of the quiche and the innovation of the mini recipes brings a special charm and an irresistible flavor to every event where these little culinary delights are present.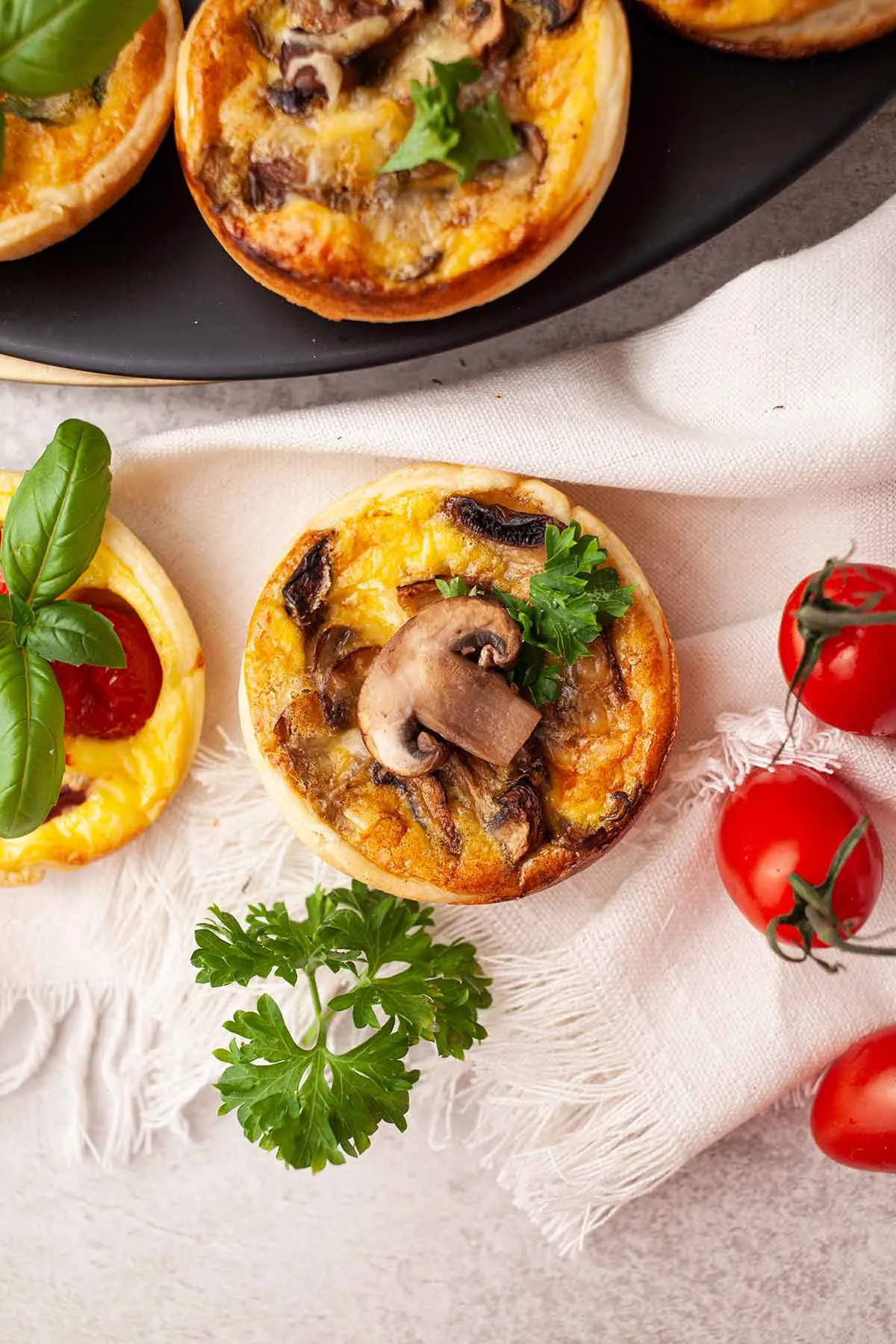 How to bake the perfect mini quiche crust
If you don't want to use store bought pie crust and want to bake it yourself, I recommend following this recipe and keeping in mind the tips below.
Want to know how to bake the perfect mini quiche crust every time? With these tips, you will get a delicious and crispy crust for your mini quiches. Enjoy the end result and savor every bite!
Use cold butter

Make sure the butter used in the crust is cold, not soft or melted. This will help achieve a more crumbly and fluffy texture.

Avoid Over-Processing

When mixing crust ingredients, don't over-mix. Make sure the ingredients are incorporated, but don't overmix to avoid over-developing the gluten, which can lead to a tough crust.

Add cold water gradually

If you need to add water to the crust mixture, add it gradually and mix carefully when you get the right consistency. Do not add too much water as it will make the crust too wet.

Refrigeration

After forming the crust in the mini quiche molds, refrigerate for at least 30 minutes before filling with the filling. This will help maintain the crust's shape and texture during baking.

Pre-baking

If you want a crispier crust, you can opt for pre-baking the empty crust, without filling, for about 10 minutes, before adding the filling.

Cold fats

If you use another type of fat instead of butter (such as lard), make sure they are also cold for a more tender crust.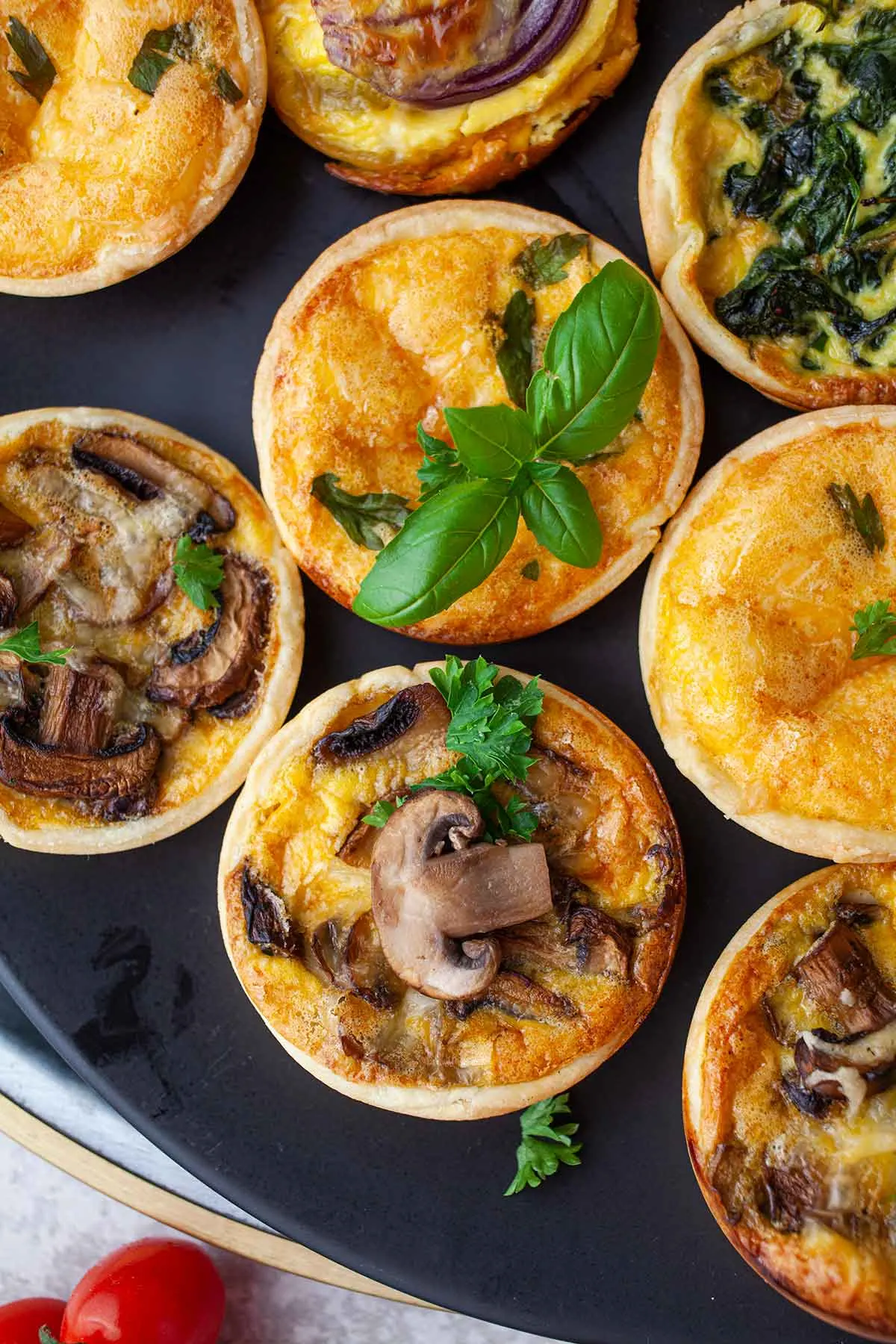 Tips for preparing quiches in advance for parties
Enjoy more time with your guests and less time in the kitchen by making these delicious mini quiches! Here are some helpful tips to prepare them in advance and successfully reheat them before the event:
Prepare them in advance and freeze them: After you have prepared the mini quiches, but before baking them, you can freeze them to enjoy them later. Put them on a tray covered with aluminum foil or in suitable storage containers, then freeze them. The day before the event, take them out of the freezer and let them thaw in the refrigerator overnight.
Reheat in the oven: On the day of the event, to reheat, place the mini quiches in a preheated oven at 180°C for about 10-15 minutes or until they are fully heated and the crust is crisp again. You can cover with aluminum foil to prevent burning.
Keep the taste fresh: Make sure the mini quiches are well chilled before storing them in airtight containers in the fridge. Thus, they will keep the taste fresh and will be ready for reheating before the event.
With these tips, you'll be ready to impress your guests with this mini quiche recipe, even when you make it ahead of time. Encourage them to enjoy these tasty appetizers and praise your culinary talent!
How to make mini quiches
Yield: 24 mini quiches
Mini Quiches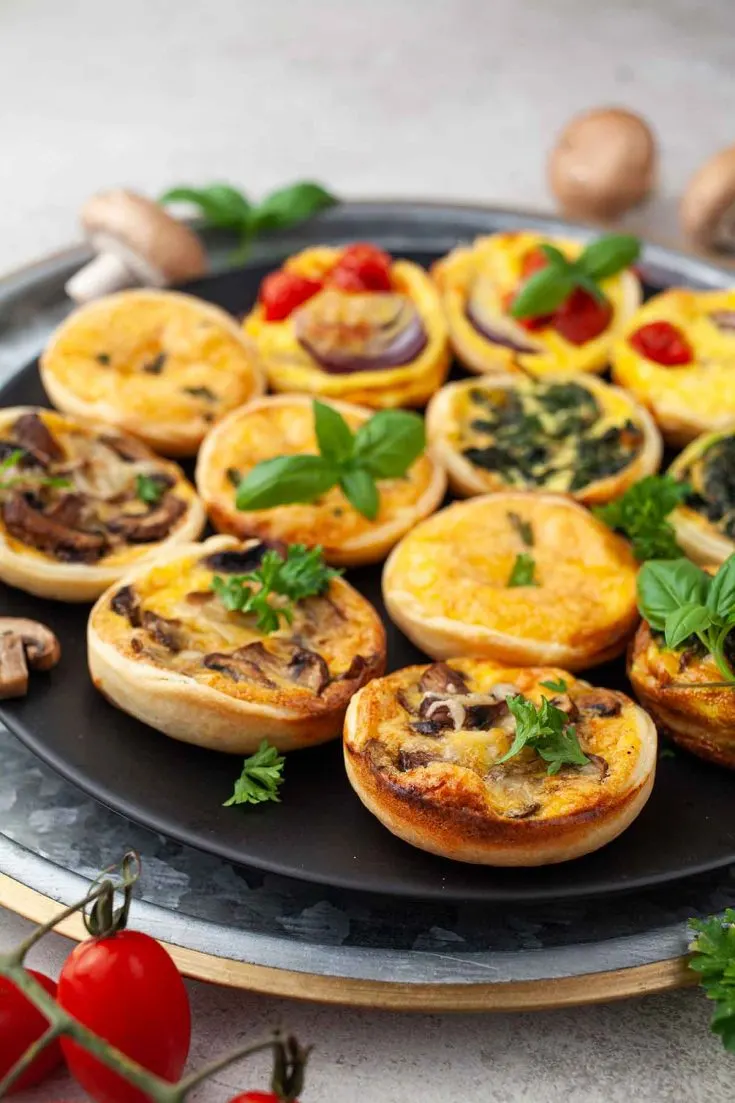 Discover the best mini quiche recipe with 4 different toppings - mushrooms, cheese, spinach and vegetables - perfect for parties.
Ingredients
For the mini quiche crust:
2 sheets of store-bought pie crust
For the base:
4 eggs
1 cup crème fraîche
½ teaspoon of salt
½ teaspoon black pepper
1/8 teaspoon nutmeg
For the mushroom mini quiche:
1 tablespoon of olive oil
1 cup brown mushrooms, sliced
½ spring onion, sliced
½ teaspoon garlic powder
For the spinach mini quiche:
1 tablespoon of butter
1 crushed garlic clove
4 cups of fresh baby spinach
1 tablespoon of green onion, chopped
For vegetable quiche:
1 red onion, cut into 6 slices
12 cherry tomatoes, cut in half
½ zucchini, diced
For the cheese quiche:
6 teaspoons of grated parmesan
6 teaspoons of grated Emmentaler cheese
For the topping:
1 cup of grated gouda cheese
Instructions
For the mushroom quiche filling: In a pan over medium heat, add a spoonful of olive oil. When it gets hot, add the mushrooms, onion, and garlic powder. Sauté the mushrooms until they become golden. Transfer them to a bowl and let them cool.
For the spinach quiche filling: In another pan over medium heat, add the butter, crushed garlic, spinach, and green onion. Sauté until the spinach is soft. Transfer to a bowl and let it cool.
Preheat the oven to 190°C.
Assemble: Using a glass or pastry molds, cut 24 circles from the sheets of soft dough. The circles should be 2-3 cm wider than the bottom of your muffin tin.
Lightly grease the muffin tin and place the dough circles at the bottom of each form to form the crust for the mini quiches.
In a blender, add the ingredients for the base. Mix briefly to obtain a liquid and well-incorporated composition.
Fill each formed crust with the appropriate filling. Use 6 circles for each type. Divide the batter equally among the crusts, then pour the liquid base over each quiche, making sure not to exceed the edges of the crust. Sprinkle a bit of grated Gouda over each mini quiche.
Place the muffin tin with mini quiches in the oven and bake until they turn golden and rise. Serve hot or cold. Enjoy!
Nutrition Information
Yield
24
Serving Size
1
Amount Per Serving
Calories

120
Total Fat

9g
Saturated Fat

5g
Trans Fat

0g
Unsaturated Fat

4g
Cholesterol

51mg
Sodium

156mg
Carbohydrates

6g
Fiber

1g
Sugar

1g
Protein

4g
I strive to keep the information as accurate as possible but make no warranties regarding its accuracy. I encourage you to make your own calculations using your preferred nutrition calculator.