Looking for a special pie that's both yummy and easy to make? Here's the perfect recipe for vegan peanut butter pie. Give it a try and you'll end up loving it!
Ah, peanut butter! A weak spot for so many people. There's just something about it that makes you want to eat more, isn't there? 🙂
I love peanut butter, I always have. I adore it in every form I've tried, ever. I love the smooth, silky one that contains only peanuts, I love it salted, I love it crunchy, powdered… I think you get the drill. So one day I was *really* in the mood for peanut butter, and I decided to make a peanut butter pie. It just happened to turn out perfect, so I thought I'd share the recipe with you guys.
But first, how much about peanut butter do you actually know?
The use of peanuts dates way back to the Aztecs and Incas, so a really long time ago. But in the year 1884, a guy named Marcellus Gilmore Edson obtained a patent for a method of producing peanut butter from roasted peanuts using heated surfaces. He referred to his product saying that it had "a consistency like that of butter, lard, or ointment".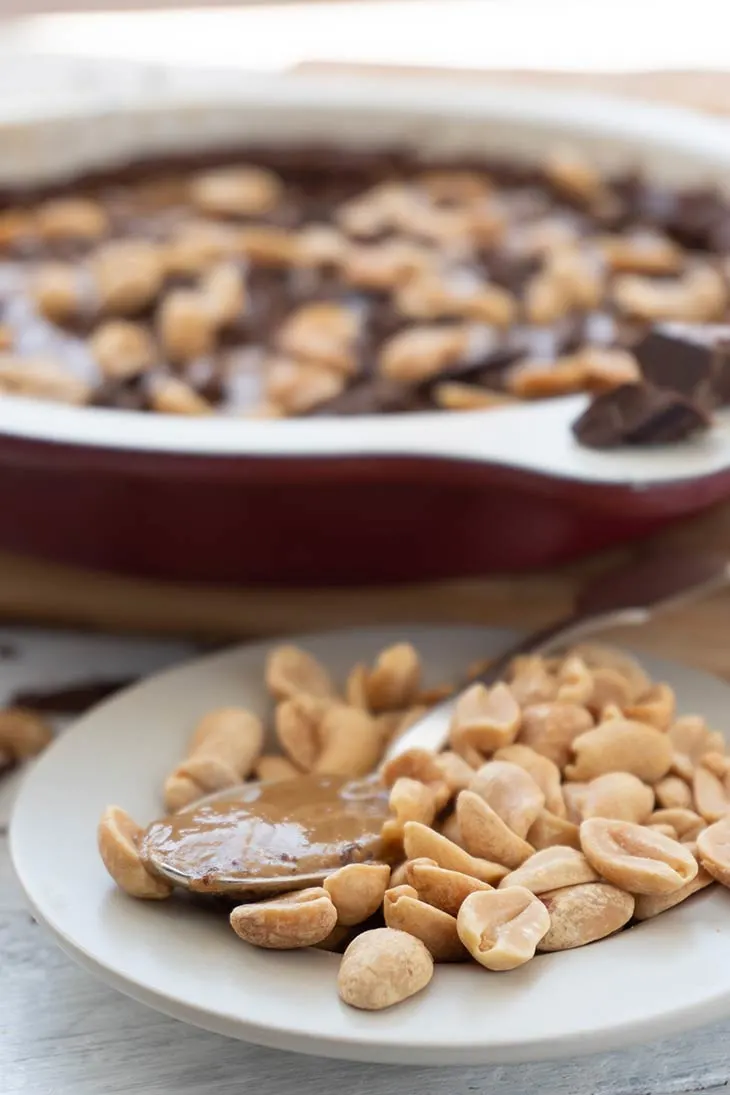 Later on, in 1894, a businessman from St. Louis named George Bayle started producing and selling peanut butter in the form of snack food. It might come as no surprise that, at first, peanut butter was a fancy food destined to be eaten only by wealthy people. However, it got so popular and it spread out so much that nowadays it's pretty affordable and considered a staple item, especially in the United States.
As you might know, the two main types of peanut butter are crunchy and smooth. Crunchy peanut butter contains some coarsely-ground or chopped peanut fragments.
Peanut butter is actually incredibly healthy for you. However, you have to make sure it is actually natural peanut butter. That is, it must contain nothing but… peanuts. Ok, and maybe a dash of salt – that's okay too.
But most store-bought versions contain a bunch of other additives in order to give it a more amazing texture or make it sweeter. These additives are things such as artificial sweeteners, chemical preservatives, natural or artificial coloring additives, vegetable oil, palm oil, white sugar, cane syrup, agave or molasses.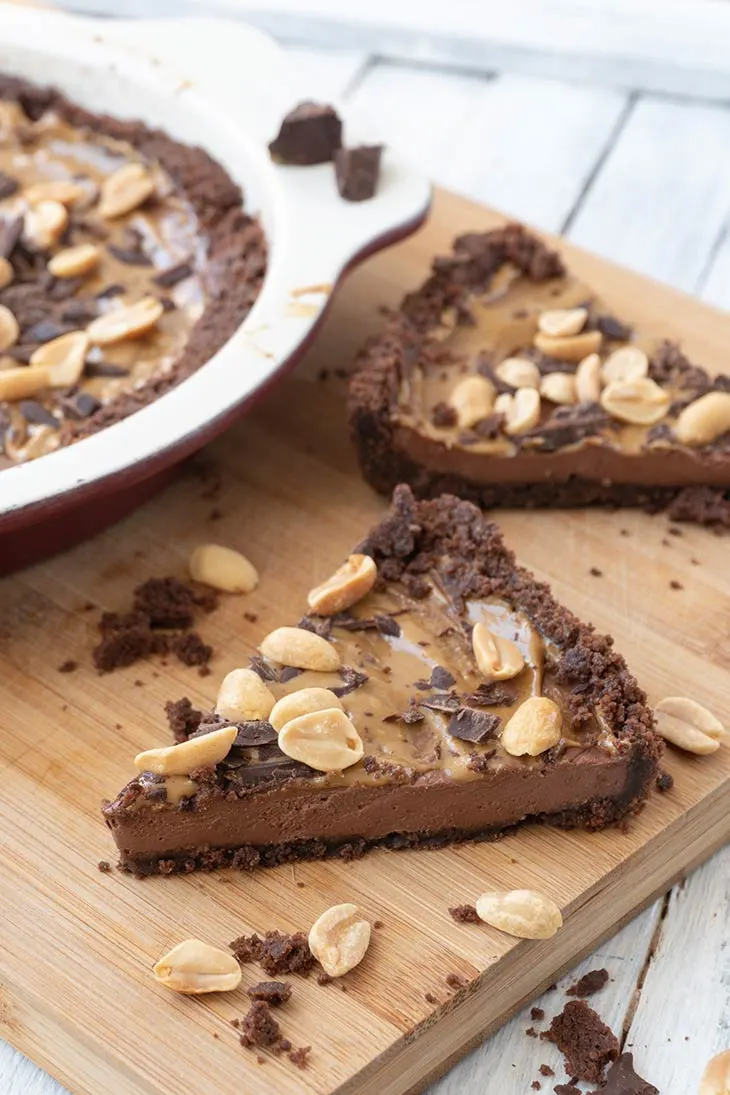 As I mentioned, natural peanut butter contains nothing but peanuts and comes in a more liquidy form that is sometimes difficult to spread on toast and take to school, so that's why a lot of people prefer buying the unhealthier stuff. In my opinion, it's just not worth it! 😉
Now I like natural peanut butter waaay more than the unhealthy one. I think its texture is better as well. You can use it way more easily in smoothies or drip on top of porridges and parfaits.
If you have a food processor you can make your own peanut butter really easy, just by getting some peanuts, roasting them in the oven, and then giving them a good blend until they form a paste. If you like it sweeter you can add in a dash of honey, maple syrup, or agave, but don't go overboard. You can also add a bit of salt if you want to.
And the health benefits are indisputable. Peanut butter supplies all three macronutrients in one serving – carbohydrates, protein, and fat. It's a great source of vitamin E, vitamin B3, vitamin B6, folate, magnesium, copper, and manganese. It also contains vitamin B5, iron, potassium, zinc, and selenium in small amounts.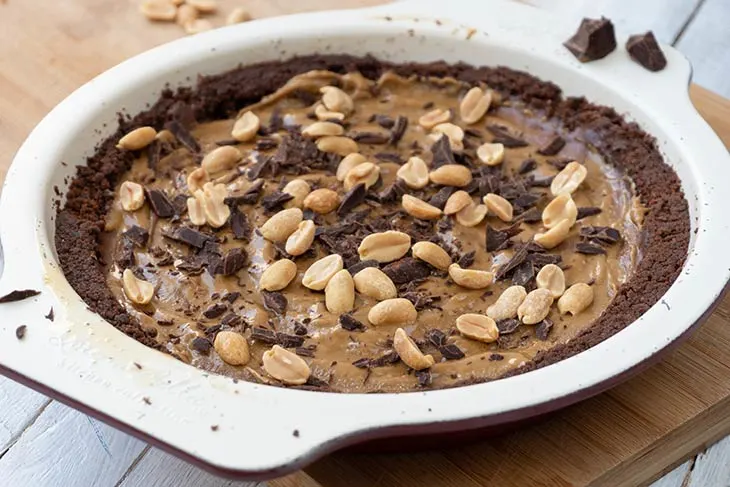 It's also good for heart health, containing a substance called p-coumaric acid which helps in offsetting the damage done to cells associated with cardiovascular diseases. It contains the good type of fat, which helps lower the risk of cardiovascular and coronary heart disease.
So I figured that making a pie that contains natural peanut butter might actually come with a bunch of health benefits. Yes, I know, it's still dessert, and it still sounds decadent. But I like to think of the health benefits as well. This way, if I still end up eating something sweet, because I *do* have a sweet tooth, I don't have to feel bad about it! 😉
This dessert is super filling and hearty, just what you need when that sweet tooth kicks in bad. As usual, you can either make the crust from scratch or buy a premade one. You can either make this pie plain, peanut butter flavor only, or you can mix in some other stuff. Peanut butter and chocolate, for instance – a match made in heaven. Or peanut butter jelly – just pick your favorite jam and spread it in a nice layer between the peanut butter ones, or swirl it around with a toothpick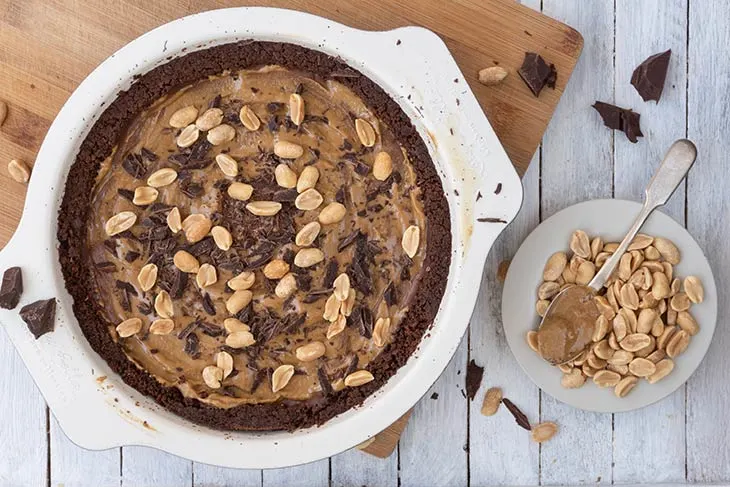 I feel like I don't really need to say more about this pie. I mean… peanut butter – good. Pie – good. Just go make it and see for yourself. Promise you're not gonna regret it! 🙂
---
Personalized meal plans and workout videos | Get your customized meal plan today! [x_button shape="square" size="mini" float="none" target="blank" href="https://shop.gourmandelle.com/?utm_source=mainsite&utm_medium=site&utm_campaign=inpost" info="none" info_place="top" info_trigger="hover"]I WANT A MEAL PLAN![/x_button]
---
Yield: 8 servings
Peanut Butter Pie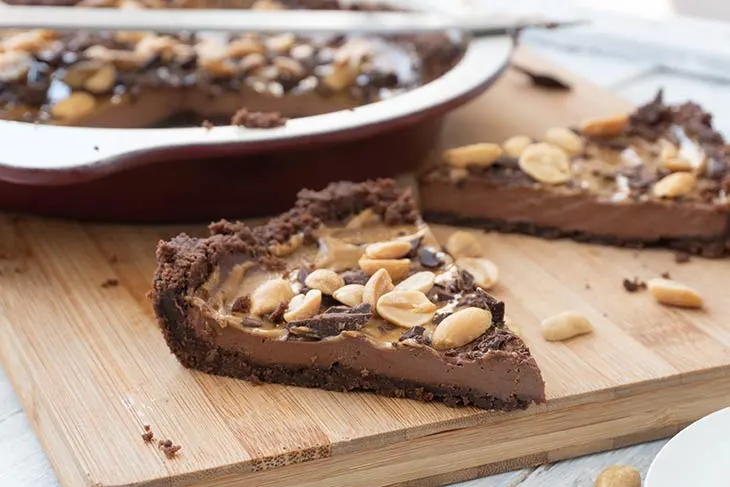 Looking for a special pie that's both yummy and easy to make? Here's the perfect recipe for vegan peanut butter pie. Give it a try and you'll end up loving it!
Ingredients
For the crust:
200g (2 cups) almond flour
25g (¼ cup) cocoa powder
55g (¼ cup) coconut oil
80g (¼ cup) maple syrup
For the filling:
240g (1 cup) peanut butter
30g (2 Tbsp) chia seeds
75g (⅓ cup) maple syrup
300ml (1 ¼ cup) coconut milk
80g (⅓ cup) coconut cream
25g (¼ cup) coconut oil
For decoration:
Crushed dark chocolate
Peanuts
Instructions
In a bowl, combine the almond flour, cocoa powder, coconut oil, and maple syrup.
Combine the ingredients together with your hands until crumbly, sticky dough forms.
Press the dough into your baking pan with your hands to form the pie crust.
Freeze the crust for 15 minutes.
Add all your filling ingredients to a blender and blend until smooth paste forms.
Pour the filling over the crust.
Refrigerate for 45 minutes.
Decorate with crushed dark chocolate and peanuts.
Nutrition Information
Yield
8
Amount Per Serving
Calories

692
Total Fat

55g
Saturated Fat

25g
Trans Fat

0g
Unsaturated Fat

25g
Cholesterol

0mg
Sodium

167mg
Carbohydrates

42g
Fiber

7g
Sugar

26g
Protein

15g
I strive to keep the information as accurate as possible but make no warranties regarding its accuracy. I encourage you to make your own calculations using your preferred nutrition calculator.